December 2009 News And Events
Vintage Postcard of the Month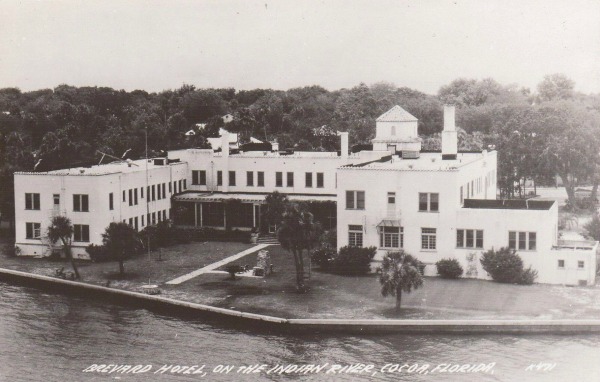 This postcard shows the Brevard Hotel on the Indian River in Cocoa, Florida. It was torn down in 1999 and replaced by a modern highrise condominium called Oleander Pointe for the old historic name of the location.


The historic name was actually Oleander Point. It was a favorite picnic and sailing place a century ago. The old Florida Crackers of that time would have considered adding an "e" to "Point" to be a bit snooty.


When I lived in Brevard County the Brevard Hotel was one of my watering holes. Its gloomy dank basement lounge was known as the Cascade Room for the simulated waterfalls that adorned the place. To save electricity, Elizabeth, the blonde German bartender, kept the lights turned down very low.


The Cascade Room was one of the lesser known bars in Cocoa, Florida.
WWW.FLORIDA-BACKROADS-TRAVEL.COM UPDATES


The number of visitors to Florida-Backroads-Travel continues to grow, and we are thankful for that.


This past month we added a few new pages, but weren't as active as usual due to some competing projects.


We now have a page on historian and author Raymond Arsenault, who is a professor at the University of South Florida. He has done important research and writing on the Freedom Rider era of the 1960's civil rights movement.


J. P. White now has a page as well. White is a much published poet who has written his first novel, Every Boat Turns South. A lot of the action takes place in Florida and the Caribbean.


More information about Arsenault and White at Florida Authors.
For some reason I decided to do a page on MOORE HAVEN. It is a little town on the southeast shore of Lake Okeechobee. I have always felt sorry for this poor little town. I hope good things happen there. It reminds me of Immokalee 40 years ago, and good things have happened there in recent years.


Our Florida County Map Page page now has links to the government websites of all 67 of Florida's counties. We hope this will be useful to visitors looking for additional information.


I still "Tweet" on "Twitter", but have decided to take the update feature off the main page. I was getting spammed; you can still follow my Tweets at www.twitter.com/floridaheritage.


A feature has been added to many pages that allows visitors to create their own webpage. Each of these web pages will have a unique URL and will be part of the Florida Backroads Travel website.


I also use the feature to write about places or towns near my featured towns. See Deland for an example of a story I just wrote about Crescent City and the 3 Bananas Restaurant.


Also see Naples for a page I wrote about the lonely Loop Road through the Everglades, and Punta Gorda for a story about Port Charlotte.


I hope you will create a page on my website about your area of interest. Let me know about your favorite towns, parks, wineries, attractions, authors,restaurants, bed and breakfast inns and heritage sites.


You will then have your own web page you can direct friends and family to. Write as many as you want, the more the merrier.


FEATURED FLORIDA EVENTS AND FESTIVALS


December is a great month in Florida. The weather is cool enough for sleeping with the windows open. Many snowbirds have come back, so the lines are getting long at popular restaurants. Natives always know the good restaurants that have the shortest lines. Many of these are ethnic restaurants because many Yankees are still of the meat and potato loving variety.


Here are some interesting events around Florida for December 2009.


FLORIDA WINERIES. Check the Florida winery nearest you. Many of them have wonderful weekend events that include music and wine tastings. Our site has information on 18 wineries scattered across the state. Check Florida Wineries for the one nearest you.




NORTHWEST FLORIDA


Pensacola


42nd Annual Snowball Derby. The Five Flags Speedway, December 2-6. The Derby is a short track stock car classic that draws 30,000 fans. Fans can meet their favorite drivers and enjoy live music, food, drinks and other fun activities at the track. On-track action starts on Thursday, December 3rd with practice for the Snowball Derby and Allen Turner Snowflake 100 cars as well as feature events for Sportsmen and Bombers. 800-944-8400.




NORTH CENTRAL FLORIDA


White Springs


Suwannee Old Time Music Weekend, Stephen Foster State Park, December 4-6. This three day event offers participants in-depth instruction in old time music techniques on the banjo, guitar, fiddle and voice for beginning, intermediate and advanced students. Concerts will be held on Friday and Saturday evenings in the park auditorium at 7:00 p.m. Tickets for public admission are $10.00.




NORTHEAST FLORIDA


Jacksonville


Winn Dixie Hometown Gator Bowl Parade, December 31: 3 pm. Special reserved parade seats will allow you to watch the parade in style! The reserved seats will give you a comfortable and up close view of colorful floats, giant helium balloons and marching bands from across the country. Reserved seats for the Parade may be purchased for $10.00.




CENTRAL EAST FLORIDA


Melbourne


A Christmas Carol, December 19. 7 pm. King Center for the Performing Arts. This play is packed with laughter, pageantry and gorgeous costumes. Every detail of Dickens' play springs to life. Scrooge, Tiny Tim, and all the fascinating characters that audiences have come to love make Charles Dickens' enchanting story a treasured holiday event. The Nebraska Theatre Caravan's national touring production of A Christmas Carol has been an American holiday tradition for 28 years.




CENTRAL FLORIDA


Ocala


The Nutcracker. December 11-20. Ocala Civic Theatre presented by the Marion Ballet Theatre. This classic ballet celebrates the jolliness of the holiday season and creates the perfect opportunity for your family to gather and share in a magical experience.




CENTRAL WEST FLORIDA


St. Petersburg


St. Petersburg Power & Sailboat Show, December 3-6. This is the Gulf Coast's largest boat show, held at the Progress Energy Center for the Arts Mahaffey Theater Yacht Basin and Albert Whitted Park. The show features the very best of both the power boating and sailing worlds. You will find hundreds of power boats and sailboats anchored in the man made marina set adjacent to the Albert Whitted Park and Mahaffey Theater grounds. Fishing Clinics, seminars, live music, food, drinks and much more.




SOUTHWEST FLORIDA


Naples


Crimes Of The Heart, November 25-December 19. Sugden Community Theater, Fifth Avenue. The Naples Players perform this very funny Pulitzer Prize winning play by Beth Henley. The play follows the colorful Magrath sisters as they navigate through the sometimes frayed edges of sisterly bonds. It's full of grit, gumption and Southern good humor. You will have a great time enjoying laughing. For reservations, call 239-263-7990.




SOUTHEAST FLORIDA


Fort Lauderdale


Winterfest Fort Lauderdale Christmas Boat Parade, December 12. Among the many Christmas boat parades in Florida, this is my favorite. Big time yachts and big time celebrities mingled with everyday Joes and their regular boats. One year George Hamilton was the Grand Marshall. Best way to see it is to make reservations at one of the restaurants along the Intracoastal Waterway. I recommend Shooters or next door neighbor Bootlegger as perfect viewing places.




Information on the towns and places hosting these events or near them, including lodging, can be found at Florida Towns.
If these events aren't convenient for you, try this link for Additional Florida Events.
In our current slow economy, some events are cancelled on very short notice. I do my best to ensure that our information is correct and current, but I recommend you call before leaving for the event to make sure it's still on.


ETHNIC RESTAURANT OF THE MONTH


As I mentioned above, many of the family owned ethnic restaurants are not as crowded during tourist season as the popular chains like Outback, Carrabas, Olive Garden, Red Lobster and the host of others like them.


This month I will tell you about a Japanese restaurant in Tallahassee that I'm sure you will enjoy.


MORI JAPANESE STEAKHOUSE, 2810 Sharer Road, Suite 8, Tallahassee, Florida 32312. 850-386-7653.


Mori has a sushi bar and also serves hibachi cooked right at your table. The chefs are entertaining, and do some of the standard tricks that lovers of hibachi cooking have come to expect. Look for flaming onion ring volcanoes with the flames extinguished by the cute little boy squeeze bottle that always gets a laugh.


I love hibachi cooking, and have enjoyed Japanese restaurants all over the country including Benihana, Makoto, Kobe Steak House and many others. Although not fancy inside with expensive ambience, Mori ranks up there with the best of them for good food.


Hibachi cooking always involves sitting at a table with complete strangers. This is part of the experience that I enjoy. With only a few exceptions, most of the people I meet around the hibachi grill are interesting and fun to talk to.


My favorite meal, here as in most of hibachi restaurants, is chicken and filet mignon with fried rice and plenty of stir fried vegetables. The meal is preceded by a bowl of tasty soup and a small salad with ginger dressing.


Mori also has traditional sushi. I am not a sushi fan, but the diners at the sushi bar told me the offerings were delicious. I'll have to take their word for it. The only raw fish I like is ceviche and the only Japanese restaurant you might find it in would be owned by Peruvians.

Mori has a full service bar, and is open for dinners only. Hours are MON-THU 5:00 pm-9:30 pm, FRI-SAT 5:00 pm-10:30 pm, and SUN 5:00 pm-9:30 pm. The prices are very reasonable as Japanese steakhouses go.
---

Thanks for subscribing to Florida Heritage Travel. We will see you next month with more updates and event information.


Regards, Mike Miller
Chief Backroads Traveler
www.Florida-Backroads-Travel.com