April 2010 News And Events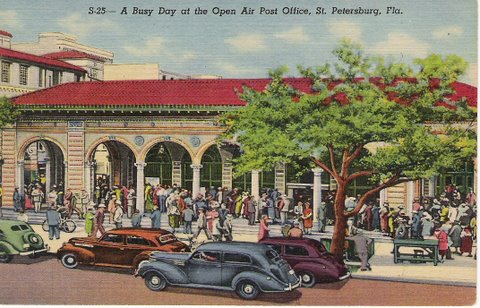 In the old days, St. Petersburg was known as "God's Waiting Room". Multitudes of lonely old people sitting on green park benches could be seen all around the city. That was then, this is now. Now St. Pete is a young dynamic city with a vibrant downtown and an exciting night life.


The old open air post office was built in 1917 and still stands at 400 First Avenue North. It is on the National Register of Historic Places.


WWW.FLORIDA-BACKROADS-TRAVEL.COM UPDATES


Thanks for continuing to subscribe to Florida Heritage monthly e-zine. Florida Backroads Travel continues to grow, and we hope you enjoy these updates. Our site remains among the top 1% of all websites in the world in terms of traffic.


This past month I added a page about one of my favorite Florida places, Old Naples. I also put a link to some fantastic simulated aerial photos taken over the Florida Keys. These links are listed on Old Naples Florida and on Florida Web Links.


I continue to receive input from site visitors who have created their own web page through the Your Page tab on the home page or on individual town and attraction pages. Each of these web pages has a unique URL and is a permanent part of the Florida Backroads Travel website. I continue to use this feature to write about places in and near my featured towns.


I hope you will create a page on this website about your area of interest. You will then have your own web page you can direct friends and family to. Write as many pages as you want, the more the merrier, subject to my editorial review to eliminate discussion of politics or religion.


FEATURED FLORIDA EVENTS AND FESTIVALS


I hope my snowbird friends will not take this personally, because we will miss them. But April is a time when much of Florida slows down. The snowbirds are putting shutters on their places and getting ready to roll back up north. Most of the cold weather is behind us, but it is still too early to use the air conditioner very often.


The lines at restaurants are getting shorter, especially after Easter. Spring is in the air, and the oppressive summer heat has not yet made its muggy buggy appearance.


Here are some interesting events around Florida for April 2010.




ALL REGIONS


FLORIDA WINERIES. Check the Florida winery nearest you. Many of them have wonderful weekend events that include music and wine tastings. Our site has information on 18 wineries scattered across the state.


FLORIDA MUSEUMS. Many Florida art and historical museums have events going on in April. Click on the links to find out what is going on.


FLORIDA THEATER. April in Florida is still an active time for plays and musical events in our many Florida theaters.. Check the links to find out what might be interesting to you.


FLORIDA AUTHORS. April is a good month to stretch out in a hammock and read a book by a Florida author while the palm trees rustle in the early spring breeze.




NORTHWEST FLORIDA


Pensacola
Pensacola Jazzfest, April 10-11. The Jazz Society of Pensacola produces this show, now in its 27th year. Held in h istoric Seville Square. Enjoy great jazz among the beautiful live oaks and historic surroundings of Seville Square Park. Music, food, drinks and jazz themed merchandize.




NORTH CENTRAL FLORIDA


Gainesville
41st Annual Santa Fe College Spring Arts Festival, April 10-11. More than 120,000 visitors are expected to view 215 artists' booths lining historic NE 1st Street in downtown Gainesville. The juried art show includes jewelry, sculpture, fiber arts, digital and traditional photography, mixed media, oil and watercolor paintings, printmaking, graphics and digital art. There is continuous entertainment on two stages, both Saturday and Sunday.




NORTHEAST FLORIDA


Jacksonville
Ben Stein, April 6. Florida Theater, 128 East Forsyth Street. The Florida Forum presents Ben Stein, economist, author and actor His deadpan delivery will inform and entertain you.




CENTRAL EAST FLORIDA


Melbourne
Melbourne Art Festival, April 24-25. This is a nationally recognized event held each year on the fourth full weekend in April in historic downtown Melbourne.




CENTRAL FLORIDA


Lake Wales
Belongings, April 9-25. Lake Wales Little Theater. This is a delightful comedy about two lonely people: Theda Blau, a failed actress; and Vito Pignoli, a successful TV director.




CENTRAL WEST FLORIDA


St. Petersburg
Mainsail Art Festival, April 17-18. This event takes place at historic Vinoy Park in downtown St. Pete. Over 100,000 visitors come to enjoy and purchase quality art and enjoy top name entertainment.




SOUTHWEST FLORIDA


Goodland
Stan's Idle Hour, Stan's is open every day except Monday from 11:00am until close. His "Sunday Show" starts every Sunday at 1:00pm with a live country band and finishes at 6:00 or 7:00pm depending on the crowd. This is a fun place where locals and tourists mingle to eat, drink, dance and chat. Stan sings and tells jokes, and you can also hear guest singers. Goodland is on a small island east of Marco Island.




SOUTHEAST FLORIDA


West Palm Beach
SunFest, April 28-May 2. Founded in 1982, SunFest is Florida's largest waterfront music and art festival. It is held annually in downtown West Palm Beach, and attracts more than 280,000 visitors.


Information on the towns and places hosting these events or near them, including lodging, can be found at Florida Towns.


In our current slow economy, some events are cancelled on very short notice. I do my best to ensure that our information is correct and current, but I recommend you call before leaving for the event to make sure it's still on.


ETHNIC RESTAURANT OF THE MONTH


Giorgio's is a quaint little Italian deli and restaurant on the 17th Street Causeway not too far from the Intracoastal Waterway and Pier 66. It is on your left on the way to the beach.


Giorgio's Brick Oven Pizza, 1499 SE 17TH St, Fort Lauderdale, FL 33316-1719. 954-767-8300.


This little place is one of my favorites. Even though I live in Naples, I find myself lingering in Fort Lauderdale or Miami after business meetings just to enjoy a pizza at Giorgio's.


They have food other than pizza, of course; all of their offerings are delicious. It's just that I prefer pizza and this is about the best I've found. Their pizza is thin crust and never greasy, with multitudinous choices for toppings.


On a recent visit, my companion had lobster lasagna with asparagus. She said it was delicious. Another time she had a Caesar Salad, and enjoyed it very much too.


The restaurant is very small inside, almost more like an Italian deli than a sit down restaurant. There are maybe 15 tables inside. The sidewalk in front of the restaurant also has several more tables for outside dining in good weather. Giorgio's is typically filled with a friendly crowd, but you can usually find a table with only a brief wait.


The food is presented well, and is always delicious. The servers are quick, efficient and pleasant. There is a large selection of wines as well, but no mixed drinks.


Giorgio's is where the locals go for their pizza and light Italian meals.

---
Thanks for subscribing to Florida Heritage Travel. We will see you next month with more updates and event information.


Regards, Mike Miller
Chief Backroads Traveler
www.Florida-Backroads-Travel.com