June 2010 News And Events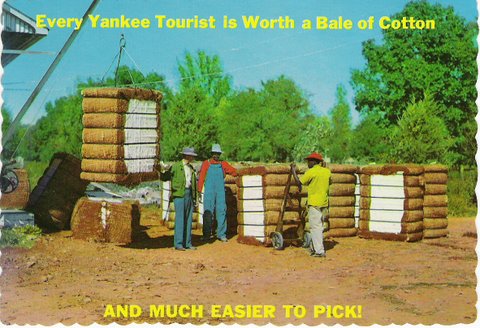 VINTAGE POSTCARD OF THE MONTH


This postcard demonstrates what Florida has been about ever since I moved here many decades ago. It's been all about tourism and growth, and that's how I've made my living until recently. I've worked on several major theme parks and hundreds of real estate developments and infrastructure projects over the years.


The population of Florida has more than quadrupled since I moved here, from just under 5 million to almost 20 million now. The awful economy made 2008 the first year since World War Two that Florida's population actually decreased.


I can remember beautiful hardwood forests all across the state where shopping malls now stand. In Fort Lauderdale, I walked miles of pristine white sand beach that is now shaded by the massive condo towers of Galt Ocean Mile. I worked on the first high rise condo in Vero Beach.


My memories include old Cracker fish camps and marinas that are now private condominium developments. I worked on a mangrove laced barrier island that became the site of a nuclear power plant. I remember the Kissimmee River when it was crooked, then straight, then crooked again. I remember when you could catch record bass in Lake Apopka.


Maybe this is why I take the time to look for Old Florida places and experiences that have not been developed yet. I want to share them with you before they too disappear along with me into the fog of time and the tide of progress.


WWW.FLORIDA-BACKROADS-TRAVEL.COM UPDATES


Thanks for continuing to subscribe to Florida Heritage Travel monthly e-zine. Florida Backroads Travel continues to grow, and we hope you enjoy these updates. Our site remains among the top 1% of all websites in the world in terms of traffic.


This past month I took a trip from Naples to Miami and back by way of what I call "Okeechobee Country", the land and towns around Lake Okeechobee, and added a page about the trip with a link to photos I took along the way. The trip page is at Southeast Florida Day Trips.


I am receiving good input from site visitors who have created their own web page through the Your Page tab on the home page or on individual town and attraction pages. Each of these web pages has a unique URL and is a permanent part of the Florida Backroads Travel website. I also use this feature to write about places in and near my featured towns and other attractions. I invite you to add your own page.


FEATURED FLORIDA EVENTS AND FESTIVALS


June is our first genuine hot and humid month, although May was unusually hot this year also. This the time of year you'd better make sure your air conditioning is working well, both in the house and car.


Only a few of us old timers remember what it was like to live in Florida before air conditioning. I lived here for 6 years without AC in my houses or cars. It was miserably sticky and hot. Remembering this made me think about the folks that lived in Florida before cars, mosquito control and air conditioning. So I wrote a new page about those folks, the Florida Cracker.


Here are some interesting events around Florida for June 2010.




ALL REGIONS


FLORIDA WINERIES. Check the Florida winery nearest you. Many of them have wonderful weekend events that include music and wine tastings. Our site has information on 18 wineries scattered across the state.


FLORIDA FESTIVALS. June is so hot and humid there are almost no outdoor art festivals during the month. There are quite a few folk and bluegrass music festivals , however, many held in the cooler evenings.


FLORIDA MUSEUMS. Many Florida art and historical museums have scheduled events. Click on the links to find out what is going on.


FLORIDA THEATER. This is still an active time for plays and musical events in our many Florida theaters.. Check the links to find out what might be interesting to you.


FLORIDA AUTHORS. Anytime is a good time to stretch out in a hammock and read a book by a Florida author while the air conditoner hums quietly in your favorite reading room.




NORTHWEST FLORIDA


Pensacola
Gulf Coast Bluegrass Music Association, June 19. The East Brent Baptist Church at 4801 North Davis Highway has bluegrass and gospel pickin'. Call Don Williams for information at (850) 472-0453.




NORTH CENTRAL FLORIDA


Gainesville
Florida Museum of Natural History Butterfly Release, Every Saturday and Sunday in June. Hundreds of exotic butterflies fluttering in a lush tropical garden as you experience the Butterfly Rainforest. Visitors will have the opportunity to view live butterfly releases Saturdays and Sundays at 2 p.m., 3 p.m. and 4 p.m., weather permitting.




NORTHEAST FLORIDA


Jacksonville
Nunsense, June 11-26. Theater Jacksonville, 2032 San Marco Boulevard. This hilarious musical tells about The Little Sisters of Hoboken who face a dilemma when their cook, Sister Julia, Child of God, accidentally poisons 52 of the Sisters with tainted vichyssoise.




CENTRAL EAST FLORIDA


Ormond Beach
Ormond Beach Seafood Festival, June 19-20. Rockefeller Gardens at the Casements, 25 Riverside Drive, Ormond Beach. This event features area restaurants presenting your seafood favorites. Live musical groups, children activities, bounce houses and face painting.




CENTRAL FLORIDA


Orlando
Doug Alan Wilcox, June 27. Leu Gardens, 1920 North Forest Avenue, Orlando, FL. (407) 246-2620. Seeker of truth, singer of songs, vegetarian - you know the type - With a soulful voice, easy stage presence and bag full of "funky folk" tunes.




CENTRAL WEST FLORIDA


Sarasota
Circus, Cirque, Circo: A Family Tradition, June 23-August 1. Historic Asolo Theater at Ringling Museum of Art. In every language – in every land – there's only one word that means fun for the entire family: Circus! Family fun on stage with astonishing feats performed by circus stars young and old – including Ty Tojo the world's greatest 11-year-old juggler.




SOUTHWEST FLORIDA


Naples
Blood Sweat and Tears, June 19. Naples Philharmonic Center for the Arts, 5833 Pelican Bay Boulevard, Naples, FL. Blood Sweat & Tears has left an indelible mark on the American music scene since 1968. They blend rock, blues, pop and jazz to create their own hybrid known as "rock jazz." They continue to play to sold-out audiences around the world.




SOUTHEAST FLORIDA


Miami
Dad's Miami River Boat Tour, June 19. Bayside Marketplace, 401 Biscayne Blvd, Miami. This event is sponsored by the Historical Museum of Southern Florida. Enjoy this boat ride with Dr. Paul George along the same banks where ancient Tequesta Indians settled. See the famous Miami Circle archaeological site, colorful tugboats, Haitian freighters, houseboats and drawbridges that bring life to the river. See the home of ousted Cuban President Fulgencio Batista. Discover the hidden communities, parks, restaurants, freshwater springs and the site of the rapids. Advanced reservations required.


Information on the towns and places hosting these events, or near them, including lodging, can be found at Florida Towns.


In our current slow economy, some events are canceled on very short notice. I do my best to ensure that our information is correct and current, but I recommend you call before leaving for the event to make sure it's still on.


ETHNIC RESTAURANT OF THE MONTH


This month's restaurant was featured in our very first Florida Heritage Travel E-Zine in June 2009. Our subscription list has increased by more than 1,000 % in the past year, so I will feature it again this month for new subscribers and add a couple of things about it for you old-timers who read about it one year ago.




Maroosh Mediterranean Restaurant

223 Valencia Avenue; Coral Gables, FL 33134

Reservations: 305-476-9800


Go to our page on Coral Gables, Florida for a review of Maroosh and pictures.



---
Thanks for subscribing to Florida Heritage Travel. I will see you next month with more updates and event information.


Regards, Mike Miller
Chief Backroads Traveler
www.Florida-Backroads-Travel.com