August 2010 News And Events
VINTAGE POSTCARD OF THE MONTH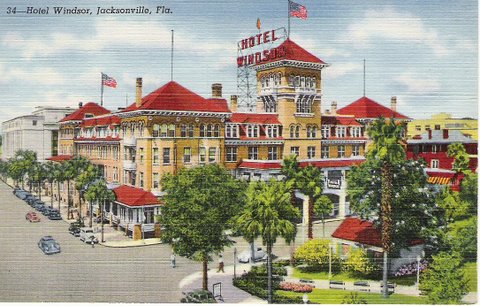 The Hotel Windsor was a downtown Jacksonville landmark for many years.

On Friday, May 3, 1901, a small fire broke out about noon in the refuse pile of a fiber factory on the northwest side of Jacksonville. Drought conditions, a rising breeze, and flying sparks defeated efforts to douse the flames. Within minutes, flaming moss and debris carried to nearby roofs. By half and hour past noon, the city's firemen were desperately trying to contain the blaze as it spread like a ceiling of flame over their heads. The battle continued for eight hours, leaving the residents of Jacksonville exhausted and the city itself in ashy ruins. Jacksonville was virtually destroyed.


The original Hotel Windsor was burned to the ground in the 1901 fire. The magnificent structure you see on the postcard was erected on the same site across from Hemming Park. The hotel was a major tourist attraction during the Roaring 20's and depression era 30's. The Hotel Windsor was demolished in 1950 to make room for a parking lot. During the demolition a secret subterranean room was discovered filled with illegal whiskey from prohibition days.


The hotel no longer stands along Hogan Street, but walking tours of downtown Jacksonville pass through Hemming Park and alongside the Bryan Simpson Federal Courthouse, which occupies the land once home to the Hotel Windsor.


WWW.FLORIDA-BACKROADS-TRAVEL.COM UPDATES


Thanks for continuing to subscribe to Florida Heritage monthly e-zine. Florida Backroads Travel continues to grow, and we hope you enjoy these updates. Our site remains among the top 1% of all websites in the world in terms of traffic.


In July I took a trip from Naples to Seaside and back. This takes you through some of the most undeveloped land in the state along the Big Bend coast. My trip was motivated by wanting to see the pristine white sand beaches of the panhandle one last time before they are possibly damaged by the BP oil disaster. Things are still beautiful and clean up there for now. I added a continually updated map of the oil spill at Free Florida Travel Guide To Northwest Florida.


Also this month I continue to automate Florida Backroads Travel so that any updates I make are posted automatically to my Mike Miller Facebook page and are tweeted on my Twitter page.


I continue to receive good input from site visitors who have created their own web page through the "Your Page" tab on the home page or on individual town and attraction pages. Book reviews of Florida Authors has become a popular feature. Each of these web pages has a unique URL and is a permanent part of the Florida Backroads Travel website. I invite you to add your own page about anything Florida themed that you'd like.


FEATURED FLORIDA EVENTS AND FESTIVALS


August is hot and humid, and many of us down here would be in North Carolina if we had the time and could afford it. Our electric bills go through the roof as the air conditioning is on all day and night long.


Here are some interesting events around Florida for August 2010.




ALL REGIONS


FLORIDA WINERIES. Check the Florida winery nearest you. Many of them have wonderful weekend events that include music and wine tastings. Our site has information on 18 wineries scattered across the state.


FLORIDA FESTIVALS. August is so hot and humid there are almost no outdoor art festivals during the month. There are quite a few folk and bluegrass music festivals , however, many held in the cooler evening hours.


FLORIDA MUSEUMS. Many Florida art and historical museums have scheduled events. Many of these events are in the cool air conditioned interior of the museum. Click on the links to find out what is going on.


FLORIDA THEATER. This is still an active time for plays and musical events in our many Florida theaters.. Check the links to find out what might be interesting to you.


FLORIDA AUTHORS. August is a good time to relax inside in air conditioned comfort and read a book by a Florida author while the air conditoner hums quietly in your favorite reading room or book store.




NORTHWEST FLORIDA

Port St. Joe
14th Annual St. Joseph Bay Scallop Festival. August 6-8. Shipyard Cove, next to the Gulf County Chamber of Commerce in Port St. Joe. A family-oriented festival featuring live entertainment, arts and crafts, children's rides, and food. Fried scallop dinners are available as well as scallops to take home and cook. Two days of fun and activities for the whole family.




NORTH CENTRAL FLORIDA

Live Oak
Gator Chomp Romp, August 20-21. North Florida's Largest Tailgate Party. Spirit of the Suwannee Music Park & Campground, Live Oak, Florida. Also see GatorChompRomp.com




NORTHEAST FLORIDA

Fernandina Beach
Great Southern Tailgate Cookoff, August 27-28. This inaugral event organized by the Amelia Island Tourist Development Council will feature more than 40 cooking teams from across the country competing at Main Beach for up to $20,000 in cash and prizes. Admission is free.




CENTRAL EAST FLORIDA

Melbourne
The Somewhat True Tale of Robin Hood, August 6-22. The Henegar Center For The Arts in downtown Melbourne. Have you ever wondered what would happen if Monty Python met up with Mel Brooks to tell their version of Robin Hood? Well…poor Sherwood Forest would never be the same again! A frantically funny retelling of the classic tale; a funny family comedy!




CENTRAL FLORIDA

Deland
Dog Days of Summer Pet Festival., August 21. Bring your canine friends downtown for a festival in their honor. The event will feature vendors and displays catered to them. Proceeds to benefit Animal Rescue Konsortium. Free admission.




CENTRAL WEST FLORIDA

Venice
Southwest Florida Bluegrass Association Jam-Fest, August 13-15. Rambler's Rest RV Park, River Road, Venice, FL. Concert: 1:00-4:00 (Saturday).




SOUTHWEST FLORIDA

Naples
Summer Jazz on the Gulf, August 28. The Naples Beach Hotel & Golf Club, 851 Gulf Shore Blvd. N., Naples FL 34102. The smooth sounds of Jazz continue this summer at The Naples Beach Hotel & Golf Club's 24th Annual "SummerJazz on the Gulf" free concert. Free admission. A local tradition.




SOUTHEAST FLORIDA

Miami
The Deering Estates Summer Cabaret Concert Series.August 28. Featuring Bob Ingram with eclectic and world music artists in an intimate setting. The final concert of the series. Deering Estate at Cutler, 16701 S.W. 72nd Ave., Miami FL 33157. Admission $ 20.


Information on the towns and places hosting these events, or near them, including lodging, can be found at Florida Towns.


If these events aren't convenient for you, try here for ADDITIONAL EVENTS.


In our current slow economy, some events are canceled on very short notice. I do my best to ensure that our information is correct and current, but I recommend you call before leaving for the event to make sure it's still on.




RESTAURANT OF THE MONTH




McGuire's Irish Pub & Brewery, Pensacola

Thanks for subscribing to Florida Heritage Travel. We will see you next month with more updates and event information.
---
Regards, Mike Miller
Chief Backroads Traveler
www.Florida-Backroads-Travel.com