September 2010 News And Events
VINTAGE POSTCARD OF THE MONTH

Doc Webb dreamed up Wal-Mart even before Sam Walton did. Webb's City was a one stop drug store/department store in St. Petersburg that operated between 1925 and 1979. At its peak it had 77 departments and covered 7 full city blocks.


Although Doc could beat anybody's price - and often did - Webb's City was not just a shopping destination. It was one of Florida's leading tourist attractions. I visited the place in the late 1960's, and it was unique.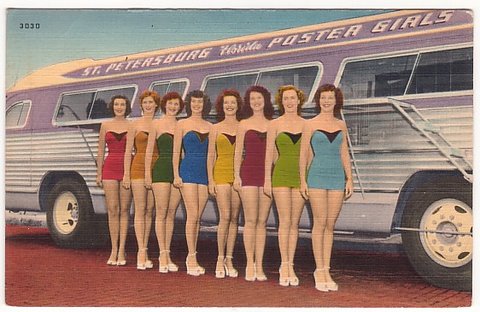 Doc Webb had a natural flair for promotion. In the 1940's and 1950's, he sponsored beauty contests. Eight beautiful young women were chosen each year from hundreds of competitors. The winners would then make a country wide tour in a specially designed bus giving publicity to Webb's City and Florida.


WWW.FLORIDA-BACKROADS-TRAVEL.COM UPDATES


Thanks for continuing to subscribe to Florida Heritage monthly e-zine. Florida Backroads Travel continues to grow, and we hope you enjoy these updates. Our site remains among the top 1% of all websites in the world in terms of traffic.


In August I took several day trips out of Naples to enjoy the Florida Everglades. Once you learn the history of this beautiful and tragic land, you can never look at it the same way again. My trips also included a journey along the route of the Okeechobee Waterway to retrace the path of a trip I made with friends on my sailboat a few years ago and to relive good old memories.


Also this month I continue to automate Florida Backroads Travel so that any updates I make are posted automatically to my Facebook page (Mike Miller) and are tweeted on my Twitter page. Sometimes this works, sometimes it doesn't.


If you have a Facebook account, you might have fun joining the group Florida Backroads Travel. The group receives a lot of good comments and observations.


I continue to receive good input from site visitors who have created their own web page through the "Your Page" tab on the home page or on individual town and attraction pages. Book reviews of Florida Authors has become a popular feature. Each of these web pages has a unique URL and is a permanent part of the Florida Backroads Travel website. I invite you to add your own page about anything Florida themed that you'd like.


FEATURED FLORIDA EVENTS AND FESTIVALS


September is still hot and humid, but toward the end of the month we start getting some tolerable weather and remember why we moved here in the first place. The air conditioning still rumbles day and night, but the electric bills are a bit lower.


Here are some interesting events around Florida for September 2010.




ALL REGIONS


FLORIDA WINERIES. Check the Florida winery nearest you. Many of them have wonderful weekend events that include music and wine tastings. Our site has information on 18 wineries scattered across the state.


FLORIDA FESTIVALS. September is still so hot and humid there are almost no outdoor art festivals during the month. There are quite a few folk and bluegrass music festivals , however, many held in the cooler evening hours.


FLORIDA MUSEUMS. Many Florida art and historical museums have scheduled events. Many of these events are in the cool air conditioned interior of the museum. Click on the links to find out what is going on.


FLORIDA THEATER. This is still an active time for plays and musical events in our many Florida theaters.. Check the links to find out what might be interesting to you.


FLORIDA AUTHORS. September is a good time to relax on the beach or in a park and read a book by a Florida author.




NORTHWEST FLORIDA

Seaside
Summer's Edge Labor Day Weekend Celebration. September 3-5. The merchants of Seaside host an end of summer celebration with a host of events ranging from music to movies to crafts.




NORTH CENTRAL FLORIDA

White Springs
Friends of Florida Folk sponsor the 6th annual Suwanee Old Time Music Weekend, September 10-12. Lots of workshops by nationally renowned musicians. A real celebration of old-time music at the Stephen Foster Folk Culture Center State Park.


Gainesville and Tallahassee.
The Florida Gators and the Florida State Seminoles each have 3 home games in September. Look for some busy weekends and make sure you have your rooms booked early. Here is the Gator Football Schedule and the Seminole Football Schedule

.


NORTHEAST FLORIDA

St. Augustine
The Florida Heritage Book Festival, September 24-25. This ancient city book festival is in its third year at several downtown locations, each within walking distance of each other and convenient parking lots. Enjoy best sellers, writer's workshops and authors.




CENTRAL EAST FLORIDA

Cocoa Beach
Glengarry Glen Ross, September 10. Those busy little Surfside Players are at it again! This is a scalding comedy about small-time cut throat real estate salesmen who will do anything to grind out a living selling lots in Glengarry and Glen Ross subdivision. Lots of profanity, so earmuffs for granny and the kids.




CENTRAL FLORIDA

Winter Haven
Cheaper By The Dozen, September 16-October 3. At the Theater Winter Haven. This is an old classic about an efficiency expert father and his love and caring for his 12 children. This charming story is the real life tale of the Gilbreath family and has been translated into 53 languages and performed thousands of times.




CENTRAL WEST FLORIDA

Venice
Southwest Florida Bluegrass Association Jam-Fest, September 10-12. Rambler's Rest RV Park, River Road, Venice, FL. Concert: 1:00-4:00 (Saturday). This is a recurring event that you will enjoy.




SOUTHWEST FLORIDA

Naples
Summer Jazz on the Gulf, September 18. The Naples Beach Hotel & Golf Club, 851 Gulf Shore Blvd. N., Naples FL 34102. The smooth sounds of Jazz for the last time in this "off" season at The Naples Beach Hotel & Golf Club's 24th Annual "SummerJazz on the Gulf" free concert. Free admission. A local tradition that you won't want to miss.




SOUTHEAST FLORIDA

Delray Beach
Sushi & Stroll Summer Walk, September 10, 5:30 pm. Enjoy this experience at Morikami Japanese Gardens. Hear the roaring drums of taiko with two exciting performances by Fushu Daiko. Please your palette with something delicious from the Cornell Cafe. Admission: $7 for adults, $5 for kids (ages 4-17), free for members and kids 3 and under. Taiko show is $2 with paid admission.


Information on the towns and places hosting these events, or near them, including lodging, can be found at Florida Towns.


If these events aren't convenient for you, try here for ADDITIONAL EVENTS.


In our current slow economy, some events are canceled on very short notice. I do my best to ensure that our information is correct and current, but I recommend you call before leaving for the event to make sure it's still on.




RESTAURANT OF THE MONTH




Taco Mix, Bonita Springs

Thanks for subscribing to Florida Heritage Travel. We will see you next month with more updates and event information.
---
Regards, Mike Miller
Chief Backroads Traveler
www.Florida-Backroads-Travel.com