October 2010 News And Events
VINTAGE POSTCARD OF THE MONTH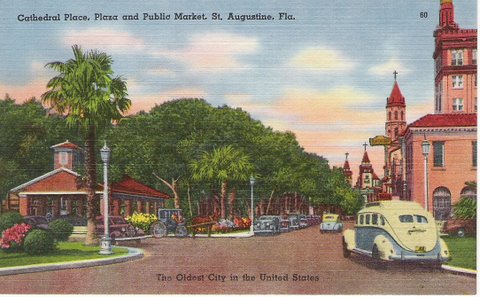 The Old Slave Market is a prominent historical landmark in downtown St. Augustine. It serves as a reminder of the Ancient City's role in the turbulent civil rights era of the 1960's. Until the Civil War, St. Augustine was a slave trade center. When the town began to become a tourist attraction in the 1890's, the Old Slave Market became a tourist attraction.


In 1963 St. Augustine was still a completely segregated southern town. Tourist attractions were "white only" and almost all schools were segregated. Vice President Lyndon B. Johnson came to town for a banquet that year and refused to come to a segregated event.


For the first time in history, blacks were allowed into the luxurious Ponce de Leon Hotel (now Flager College) as guests instead of just maids or bus boys. But even after this historic event, St Augustine's restaurants, motels, and other facilities remained segregated, including the famous Ponce de Leon.


Martin Luther King and many other black and white civil rights activists and organizations came to town in the mid-1960's to demonstrate against this situation. There were several shootings, including some with Ku Klux Klan night riders, and there were other ugly incidents all over town that made national news. It was only with great restraint on both sides of the issue - white residents and civil rights activists - that major violence was avoided.


It was a major turning point in the history of Florida. More information about this period is at the St. Augustine modern civil rights movement.


WWW.FLORIDA-BACKROADS-TRAVEL.COM UPDATES


Thanks for continuing to subscribe to Florida Heritage monthly e-zine. Florida Backroads Travel continues to grow, and we hope you enjoy these updates.


I continue to automate Florida Backroads Travel so that any updates I make are posted automatically to my Mike Miller Facebook page and are tweeted on my Twitter page.


If you have a Facebook account, you might have fun joining the group Florida Backroads Travel. The group receives a lot of good comments and observations.


I continue to receive good input from site visitors who have created their own web page through the "Your Page" tab on the home page or on individual town and attraction pages. Book reviews of Florida Authors has become a popular feature. Each of these web pages has a unique URL and is a permanent part of the Florida Backroads Travel website. I invite you to add your own page about anything Florida themed that you'd like.


FEATURED FLORIDA EVENTS AND FESTIVALS


October is the beginning of my favorite time of year: autumn in the tropics. We are starting to get some cooler weather, and can actually turn the air conditioner off now and then and sleep with the windows open.


Here are some interesting events around Florida for October 2010.




ALL REGIONS


FLORIDA WINERIES. Check the Florida winery nearest you. Many of them have wonderful weekend events that include music and wine tastings. Our site has information on 18 wineries scattered across the state.


FLORIDA FESTIVALS. October is cooling down, but there are still almost no outdoor art festivals during the month. There are quite a few folk and bluegrass music festivals , held in the cooler evening hours.


FLORIDA MUSEUMS. Many Florida art and historical museums have scheduled events. Many of these events are in the cool air conditioned interior of the museum. Click on the links to find out what is going on.


FLORIDA THEATER. This is still an active time for plays and musical events in our many Florida theaters.. Check the links to find out what might be interesting to you.


FLORIDA AUTHORS. October is a good time to relax on the beach or in a park and read a book by a Florida author.




NORTHWEST FLORIDA

Pensacola
Pensacola Interstate Fair. October 21-31. This is the largest and most exciting event held on the Gulf Coast! The Fair serves the useful purpose of providing the facilities for the Agricultural, Educational, Scientific, Livestock, Cultural, Commercial and Industrial resources of surrounding counties and states. Being of an Interstate character attracts and receives exhibits and participants from all over the country!




NORTH CENTRAL FLORIDA

Tallahassee
Greek Food Festival, October 22-23. This church sponsored event features delicious Greek food, a live Greek band and plenty of folk dancing. Phone 850-878-0747 for details.


Gainesville and Tallahassee.
The Florida Gators have 2 home games in Gainesville in October, and the Florida-Georgia game in Jacksonville on October 31. The Florida State Seminoles have one game at home in October. Look for some busy weekends and make sure you have your rooms booked early. Here is the Gator Football Schedule and the Seminole Football Schedule.




NORTHEAST FLORIDA

Fernandina Beach
Amelia Island Jazz Festival, October 3-10. Grammy Award winning pianist Ramsey Lewis and other world class jazz artists will be performing in a variety of styles.




CENTRAL EAST FLORIDA

Daytona Beach
Daytona Blues Festival, October 8-10. This annual event at Jackie Robinson Park features over 14 musicians and bands, each showcasing their own style of the blues.




CENTRAL FLORIDA

Orlando
Biketoberfest, October 14-17. A rousing fun-filled weekend attracting more than 125,000 motorcycle enthusiasts. Rides, concerts and more.




CENTRAL WEST FLORIDA

Tampa
Annual Hyde Park Village Art Fair, October 31. One of Florida's top art festivals, the 21st Annual Hyde Park Village Art Festival will have 150 exhibitors showing a wide range of art from sculpture to photography. Hyde Park Village also offers plenty of fine dining and shopping opportunities.




SOUTHWEST FLORIDA

Port Charlotte
Holidayfest and Craft Extravaganza, October 9. This outdoor event at the Port Charlotte Fairgrounds on El Jobean Road features over 100 crafters, folk, primitive, handmade and more. Enjoy the kick off of the craft show season. Kids area with games and a variety of food vendor. A pumpkin patch, farmers market and more.




SOUTHEAST FLORIDA

Miami
West Miami Home Show, October 15-17. Home related exhibitors show their stuff and services at the Fair Expo Center in West Miami. Furniture, flooring, pools, decorations and much more.


Information on the towns and places hosting these events, or near them, including lodging, can be found at Florida Towns.


If these events aren't convenient for you, try here for ADDITIONAL EVENTS.


In our current slow economy, some events are cancelled on very short notice. I do my best to ensure that our information is correct and current, but I recommend you call before leaving for the event to make sure it's still on.




RESTAURANT OF THE MONTH




The Yearling Restaurant, Cross Creek


Thanks for subscribing to Florida Heritage Travel. We will see you next month with more updates and event information.
---
Regards, Mike Miller
Chief Backroads Traveler
www.Florida-Backroads-Travel.com