February 2011 News And Events
VINTAGE POSTCARD OF THE MONTH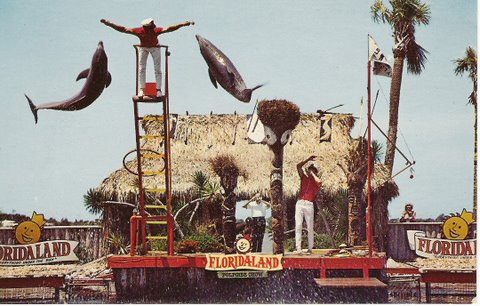 My grandparents moved from Indiana to Osprey, near Venice, in 1960. A few years later - in 1964 - Floridaland opened as one of the unusual tourist attractions in those pre-Disney days. It tried to be all things to all tourists. Although the main entrance featured colorful tropical birds, the major attraction inside the gates was a western town similar to Six Gun Territory up in Silver Springs.


Bad guys and good guys shot it out in the street, and can-can dancers strutted their leggy stuff in the western saloon. Tourists could ride around the whole park on a tram dressed up as a western train. In the park's attempt to be all things to all people, they featured a porpoise show. They had a small pool and platform where the captive animals peformed. Floridaland also had a petting zoo.


Floridaland began to falter when they got some bad publicity about the death of several of their porpoises. When Walt Disney World opened near Orlando in 1971, Floridaland was doomed to disappear. They folded their tent shortly after and became one of our lost Florida tourist attractions.


FLORIDA BACKROADS TRAVEL UPDATES


Thanks for continuing to subscribe to Florida Heritage monthly e-zine. Florida Backroads Travel continues to grow, and we hope you enjoy these updates.


This month I added reviews of a few Mount Dora restaurants. I find Mount Dora very interesting, and will continue to expand my web page on Mount Dora.


A couple of months ago I added a new feature to the website on Florida Genealogy. It ties into Florida history, and I am looking for submittals by Floridians whose families were here at least 100 years ago. I haven't found that many, so may have to relax the criterion to 75 years or so.


I continue to automate Florida Backroads Travel so that any updates I make are posted automatically to my Mike Miller Facebook page and are tweeted on my Twitter page.


If you have a Facebook account, you might have fun joining the group Florida Backroads Travel. The group receives a lot of good comments and observations.


I continue to receive good input from site visitors who have created their own web page through the "Your Page" tab on the home page.


December and January had some really cold weather here in Florida. Hard freezes in the middle of the month did a lot of damage to fruit and vegetable crops, even in the southern counties. North and central Florida was especially cold. Many folks resolved to install a fireplace in their home before next year's cold season.


An old Florida saying is that if you don't like the weather, just wait a few days and some will come along that you do like.


Here are some interesting events around Florida for February 2011.




ALL REGIONS


FLORIDA WINERIES. Check the Florida winery nearest you. Many of them have wonderful weekend events that include music and wine tastings. Our site has information on 18 wineries scattered across the state.


FLORIDA FESTIVALS. Most of the snowbirds and tourists are down here by February, and it is the beginning of the outdoor art festival season. There also quite a few folk and bluegrass music festivals , however.


FLORIDA MUSEUMS. Many Florida art and historical museums have scheduled events. Click on the links to find out what is going on.


FLORIDA THEATER. This is an active time for plays and musical events in our many Florida theaters.. Check the links to find out what might be interesting to you.


FLORIDA AUTHORS. This past month I added a webpage about Pat Frank, the author of "Alas Babylon", a novel about nuclear Armageddon set in a fictional town modeled on Mount Dora, Florida. February is a good time to relax on a south Florida beach or in a park and read a book by a Florida author.




NORTHWEST FLORIDA

Niceville
Bee Gees Tribute - Night Fever. February 5. Three highly talented international vocalists harmoniously join forces along with their talented band to present Night Fever, a celebration of the Bee Gee's four-decade long success. The show's playlist has been hailed as the definitive collection of Bee Gees hits. Night Fever is also a touching tribute to the two lost brothers, Andy and Maurice. This two-hour extraordinary music tour is an outstanding opportunity for local audiences. Performance will be held at the Mattie Kelly Performing Arts Center.




NORTH CENTRAL FLORIDA

Gainesville
Winter Fine Art Show At Tioga, February 25-27. This annual show is presented by the Gainesville Fine Arts Association and takes place Friday through Sunday at the Tioga Town Center near I-75. The show features 70 artists and their work, wine tasting, fireworks, jazz and children's activities.




NORTHEAST FLORIDA

Fernandina Beach
Cabaret, February 10-26. This favorite play at the Amelia Community Theater is set during the turmoil of 1929 Berlin. The master of ceremonies invites us to forget our troubles at the lively Kit Kat Klub. Directed and choreographed by Carey Dresser, this Tony award–winning musical offers an outstanding local cast, music by John Kander, lyrics by Fred Ebb, and book by Joe Masteroff. Performances are at 2 p.m. on Sunday, February 20, and at 8 p.m. each Thursday, Friday, and Saturday from February 10 through February 26. Call 904-261-6749 for ticket and show time info.




CENTRAL EAST FLORIDA

Vero Beach
The Producers, February 24 - March 20. This Riverside Theater production of the play that won 12 Tony Awards is one of Broadway's biggest blockbusters. Based on the hit 1968 film of the same name, this Mel Brooks masterpiece chronicles the hilarious adventures of washed-up Broadway producer Max Bialystock and his mild-mannered accountant Leo Bloom, as they scheme to get rich quick by producing the most notorious flop in the history of showbiz. What they don't know is that after all their hard work, the musical ends up being a smash hit! The Producers is a hilarious tour-de-force that spoofs the big, old-fashioned Broadway musical while paying tribute to it at the same time.




CENTRAL FLORIDA

Mount Dora
Mount Dora Arts Festival, February 5-6. This very popular festival held annually downtown attracts more than 300,000 people. The event is ranked among the top 20 events in the Southeast by the Southeast Tourism Society. The talents of 285 leading artists will be on display in the areas of oils, clay, graphics, photography, watercolor, acrylics, glass, jewelry, sculpture, mixed media and more. The festival also features live entertainment, food and a kid's art area.




CENTRAL WEST FLORIDA

St Petersburg
Dalí & Beyond Film Series, February 3, 600pm. Orson Welles narrates this part documentary, part Dalí madness experience. Filmed in Dalí's homeland, the viewer leans about Dalí's life and art while being treated to such scenes as Dalí & Gala born from an egg, Dalí playing a piano filled with cats, and Dalí's aluminum foil sculpting. Cost is free, and refreshments are for sale in Café Gala.




SOUTHWEST FLORIDA

Naples
Naples National Art Festival, February 26-27. This pleasant event takes place under the shady oaks of Cambier Park on 8th Street South in downtown Naples. More than 260 local, regional and national artists display their talents. The festival features a food court, entertainment and free parking with shuttle service. Suggested admission fee is $5.




SOUTHEAST FLORIDA

Coconut Grove
Coconut Grove Art Festival, February 19-21. Celebrating its 48th anniversary in 2011, this event is one of the nation's premier outdoor fine arts festivals. It showcases the works of over 360 of the finest artists and craftsmen in the world. You can also sample fine local cuisine, enjoy live entertainment and take a walk through history. Last year approximately 4 million dollars of artwork was sold in three days at the show. The festival is held in the streets of Coconut Grove, a charming village within the city of Miami.


Information on the towns and places hosting these events, or near them, including lodging, can be found at Florida Towns.


If these events aren't convenient for you, try here for ADDITIONAL EVENTS.


In our current slow economy, some events are cancelled on very short notice. I do my best to ensure that our information is correct and current, but I recommend you call before leaving for the event to make sure it's still on.




ETHNIC RESTAURANT OF THE MONTH




Cafe Basil

202 West Main Street

Tavares, Florida 32778

352-253-6246




Tavares is an up and coming little town near Mount Dora and Eustis about 40 minutes northwest of Orlando. Tavares and the other two towns form the "Golden Triangle". Discovering Cafe Basil could be the highlight of your trip to this part of Florida.


The restaurant is in a restored brick building in the historic district of Tavares along West Main Street. A server/hostess will greet you when you come in the front door. On my visit, this role was filled by Nadine. She is a vivacious and outgoing young woman who will make you feel right at home.


My meal was served by one of the owners, Howard, a friendly Jamaican who prepares the authentic cuisine behind the scenes in the kitchen. The restaurant has several dining rooms, all pleasantly furnished and with lots of Caribbean colors and art decorating the walls.


I had Jerk Chicken, a Jamaican favorite as well as one of mine. It was tasty and spicy, just as I like it. I ordered mildly spicy, so I imagine the spicy version is really really spicy. Jerk is marinated chicken cooked over charcoal with Howard's special blend of sauces, herbs and seasoning. It is served with rice, bread, beans and veggies.


Howard also brought me a sample of his Brown Stew Chicken, which was delicious. This is chicken cooked and sauteed in his special blend of herbs and spices, and served with veggies, rice and peas and a house salad.


Other favorite dishes include Curry Goat, Curry Chicken and Ox Tail. They also serve beef, chicken and veggie patties, coco bread and a jerk chicken wrap. Fish is also available, usually on special order, including curry shrimp, steamed snapper and brown stew fish.


This pleasant little restaurant does not serve any alcoholic beverages at this time. Prices are very reasonable, with all entrees coming in at under $10.


Cafe Basil is open Mon-Fri from 800am to 700pm and Saturday 900am to 700pm.


Thanks for subscribing to Florida Heritage Travel. We will see you next month with more updates and event information.
---
Regards, Mike Miller
Chief Backroads Traveler
www.Florida-Backroads-Travel.com