March 2011 News And Events
Florida Heritage Travel is the companion monthly e-zine of
FLORIDA BACKROADS TRAVEL.
VINTAGE POSTCARD OF THE MONTH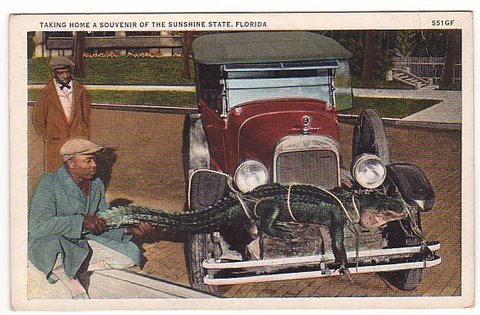 I think it's good now and then to remind our new Floridians and tourists that alligators are still very much with us. That stretch of I-75 that runs from Fort Lauderdale to Miami is not named Alligator Alley after the University of Florida Gators.


Alligators were abundant all over Florida when the picture on this postcard was taken in the 1930's. As Florida developed, they came into contact more often with humans and were hunted almost to extinction. By 1967, they were becoming scarce and were designated as an "endangered species" by the federal government. It became illegal to hunt them, and poachers were arrested and prosecuted all over the state in those years.


These strict measures worked. The gators made a spectacular comeback and were taken off the endangered species list in 1987. Florida alligators are now classified as a "Species of Special Concern", but can be harvested legally by obtaining a permit from the Florida Fish and Wildlife Conservation Commission.


There are some things to keep in mind if you happen upon an alligator. They are usually timid, and will not bother you unless you are near their nest or if some idiot has been feeding them. Never feed an alligator because they will begin to associate humans with food. Never get closer than about 15 feet to one; they can cover that distance very quickly. If you run from one, don't zig zag. Run straight and fast away in the opposite direction. Keep your dogs and cats away from alligators. If you fence your yard, remember that many gators can scale a 5 foot fence with no difficulty. Make it higher.


Welcome to Florida. Bienvenidos a Florida.


FLORIDA BACKROADS TRAVEL UPDATES


Thanks for continuing to subscribe to Florida Heritage monthly e-zine. Florida Backroads Travel continues to grow, and we hope you enjoy these updates.


I continue to automate Florida Backroads Travel so that any updates I make are posted automatically to my Mike Miller Facebook page and are tweeted on my Twitter page.


If you have a Facebook account, you might have fun joining the group Florida Backroads Travel. The group receives a lot of good comments and observations.


February warmed up quite a bit and it was a relief after the really cold weather we had in Florida in December and January. Toward the end of the month some folks were cranking on their home air conditioning.


Here are some interesting events around Florida for March 2011.




ALL REGIONS


FLORIDA WINERIES. Check the Florida winery nearest you. Many of them have wonderful weekend events that include music and wine tastings. Our site has information on 18 wineries scattered across the state.


FLORIDA FESTIVALS. Most of the snowbirds and tourists are still down here and it is outdoor art festival season. There also quite a few folk and bluegrass music festivals this time of the year.


FLORIDA MUSEUMS. Many Florida art and historical museums have scheduled events. Click on the links to find out what is going on.


FLORIDA THEATER. This is an active time for plays and musical events in our many Florida theaters.. Check the links to find out what might be interesting to you.


FLORIDA AUTHORS. March is a good time to relax on a beach or in a park and read a book by a Florida author.




NORTHWEST FLORIDA

Apalachicola
Apalachicola Art Walk and Wine Festival. March 26. Art in all forms will be displayed in picturesque downtown Apalachicola from 12 - 6 p.m. Artists and musicians will be showing, selling and demonstrating their talents. The festivities continue into the evening with a wine tasting from 3 - 6 p.m. (there is a fee for wine tasting). Afterwards, area chefs will prepare dishes at their restaurants paired with special wines. A finale performance will take place at the Dixie Theater (time TBA).




NORTH CENTRAL FLORIDA

Chiefland
The Drowsy Chaperone, March 25-27.The Suwannee Valley Players will present a new musical comedy with loads of laughs. This musical comedy is full of every cliche, gag and gimmick from the golden age of Hollywood musicals.




NORTHEAST FLORIDA

Jacksonville
Inherit The Wind, March 11-26. Theater Jacksonville presents what many consider to be one of the greatest plays of the twentieth century. The drama is inspired by the famous 1925 Scopes 'Monkey Trial' with two legal giants confronting each other when a community puts freedom of thought on trial. A film version of the play, released in 1960 starring Spencer Tracy and Gene Kelly, received four Academy Award nominations.




CENTRAL EAST FLORIDA

Deland
The 46th Annual Deland Outdoor Art Festival, March 26-27. This annual event is held at Earl Brown Park. In addition to numerous artists and their displays, there is plenty of good music and food.




CENTRAL FLORIDA

Winter Park
Winter Park Sidewalk Art Festival, March 18-20. This is the 52nd annual version of this very popular event. Each year more than 350,000 visitors enjoy the show. This year about 1,200 artists from around the world applied for entry and an independent panel of judges selected 225 national and international artists to exhibit at the show. The festival is held at Central Park along Park Avenue in downtown Winter Park.




CENTRAL WEST FLORIDA

Tampa
Raymond James Gasparilla Festival of the Arts, March 5-6. Curtis Hixon Waterfront Park. This event is held each year during the first weekend in March in beautiful downtown Tampa. It is one of the country's premier outdoor shows. Featured art includes ceramic, digital, drawing, fiber, glass, jewelry, mixed media, painting, photography, printmaking, sculpture, watercolor and wood.




SOUTHWEST FLORIDA

Naples
2nd Annual Mercato Fine Arts Festival, March 5-6. The newest fine art festival in Naples returns to the Mercato shopping and lifestyle center at the corner of US41 and Vanderbilt Beach Road with 125 national artists in a juried show. The easy location with two parking garages boasts merchants such as Whole Foods Market, The Capital Grille and Silverspot Cinema to enjoy before and after visiting the artists' booths. Admission is $5.




SOUTHEAST FLORIDA

West Palm Beach
8th Annual Palm Beach Fine Craft Show, March 4-6. This show attracts more than 100 of the nation's best craft artists to the heart of West Palm Beach at the Palm Beach County Convention Center. Meet and talk with the artists and see their latest celebrated work in ceramics, glass, fiber decorative and wearable art, wood-turned and carved objects, distinctive furniture, marvelous metals, exquisite jewelry and more. This is a juried show, and many of the artists' works are found in museums and private collections across the country.


Information on the towns and places hosting these events, or near them, including lodging, can be found at Florida Towns.


If these events aren't convenient for you, try here for ADDITIONAL EVENTS.


In our current slow economy, some events are cancelled on very short notice. I do my best to ensure that our information is correct and current, but I recommend you call before leaving for the event to make sure it's still on.




ETHNIC RESTAURANT OF THE MONTH




Ali Baba

1155 W State Road 434 # 105

Longwood, Florida 32750

407-331-8680


Longwood is a small town north of Orlando that has boomed as a residential community in recent decades. Ali Baba has been in Longwood since 1993, and has prospered as the town has grown. I was first introduced to it many years ago by an Iranian-American friend of mine.


Although primarily a Middle East restaurant, the food is amazingly eclectic at Ali Baba. Although they specialize in kabobs using Persian and Turkish recipes, they also feature dishes from Afghanistan, Pakistan, Iran, Iraq, Turkey, Egypt, Syria, Lebanon, Jordan, Morocco, Algeria and even some of the southern countries of the former Soviet Union.


The food is presented on a large buffet and you can pick and choose what you want and take it back to your table. The buffet has 34 different items, each labeled with its ingredients and method of cooking. All of the food is cooked daily using fresh local meat and vegetables. Some of their specialties include kabobs like kubideh, joojeh, shish and shis tawook. I am especially fond of their kafta kabobs. You can also order ala carte if you don't like buffets.


Ali Baba also has delicious vegetarian dishes that can almost make you forget you like meat. They have hummos, babaganouche, mirzahassemi, olive salad, tabouleh, shirazi and a lot more. Their saffron basmati rice is fantastic. They also have two different soups available each day.


Ali Baba has entertainment on Friday and Saturday, including belly dancers, and is very family friendly. The atmosphere is pleasant, with colorful tile top dining tables.


Thanks for subscribing to Florida Heritage Travel. We will see you next month with more updates and event information.
---
Regards, Mike Miller
Chief Backroads Traveler
www.Florida-Backroads-Travel.com