August 2011 News And Events
Florida Heritage Travel is the companion monthly e-zine of
FLORIDA BACKROADS TRAVEL.
VINTAGE POSTCARD OF THE MONTH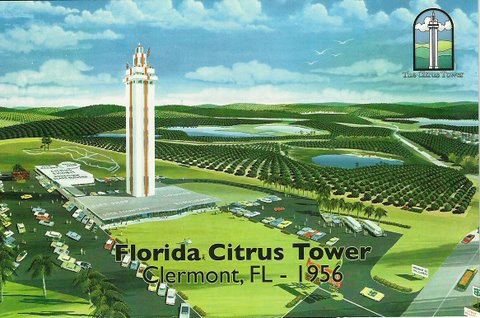 The Citrus Tower opened in 1956 in Clermont, Florida on US Highway 27. It was built on the highest hill in that area to create an observation tower to showcase the citrus industry in the 8 county region of Central Florida that was the world leader in citrus production at the time. The tower rises 226 feet above ground, and the antennae on top of the observation tower are about 500 feet above sea level. The observation deck is as high as you can go on any building in Florida.


The tower was built before the Florida Turnpike or interstate highways existed. It was a major Florida tourist attraction in its day. Tourists heading down US-27 in the center of the state would stop at Silver Springs, Citrus Tower and Cypress Gardens on their way south to Miami and the other major Florida attractions - the beaches. Orlando was not a major tourist destination because there was no Walt Disney World or Universal Studios in those days. There were just millions of orange and grapefruit trees as far as the eye could see.


Devastating freezes in the early 1980's destroyed most of the groves in Central Florida. For years after the freeze, the rolling hills along the Florida Turnpike were covered with grey dead citrus trees. It was a depressing sight. At the same time, Orlando was booming and growing north and west. It made more economic sense for citrus growers to sell their land to developers than to replant it in citrus. It was the end of an era, and most of the Central Florida citrus industry moved further south down the Florida peninsula.


But the Citrus Tower is still operating and open to the public. An elevator rises from the gift shop at ground level to a glass enclosed observation deck near the top of the tower. You can see the hundreds of lakes that dot this part of Florida. On a clear day you can see for 35 miles. Downtown Orlando and Walt Disney World are visible on the distant horizon. Not many citrus groves are visible these days, but you can see the thousands of homes and shopping centers that have been built since citrus stopped being the king of the area.


Learn about the Citrus Tower at Florida Backroads Travel.


FLORIDA BACKROADS TRAVEL UPDATES


Thanks for continuing to subscribe to Florida Heritage monthly e-zine. Florida Backroads Travel continues to grow, and we hope you enjoy these updates.


I continue to automate Florida Backroads Travel so that any updates I make are posted automatically to my Mike Miller Facebook page and are tweeted on my Twitter page. You can also subscribe to our Florida Blog by going to our home page and selecting an RSS feed. This way you will have daily updates.


August in Florida seems to get hotter every year. The heat and humidity make many Floridians stay at home and hang around the air conditioner. It doesn't get much better until late September.


Here are some interesting events around Florida for August 2011.




ALL REGIONS


FLORIDA WINERIES. Check the Florida winery nearest you. Many of them have wonderful weekend events that include music and wine tastings. Our site has information on 18 wineries scattered across the state.


FLORIDA FESTIVALS. The weather is hot and humid, so there are fewer outdoor art festivals. There are still quite a few folk and bluegrass music festivals this time of the year.


FLORIDA MUSEUMS. Many Florida art and historical museums have scheduled events. Click on the links to find out what is going on.


FLORIDA THEATER. This is an active time for plays and musical events in our many Florida theaters.. Check the links to find out what might be interesting to you.


FLORIDA AUTHORS. August is a good time to relax on a beach or in a park or in a hammock on your lanai and read a book by a Florida author. Our most visited author page is that of Randy Wayne White, the creator of Doc Ford. This month we added a new author, Jan Godown Annino, who wrote "Scenic Driving Florida" and many other books and stories.




NORTHWEST FLORIDA

Pensacola Beach
Bushwacker Festival and 5K Run. August 5-7. This annual festival on the boardwalk at Pensacola Beach is centered around Pensacola's favorite adult beverage: the milk chocolately bushwacker. Enjoy a fun 5K run and celebration on the boardwalk. Phone: 850-434-1234.




NORTH CENTRAL FLORIDA

Tallahassee
Rumors. August 18-September 4. Tallahassee Little Theater. "Rumors" is a farcical play by Neil Simon. Several rich couples get together in the home of friends to celebrate their 10th wedding anniversary. When they arrive they discover their host, the deputy mayor of New York City, has shot himself through the earlobe. The fun begins when the couples decide to hide the incident from the police and media.




NORTHEAST FLORIDA

Amelia Island
Annual Great Southern Tailgate Cook-off. August 26-27. Kick off the football season with a barbeque competition at the beach with the 2nd Annual Great Southern Tailgate Cook-off! Sanctioned by the Kansas City Barbeque Society, professional barbeque competition teams will compete for over $20,000 in cash and prizes at Main Beach Park on beautiful Amelia Island, Florida. Get ready for football season and learn a few new barbeque tricks to show off at your own football tailgate parties!




CENTRAL EAST FLORIDA

Ponce Inlet
National Lighthouse Day. August 7 - 100am to 200pm. Every year on August 7th there is a celebration of the US Congress commissioning the first Federal Lighthouse. Come join the Ponce Inlet Lighthouse and celebrate. Enjoy workshops and other activities in air conditioned buildings. See new lighthouse exhibits, and participate in turn of the century kid's activities. Visit our lighthouse keeper (in living history mode) as he describes his duties at the lighthouse. Ponce DeLeon Lighthouse, 4931 S. Peninsula Drive, Ponce Inlet, Florida 32127. 386-761-1821, extension 10.




CENTRAL FLORIDA

Lake Placid
11th Annual Grape Stomp Henscratch Farms, August 13 - 1000am. Guests get the opportunity to stomp as much as 2,000 lbs of grapes. Time stamped photos are taken of you stomping. You can then later order your own personal foot-stomped wine. Henscratch will be making the wine from that day's stompings over the next eight weeks. It will be ready for bottling November 1st. You can order your own "Footstomped Wine" with your picture on a Private Label.




CENTRAL WEST FLORIDA

Clearwater
Hippiefest. August 27 - 700pm, Ruth Eckerd Hall. This is an annual touring show about hippies with their tie dyed shirts, peace signs, peasant skirts and flower power stuff. The show features Dave Mason (We Just Disagree, Hole In My Shoe, Feelin' Alright, Only You Know and I Know), Mark Farner (We're An American Band, Walk Like A Man, The Loco-Motion, Shinin' On), Rick Derringer (Rock and Roll, Hoochie Koo, and Hang On Sloopy), Felix Cavaliere's Rascals (Good Lovin', Groovin' and People Got To Be Free) and Gary Wright (Dream Weaver, Love Is Alive and Really Wanna Know You). Lots of music and laughs.




SOUTHWEST FLORIDA

Fort Myers
Annie. July 7-August 13. Broadway Palm Dinner Theater. An orphan named Annie, and her dog, Sandy, are placed in the lap of luxury for a week as part of a publicity campaign. Her stay turns out to be much more than anyone had bargained for as she works her way into everyone's hearts and learns a few things for herself. The classic songs include "It's the Hard Knock Life", "Easy Street" and "Tomorrow".




SOUTHEAST FLORIDA

Key West
15th Annual Key West Lobsterfest. August 12-14. Welcome to the official site of the Key West Lobsterfest. Every year Key West celebrates the beginning of lobster season by throwing the biggest party of the summer. Thousands of lobster lovers descend on Key West for three glorious days and nights. Events include the Duval Crawl on Friday night, a free concert and street fair on Saturday and a decadent Sunday Brunch.


Information on the towns and places hosting these events, or near them, including lodging, can be found at Florida Towns.


If these events aren't convenient for you, try here for ADDITIONAL EVENTS.


In our current slow economy, some events are cancelled on very short notice. I do my best to ensure that our information is correct and current, but I recommend you call before leaving for the event to make sure it's still on.




RESTAURANT OF THE MONTH




Bosphorous Restaurant

108 South Park Avenue

Winter Park, Florida 32789

321-441-4421



---

Thanks for subscribing to Florida Heritage Travel. We will see you next month with more updates and event information.
---
Regards, Mike Miller
Chief Backroads Traveler
www.Florida-Backroads-Travel.com