October 2011 News And Events
Florida Heritage Travel is the companion monthly e-zine of
FLORIDA BACKROADS TRAVEL.
VINTAGE POSTCARD OF THE MONTH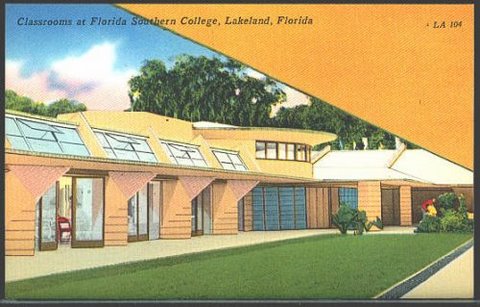 Frank Lloyd Wright is probably the most famous architect in history. He was born in 1867 and died in 1959, leaving his distinctive creative touches on buildings all over the world during his long career.


The largest collection of his work in one location is on the campus of Florida Southern College on Lake Hollingsworth in Lakeland, Florida. 18 structures on campus were designed by Wright, and are still functional today. This collection is named Child Of The Sun, and includes the first of Wright's buildings to be completed, the Annie Pfeiffer Chapel. The chapel was started in 1938, dedicated in 1941 and partially restored in 2007. Other buildings are in various stages of restoration, and the entire campus is on the National Register of Historic Places.


The Child Of The Sun Visitor Center offers guided tours of the Wright buildings during summer for $15/person for a basic one hour tour, and $30/person for a two hour in-depth tour. Self guided free walking tours are also available all of the time, and tour maps are liberally located throughout the campus. The visitor center is open Monday-Friday 10am-4pm, Saturday 10am-2pm, and Sunday 2pm-4pm. The grounds are open 24 hours/day and many of the buildings are open. You can call 863-680-4597 for more information.


Florida Southern College is located at 111 Lake Hollingsworth Drive, Lakeland, Florida 33801. Crank that into your GPS and make a visit!


FLORIDA BACKROADS TRAVEL UPDATES


Thanks for continuing to subscribe to Florida Heritage monthly e-zine. Florida Backroads Travel continues to grow, and we hope you enjoy these updates.


I continue to automate Florida Backroads Travel so that any updates I make are posted automatically to my Mike Miller Facebook page and are tweeted on my Twitter page. You can also subscribe to our Florida Blog by going to our home page and selecting an RSS feed. This way you will have daily updates.


October in Florida has some of the best weather anybody could ask for. Most of the miserable heat and humidity of summer have become nothing more than uncomfortable memories. The balmy breeze and ideal temperature have people exclaiming "This is why I moved to Florida", and tourism starts to pick up in the central and southern parts of the state.


Here are some interesting events around Florida for October 2011.




ALL REGIONS


FLORIDA WINERIES. Check the Florida winery nearest you. Many of them have wonderful weekend events that include music and wine tastings. Our site has information on 18 wineries scattered across the state.


FLORIDA FESTIVALS. The weather is getting more comfortable, so there are more art and music festivals this time of the year.


FLORIDA MUSEUMS. Many Florida art and historical museums have scheduled events. Click on the links to find out what is going on.


FLORIDA THEATER. This is an active time for plays and musical events in our many Florida theaters.


FLORIDA AUTHORS. October is a good time to relax on a beach or in a park or in a hammock on your lanai and read a book by a Florida author. Our most visited author page is that of Randy Wayne White, the creator of Doc Ford.




NORTHWEST FLORIDA

Pensacola
Pensacola Interstate Fair. October 20-30. This is the largest and most exciting event held on the Gulf Coast. The fair serves the useful purpose of providing the facilities for the agricultural, educational, scientific, livestock, cultural, commercial and industrial resources of surrounding counties and states like Georgia and Alabama. Being of an interstate character attracts and receives exhibits and participants from all over the country.




NORTH CENTRAL FLORIDA

Gainesville
Heart of Florida Asian Festival. October 22-23. This annual event is held at the historic Thomas Center, 302 NE 6th Avenue in Gainesville. The festival highlights the arts, cultures, and traditions of Asia. It also provides a showcase for Asian American citizens to celebrate their heritage and display their talents. Call 352-393-8537 for more information.


Gainesville and Tallahassee.
The Florida Gators have one home game in Gainesville on October 1 against Alabama. The Florida State Seminoles have two games at home in October - Maryland on the 22nd and NC State on the 29th. Look for some busy weekends and make sure you have your rooms booked early.




NORTHEAST FLORIDA

Ponte Vedra Beach
An Evening With Ralph Stanley. October 8. Ponte Vedra Concert Hall. Ralph is a bluegrass banjo and tenor singing legend with 55 years of performing experience. He has recorded more than 170 albums, tapes and cd's. He is a Grammy award winning vocalist, and a member of the Grand Ole Opry. He has recorded duets with Bob Dylan, George Jones, Vince Gill, Emmylou Harris, Dolly Parton and many others.




CENTRAL EAST FLORIDA

Melbourne
Art Of Murder. October 14 - November 20 on Fridays and Saturdays. Melbourne Civic Theater. This play takes place in the countryside of Connecticut. Jack Brooks, a well known eccentric painter, awaits the arrival of his art dealer. But the visit is not a standard one, for Jack feels wronged, and he is intending to kill the man. As Jack lays out his intentions for the evening, his wife, Annie, calmly paints. She is reluctant to go along with the plan, until Jack's threat of violence convinces her otherwise. Harried and annoyed, Vincent, Jack's flamboyant art dealer, arrives. Will Jack carry out his plan? Will Annie help him? Or is something else going on?




CENTRAL FLORIDA

Mount Dora
37th Annual Mount Dora Bicycle Festival. October 14-16. If you want to enter this event, pick up your registration form on October 13. There are official rides on Saturday and Sunday, including the demanding 100 mile "Century" ride and the 40 mile "Assault on Sugarloaf". There are other milder rides for families and beginners. It's also a great spectator event. The festival takes advantage of the scenic roads and hilly country of Lake County.


27th Annual Mount Dora Craft Fair. October 22-23. The streets of Mount Dora will be packed with 350 talented crafters and artists from all over the USA. More than 325,000 visitors are expected to attend.




CENTRAL WEST FLORIDA

Sarasota
Sarasota Pumpkin Festival. October 28-30. Sarasota County Fairgrounds on Fruitville Road. This annual festival gives visitors a chance to enjoy a gathering that's designed for families of all ages. There a lots of good shows and fun carving events, along with flying trapeze performances and horse shows.




SOUTHWEST FLORIDA

Port Charlotte
Holidayfest And Craft Extravaganza. October 8-9, Charlotte County Fairgrounds in the Murdock area of Port Charlotte. Large craft show with lots of games and rides for the kids and plenty of interesting crafts to entertain the adults.




SOUTHEAST FLORIDA

Miami
Old Time Dance. October 23. Barnacle Historic State Park, downtown Coconut Grove. Kick up your heels to traditional American music played by Keeping It Reel while learning traditional American folk dance steps from Lou Dow. All levels are welcome, instruction is provided. Dances such as circles, squares, contras, and waltzes were all the rage in the 1800s, so come party like it's 1899! Gates open at 6pm, live music and dancing from 6:30-10pm. No pets please.


Information on the towns and places hosting these events, or near them, including lodging, can be found at Florida Towns.


If these events aren't convenient for you, try here for additional events.


In our current slow economy, some events are cancelled on very short notice. I do my best to ensure that our information is correct and current, but I recommend you call before leaving for the event to make sure it's still on.




ETHNIC RESTAURANT OF THE MONTH




Memories of India II

3895 Lake Emma Road

Lake Mary, Florida 32746

407-804-0920


This small restaurant is located in a strip center in Lake Mary north of Orlando. It is a small plainly furnished restaurant with several tables and booths in two separate dining rooms. As the name implies, there is another restaurant of this name that is located on Turkey Lake Road in Orlando.


I like Indian food, but usually get in a rut when I go out to eat. The rut is this: if I like something I order it again and again. My favorite Indian dish is Chicken Tandoori. Tandoori is a style of cooking that puts marinated meat over an intense fire in a tandoor. A tandoor is a large clay pot used as an oven. The direct heat that cooks the meat gets as high as 500 degrees F.


The marinade for tandoori is yogurt jazzed up with great spices like saffron, annatto seeds (the seeds give tandoori its traditional reddish coloring), ginger, garlic, coriander, cayenne and a few others depending on the restaurant.


The Chicken Tandoori at this restaurant is tasty. I ordered the half portion, but it was not enough to satisfy my hunger. Half portions at other Indian restaurants I've tried are larger. The whole portion is too expensive for me, so I wish they had a one and one/half size but they don't. I think next time I eat here I'll order an appetizer to make up for the small tandoori portion. They also have shrimp and lamb cooked tandoori style. All of their tandoori dishes are served with very tasty rice with cooked onions but no other vegetables.


The naan bread is delicious, the wine is good and the service is prompt, cordial and attentive. One of their best desserts is Rice Kheer. It's made with basmati rice, milk, nuts, sugar and raisins.


Memories of India II is famous locally for their Sunday Champagne lunch buffet for $12.95/person. It is a good way to try everything on their menu and make sure you don't leave hungry.


Thanks for subscribing to Florida Heritage Travel. We will see you next month with more updates and event information.
---
Regards, Mike Miller
Chief Backroads Traveler
www.Florida-Backroads-Travel.com