November 2011 News And Events
Florida Heritage Travel is the companion monthly e-zine of
FLORIDA BACKROADS TRAVEL.
VINTAGE POSTCARD OF THE MONTH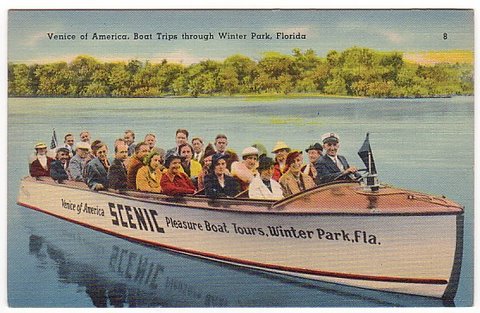 The Winter Park Scenic Boat Tour is located on Lake Osceola at the east end of Morse Boulevard. It is one of the oldest tourist attractions in Florida. It has been in business continually since 1938. Unlike the sleek mahogany craft in the postcard, today's tours are made on a fleet of 6 spacious 18 passenger pontoon boats with comfortable seating and outboard motors.


There are 17 lakes in Winter Park, and the tour visits three of the largest ones: Lakes Osceola, Virginia and Maitland. These lakes are connected by very narrow canals that were built by loggers back in the 1800's. The canals are just wide enough for the pontoon boats and not much more. They are also very shallow and sometimes during periods of drought the boats can't make the trip.


The narrated tour takes about one hour and you will see lots of wildlife: birds, gators, turtles and other creatures of the fresh water lakes. You will pass through canopied canals lined on both sides with exotic tropical vegetation. Your tour will also go by some of the most magnificent mansions in Florida and the beautiful campus of Rollins College on Lake Virginia. The tour guides narrate the trip along the way and are very knowledgeable about their territory.


Check the Scenic Boat Tours website for hours of operation and current admission charges.


FLORIDA BACKROADS TRAVEL UPDATES


Thanks for continuing to subscribe to Florida Heritage monthly e-zine. Florida Backroads Travel continues to grow, and we hope you enjoy these updates.


I continue to automate Florida Backroads Travel so that any updates I make are posted automatically to my Mike Miller Facebook page and are tweeted on my Twitter page. You can also subscribe to our Florida Blog by going to our home page and selecting an RSS feed. This way you will have daily updates.


November in Florida has some of the best weather anybody could ask for. Most of the miserable heat and humidity of summer have become nothing more than uncomfortable memories. The balmy breeze and ideal temperatures of October and November have people exclaiming "This is why I moved to Florida", and tourism starts to pick up in the central and southern parts of the state.


Here are some interesting events around Florida for November 2011.




ALL REGIONS


FLORIDA WINERIES. Check the Florida winery nearest you. Many of them have wonderful weekend events that include music and wine tastings. Our site has information on 18 wineries scattered across the state.


FLORIDA FESTIVALS. The weather is getting more comfortable, so there are more outdoor art festivals and folk and bluegrass music festivals this time of the year.


FLORIDA ZOOS. Florida has many zoos, and Florida zoos offer an interesting and inexpensive way to spend a day or more.


FLORIDA BEACHES. Almost anything you decide to do in Florida can be enhanced by spending some quality time at a great beach, and best beaches in Florida will guide you in the right direction.


FLORIDA MUSEUMS. Many Florida art and historical museums have scheduled events. Click on the links to find out what is going on.


FLORIDA THEATER. This is an active time for plays and musical events in our many Florida theaters.. Check the links to find out what might be interesting to you.


FLORIDA AUTHORS. November is a good time to relax on a beach or in a park or in a hammock on your lanai and read a book by a Florida author. Our most visited author page is that of Randy Wayne White, the creator of Doc Ford.




NORTHWEST FLORIDA

Pensacola
Great Gulfcoast Art Festival. November 4-6. This festival is one of the best regarded, most popular arts festivals in the United States. The three-day, juried art show draws more than 200 of the nation's best painters, potters, sculptors, jewelers, graphic artists, craftsmen and other artists to Seville Square.




NORTH CENTRAL FLORIDA

Gainesville
Downtown Festival and Art Show. November 12-13. This event transforms downtown Gainesville into a venue for award-winning artists and draws a crowd of more than 100,000. The festival celebrates its 30th anniversary in 2011. More than 250 of the nation's most talented artists display their original oils and acrylics, vibrant watercolors, captivating sculptures, dazzling jewelry, decorative ceramics and vivid photography.


Gainesville and Tallahassee.
The Florida Gators have three home games in Gainesville in November: the 5th, 19th and 26th (against Florida State). The Florida State Seminoles have two games at home in November: the 12th and the 19th. Look for some busy weekends and make sure you have your rooms booked early. Here is the Gator Football Schedule and the Seminole Football Schedule.




NORTHEAST FLORIDA

St. Augustine
St. Augustine Fall Art and Craft Festival. November 26-27. Sponsored by The Record, AT&T, and the Tourist Development Council, this 46th annual juried outdoor art fair features more than 100 fine artists and craftsmen from Florida and across the U.S.; Kids Art Zone; Gamble Rogers Festival entertainment stage; prizes. The event is held at Franics Field next to the vistitor's center.




CENTRAL EAST FLORIDA

DeLand
Deland Fall Festival of the Arts. November 19-20. Woodland Boulevard blossoms into an artist's garden of color every November, as DeLand hosts the Annual DeLand Fall Festival of the Arts. Over 180 National Artists will display and sell their art work in the historic downtown shopping district, just in time for holiday gift-giving. The historic preservation district of downtown DeLand provides a charming backdrop for this annual festival.




CENTRAL FLORIDA

Lake Buena Vista
Festival of the Masters. November 11-13. The 36th Festival of the Masters is a vibrant open-air art festival in the Downtown Disney area. Featuring nearly 150 award-winning artists, this show is a much anticipated annual event for guests, artists, collectors and art lovers. Showcasing one-of-a-kind and limited edition painting, photography, sculpture, jewelry and more, this prestigious show is ranked among the country's finest outdoor art festivals. There's a lot more to enjoy, too, like amazing chalk art, live music, specialty foods and family-friendly activities.




CENTRAL WEST FLORIDA

Venice
24th Annual Downtown Venice Art Festival. November 5-6. Enjoy grabbing a bite to eat and shopping for antiques during the fine art show in the downtown area of West Venice Avenue. Over 150 artists will exhibit their work, ranging in mediums from photography to jewelry, paintings to sculpture, ceramics, glass, mixed media and more.




SOUTHWEST FLORIDA

Naples
8th Annual Naples Fall Fine Art and Craft Festival. November 26-27. This event was formerly known as the Naples Renaissance Fall Art Festival. Held near the Naples Depot on 10th Street South, this Thanksgiving weekend festival features about 120 artists. Now in its 8th year, this show has earned a reputation for quality artwork, easy layout for artists and guests, visibility from a major roadway, and an artist-friendly environment. Because of the timing around Thanksgiving, this festival draws local attendees who bring out-of-town guests.




SOUTHEAST FLORIDA

Plantation
Art In The Park. November 12-13. This is a creative arts festival held in Liberty Tree Park and sponsored by Plantation Junior Woman's Club. This year's event is the 44th annual one, and it is a juried art show. The club raises money for charitable causes with this show and other events.


Information on the towns and places hosting these events, or near them, including lodging, can be found at Florida Towns.


If these events aren't convenient for you, try here for additional events.


In our current slow economy, some events are cancelled on very short notice. I do my best to ensure that our information is correct and current, but I recommend you call before leaving for the event to make sure it's still on.




RESTAURANT OF THE MONTH




Olivia's Coffee House

113 N. Bay Street

Eustis, Florida 32726

352-357- 1887


Thanks for subscribing to Florida Heritage Travel. We will see you next month with more updates and event information.
---
Regards, Mike Miller
Chief Backroads Traveler
www.Florida-Backroads-Travel.com