December 2011 News And Events
Florida Heritage Travel is the companion monthly e-zine of
FLORIDA BACKROADS TRAVEL.
RECAPTURE YOUR YOUTH AT WARM MINERAL SPRINGS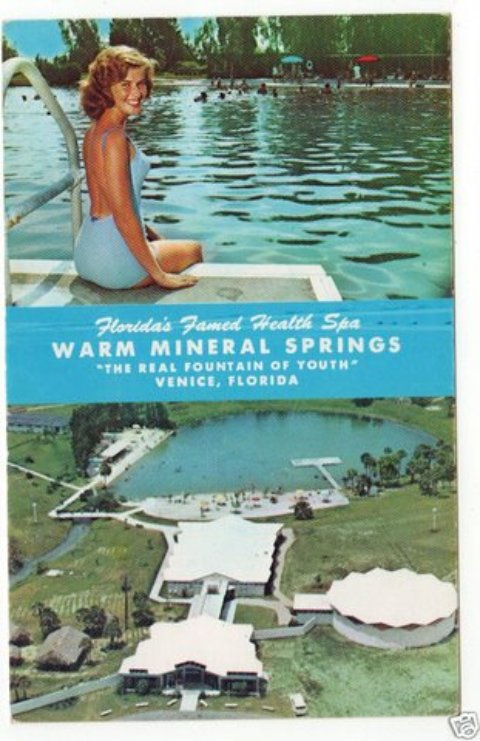 Warm Mineral Springs is located on US-41 (the Tamiami Trail) in Northport about 12 miles southeast of Venice. It's an old Florida tourist attraction that often gets overlooked by modern visitors dazzled by the glamor and activity of the larger theme parks. Still, 65,000 visitors - many from Europe - come to soak in the mineral waters every year. Most of them would like to keep this great little place a secret.


This natural spring is replenished daily by 9 million gallons of water at a temperature of 87 degrees. The spring waters are claimed to contain 51 different minerals, the highest mineral content of any spring in the United States. Many repeat visitors claim these waters restore their health and make them feel better. They claim relief for everything from arthritis to the heartbreak of psoriasis. There is plenty of room to swim in the spring or just relax and soak.


Many people claim that Warm Mineral Springs is really the Fountain of Youth that Juan Ponce de Leon was searching for when he first landed in Florida. On his last rip he was still searching for the mythical fountain when he and 200 of his people landed on Charlotte Harbor south modern day Northport and Venice in 1521.


Not long after they landed they were attacked by local Indians. Ponce was badly wounded and his ships took him back to Cuba where he died in July of 1521. He did not live long enough to try the restorative waters of Warm Mineral Springs. Maybe he could have survived and still be alive today to tell us about his miracle Fountain of Youth.


Warm Mineral Springs today is a small resort. There is a restaurant on the property - Cafe Evergreen - and a spa that offers all kinds of beauty and health treatments like massage and acupuncture. An old retro motel in good condition is also adjacent to the grounds. It's a good place to kick back and rejuvenate for a few days.


Check the Warm Mineral Springs website for hours of operation and current admission charges.


FLORIDA BACKROADS TRAVEL UPDATES


Thanks for continuing to subscribe to Florida Heritage monthly e-zine. Florida Backroads Travel continues to grow, and we hope you enjoy these updates.


I continue to automate Florida Backroads Travel so that any updates I make are posted automatically to my Mike Miller Facebook page and are tweeted on my Twitter page. You can also subscribe to our Florida Blog by going to our home page and selecting an RSS feed. This way you will have daily updates.


December in Florida has some of the best weather anybody could ask for, and it even gets nippy, by Florida standards, once in awhile. Tourism starts to pick up after Thanksgiving in the central and southern parts of the state.


Here are some interesting events around Florida for December 2011.




ALL REGIONS


FLORIDA WINERIES. Check the Florida winery nearest you. Many of them have wonderful weekend events that include music and wine tastings. Our site has information on 18 wineries scattered across the state.


FLORIDA FESTIVALS. The weather is getting more comfortable, so there are more outdoor art festivals and folk and bluegrass music festivals this time of the year.


FLORIDA ZOOS. Florida has many zoos, and Florida zoos offer an interesting and inexpensive way to spend a day or more.


FLORIDA BEACHES. Almost anything you decide to do in Florida can be enhanced by spending some quality time at a great beach, and best beaches in Florida will guide you in the right direction.


FLORIDA MUSEUMS. Many Florida art and historical museums have scheduled events. Click on the links to find out what is going on.


FLORIDA THEATER. This is an active time for plays and musical events in our many Florida theaters.. Check the links to find out what might be interesting to you.


FLORIDA AUTHORS. December is a good time to curl up next to the fireplace and read a book by a Florida author. Our most visited author page is that of Randy Wayne White, the creator of Doc Ford.




NORTHWEST FLORIDA

Seaside
First Friday Artwalk. December 2, 5-8pm. Enjoy live music, beautiful works of art and artist demonstrations at the galleries and shops of Ruskin Place and at select locations in Central Square. Free of Charge.




NORTH CENTRAL FLORIDA

Gainesville
O'Connell Center Craft Festival.December 3, 10am-6pm. December 4, 10am-5pm. The Stephen C. O'Connell Center hosts this craft festival. It is an annual event that showcases handmade crafts by talented artisans and craftsmen. The Festival provides an excellent opportunity to shop for unique merchandise and gifts; it features over 300 different vendors. The show is held at the Stephen C. O'Connell Center on the University of Florida campus each year and takes place over two days. Admission is $4 for the public. Admission for students with a valid student I.D is $1.




NORTHEAST FLORIDA

St. Augustine
Nights Of Lights Carriage Tour. Step aboard an old-fashioned horse-drawn carriage and enjoy the spectacular light displays while indulging in delicious boutique wines! Lights, Carriage and Holiday 'Cheer'! Carriage tours start at 6 pm, 7:30 pm and 9 pm on Monday through Saturday. Nov. 21st and running through January 31st.




CENTRAL EAST FLORIDA

Cocoa
Home For The Holidays. December 20 730pm. Historic Cocoa Village Playhouse in the heart of downtown Cocoa Village. This is a performance of holiday songs and other entertainment. Call 321-636-5050 for tickets!




CENTRAL FLORIDA

Mount Dora
Mount Dora Lighted Boat Parade. December 3, 700pm. This annual event features scores of beautifully decorated boats parading along the Mount Dora waterfront. For more information on this event please contact the Mount Dora Boating Center or the Mount Dora Lions Club at 352-383-3150.




CENTRAL WEST FLORIDA

Sarasota
The American Craft Show. December 2-4. The American Craft Show Sarasota returns to the Sarasota-Bradenton International Convention Center. This event, now in it's 19th year, features outstanding works in ceramics, decorative fiber, glass, jewelry, leather, metal, mixed media, paper, wearable art, and wood by more than 90 of the nation's top craft artists. Tickets are $9 per day for regular admittance; $8 for seniors; $5 for students; and $12 for a three-day pass. Children under 10 are admitted free. The Sarasota-Bradenton International Convention Center is located at 8005 15 St. E., Sarasota. Parking is free.




SOUTHWEST FLORIDA

Naples
Christmas At Palm Cottage. November 15 - December 31. 137 12th Avenue South, Naples, 34102. Every year the Naples Historical Society showcases historical Palm Cottage, Naples' oldest house, in holiday splendor. This year the cottage is decorated beautifully and elegantly, with twinkling lights inside and out. Get into the holiday spirit with family, friends and visitors while celebrating Naples past. Admission: $6 per person; Children under 10 Free.




SOUTHEAST FLORIDA

Miami
Monthly Bluegrass Festival. December 4: 12:30-5 pm. The South Florida Bluegrass Association has their monthly bluegrass festival at Greynolds Park in the Ojus area of north Miami. The park is at Miami Gardens Drive and NE 22 Avenue. From I-95, exit at Miami Gardens Drive, (Route 860), East to NE 22 Ave, turn right the park entrance is on the left side of the road.


Information on the towns and places hosting these events, or near them, including lodging, can be found at Florida Towns.


If these events aren't convenient for you, try here for additional events.


In our current slow economy, some events are cancelled on very short notice. I do my best to ensure that our information is correct and current, but I recommend you call before leaving for the event to make sure it's still on.




RESTAURANT OF THE MONTH




Greek Flame Taverna

7600 Doctor Phillips Blvd

Orlando, Florida 32819

407-370-4624



---

Thanks for subscribing to Florida Heritage Travel. We will see you next month with more updates and event information.
---
Regards, Mike Miller
Chief Backroads Traveler
www.Florida-Backroads-Travel.com