January 2012 News And Events
Florida Heritage Travel is the companion monthly e-zine of
FLORIDA BACKROADS TRAVEL.
ALLIGATOR JOE: INVENTOR OF ALLIGATOR WRESTLING?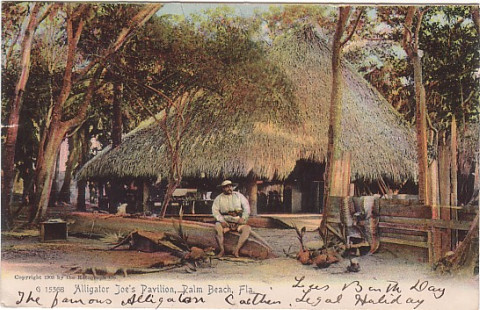 A Florida Cracker named Warren Frazee figured out how to make a living from tourists a long time ago. He was a native of Jacksonville, born in 1873, and came down to Palm Beach in 1898 and reinvented himself as Alligator Joe. He was one of the pioneers of Florida tourism.


Frazee created Alligator Joe's in Palm Beach just after the turn of the previous century, about 1903. Warren was a big man, about 340 pounds, and wrestled alligators for the amusement of the tourists. He also had turtles, manatees, crocodiles and other assorted Florida creatures in his tourist farm. Alligator Joe's was located near the present day location of the upscale shopping district of Worth Avenue. The attraction was close to the grandiose Palm Beach hotels and winter guests made his farm a real success.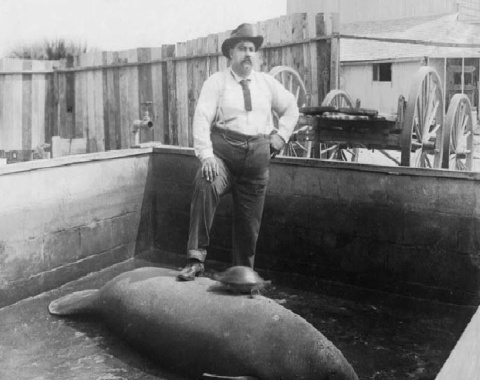 One of Alligator Joe's sideline businesses was trapping manatees for sale to zoos and aquariums around the country, including his own attractions in Chicago, Kansas City and Denver. He did this until trapping manatees was finally outlawed toward the end of his life.


In 1915, he loaded a train with live alligators, various gamefish and manatees and sent them on their way to San Francisco to exhibit at the Pan American Exposition. He died not long after due to complications from his obesity, including pneumonia, cardiac problems, tonsilitis and diabetes. He had done a lot of living in his 42 years.


FLORIDA BACKROADS TRAVEL UPDATES


Thanks for continuing to subscribe to Florida Heritage monthly e-zine. Florida Backroads Travel continues to grow, and we hope you enjoy these updates.


I continue to automate Florida Backroads Travel so that any updates I make are posted automatically to my Mike Miller Facebook page and are tweeted on my Twitter page. You can also subscribe to our Florida Blog by going to our home page and selecting an RSS feed. This way you will have daily updates.


January in Florida has some of the best weather anybody could ask for, and it even gets nippy, by Florida standards, once in awhile. Tourism starts to pick up after Thanksgiving in the central and southern parts of the state. Locals like to crank up their fireplaces now and then, especially in North Florida.


Here are some interesting events around Florida for January 2012.




ALL REGIONS


FLORIDA WINERIES. Check the Florida winery nearest you. Many of them have wonderful weekend events that include music and wine tastings. Our site has information on 18 wineries scattered across the state.


FLORIDA FESTIVALS. The weather is getting more comfortable, so there are more outdoor art festivals and folk and bluegrass music festivals this time of the year.


FLORIDA ZOOS. Florida has many zoos, and Florida zoos offer an interesting and inexpensive way to spend a day or more.


FLORIDA BEACHES. Almost anything you decide to do in Florida can be enhanced by spending some quality time at a great beach, and best beaches in Florida will guide you in the right direction.


FLORIDA MUSEUMS. Many Florida art and historical museums have scheduled events. Click on the links to find out what is going on.


FLORIDA THEATER. This is an active time for plays and musical events in our many Florida theaters.. Check the links to find out what might be interesting to you.


FLORIDA AUTHORS. January is a good time to curl up next to the fireplace and read a book by a Florida author. Our most visited author page is that of Randy Wayne White, the creator of Doc Ford.




NORTHWEST FLORIDA

Pensacola
Madama Butterfly. January 20, 730pm. At the historic Saenger Theater. One of the world's most beloved operas returns in a romantic production to the Pensacola Opera stage. The innocent Butterfly catches the eye of a caddish, young American Naval officer, who makes her his temporary "wife." When his time in Japan is over, he abandons her. Dishonored, Butterfly is bereft. For more than a century, audiences have been thrilled by Puccini's haunting, poignant music and touched by the lovely Butterfly, who gives up everything for love.




NORTH CENTRAL FLORIDA

Gainesville
Hoggetown Medieval Faire. January 28-29. The Alachua County Fairgrounds is transformed into a bustling medieval marketplace for this 26th annual event. Enjoy medieval magic as troupes of actors, street performers and musicians journey back to the days of yore. Cheer for your favorite contender as mounted knight's joust in full plate armor on the tournament field. Applaud street performers who dance, juggle and jest for your amusement. Listen to minstrels playing period music and enjoy continuous live entertainment on eight stages. Browse through the bustling medieval marketplace for that perfect gift or trinket.




NORTHEAST FLORIDA

St. Augustine
Nights Of Lights. Through January 31. Named one of American Bus Association's 2011 Top 100 events in North America, Nights of Lights is a 2-month long celebration of the Holiday Season. Millions of white lights create a magical holiday atmosphere in the Nation's oldest city during the 18th Annual Nights of Lights Celebration in St. Augustine, Florida. Tracing its origins to the Spanish tradition of displaying a lighted white candle during the Christmas holidays, the spectacular lighting reflects the city's 446-year history while creating a beautiful setting for special memories.




CENTRAL EAST FLORIDA

New Smyrna Beach
36th Annual Images: A Festival Of The Arts. January 28-29. Presented by Atlantic Center For The Arts. More than 35,000 visitors from around the state visit IMAGES: A Festival of the Arts, to enjoy artwork by the 210 juried artists from across the United States. Presented by Atlantic Center for the Arts, IMAGES takes place in New Smyrna Beach, in the beautiful outdoor setting of Riverside Park, with the intracoastal waterway providing a stunning backdrop, and along historic Canal Street. The high quality, salable work combined with continuous live musical entertainment, creative children's art projects, a student art exhibit, and pleasing cuisine provides a culturally rich experience that communicates the ACA stamp of artistic excellence.




CENTRAL FLORIDA

Winter Springs
The 35th Annual Central Florida Scottish Festival & Highland Games. January 14-15. Traditional Scottish sporting events take the field for a weekend of history, culture and excitement during the 35th Annual Central Florida Scottish Highland Games. The event, at Central Winds Park, also includes drum and bagpipe competitions, highland dancing, sheepdog demonstrations, archery competitions and Scottish singers. A Saturday Games Pass is $20 at the gate, $17 in advance for adults. A Sunday Games Pass is $15 at the gate, $12 in advance. For children it is $5 for a Saturday and Sunday Game Pass.




CENTRAL WEST FLORIDA

Brooksville
32nd Annual Brooksville Raid Reenactment. January 21-22. This reenactment is a re-creation of a Civil War battle that happened in Hernando County in July of l864. The Raid is held the 3rd weekend in January every year, and has become the largest Civil War reenactment in Florida with over 1500 reenactors and their families. The event includes 28 cannons, 60 horses, and over 50 sutlers (vendors). The public is invited to tour, at no additional charge, the authentic confederate and union camps and actually see how they lived and what it was like during the Civil War. You can purchase any Civil War items, kettle corn, old time root beer and fry bread. The event is held on Hwy. 50 West at the Sand Hill Scout Reservation across from Oak Hill Hospital.




SOUTHWEST FLORIDA

Naples
The Naples Winter Masters Art Festival. January 21-22. This event is limited to no more than 80 artists. This event takes place in North Naples at the Shoppes of Vanderbilt at the corner of Airport Road and Vanderbilt. The show is across the street from the Ritz Carlton.




SOUTHEAST FLORIDA

Homestead
Redland Heritage Festival. January 21-22. This event is held at Fruit and Spice Park, 24801 S.W. 187th Avenue, Miami. A tradition at the Park since 1976, this annual festival features local arts and crafts, historical exhibits, a large selection of tropical plants and great food. Children's activities include a petting zoo, pony rides, an interactive puppet & magic show, and a wild and wonderful Everglades reptile show.


Information on the towns and places hosting these events, or near them, including lodging, can be found at Florida Towns.


If these events aren't convenient for you, try here for additional events.


In our current slow economy, some events are cancelled on very short notice. I do my best to ensure that our information is correct and current, but I recommend you call before leaving for the event to make sure it's still on.




RESTAURANT OF THE MONTH




Blackwater Inn

55716 Front Street

Astor, Florida 32102-3242

352-759-2802



---

Thanks for subscribing to Florida Heritage Travel. We will see you next month with more updates and event information.
---
Regards, Mike Miller
Chief Backroads Traveler
www.Florida-Backroads-Travel.com