April 2012 News And Events
---
Florida Heritage Travel is the companion monthly e-zine of
FLORIDA BACKROADS TRAVEL.
GAINESVILLE: University of Florida and More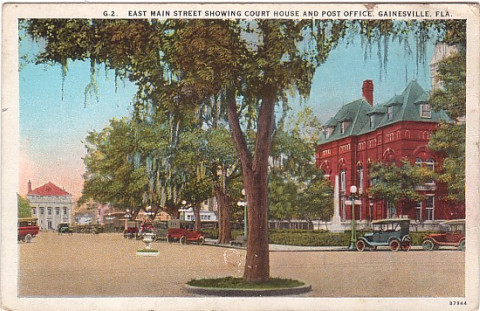 This postcard shows downtown Gainesville sometime around 1920. Like most places in Florida, the scene has changed quite a bit in the last 92 years or so. The old Alachua County courthouse on the right was built in 1885 and torn down in 1958. One feature that you can still recognize today is the old Federal Building. It's the one in the background with the white columns.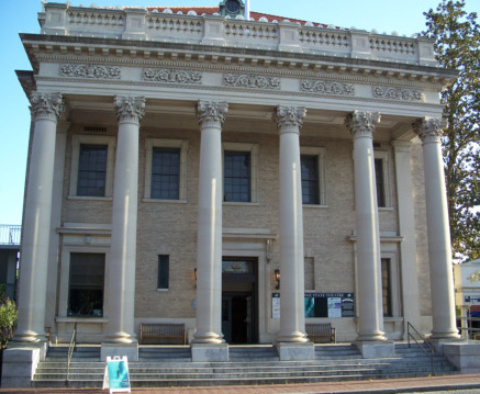 The Federal Building was completed in 1911. It is one of Florida's first steel frame structures. The building has walls and columns of carved limestone and a clay tile roof. The original entrance doors were made of bronze, and the building had an elevator. This made it one of the most modern and elegant public buildings in Florida when it first opened. The first floor was used as the Post Office, and the second floor was fitted out as a courtroom with elegant wood paneling and rich leather covered doors. The third floor contained the U.S. Land Office and several other offices.


Downtown Gainesville has been totally renovated in recent years, and the Federal Building is now on the National Register of Historic Places. It has served a useful function since 1980 as the home of the Hippodrome State Theater. This well known contemporary theater is known locally by its cool nickname: The Hipp.


The Hipp is recognized as one of the best regional theaters in America. It has a main stage production season that draws in devotees from all over Florida and beyond. Many famous playwrights, including Tennessee Williams, have trotted out new plays on the stage of The Hipp. In addition to the live performances, the theater also shows a lot of foreign and avante garde films. Their Cinema Series has one thousand members and shows more than 700 films in a year.


Downtown Gainesville today is a pleasant walkable neighborhood of upscale restaurants, shops, bars, apartments and frequent bazaars and farmers market events. There are plenty of places to sit outside and enjoy the scenery while sipping a drink or a cup of coffee. It is just far enough from the busy University of Florida campus to provide a touch of tranquility.



---
RESTAURANT OF THE MONTH
Iveys Grill
3303 West University Avenue
Gainesville, Florida 32607
352-371-4839
---
FLORIDA BACKROADS TRAVEL UPDATES

Thanks for continuing to subscribe to Florida Heritage monthly e-zine. Florida Backroads Travel continues to grow, and we hope you enjoy these updates.

I continue to automate Florida Backroads Travel so that any updates I make are posted automatically to my Mike Miller Facebook page and are tweeted on my Twitter page. You can also subscribe to our Florida Blog by going to our home page and selecting an RSS feed. This way you will have daily updates.

March in Florida has some of the best weather anybody could ask for, and it even gets nippy, by Florida standards, once in awhile.

Here are some interesting events around Florida for March 2012.
ALL REGIONS

FLORIDA WINERIES. Check the Florida winery nearest you. Many of them have wonderful weekend events that include music and wine tastings. Our site has information on 18 wineries scattered across the state.

FLORIDA FESTIVALS. The weather is still comfortable, so there are several outdoor art festivals and folk and bluegrass music festivals this time of the year.

FLORIDA ZOOS. Florida has many zoos, and Florida zoos offer an interesting and inexpensive way to spend a day or more.

FLORIDA BEACHES. Almost anything you decide to do in Florida can be enhanced by spending some quality time at a great beach, and best beaches in Florida will guide you in the right direction.

FLORIDA MUSEUMS. Many Florida art and historical museums have scheduled events. Click on the links to find out what is going on.

FLORIDA THEATER. This is an active time for plays and musical events in our many Florida theaters.. Check the links to find out what might be interesting to you.

FLORIDA AUTHORS. Curl up and read a book by a Florida author. Our most visited author page is now that of Tim Dorsey, the creator of zany serial killer Serge Storms.

Rather than listing one event in each of Florida's 8 regions on a monthly basis, I have decided instead to provide a very useful link that will tell you what is going on this month virtually everywhere in Florida.
FLORIDA FESTIVALS AND OTHER EVENTS FOR APRIL 2012

Information on the towns and places hosting these events, or near them, including lodging, can be found at Florida Towns.

In our current slow economy, some events are cancelled on very short notice. I do my best to ensure that our information is correct and current, but I recommend you call before leaving for the event to make sure it's still on.

Thanks for subscribing to Florida Heritage Travel. We will see you next month with more updates and event information.
---
Regards, Mike Miller
Chief Backroads Traveler
www.Florida-Backroads-Travel.com