May 2012 News And Events
---
Florida Heritage Travel is the companion monthly e-zine of
FLORIDA BACKROADS TRAVEL.
PIER 66: FORT LAUDERDALE ICON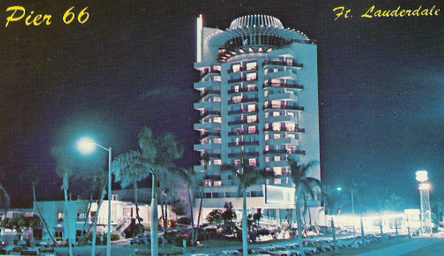 This postcard from the 1960's shows the Fort Lauderdale icon, Pier 66. The Phillips 66 gas station shown on the card has been gone for many years, but the basic architecture of the high rise hotel remains the same. It is currently a Hyatt Regency. Pier 66 has a rotating lounge and restaurant on the top floor that makes one revolution every 66 minutes. It has a breathtaking 360 degree panoramic view of the ocean, beaches, waterways, Port Everglades, downtown skyline and residential neighborhoods that circle the landmark resort.


The resort and gas station had humble beginnings back in 1957 when Phillips 66 Petroleum Company bought the property and developed a small resort of low rise buildings, a gas station and a marina. Their original goal was to have a first class fueling station for yachts cruising the Intracoastal Waterway. Some of these original old two story buildings have been renovated and still serve as the lowest priced hotel rooms on the property. The current highrise tower was opened in 1965. Phillips Petroleum sold the property many years ago. It has had several different owners since then, including local boy made good Wayne Huizenga. But the name "Pier 66" has remained a revered icon to all owners and guests. The property includes a 127 slip marina and several restaurants in the hotel and one at the marina for outside dining and watching boats.


The "66" theme is carried out with extravagance in the architecture and theming of the hotel. A glass walled elevator gives you a 66 second ride from the lobby to the top of the hotel. As mentioned, the Pier Top lounge rotates once every 66 minutes. That means if you take a rest room break, your table will be in a different location when you return. Each wall of the 17 story hotel tower has 66 windows, and there are 66 pointed Statue of Liberty type spikes around the "crown" of the tower, the revolving lounge.


A visit to The Pier Top Lounge was a tradition for both locals and tourists in the days not so long ago. The lounge was open to the public every day of the week. Many people, including me, would not consider a trip to Fort Lauderdale to be complete without at least one visit to the Pier Top for a couple of drinks and a revolution or two. Sometime in 2004 I made one of my traditional visits and my server told me that the Pier Top would soon be closed to the public. It would only be open for private parties. I felt like crying, but since I'm a grown man I just put on a very sad face and tried to enjoy what I thought might be my last drinks in this fabulous rotating watering hole. Sort of like a condemned man's last meal.


Then not long ago I learned it is at least open to the public on one day, Sunday, and they have a wonderful champagne brunch. Read more about the brunch below.



---
RESTAURANT OF THE MONTH
Hyatt Regency Pier 66 Pier Top
2501 S.E. 17th Street
Fort Lauderdale, Florida 33316
954-525-6666
Sunday brunch is the only time you can enjoy the Pier Top unless you reserve it for a wedding reception or private party. The glass elevator still takes you all the way from the top - I think it takes 66 seconds - and you get to enjoy the ever expanding view of downtown Fort Lauderdale, the white sandy beaches and bright blue ocean on the way up.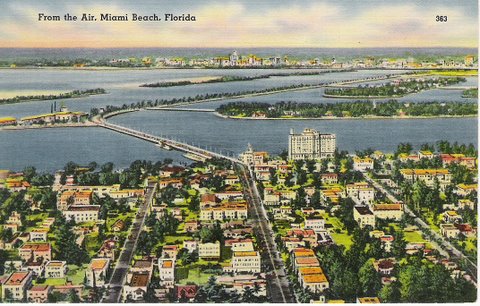 Longtime fans of the Pier Top will not be disappointed. The view is still spectacular, and the food is fantastic. Brunch is served from 10:00 am until 3:00 pm. This is a buffet type lunch, but don't expect something like Golden Corral or the old Morrison's. It is first class dining and you will pay for it: $65 per person. If you are like me, you will think it's worth every penny; take your time and savor the many offerings. Just don't do it every Sunday unless you win the lottery or get a job with the federal government's GSA.


It is billed as a "champagne" brunch, and sure enough, you get a glass of Veuve Clique champagne right up front along with freshly squeezed orange juice. After that they keep the very good house champagne and juice coming your way. A server wheels a champagne cart around the room and keeps an eye on the level in your glass. It will be up to you to decide when you've had enough. You can also order mimosas or bloody marys or whatever your palate desires. Don't rush, take your time. Not only is the food and drink extremely good, you will be enjoying the constantly changing 360 degree panoramic view as the Pier Top slowly makes its revolution.


The waffle and pancake station is a good place to start if you are still in breakfast rather than lunch mode. Don't eat too much, though, because you will want to have room to try everything. There is a lot to try. There are plenty of hot buffet items for your selection, and there is also a carving setup with roast beef, beef tenderloin and poultry. You can try seared Mahi-Mahi, grilled prawns, herb marinated chicken and turkey, lamb chops and other meats. There is also a sushi bar; you can order what you want and the sushi chef will custom make it for you. He makes a mean shrimp sashimi, and has a wide repertoire of other offerings. They also have their own special vodka cured salmon and foie gras. Other selections include poached eggs, corned beef hash and lobster bisque. And more.


Their dessert menu is also quite extensive, with truffles, fruit tarts, Key lime pie, various chocolate treats and various fruit skewers. The staff is friendly, attentive and competent. I will be extremely surprised if you don't go back for another visit next time you are in Fort Lauderdale.



---
FLORIDA BACKROADS TRAVEL UPDATES

Thanks for continuing to subscribe to Florida Heritage monthly e-zine. Florida Backroads Travel continues to grow, and we hope you enjoy these updates.

This month we've added a new page to the website, Florida Events. This is the beginning of our effort to find annual events that you will enjoy. We already feature art and music festivals, but some of the events on the new page don't quite fit into any of these categories. For example, learn about the Mug Race, The Rattlesnake Festival, The Worm Gruntin Festival and the Grant Seafood Festival. There is always something to do in Florida.

I continue to automate Florida Backroads Travel so that any updates I make are posted automatically to my Mike Miller Facebook page and are tweeted on my Twitter page. You can also subscribe to our Florida Blog by going to our home page and selecting an RSS feed. This way you will have daily updates.

May in Florida is starting to get a wee bit warm, sometimes even hot. It's still some of the best weather anybody could ask for.

Here are some interesting events around Florida for May 2012.
ALL REGIONS

FLORIDA EVENTS. Check out list of annual Florida Events. We already feature art and music festivals, but these annual events are different. For example, learn about the Mug Race, The Rattlesnake Festival, The Worm Gruntin Festival and the Grant Seafood Festival. Tell us about your favorite annual event.

FLORIDA WINERIES. Check the Florida winery nearest you. Many of them have wonderful weekend events that include music and wine tastings. Our site has information on 18 wineries scattered across the state.

FLORIDA FESTIVALS. The weather is still tolerable, so there are a few outdoor art festivals and folk and bluegrass music festivals this time of the year.

FLORIDA TOURIST ATTRACTIONS. We continually add to our list of favorite tourist attractions that we are sure you will enjoy visiting.

FLORIDA ZOOS. Florida has many zoos, and Florida zoos offer an interesting and inexpensive way to spend a day or more.

FLORIDA BEACHES. Almost anything you decide to do in Florida can be enhanced by spending some quality time at a great beach, and best beaches in Florida will guide you in the right direction.

FLORIDA MUSEUMS. Many Florida art and historical museums have scheduled events. Click on the links to find out what is going on.

FLORIDA THEATER. This is an active time for plays and musical events in our many Florida theaters.. Check the links to find out what might be interesting to you.

FLORIDA AUTHORS. Curl up and read a book by a Florida author. Our most visited author page is now that of Tim Dorsey, the creator of zany serial killer Serge Storms.

Rather than listing one event in each of Florida's 8 regions on a monthly basis, I have decided instead to provide a very useful link that will tell you what is going on this month virtually everywhere in Florida.
FLORIDA FESTIVALS AND OTHER EVENTS FOR MAY 2012

Information on the towns and places hosting these events, or near them, including lodging, can be found at Florida Towns.

In our current slow economy, some events are cancelled on very short notice. I do my best to ensure that our information is correct and current, but I recommend you call before leaving for the event to make sure it's still on.

Thanks for subscribing to Florida Heritage Travel. We will see you next month with more updates and event information.
---
Regards, Mike Miller
Chief Backroads Traveler
www.Florida-Backroads-Travel.com