June 2012 News And Events
---
Florida Heritage Travel is the companion monthly e-zine of
FLORIDA BACKROADS TRAVEL.
WILDWOOD: THE CROSSROADS OF FLORIDA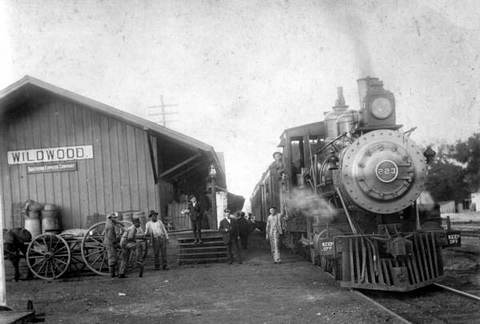 Wildwood's next door neighbor, The Villages, is known as "Florida's Friendliest Hometown". Wildwood is still known by many old time Floridians as "The Crossroads Of Florida". It is located at the junction of Interstate Highway I-75, Florida's Turnpike, State Road 44 and US Highway 301.


In the days before modern highways, Wildwood was a major railroad town. Early in the 1900's, the Seaboard Airline Railroad used Wildwood as the rail yard where they divided their southbound passenger trains into trains headed to the Florida east coast and Miami, and to trains headed to Tampa, Fort Myers and Naples on the Florida west coast.


In the 1960's the Seaboard Airline Railroad merged with the Atlantic Coast Line Railroad and the new company became Seaboard Coast Line Railroad. Today the modern successor company is known as CSX Railroad and it still has a major maintenance yard located on Main Street in Wildwood.


Another famous Wildwood landmark lost in the dustbin of history was Buddy's Bar-B-Cue restaurant located on US Highway 301. Buddy's held out against the new state law banning smoking in restaurants back in 2004. They had a fiberglass pig on their roof with a smokestack protruding from its rear end. It looked like a cigarette and was the actual stack for their kitchen exhaust smoke. Their motto was "Home Of The Smokin' Pig".


Buddy's closed a few years ago but gave locals and tourists a kick while it lasted.



---
RESTAURANT OF THE MONTH
Cotillion Southern Cafe
101 Main Street
Wildwood, Florida 34785
352-748-1223
---
FLORIDA BACKROADS TRAVEL UPDATES

Thanks for continuing to subscribe to Florida Heritage monthly e-zine. Florida Backroads Travel continues to grow, and we hope you enjoy these updates.

This month you will notice a new feature on the website, Florida Events. On this new page I list annual events that should be on your bucket list of things to do and see in Florida. Things like the annual Florida-Georgia football game, the Mug Race, the Sopchoppy Worm Gruntin' Festival and many other fun things to do in Florida.

I continue to automate Florida Backroads Travel so that any updates I make are posted automatically to my Mike Miller Facebook page and are tweeted on my Twitter page. You can also subscribe to our Florida Blog by going to our home page and selecting an RSS feed. This way you will have daily updates.

June in Florida is starting to get hot and muggy. Most of the snowbirds have gone back north, so restaurant waiting lines are once again manageable.

Here are some interesting events around Florida for June 2012.
ALL REGIONS

FLORIDA WINERIES. Check the Florida winery nearest you. Many of them have wonderful weekend events that include music and wine tastings. Our site has information on 18 wineries scattered across the state.

FLORIDA FESTIVALS. The weather is getting pretty warm and season is over, so there are not too many outdoor art festivals and folk and bluegrass music festivals this time of the year.

FLORIDA BEACHES. Almost anything you decide to do in Florida can be enhanced by spending some quality time at a great beach, and best beaches in Florida will guide you in the right direction.

FLORIDA MUSEUMS. Many Florida art and historical museums and community theaters have scheduled events. Click on the links to find out what is going on.

FLORIDA AUTHORS. June is a good time to stretch out in a hammock under a plam tree and read a book by a Florida author. Our most visited author page is still that of Tim Dorsey, the creator of zany serial killer Serge Storms.

Rather than listing one event in each of Florida's 8 regions on a monthly basis, I have decided instead to provide a very useful link that will tell you what is going on this month virtually everywhere in Florida.
FLORIDA FESTIVALS AND OTHER EVENTS FOR JUNE 2012

Information on the towns and places hosting these events, or near them, including lodging, can be found at Florida Towns.

In our current slow economy, some events are cancelled on very short notice. I do my best to ensure that our information is correct and current, but I recommend you call before leaving for the event to make sure it's still on.

Thanks for subscribing to Florida Heritage Travel. We will see you next month with more updates and event information.
---
Regards, Mike Miller
Chief Backroads Traveler
www.Florida-Backroads-Travel.com