September 2012 News And Events
---
Florida Heritage Travel is the companion monthly e-zine of
FLORIDA BACKROADS TRAVEL.
KEY LARGO: GATEWAY TO THE FLORIDA KEYS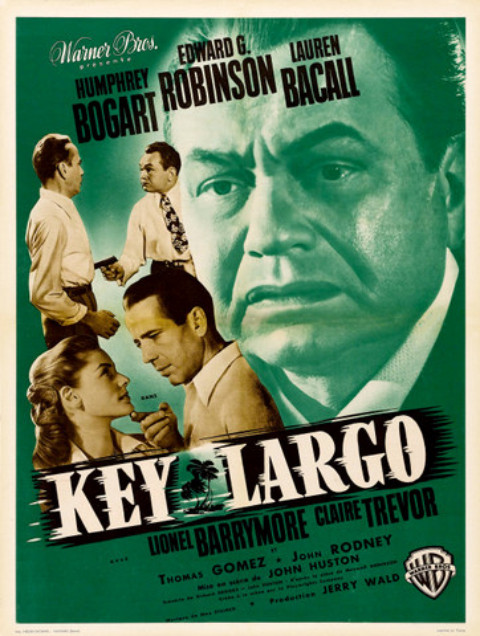 Key Largo is the first key you come to when visiting the Florida Keys by car. This northernmost key is also the longest at 33 miles. The Spanish gave it the name Cayo Largo, or Long Key. For many years the communities on Key Largo were all lumped together under the name of Rock Harbor. Key Largo, Tavernier, Islamorada and the Ocean Reef Club all had Rock Harbor addresses until the early 1950's.


This changed due to the popularity of the movie "Key Largo" filmed in 1948 and starring Humphrey Bogart, Lauren Bacall, Edward G. Robinson and other stars. Although the movie was filmed in California, it still put Key Largo on the map and the local residents changed the post office name from Rock Harbor to Key Largo.


Today Key Largo is a diving center and tourist attraction. Since it is the closest key to metropolitan Miami and other south Florida population centers, it attracts a lot of weekend visitors.



If you enjoyed our free monthly ezine, several books are available at Amazon that cover all eight regions of Florida. Click on the cover to learn more about the Florida Backroads Travel series.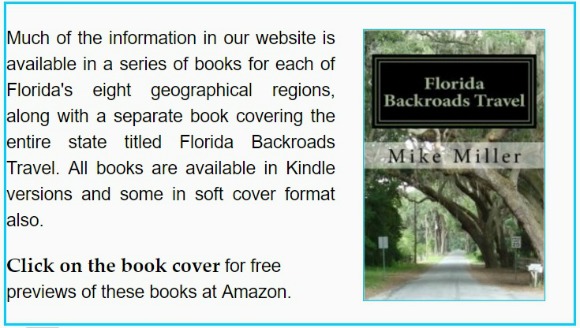 RESTAURANT OF THE MONTH
Alabama Jack's
58000 Card Sound Road
Homestead, Florida 33030
305-248-8741
---
FLORIDA BACKROADS TRAVEL UPDATES

Thanks for continuing to subscribe to Florida Heritage monthly e-zine. Florida Backroads Travel continues to grow, and we hope you enjoy these updates.

This month you will notice a new feature on the website, FLORIDA EVENTS. On this new page I list annual events that should be on your bucket list of things to do and see in Florida. Things like the annual Florida-Georgia football game, the Mug Race, the Sopchoppy Worm Gruntin' Festival and many other fun things to do in Florida.

I continue to automate Florida Backroads Travel so that any updates I make are posted automatically to my Mike Miller Facebook page and are tweeted on my Twitter page. You can also subscribe to our Florida Blog by going to our home page and selecting an RSS feed. This way you will have daily updates.

September in Florida is the beginning of our autumn season. Most of the snowbirds are still up north in their cooler home states, so restaurant waiting lines are once again manageable.

Here are some interesting events around Florida for September 2012.
ALL REGIONS

FLORIDA WINERIES. Check the Florida winery nearest you. Many of them have wonderful weekend events that include music and wine tastings. Our site has information on 18 wineries scattered across the state.

FLORIDA FESTIVALS. The weather is getting cooler, so there are a few outdoor art festival and music festivals this time of year.

FLORIDA BEACHES. Almost anything you decide to do in Florida can be enhanced by spending some quality time at a great beach, and best beaches in Florida will guide you in the right direction.

FLORIDA MUSEUMS. Many Florida art and historical museums and theaters have scheduled events. Click on the links to find out what is going on.

FLORIDA AUTHORS. August is a good time to snuggle up next to your air conditioner and read a book by a Florida author. Our most visited author page is still that of Tim Dorsey, the creator of zany serial killer Serge Storms.

Rather than listing one event in each of Florida's 8 regions on a monthly basis, I have decided instead to provide a very useful link that will tell you what is going on this month virtually everywhere in Florida.
FLORIDA FESTIVALS AND OTHER EVENTS FOR SEPTEMBER 2012

Information on the towns and places hosting these events, or near them, including lodging, can be found at Florida Towns.

In our current slow economy, some events are cancelled on very short notice. I do my best to ensure that our information is correct and current, but I recommend you call before leaving for the event to make sure it's still on.

Thanks for subscribing to Florida Heritage Travel. We will see you next month with more updates and event information.
---
Regards, Mike Miller
Chief Backroads Traveler
www.Florida-Backroads-Travel.com