November 2012 News And Events
---
Florida Heritage Travel is the companion monthly e-zine of
FLORIDA BACKROADS TRAVEL.
CORTEZ, FLORIDA: GULF COAST FISHING HERITAGE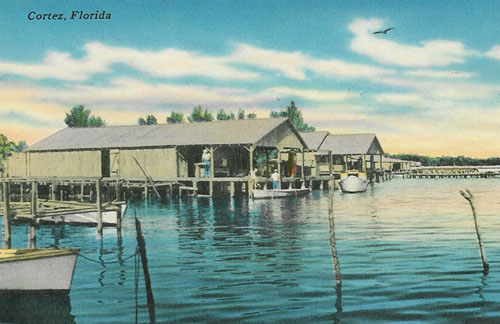 Cortez is a living remnant of Old Florida. It is a small working fishing village located on a peninsula in Sarasota Bay on Cortez Road (State Highway 684) that connects Bradenton and Bradenton Beach. It is not a trendy place, but a living community of weathered old houses and fish companies, fish nets, crab traps, floats and all kinds of boats, old and new.


It is fitting that several good seafood restaurants can be found in Cortez including Starfish Company, Cortez Kitchen, Swordfish Grill and Seafood Shack. These restaurants are able to serve fresh fish every day of the week, year round.


Cortez was founded about 1890 by several families from the waterfront town of Beaufort, North Carolina. These families are still represented in modern day Cortez. Some of the names are Guthrie, Bell, Taylor and Fulford.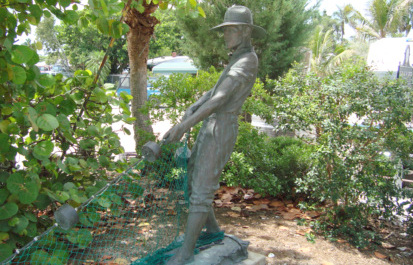 This maritime heritage is showcased in The Florida Maritime Museum located in the restored 1912 school house at the Cortez Nature Preserve. Cortez is also home to FISH (Florida Institute for Saltwater Heritage), a non-profit group set up in 1991 to help preserve the heritage of Florida Gulf Coast fishing communities.


Among events that also help preserve this heritage are the annual Cortez Commercial Fishing Festival, first held in 1981, and the recently initiated Ben Gullet Mullet Invitational. The mullet event is a cast net only tournament that helps raise money for FISH and the Cortez Historical Society. It is named after the late Ben Gullet of Bradenton, who was well known as a cast net fisherman and mullet smoker (a man who cooks mullet in a smoker).
---
RESTAURANT OF THE MONTH
Starfish Company Dockside Restaurant
12306 46th Ave W
Cortez, Florida 34215
941-794-1243
---
FLORIDA BACKROADS TRAVEL UPDATES

Thanks for continuing to subscribe to Florida Heritage monthly e-zine. Florida Backroads Travel continues to grow, and we hope you enjoy these updates.

I continue to automate Florida Backroads Travel so that any updates I make are posted automatically to my Mike Miller Facebook page and are tweeted on my Twitter page. You can also subscribe to our Florida Blog by going to our home page and selecting an RSS feed. This way you will have daily updates.

November in Florida continues to be a month when we full time residents repeat to each other "this is why we live in Florida". The breezes are picking up, it is cool now and then, most of the snowbirds are still up north in their cooler home states, so restaurant waiting lines are once again manageable and outside dining is fun again.

Here are some interesting events around Florida for November 2012.
ALL REGIONS

FLORIDA WINERIES. Check the Florida winery nearest you. Many of them have wonderful weekend events that include music and wine tastings. Our site has information on 18 wineries scattered across the state.

FLORIDA FESTIVALS. The weather is getting cooler, so there are a few outdoor art festivals and folk and bluegrass music festivals this time of the year.

FLORIDA BEACHES. Almost anything you decide to do in Florida can be enhanced by spending some quality time at a great beach, and best beaches in Florida will guide you in the right direction.

FLORIDA MUSEUMS. Many Florida art and historical museums have scheduled events. Click on the links to find out what is going on.

FLORIDA THEATER. This is an active time for plays and musical events in our many Florida theaters.. Check the links to find out what might be interesting to you.

FLORIDA AUTHORS. November is a good time to sit outside and read a book by a Florida author. Our most visited author page is still that of Tim Dorsey, the creator of zany serial killer Serge Storms. Also, D. Michael Miller has published a new Kindle book, "Living Aboard A Boat".

Rather than listing one event in each of Florida's 8 regions on a monthly basis, I have decided instead to provide a very useful link that will tell you what is going on this month virtually everywhere in Florida.
FLORIDA FESTIVALS AND OTHER EVENTS FOR NOVEMBER 2012

Information on the towns and places hosting these events, or near them, including lodging, can be found at Florida Towns.

Some events are cancelled on very short notice. I do my best to ensure that our information is correct and current, but I recommend you call before leaving for the event to make sure it's still on.

Thanks for subscribing to Florida Heritage Travel. We will see you next month with more updates and event information.
---
Regards, Mike Miller
Chief Backroads Traveler
www.Florida-Backroads-Travel.com