December 2012 News And Events
---
Florida Heritage Travel is the companion monthly e-zine of
FLORIDA BACKROADS TRAVEL.
COCOA, FLORIDA: HISTORY AND THE SPACE AGE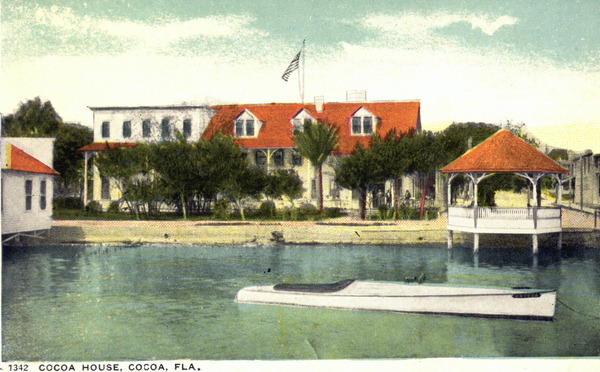 Cocoa is sometimes confused with Cocoa Beach, it's younger neighbor a few miles east on the Atlantic ocean. But Cocoa is much older than Cocoa Beach, and has a lot more history to intrigue the visitor. This old Florida town is about one hour east of Orlando, and is well worth a visit. It is on the Indian River lagoon, and is separated from Cocoa Beach by the urbanized area of Merritt Island.


The little town was first known as Indian River City and was settled around the time of the U.S. Civil War. The first residents were primarily fishermen and farmers. When they tried to get a post office, the government told them the name was too long. So the early pioneers got together to come up with a shorter name. The story I prefer is that these old timers chose the name because of a box that was nailed on a piling along the waterfront. It was a Bakers Cocoa box, and it's where the mail for the community used to be delivered. In any event, the postal service accepted the name and the town has been called Cocoa since 1884.


Cocoa was a small town until things changed forever when the space program kicked off at nearby Cape Canaveral in the late 1950s. The population of the area around Cocoa exploded with new housing and businesses to serve the huge workforce that was feverishly working to put a man on the moon. Traffic was snarled, utilities and infrastructure was strained and the federal government didn't do much to help.


The 1970s saw a tremendous recession in this area due to the mass layoffs of aerospace workers once the moon landing was achieved. Houses and businesses were abandoned, and the future looked dismal for Cocoa and the entire county. In the middle of the gloom, some Cocoa merchants got together and formed a group to revitalize downtown Cocoa. This freshened area became known as Cocoa Village, and it's still a great place to visit. It's loaded with shops and restaurants, and attracts locals and tourists alike. It is also a convenient location from which to explore the NASA exhibits at Kennedy Space Center and the beaches and attractions in Cocoa Beach.


Cocoa has a beautiful shoreline along the west side of the Indian River lagoon. The road along this shoreline makes a fantastic trip where you can see a lot of old Florida as it used to be. The road is lined with majestic old trees and plenty of big old Florida houses from a bygone era.



---
RESTAURANT OF THE MONTH
Cafe Margaux
220 Brevard Avenue
Cocoa, Florida 32922
321-639-8343
---
FLORIDA TRAVEL UPDATES

Thanks for continuing to subscribe to Florida Heritage monthly e-zine. Florida Backroads Travel continues to grow, and we hope you enjoy these updates.

I continue to automate Florida Backroads Travel so that any updates I make are posted automatically to my Mike Miller Facebook page and are tweeted on my Twitter page. You can also subscribe to our Florida Blog by going to our home page and selecting an RSS feed. This way you will have daily updates.

December in Florida continues to be a month when we full time residents repeat to each other "this is why we live in Florida". The breezes are picking up, it is cool now and then - sometimes too cool - and the snowbirds are flocking back here from up north so restaurants are getting crowded and reservations are sometimes advisable.

Here are some interesting events around Florida for December 2012.
ALL REGIONS

FLORIDA WINERIES. Check the Florida winery nearest you. Many of them have wonderful weekend events that include music and wine tastings. Our site has information on 18 wineries scattered across the state.

FLORIDA FESTIVALS. The weather is getting cooler, so there are a few outdoor art festivals and folk and bluegrass music festivals this time of the year.

FLORIDA ZOOS. Florida has many zoos, and Florida zoos offer an interesting and inexpensive way to spend a day or more.

FLORIDA BEACHES. Almost anything you decide to do in Florida can be enhanced by spending some quality time at a great beach, and best beaches in Florida will guide you in the right direction.

FLORIDA MUSEUMS. Many Florida art and historical museums have scheduled events. Click on the links to find out what is going on.

FLORIDA THEATER. This is an active time for plays and musical events in our many Florida theaters.. Check the links to find out what might be interesting to you.

FLORIDA AUTHORS. November is a good time to sit outside and read a book by a Florida author. Our most visited author page is still that of Tim Dorsey, the creator of zany serial killer Serge Storms.

Rather than listing one event in each of Florida's 8 regions on a monthly basis, I have decided instead to provide a very useful link that will tell you what is going on this month virtually everywhere in Florida.
FLORIDA FESTIVALS AND OTHER EVENTS FOR DECEMBER 2012

Information on the towns and places hosting these events, or near them, including lodging, can be found at Florida Towns.

Some events are cancelled on very short notice. I do my best to ensure that our information is correct and current, but I recommend you call before leaving for the event to make sure it's still on.

Thanks for subscribing to Florida Heritage Travel. We will see you next month with more updates and event information.
---
Regards, Mike Miller
Chief Backroads Traveler
www.Florida-Backroads-Travel.com