January 2013 News And Events
---
Florida Heritage Travel is the companion monthly e-zine of
FLORIDA BACKROADS TRAVEL.
YANKEETOWN, FLORIDA: ELVIS MADE A MOVIE HERE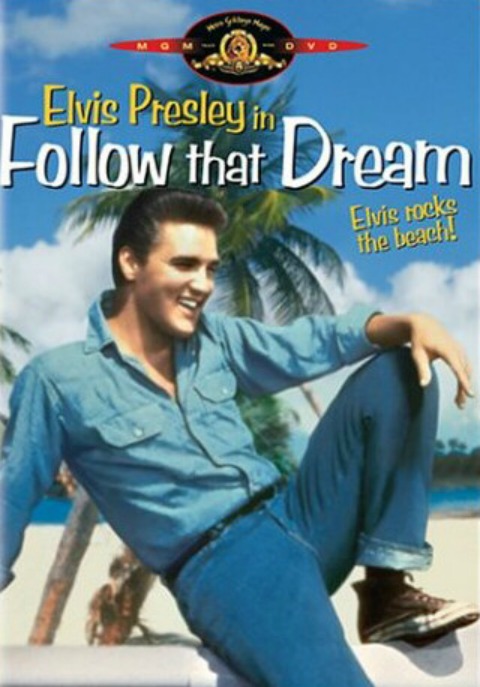 Yankeetown is a small village of 500 souls on the Withlacoochee River just upstream of where the river flows into the Gulf of Mexico. It is a commercial fishing town today, and the oak shaded streets draped with Spanish moss are lined with examples of Old Florida cracker homes and eclectic rambling buildings that remind you of the way the whole State of Florida used to be before it got discovered by Yankees back in the day.


The village was originally settled in 1923 by an Indiana lawyer and politician named Armanis Knotts. Mr. Knotts had settled in nearby Inglis and owned land downriver. He advertised lots for sale and built the Izaak Walton Lodge as a place for fishing fans to eat and sleep in comfort. The lodge was named for Izaak Walton, who was the famous author of the fishing classic "The Compleat Angler" that was written in England in the 1600's.


The sleepy town of Yankeetown came to life for a few weeks in 1961 when Elvis Presley and film crews came to town to make Elvis's 9th movie, "Follow That Dream". Much of the filming was done toward the end of County Road 40 just downstream of Yankeetown on the Bird Creek bridge which still stands today. You can walk over the bridge and think of Elvis. A section of the highway leading to Yankeetown was renamed "Follow That Dream Parkway" to honor the memory of those good old movie days.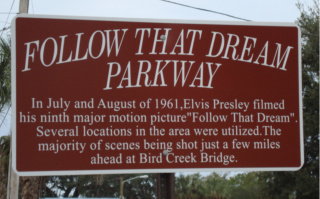 Many local people were extras in the movie, and the local economy was helped a lot by the movie producers hiring locals to work on the sets, converting local Pumpkin Island into a white sand beach and just being general workers and handy people on the set. Most people who remember those days say that Elvis was real friendly and a true southern gentleman. You won't find any local Yankeetown residents who met him bad mouthing the King.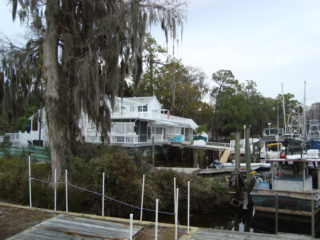 Yankeetown still makes its living from commercial and sport fishing activities, and town life is centered along Riverside Drive which parallels the north bank of the Withlacoochee River. The town is a slice of tranquil Old Florida, but there was a time in the early 1960s when it was electrified by the King of Rock and Roll.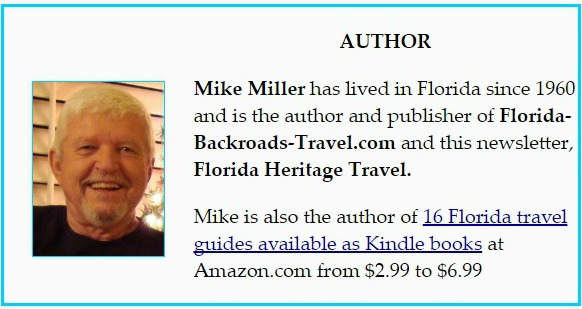 ---
RESTAURANT OF THE MONTH
Ike's Old Florida Kitchen (Out of Business)
Isaak Walton Lodge
6301 Riverside Drive
Yankeetown, Florida 34498
352-447-4899
---
FLORIDA BACKROADS TRAVEL UPDATES

Thanks for continuing to subscribe to Florida Heritage monthly e-zine. Florida Backroads Travel continues to grow, and we hope you enjoy these updates.

I continue to automate Florida Backroads Travel so that any updates I make are posted automatically to my Mike Miller Facebook page and are tweeted on my Twitter page. You can also subscribe to our Florida Blog by going to our home page and selecting an RSS feed. This way you will have daily updates.

January in Florida is a month when we locals complain about it getting too cold. Sometimes we even have freeze warnings, and have to cover our outside plants to protect them from the cold. But not one single town in Florida has a snow plow, so we don't complain too loudly.

Here are some interesting events around Florida for January 2013.
ALL REGIONS

FLORIDA WINERIES. Check the Florida winery nearest you. Many of them have wonderful weekend events that include music and wine tastings. Our site has information on 18 wineries scattered across the state.

FLORIDA FESTIVALS. The weather is getting colder, so there are only a few outdoor art festivals and folk and bluegrass music festivals this time of the year.

FLORIDA BEACHES. Almost anything you decide to do in Florida can be enhanced by spending some quality time at a great beach, and best beaches in Florida will guide you in the right direction.

FLORIDA MUSEUMS. Many Florida art and historical museums have scheduled events. Click on the links to find out what is going on.

FLORIDA THEATER. This is an active time for plays and musical events in our many Florida theaters.. Check the links to find out what might be interesting to you.

FLORIDA AUTHORS. January is a good time to sit by the fireplace and read a book by a Florida author. Our most visited author page is still that of Tim Dorsey, the creator of zany serial killer Serge Storms.

Rather than listing one event in each of Florida's 8 regions on a monthly basis, I have decided instead to provide a very useful link that will tell you what is going on this month virtually everywhere in Florida.
FLORIDA FESTIVALS AND OTHER EVENTS FOR JANUARY 2013

Information on the towns and places hosting these events, or near them, including lodging, can be found at Florida Towns.

Some events are cancelled on very short notice. I do my best to ensure that our information is correct and current, but I recommend you call before leaving for the event to make sure it's still on.

Thanks for subscribing to Florida Heritage Travel. We will see you next month with more updates and event information.
---
Regards, Mike Miller
Chief Backroads Traveler
www.Florida-Backroads-Travel.com