March 2013 News And Events
---
Florida Heritage Travel is the companion monthly e-zine of
FLORIDA BACKROADS TRAVEL.
LAKE PANASOFFKEE: OLD FLORIDA CHARM AND FISHING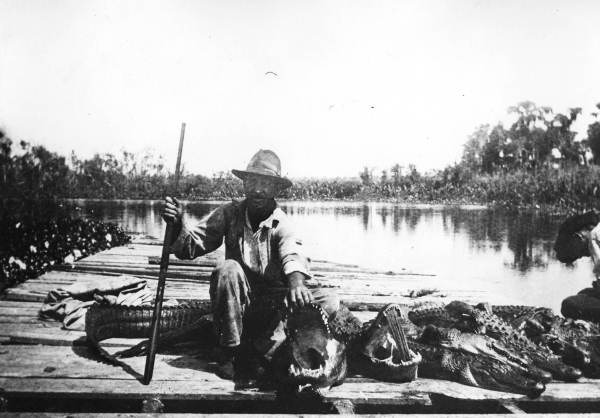 Lake Panasoffkee is one of Florida's oldest lakes. It is the third largest lake of the more than 1,800 lakes in Central West Florida. The lake's surface area varies from about 3,800 to 4,500 acres depending on how much rainfall there has been. It is a shallow lake with marshy shorelines. This shoreline vegetation provides excellent habitat for fish and wildlife. The wildlife includes gators, as the 1920 photograph above from the State of Florida Archives suggests.


The town of Panasoffkee (now called Lake Panasoffkee) was an early shipping port for timber, citrus and other products from the late 1800s up until the 1920s. In 1884, the Orange State Canal was built that created a waterway for steamboats to travel from Floral City upriver to Lake Panasoffkee. Panasoffkee was the southernmost stop on the railroad for a few years back then, and this shipping feature allowed the citrus industry in the area to boom. Oranges and grapefruit rolled north on the steel rails to Yankee markets. Bad freezes killed the citrus off in 1895 and lumbermen cut down and milled all of the cypress trees. The town began to steadily lose population.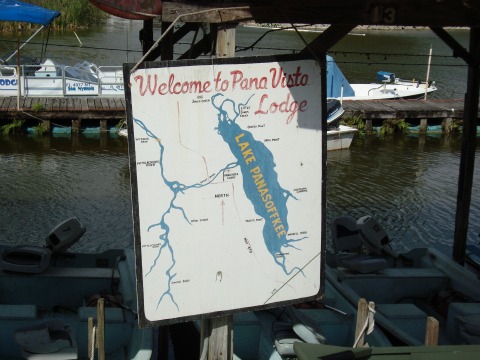 Lake Panasoffkee today is an area of vacation homes, fish camps and lodges. It is a well known fishing attraction. Some folks call Lake Panasoffkee "the home of the big mouth bass". Other catches include blue gill, sunfish, crappy and many others. There are several fish camps and lodges where you can rent boats. Lodging is also available either at the fish camps or in privately owned vacation rental homes. The area around the lake is a great example of Old Florida the way it used to be.


Lake Panasoffkee is located just west of Interstate Highway 75 Exit 321 on County Road 470.
---
RESTAURANT OF THE MONTH
Catfish Johnny's
2396 Highway 470
Lake Panasoffkee, Florida 33538
352-793-2083
---
FLORIDA BACKROADS TRAVEL UPDATES

Thanks for continuing to subscribe to Florida Heritage monthly e-zine. Florida Backroads Travel continues to grow, and we hope you enjoy these updates.

I continue to automate Florida Backroads Travel so that any updates I make are posted automatically to my Mike Miller Facebook page and Facebook Florida Backroads Travel page, and are also tweeted on my Twitter page. You can also subscribe to our Florida Blog by going to our home page and selecting an RSS feed. This way you will have daily updates.

March in Florida is the beginning of spring. Sometimes we have a cold snap, but things are beginning to bloom. We feel sorry for our northern neighbors when we watch their March come in like a lion and dump snow all over our television screens.

Here are some interesting events around Florida for March 2013.
ALL REGIONS

FLORIDA WINERIES. Check the Florida winery nearest you. Many of them have wonderful weekend events that include music and wine tastings. Our site has information on 18 wineries scattered across the state.

FLORIDA FESTIVALS. The weather is getting a bit warmer, but there are only a few outside events this time of year. Among these are outdoor art festivals and folk and bluegrass music festivals.

FLORIDA BEACHES. Almost anything you decide to do in Florida can be enhanced by spending some quality time at a great beach, and best beaches in Florida will guide you in the right direction.

FLORIDA MUSEUMS. Many Florida art and historical museums have scheduled events. Click on the links to find out what is going on.

FLORIDA THEATER. This is an active time for plays and musical events in our many Florida theaters.. Check the links to find out what might be interesting to you.

FLORIDA AUTHORS. March is a good time to sit on the porch and read a book by a Florida author. Our most visited author page is still that of Tim Dorsey, the creator of zany serial killer Serge Storms, followed closely by Randy Wayne White and his hero Doc Ford.

Rather than listing one event in each of Florida's 8 regions on a monthly basis, I have decided instead to provide a very useful link that will tell you what is going on this month virtually everywhere in Florida.
FLORIDA FESTIVALS AND OTHER EVENTS FOR MARCH 2013

Information on the towns and places hosting these events, or near them, including lodging, can be found at Florida Towns.

Some events are cancelled on very short notice. I do my best to ensure that our information is correct and current, but I recommend you call before leaving for the event to make sure it's still on.

Thanks for subscribing to Florida Heritage Travel. We will see you next month with more updates and event information.
---
Regards, Mike Miller
Chief Backroads Traveler
www.Florida-Backroads-Travel.com