April 2013 News And Events
---
Florida Heritage Travel is the companion monthly e-zine of
FLORIDA BACKROADS TRAVEL.
DOCTOR PHILLIPS: CITRUS CAPITAL OF OLD FLORIDA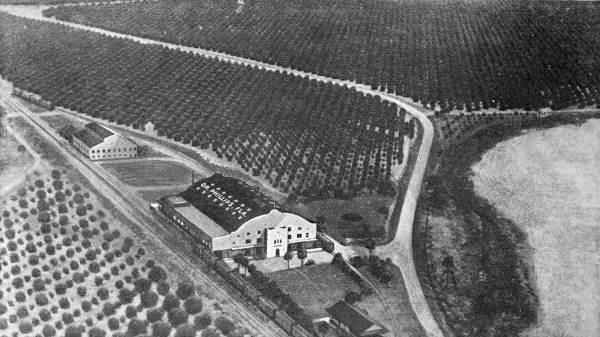 State Archives of Florida, Florida Memory, http://floridamemory.com/items/show/138624



Doctor Phillips is an unincorporated area about 10 miles southwest of downtown Orlando. The area is named for Doctor Phillip Phillips, a medical doctor with huge holdings in citrus in Orange County. His house in downtown Orlando is still a tourist attraction and a popular bed and breakfast inn. But the sprawling grove area named for him was in the quiet country way back then. You can learn more about the history of Doctor Phillips the man and the place on our website at Doctor Phillips, Florida.


I worked on the construction of Walt Disney World and drove to work many days on Apopka-Vineland Road from 1968 to 1971 when the theme park officially opened. The view in the vintage aerial photo is looking generally northeast along that road. Sand Lake Road can be seen heading off to the east at the top of the photo. My commute took me by one of the remaining Doctor Phillips warehouses on the west side of the road alongside the railroad track. It was being used by Disney in those days to make the vinyl leaves that would be later attached to the Swiss Family Robinson Treehouse in the Magic Kingdom.


There wasn't much of anything else in that neighborhood back then except for orange groves and the Bay Hill Golf and Country Club to the north. Bay Hill was pretty new, having been built in 1961 on land that for some reason wouldn't grow citrus. Other than Bay Hill, the area was still largely in citrus groves. Golfing great Arnold Palmer bought the country club in 1975. The old packing houses were torn down years ago to make room for residential subdivisions. The Doctor Phillips community has expanded in recent years into a small city-sized settlement of about 10,000 people. Take a look at the Google photo below to see what has happened in the years since the vintage aerial above was taken.




In the early days, the railroad connected Doctor Phillips to Vineland 5 miles south, a tiny village on the edge of what is now Lake Buena Vista and all of its hotels and restaurants. Vineland is now a ghost town, all but swallowed up by the massive development that came with the opening of Walt Disney World. All that remains is a little cemetery, closed to the public, and a schoolhouse that was built in 1950. Most of the old roads in Vineland have deteriorated and the land is owned by hotel companies and other developers that will eventually expand onto the land.


The legacy of Vineland lives on in the many roads in the area that carry its name. Among them are Apopka-Vineland Road, Winter Garden-Vineland Road, Ocoee-Vineland Road, Kissimmee-Vineland Road and Taft-Vineland Road. Years ago there was also Orlando-Vineland Road, but now it's known only as Vineland Road and is on the north boundary of Universal Studios. These roads all began or terminated in the former townsite of Vineland.



---
RESTAURANT OF THE MONTH
Saffron Indian Cuisine
7724 West Sand Lake Road
Orlando, Florida 32819
407-674-8899
---
FLORIDA BACKROADS TRAVEL UPDATES

Thanks for continuing to subscribe to Florida Heritage monthly e-zine. Florida Backroads Travel continues to grow, and we hope you enjoy these updates.

I continue to automate Florida Backroads Travel so that any updates I make are posted automatically to my Mike Miller Facebook page and Facebook Florida Backroads Travel page, and are also tweeted on my Twitter page. You can also subscribe to our Florida Blog by going to our home page and selecting an RSS feed. This way you will have daily updates.

April in Florida is full blown spring. It's cool enough we don't often use our home air conditioning, and things are beginning to bloom. The snow birds are beginning to flock back to their northern homes, and the lines at our restaurants are getting shorter.

Here are some interesting events in Florida for April 2013.
ALL REGIONS

FLORIDA WINERIES. Check the Florida winery nearest you. Many of them have wonderful weekend events that include music and wine tastings. Our site has information on 18 wineries scattered across the state.

FLORIDA FESTIVALS. The weather is getting a bit warmer, and there are several outside events this time of year. Among these are outdoor art festivals and folk and bluegrass music festivals.

FLORIDA ZOOS. Florida has many zoos, and Florida zoos offer an interesting and inexpensive way to spend a day or more.

FLORIDA BEACHES. Almost anything you decide to do in Florida can be enhanced by spending some quality time at a great beach, and best beaches in Florida will guide you in the right direction.

FLORIDA MUSEUMS. Many Florida art and historical museums have scheduled events. Click on the links to find out what is going on.

FLORIDA THEATER. This is an active time for plays and musical events in our many Florida theaters.. Check the links to find out what might be interesting to you.

FLORIDA AUTHORS. March is a good time to sit on the porch and read a book by a Florida author. Our most visited author page is still that of Tim Dorsey, the creator of zany serial killer Serge Storms, followed closely by Randy Wayne White and his hero Doc Ford.

Rather than listing one event in each of Florida's 8 regions on a monthly basis, I have decided instead to provide a very useful link that will tell you what is going on this month virtually everywhere in Florida.
FLORIDA FESTIVALS AND OTHER EVENTS FOR APRIL 2013

Information on the towns and places hosting these events, or near them, including lodging, can be found at Florida Towns.

A few events are cancelled on very short notice. I do my best to ensure that our information is correct and current, but I recommend you call before leaving for the event to make sure it's still on.

Thanks for subscribing to Florida Heritage Travel. We will see you next month with more updates and event information.
---
Regards, Mike Miller
Chief Backroads Traveler
www.Florida-Backroads-Travel.com