June 2013 News And Events
---
Florida Heritage Travel is the companion monthly e-zine of
FLORIDA BACKROADS TRAVEL.
FLAGLER BEACH: FLORIDA BEACHES THE WAY THEY USED TO BE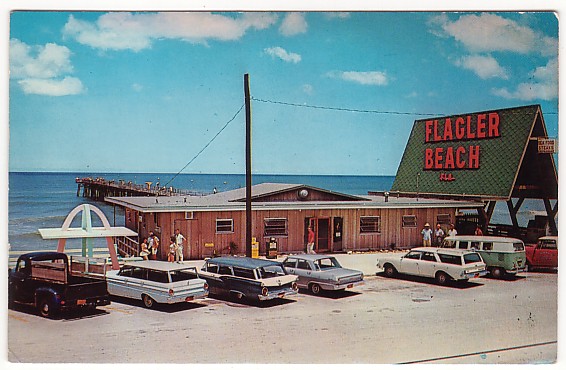 Flagler Beach is a small town on the ocean between St. Augustine Beach and Ormond Beach. It has a clean sandy beach that is almost completely uncluttered by the high rise condos and hotels that loom over most Florida beaches. This fortunate condition has resulted because Highway A1A is so close to the Atlantic Ocean that there is no room for buildings on the ocean side of the highway. Guest lodging and condos are all on the west side of the highway, but still have a nice view of the ocean and offer a quick walk across the highway to enjoy the beach.


This beach town and Flagler County are both named for Henry Flagler, the entrepreneur who extended the railroad down Florida's coast from St. Augustine and eventually all the way to Key West. The train never went through Flagler Beach, and that is one reason why it is still small and more typical of Old Florida than most of the beach towns in the state.


The ocean fishing pier shown on the postcard still stands in Flagler Beach and hasn't changed much over the years. It is one of the few structures on the ocean side for many miles in both directions. The pier is open every day from 600am until midnight, and offers very reasonable rates for fishing. It also has a snack bar and souvenir shop. It will set you back $1.50 to walk out on the pier, and $6.00 if you want to fish for a day. A reasonable price for the pleasures of a day on the ocean breathing in the fresh sea air.



---
RESTAURANT OF THE MONTH
High Tides At Snack Jack, Flagler Beach
FLORIDA BACKROADS TRAVEL UPDATES

Thanks for continuing to subscribe to Florida Heritage monthly e-zine. Florida Backroads Travel continues to grow, and we hope you enjoy these updates.

I continue to automate Florida Backroads Travel so that any updates I make are posted automatically to my Mike Miller Facebook page and Facebook Florida Backroads Travel page, and are also tweeted on my Twitter page. You can also subscribe to our Florida Blog by going to our home page and selecting an RSS feed. This way you will have daily updates.

June is the beginning of muggy summer in Florida. Air conditioners in homes, cars and restaurants are cranking away. Most plants have bloomed, and your yard is ready to mow again the day after you've just finished it. Yankees are back up north, so the lines at our restaurants are short one again.

Here are some interesting events around Florida for June 2013.
ALL REGIONS

FLORIDA WINERIES. Check the Florida winery nearest you. Many of them have wonderful weekend events that include music and wine tastings. Our site has information on 18 wineries scattered across the state.

FLORIDA FESTIVALS. There are several outside events this time of year. Among these are outdoor art festivals and folk and bluegrass music festivals.

FLORIDA BEACHES. Almost anything you decide to do in Florida can be enhanced by spending some quality time at a great beach, and best beaches in Florida will guide you in the right direction.

FLORIDA MUSEUMS. Many Florida art and historical museums have scheduled events. Click on the links to find out what is going on.

FLORIDA THEATER. This is an active time for plays and musical events in our many Florida theaters.. Check the links to find out what might be interesting to you.

FLORIDA AUTHORS. June is a good time to sit on the porch and read a book by a Florida author. Our most visited author page is still that of Tim Dorsey, the creator of zany serial killer Serge Storms, followed closely by Randy Wayne White and his hero Doc Ford.

Rather than listing one event in each of Florida's 8 regions on a monthly basis, I have decided instead to provide a very useful link that will tell you what is going on this month virtually everywhere in Florida.
FLORIDA FESTIVALS AND OTHER EVENTS FOR JUNE 2013

Information on the towns and places hosting these events, or near them, including lodging, can be found at Florida Towns.

A few events are cancelled on very short notice. I do my best to ensure that our information is correct and current, but I recommend you call before leaving for the event to make sure it's still on.

Thanks for subscribing to Florida Heritage Travel. We will see you next month with more updates and event information.
---
Regards, Mike Miller
Chief Backroads Traveler
www.Florida-Backroads-Travel.com