July 2013 News And Events
---
Florida Heritage Travel is the companion monthly e-zine of
FLORIDA BACKROADS TRAVEL.
COCONUT GROVE: FLORIDA ART, HISTORY, MUSIC AND AMBIANCE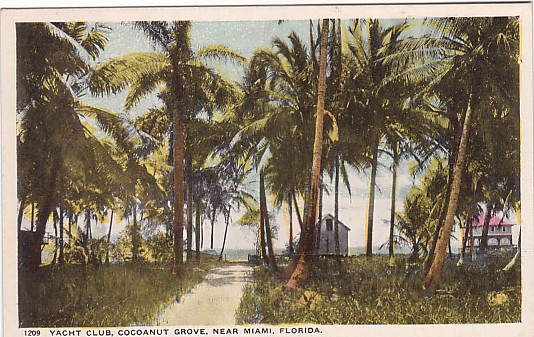 Coconut Grove is a neighborhood in the City of Miami on the Biscayne Bay waterfront. The Grove, as locals call it, is home to an eclectic mix of artists, boat people, writers, musicians, businessmen, beautiful people and just plain eccentrics. The business district is crowded with great restaurants and hotels, big and small, with lots of outside dining venues on the sidewalks. It is a great place for people watching. It is a dog friendly place; don't be surprised to see people dining outside with their dog perched on a chair sharing the table with its owner.


Some famous people have called Coconut Grove their home. Marjorie Stoneman Douglas, who wrote "River of Grass" about the Everglades and was an environmental activist, lived here in her little cottage until her death at age 108 in 1998. Her friend, Robert Frost, spent many winters in The Grove, writing poetry and schmoozing with Mrs. Douglas and other friends. His estate was named "Pencil Points". In more recent years, Madonna and Sylvester Stallone each had homes in Coconut Grove.


There is plenty to do and see in Coconut Grove, including the Vizcaya Museum and Gardens, the Miami Science Museum and Barnacle Historic State Park right in the middle of downtown. A great shopping location is Cocowalk; it has plenty of stores and restaurants. Many fun and interesting events take place in Coconut Grove, including the annual Coconut Grove Arts Festival every February. It's a three day event that is one of the best shows in the United States. This link will take you to more information about the history and culture of Coconut Grove.


Although The Grove is hip and cool and energetic and all that good stuff, it is the tropical vegetation that makes it a unique place in Florida.




RESTAURANT OF THE MONTH




Scotty's Landing

3381 Pan American Drive

Coconut Grove, Florida 33133

305-854-2626


I'm feeling sad as I write this article about Scotty's Landing. It has been one of my favorite restaurants in the entire state, and it is likely to be closed forever in the near future. The restaurant and adjacent dry storage marina are on the Biscayne Bay waterfront. The land is owned by the City of Miami, who has apparently decided to gentrify and upscale the entire area. Developers are bidding on the right to build new facilities that will involve demolition of Scotty's Landing.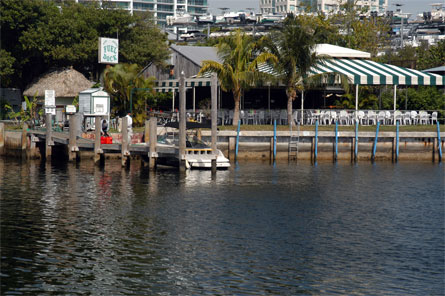 All the dining at Scotty's is outside. The view overlooks Dinner Key Marina and you can see Key Biscayne off in the distance with the blue waters of Biscayne Bay between. It's a boat lover's place; in addition to the views of boats in the nearby marinas and on the bay, quite a few people also come to Scotty's by boat. There is no parking at Scotty's, so the easiest place to park is at Miami City Hall just to the south. The quaint city hall was at one time the Miami terminal for Pan American Airways, and the giant flying PanAm Clippers floated on the waters of the bay and landed and took off there also. You have to walk from this parking lot through a boatyard to get to Scotty's. Be careful of the forklift operators launching and retrieving boats.


The food offerings are what you'd expect of an outdoorsy bar like this. There are lots of conch items, like conch fritters, conch salad, cracked conch and conch chowder. That's pronounced konk, like konk on the head. They have chicken fingers, chicken wings, chili, peel and eat shrimp, nachos and a soup of the day every day. You can get chef salad, caesar salad, tossed salad or cole slaw. There are also a lot of sandwich selections like turkey on wheat bread, chicken salad and that good old standby from the grill, a hamburger. You can get full entrees including steak or fresh seafood like grouper. You can follow this up with a dessert including key lime pie, chocolate mousse cheesecake or Snickers Pie.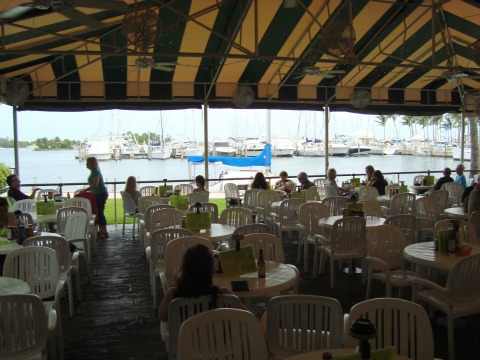 The food is okay, the service is pretty good, but the ambiance and the view are terrific. I hope you get to try Scotty's at least once before it's gone. It's my favorite place in Miami to kick back and have a healthful meal of conch fritters, cracked conch and cold beer.


FLORIDA BACKROADS TRAVEL UPDATES


Thanks for continuing to subscribe to Florida Heritage monthly e-zine. Florida Backroads Travel continues to grow, and we hope you enjoy these updates.


I continue to automate Florida Backroads Travel so that any updates I make are posted automatically to my Mike Miller Facebook page and Facebook Florida Backroads Travel page, and are also tweeted on my Twitter page. You can also subscribe to our Florida Blog by going to our home page and selecting an RSS feed. This way you will have daily updates.


July is the hot and humid month when even year round Floridians sometimes wish they were snowbirds. Air conditioners in homes, cars and restaurants are cranking away. Most plants have bloomed, and your yard is ready to mow again the day after you've just finished it. Yankees are back up north, so the lines at our restaurants are short one again. We envy them their cooler weather.


HERE ARE SOME INTERESTING FLORIDA EVENTS FOR JULY 2013:




ALL REGIONS


FLORIDA WINERIES. Check the Florida winery nearest you. Many of them have wonderful weekend events that include music and wine tastings. Our site has information on 18 wineries scattered across the state. We plan to add even more when we have time to visit them.


FLORIDA FESTIVALS. There are several outside events this time of year. Among these are outdoor art festivals and folk and bluegrass music festivals.


FLORIDA ZOOS. Florida has many zoos, and Florida zoos offer an interesting and inexpensive way to spend a day or more. Most of them have shady places where both you and the animals can escape the sun.


FLORIDA BEACHES. Almost anything you decide to do in Florida can be enhanced by spending some quality time at a great beach, and best beaches in Florida will guide you in the right direction.


FLORIDA MUSEUMS. Many Florida art and historical museums have scheduled events. Click on the links to find out what is going on.


FLORIDA THEATER. This is an active time for plays and musical events in our many Florida theaters.. Check the links to find out what might be interesting to you.


FLORIDA AUTHORS. July is a good time to sit in air conditioned comfort and read a book by a Florida author. Our most visited author page is still that of Tim Dorsey, the creator of zany serial killer Serge Storms, followed closely by Randy Wayne White and his hero Doc Ford.


Rather than listing one event in each of Florida's 8 regions on a monthly basis, I have decided instead to provide a very useful link that will tell you what is going on this month virtually everywhere in Florida.




FLORIDA FESTIVALS AND OTHER EVENTS FOR JULY 2013


Information on the towns and places hosting these events, or near them, including lodging, can be found at Florida Towns. We have also added a new page to the website called "Florida End of Road Towns" to help you plan a trip to those kinky places you always find at the end of the highway.


A few events are cancelled on very short notice. I do my best to ensure that our information is correct and current, but I recommend you call before leaving for the event to make sure it's still on.


Thanks for subscribing to Florida Heritage Travel. We will see you next month with more updates and event information.
---
Regards, Mike Miller
Chief Backroads Traveler
www.Florida-Backroads-Travel.com