September 2013 News And Events
---
Florida Heritage Travel is the companion monthly e-zine of
FLORIDA BACKROADS TRAVEL.
HISTORIC MANDARIN, FLORIDA ON JULINGTON CREEK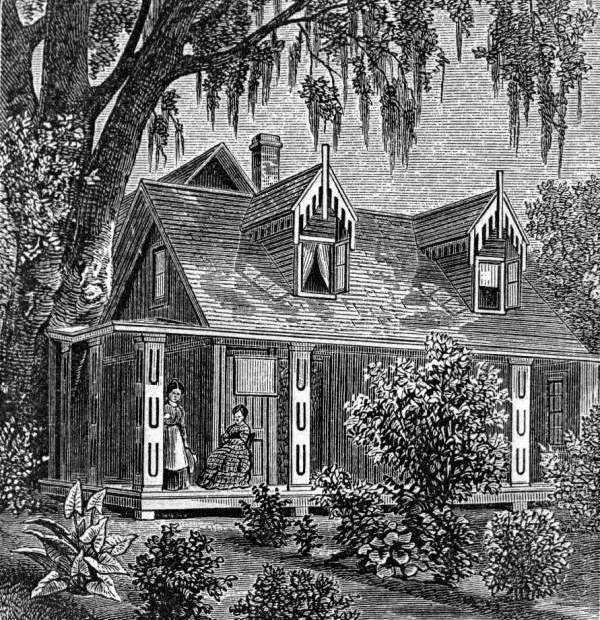 State Archives of Florida, Florida Memory, http://floridamemory.com/items/show/153061

This lithograph shows the winter home of the Stowe family in Mandarin, Florida. The most famous member of the family, Harriet Beecher Stowe, spent many winters here beginning in the years after the Civil War. Mrs. Stowe was famous as the author of "Uncle Tom's Cabin". This anti-slavery novel was so influential that when Abraham Lincoln met her during the Civil War, he referred to her as "the little lady who started this Great War". She also published a promotional book in 1873 called Palmetto Leaves. This little travel book painted such an appealing picture of Florida that it convinced many Yankees to visit the state.

Mandarin is an oak draped Old Florida treasure that rests on the east bank of the St Johns River at the mouth of Julington Creek on what is known as Mandarin Point. The name came from the Mandarin orange that used to be grown in this area. This historic village is the southernmost neighborhood in Jacksonville. Although Harriet's house is gone, Mandarin still has many old buildings and historic houses. The years have brought intense residential development to the areas surrounding the village, but the Old Florida atmosphere is still heavy in the air. Oaks and Spanish Moss are abundant throughout the town.


You can reach Mandarin by taking State Road 13 south out of Jacksonville.
---
RESTAURANT OF THE MONTH
Clark's Fish Camp
12903 Hood Landing Rd
Jacksonville, FL 32258
904-268-3474
---
FLORIDA BACKROADS TRAVEL UPDATES


Thanks for continuing to subscribe to Florida Heritage monthly e-zine. Florida Backroads Travel continues to grow, and we hope you enjoy these updates.


I continue to automate Florida Backroads Travel so that any updates I make are posted automatically to my Mike Miller Facebook page and Facebook Florida Backroads Travel page, and are also tweeted on my Twitter page. You can also subscribe to our Florida Blog by going to our home page and selecting an RSS feed. This way you will have daily updates.


September is still hot and humid and the snowbirds are still up north. Every now and then we get a comfortable day below 90 degrees. Nights are also getting cooler.




HERE ARE SOME INTERESTING FLORIDA EVENTS FOR SEPTEMBER 2013

:




ALL REGIONS


FLORIDA WINERIES. Check the Florida winery nearest you. Many of them have wonderful weekend events that include music and wine tastings. Our site has information on 18 wineries scattered across the state. We plan to add even more when we have time to visit them.


FLORIDA TOURIST ATTRACTIONS. We have an extensive list of Florida Tourist Attractions. Some of them are well known; other are a wonderful step back into Old Florida.


FLORIDA FESTIVALS. There are several outside events this time of year. Among these are outdoor art festivals and folk and bluegrass music festivals.


FLORIDA ZOOS. Florida has many zoos, and Florida zoos offer an interesting and inexpensive way to spend a day or more. Most of them have shady places where both you and the animals can escape the sun.


FLORIDA BEACHES. Almost anything you decide to do in Florida can be enhanced by spending some quality time at a great beach, and best beaches in Florida will guide you in the right direction.


FLORIDA MUSEUMS. Many Florida art and historical museums have scheduled events. Click on the links to find out what is going on.


FLORIDA THEATER. This is an active time for plays and musical events in our many Florida theaters.. Check the links to find out what might be interesting to you.


FLORIDA AUTHORS. September is a good time to read a book by a Florida author. Our most visited author page is still that of Tim Dorsey, the creator of zany serial killer Serge Storms, followed closely by Randy Wayne White and his hero Doc Ford.


Rather than listing one event in each of Florida's 8 regions on a monthly basis, I have decided instead to provide a very useful link that will tell you what is going on this month virtually everywhere in Florida.




FLORIDA FESTIVALS AND OTHER EVENTS FOR SEPTEMBER 2013


Information on the towns and places hosting these events, or near them, including lodging, can be found at Florida Towns. We have also added a new page to the website called "Florida End of Road Towns" to help you plan a trip to those kinky places you always find at the end of the highway.


A few events are cancelled on very short notice. I do my best to ensure that our information is correct and current, but I recommend you call before leaving for the event to make sure it's still on.


Thanks for subscribing to Florida Heritage Travel. We will see you next month with more updates and event information.