October 2013 News And Events
---
Florida Heritage Travel is the companion monthly e-zine of
FLORIDA BACKROADS TRAVEL.
DEFUNIAK SPRINGS, FLORIDA: HOME OF THE SOUTHERN CHAUTAUQUA

DeFuniak Springs is a town of about 5,000 on U.S. Highway 90 about 2 miles north of I-10 in the Florida Panhandle. It is a charming place of Victorian homes and grand buildings, many dating back to the late 1800s. The town is built around Lake Defuniak, one of the few perfectly circular natural lakes in the world. The lake and town are named after Fred De Funiak, an official of the Louisville & Nashville Railroad.


In 1884 this small town became the home of the Florida Chautauqua Assembly. This assembly was an extension of the summer assembly in New York State. Chautauqua was an adult education movement that was very popular in the United States from its birth in 1874 until the 1920s. The movement was named after Chautauqua Lake in New York. Chautauqua assemblies spread all over the country, and brought entertainment, culture and education to the rural communities of America. Many famous speakers of the day made the annual circuit, including William Jennings Bryan. Bands and orchestras were also part of the scene.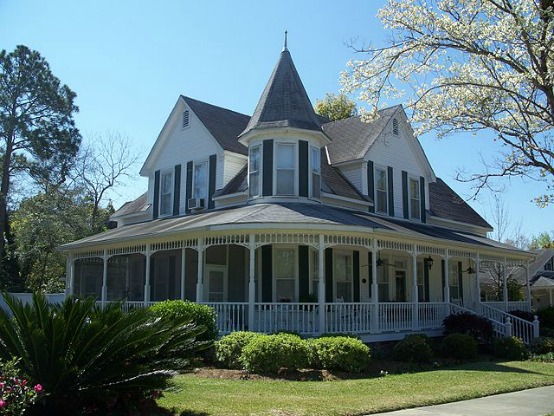 The original developers of DeFuniak Springs were railroad men, and they worked with the Chautauqua Movement to establish their new Florida town as the summer home of the Chautauqua. Many of the beautiful homes and buildings around Lake DeFuniak have been preserved in the town's Historic District. Radio and movies, along with the automobile, doomed the Chautauqua movement. The original assemblies ceased being held in 1927. Organizations, including some in DeFuniak Springs and New York, are keeping the movement alive.


More information is available on the Florida Backroads Travel website at DeFuniak Springs
---
RESTAURANT OF THE MONTH
Bogey's Bar & Restaurant
400 East Nelson Avenue - Hotel DeFuniak
DeFuniak Springs, Florida 32433
850-951-2233
---
FLORIDA BACKROADS TRAVEL UPDATES


Thanks for continuing to subscribe to Florida Heritage monthly e-zine. Florida Backroads Travel continues to grow, and we hope you enjoy these updates.


I continue to automate Florida Backroads Travel so that any updates I make are posted automatically to my Mike Miller Facebook page and Facebook Florida Backroads Travel page, and are also tweeted on my Twitter page. You can also subscribe to our Florida Blog by going to our home page and selecting an RSS feed. This way you will have daily updates.


October alternates between perfect weather and a bit hot and hot and humid. The snowbirds begin flocking down from up north. Temperatures during the day are usually in the 80s and the nights are also getting cooler.




HERE ARE SOME INTERESTING FLORIDA EVENTS FOR OCTOBER 2013

:




ALL REGIONS


FLORIDA WINERIES. Check the Florida winery nearest you. Many of them have wonderful weekend events that include music and wine tastings. Our site has information on 18 wineries scattered across the state. We plan to add even more when we have time to visit them.


FLORIDA TOURIST ATTRACTIONS. We have an extensive list of Florida Tourist Attractions. Some of them are well known; other are a wonderful step back into Old Florida.


FLORIDA FESTIVALS. There are several outside events this time of year. Among these are outdoor art festivals and folk and bluegrass music festivals.


FLORIDA ZOOS. Florida has many zoos, and Florida zoos offer an interesting and inexpensive way to spend a day or more. Most of them have shady places where both you and the animals can escape the sun.


FLORIDA BEACHES. Almost anything you decide to do in Florida can be enhanced by spending some quality time at a great beach, and best beaches in Florida will guide you in the right direction.


FLORIDA MUSEUMS. Many Florida art and historical museums have scheduled events. Click on the links to find out what is going on.


FLORIDA THEATER. This is an active time for plays and musical events in our many Florida theaters.. Check the links to find out what might be interesting to you.


FLORIDA AUTHORS. Any time is a good time to read a book by a Florida author. Our most visited author page is still that of Tim Dorsey, the creator of zany serial killer Serge Storms, followed closely by Randy Wayne White and his hero Doc Ford.


Rather than listing one event in each of Florida's 8 regions on a monthly basis, I have decided instead to provide a very useful link that will tell you what is going on this month virtually everywhere in Florida.




FLORIDA FESTIVALS AND OTHER EVENTS FOR OCTOBER 2013


Information on the towns and places hosting these events, or near them, including lodging, can be found at Florida Towns. We have also added a new page to the website called "Florida End of Road Towns" to help you plan a trip to those kinky places you always find at the end of the highway.


A few events are cancelled on very short notice. I do my best to ensure that our information is correct and current, but I recommend you call before leaving for the event to make sure it's still on.


Thanks for subscribing to Florida Heritage Travel. We will see you next month with more updates and event information.