January 2014 News And Events
---
Florida Heritage Travel is the companion monthly e-zine of
FLORIDA BACKROADS TRAVEL.
HILLSBORO INLET, FLORIDA. THE BAREFOOT MAILMAN AND OTHER HISTORY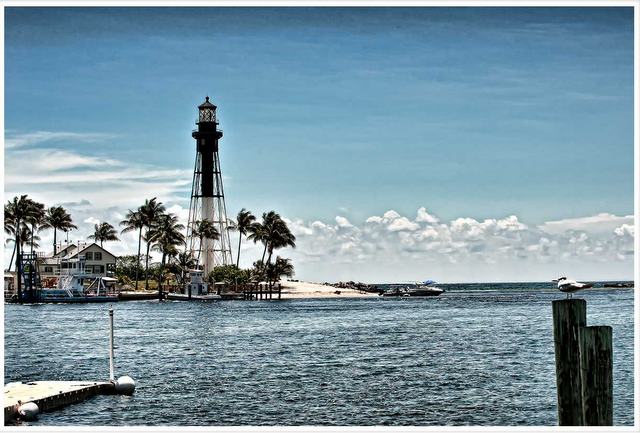 Hillsboro Inlet connects the Intracoastal Waterway to the Atlantic Ocean near Pompano Beach, Florida. This inlet can be treacherous under certain conditions of wind and tidal current, so it is prudent to have local knowledge before entering and exiting. I spent a rough night many years ago tied up to an old wooden dock in the small harbor inside the inlet. The ancient Alden yawl I was on took quite a pounding from the rollers that came in from the ocean. Some 40 years later, I still remember that rough night as I pass over the bridge that spans the connection from the inlet harbor to the Intracoastal Waterway.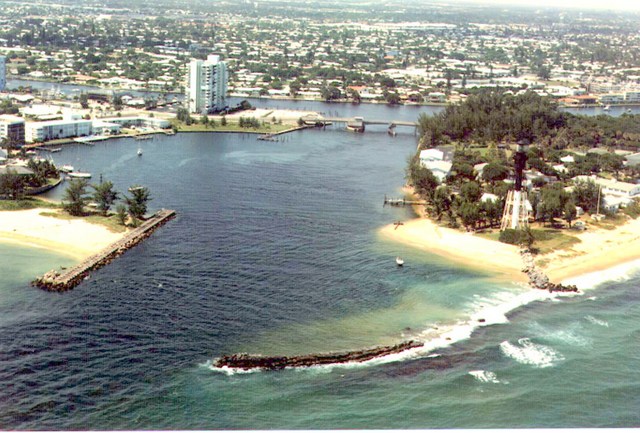 The lighthouse was first lit in 1907, and can be seen from ships 28 miles at sea. In the years before the lighthouse, in the 1880s, the U.S. mail could only be delivered periodically by schooner from Key West to settlements like Miami south of Palm Beach. There was no regular mail delivery to these southern outposts by land. In 1885, the U.S. Postal Service established a mail route that was 136 miles there and back and covered by mailmen on foot. The trip took 6 days. The mailman would leave Palm Beach on Monday morning and take a boat to the southern end of Lake Worth. He would then walk over to the beach at what is now Delray Beach, spend the night, and continue walking on the beach in the morning. It was a hazardous trip, and the mailmen had to cross several inlets on the route including the one at Hillsboro Inlet. One of the mailmen, Ed Hamilton, disappeared and was apparently drowned or eaten by sharks or alligators in Hillsboro Inlet. His body was never recovered.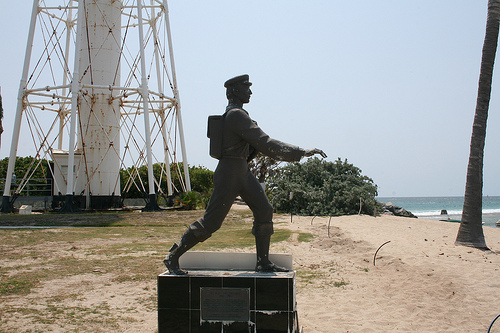 The lonely area that claimed the life of the barefoot mailman has become populated with some of the most expensive homes in south Florida in the past hundred years. The area immediately north of the inlet along State Road A1A is known as "Hillsboro Mile" and is in the town of Hillsboro Beach. Some magnificent mansions along this coast stretch from the ocean to the Intracoastal Waterway. Pompano Beach is to the southwest of the inlet, and Lighthouse Point is to the west. Waterfront homes in this area fulfill the Florida dreams of thousands of residents.
---
RESTAURANT OF THE MONTH
Cap's Place Island Restaurant
(Dock Location) 2765 NE 28th Court
Lighthouse Point, Florida 33074
954-941-0418
---

FLORIDA BACKROADS TRAVEL UPDATES


Thanks for continuing to subscribe to Florida Heritage monthly e-zine. Florida Backroads Travel continues to grow, and we hope you enjoy these updates.


I continue to automate Florida Backroads Travel so that any updates I make are posted automatically to my Mike Miller Facebook page and Facebook Florida Backroads Travel page, and are also tweeted on my Twitter page. You can also subscribe to our Florida Blog by going to our home page and selecting an RSS feed. This way you will have daily updates.


January is one of our best months in most of Florida. It gets cold now and then, but we still enjoy watching the northern storms and blizzards on our televisions down here. Even though we have to heat the house now and then, the open windows provide the air conditioning we need on the warmer days.




HERE ARE SOME INTERESTING FLORIDA EVENTS FOR JANUARY 2014

:




ALL REGIONS


FLORIDA WINERIES. Check the Florida winery nearest you. Many of them have wonderful weekend events that include music and wine tastings. Our site has information on 18 wineries scattered across the state. We plan to add even more when we have time to visit them.


FLORIDA TOURIST ATTRACTIONS. We have an extensive list of Florida Tourist Attractions. Some of them are well known; other are a wonderful step back into Old Florida.


FLORIDA FESTIVALS. There are several outside events this time of year. Among these are outdoor art festivals and folk and bluegrass music festivals.


FLORIDA BEACHES. Almost anything you decide to do in Florida can be enhanced by spending some quality time at a great beach, and best beaches in Florida will guide you in the right direction.


FLORIDA MUSEUMS. Many Florida art and historical museums have scheduled events. Click on the links to find out what is going on.


FLORIDA THEATER. This is an active time for plays and musical events in our many Florida theaters.. Check the links to find out what might be interesting to you.


FLORIDA AUTHORS. Any time is a good time to read a book by a Florida author. Our most visited author page is still that of Tim Dorsey, the creator of zany serial killer Serge Storms, followed closely by Randy Wayne White and his hero Doc Ford.


Here is a useful link that will tell you what is going on this month virtually everywhere in Florida.




FLORIDA FESTIVALS AND OTHER EVENTS FOR JANUARY 2014


Information on the towns and places hosting these events, or near them, including lodging, can be found at Florida Towns. We have also added a new page to the website called "Florida End of Road Towns" to help you plan a trip to those kinky places you always find at the end of the highway.


A few events are cancelled on very short notice. I do my best to ensure that our information is correct and current, but I recommend you call before leaving for the event to make sure it's still on.


Thanks for subscribing to Florida Heritage Travel. We will see you next month with more updates and event information.