February 2014 News And Events
---
Florida Heritage Travel is the companion monthly e-zine of
FLORIDA BACKROADS TRAVEL.
SEBASTIAN, FLORIDA: FISHING, SURFING AND TREASURE HUNTING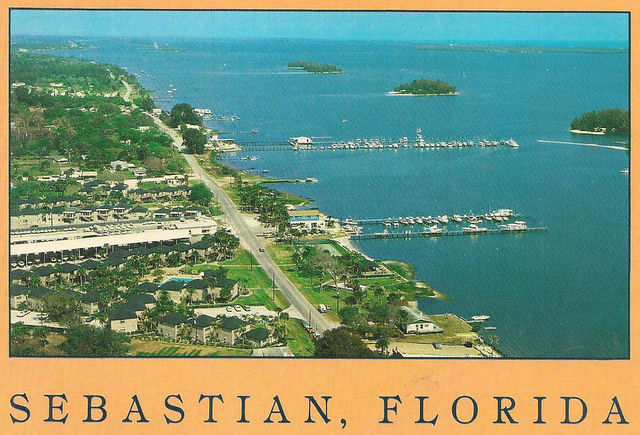 Sebastian, Florida is a small fishing village on US Highway 1 on the mainland side of east coast Florida. It is just about halfway between Jacksonville and Miami, and is also about halfway between Vero Beach and Melbourne, although a tad closer to Vero. It is directly across the Indian River Lagoon from Sebastian Inlet. This inlet to the Atlantic Ocean is loved and revered by fishermen and surfers from all over the world. Sebastian Inlet and the entire barrier island off Sebastian is known as the Treasure Coast.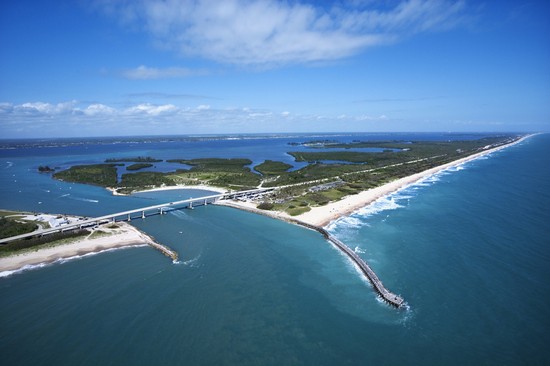 The area was first noticed when the Spanish Treasure fleet sunk off the beaches during a violent storm in 1715. Professional treasure experts believe that more than $500 million in gold was lost when the ships went down. Only a small amount has been found, and gold coins still wash up now and then in the sandy beaches adjacent to the inlet. The McLarty Treasure Museum at Sebastian Inlet State Park interprets the history of the doomed fleet and is fun to visit.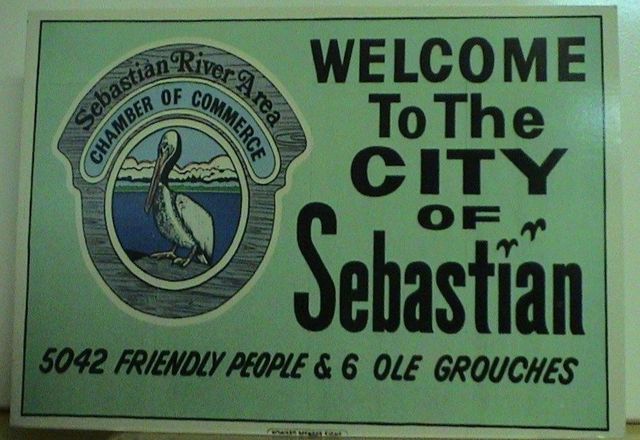 Sebastian has been a fishing village since the 1870s, and was first named St Sebastian. There is plenty to do in Sebastian in addition to fishing. The inlet is nearby for surfing. There are numerous boat rental services, both for those who want to operate the boat themselves and others who just want to take a ride. It's also a nice little town for walking and sightseeing. The welcome sign into Sebastian has been a fixture for as long as I can remember. It hasn't been updated in awhile. The population of Sebastian is now more like 20,000, and there may be one or two more old grouches who moved down from up north since the sign was painted.
---
RESTAURANT OF THE MONTH
Captain Hiram's Resort
1606 Indian River Drive
Sebastian, Florida 32958
772-388-8588
---
FLORIDA BACKROADS TRAVEL UPDATES

Thanks for continuing to subscribe to Florida Heritage monthly e-zine. Florida Backroads Travel continues to grow, and we hope you enjoy these updates.

I continue to automate Florida Backroads Travel so that any updates I make are posted automatically to my Mike Miller Facebook page and Facebook Florida Backroads Travel page, and are also tweeted on my Twitter page. You can also subscribe to our Florida Blog by going to our home page and selecting an RSS feed. This way you will have daily updates.

February is one of our best months in most of Florida. It gets cold now and then, but we still enjoy watching the northern storms and blizzards on our televisions down here. Even though we have to heat the house now and then, the open windows provide the air conditioning we need on the warmer days.
HERE ARE SOME INTERESTING FLORIDA EVENTS FOR FEBRUARY 2014:
ALL REGIONS

FLORIDA WINERIES. Check the Florida winery nearest you. Many of them have wonderful weekend events that include music and wine tastings. Our site has information on 18 wineries scattered across the state. We plan to add even more when we have time to visit them.

FLORIDA TOURIST ATTRACTIONS. We have an extensive list of Florida Tourist Attractions. Some of them are well known; other are a wonderful step back into Old Florida.

FLORIDA FESTIVALS. There are several outside events this time of year. Among these are outdoor art festivals and folk and bluegrass music festivals.

FLORIDA BEACHES. Almost anything you decide to do in Florida can be enhanced by spending some quality time at a great beach, and best beaches in Florida will guide you in the right direction.

FLORIDA MUSEUMS. Many Florida art and historical museums have scheduled events. Click on the links to find out what is going on.

FLORIDA THEATER. This is an active time for plays and musical events in our many Florida theaters.. Check the links to find out what might be interesting to you.

FLORIDA AUTHORS. Any time is a good time to read a book by a Florida author. Our most visited author page is now that of Randy Wayne White, the creator of adventurous marine biologist Doc Ford, followed closely by Tim Dorsey and his lovable hero, serial killer Serge Storms.

Here is a useful link that will tell you what is going on this month virtually everywhere in Florida.
FLORIDA FESTIVALS AND OTHER EVENTS FOR FEBRUARY 2014

Information on the towns and places hosting these events, or near them, including lodging, can be found at Florida Towns. We have also added a new page to the website called "Florida End of Road Towns" to help you plan a trip to those kinky places you always find at the end of the highway.

A few events are cancelled on very short notice. I do my best to ensure that our information is correct and current, but I recommend you call before leaving for the event to make sure it's still on.

Thanks for subscribing to Florida Heritage Travel. We will see you next month with more updates and event information.