March 2014 News And Events
---
Florida Heritage Travel is the companion monthly e-zine of
FLORIDA BACKROADS TRAVEL.
LONG KEY, FLORIDA. A LONG FISHING AND RAILROAD HISTORY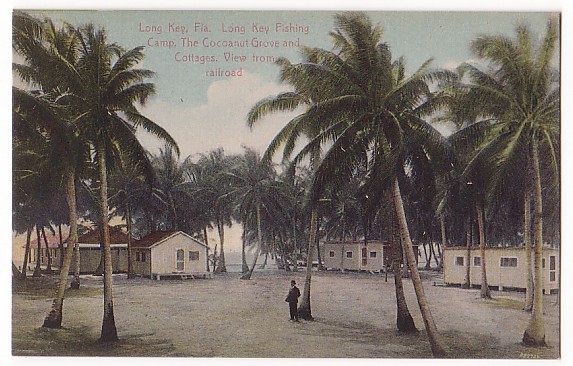 Long Key is in the middle Florida Keys about halfway between Islamorada and Marathon. It is home to a small village, Layton (population about 200), and Long Key State Park which is a popular camping destination. During the early days of Henry Flagler's construction of the Key West extension of the Florida East Coast Railway, Long Key became the location of lodging for many of the railroad workers and also had a railroad station.


Long Key might have remained largely unknown except for its fishing camp known as the Long Key Fishing Club. The most prominent member of this club was novelist Zane Grey, famous for his 1912 novel "Riders Of The Purple Sage". Henry Flagler had built the fishing camp in 1908 to serve tourists arriving by train in the Florida Keys. Other members of the fishing club included Herbert Hoover, Andrew Mellon, Franklin Roosevelt, William Randolph Hearst and many other famous people.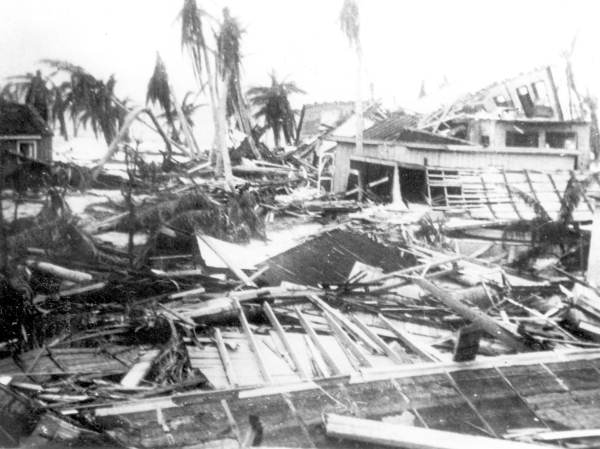 The awful hurricane of 1935 destroyed Flagler's railroad and the Long Key fishing camp. Long Key was a lonely place until the village of Layton was developed in the 1960s and Long Key State Park.
---
RESTAURANT OF THE MONTH




Lazy Days Restaurant

79867 Overseas Highway

Islamorada, Florida 33036

Tel: 305-664-5256

www.lazydaysrestaurant.com


There is a Lazy Days restaurant in Marathon and one in Islamorada. I visited the one in Islamorada. It is on the ocean side of US-1 and has a view of the Atlantic Ocean. This is a great place in the Middle Keys for breakfast, lunch or dinner. You can eat downstairs in the dining room, or upstairs in the bar. There is also a large covered outside dining deck with a great view, and you can also sit on the beach. The whole place is lit outside at night by tiki torches.


The food is excellent, and they usually start you off with banana bread. What a way to go! The seafood here is usually fresh; you can even bring in your own catch and they will prepare it and cook it for you. They will prepare it any way you like including coconut encrusted, pepper encrusted, macadamia nut encrusted. blackened or fried. Some popular menu items include clams, shrimp and chicken prepared in a variety of ways. They have conch, either fried as "cracked conch" or enjoyed in a chowder or as a fritter. The landlubber is not forgotten, either, with New York Strip and Filet Mignon on the menu.


Pasta is also featured prominently, with the centerpiece being their famous Grouchy's Linguine, a delicious mixture of sauteed chopped clams, mushrooms, scallions and garlic sauce. You can get oysters prepared many different ways, and if you must....they even have gator on the menu. All of this wonderful food is enhanced by a full service bar, and quite often they have live music to entertain you while you dine and drink.


FLORIDA BACKROADS TRAVEL UPDATES


Thanks for continuing to subscribe to Florida Heritage monthly e-zine. Florida Backroads Travel continues to grow, and we hope you enjoy these updates.


I continue to automate Florida Backroads Travel so that any updates I make are posted automatically to my Mike Miller Facebook page and Facebook Florida Backroads Travel page, and are also tweeted on my Twitter page. You can also subscribe to our Florida Blog by going to our home page and selecting an RSS feed. This way you will have daily updates.


March is one of our best months in most of Florida. It gets cool now and then, but we still enjoy watching the northern storms and blizzards on our televisions down here as winter sputters to an end up north. The open windows down here provide the air conditioning we need on the warmer days.




HERE ARE SOME INTERESTING FLORIDA EVENTS FOR MARCH 2014:




ALL REGIONS


FLORIDA WINERIES. Check the Florida winery nearest you. Many of them have wonderful weekend events that include music and wine tastings. Our site has information on 18 wineries scattered across the state. We plan to add even more when we have time to visit them.


FLORIDA TOURIST ATTRACTIONS. We have an extensive list of Florida Tourist Attractions. Some of them are well known; other are a wonderful step back into Old Florida.


FLORIDA FESTIVALS. There are several outside events this time of year. Among these are outdoor art festivals and folk and bluegrass music festivals.


FLORIDA ZOOS. Florida has many zoos, and Florida zoos offer an interesting and inexpensive way to spend a day or more.


FLORIDA BEACHES. Almost anything you decide to do in Florida can be enhanced by spending some quality time at a great beach, and best beaches in Florida will guide you in the right direction.


FLORIDA MUSEUMS. Many Florida art and historical museums have scheduled events. Click on the links to find out what is going on.


FLORIDA THEATER. This is an active time for plays and musical events in our many Florida theaters.. Check the links to find out what might be interesting to you.


FLORIDA AUTHORS. Any time is a good time to read a book by a Florida author. Our most visited author page is now that of Randy Wayne White, the creator of adventurous marine biologist Doc Ford, followed closely by Tim Dorsey and his lovable hero, serial killer Serge Storms.


Here is a useful link that will tell you what is going on this month virtually everywhere in Florida.




FLORIDA FESTIVALS AND OTHER EVENTS FOR MARCH 2014


Information on the towns and places hosting these events, or near them, including lodging, can be found at Florida Towns. We have also added a new page to the website called "Florida End of Road Towns" to help you plan a trip to those kinky places you always find at the end of the highway.


A few events are cancelled on very short notice. I do my best to ensure that our information is correct and current, but I recommend you call before leaving for the event to make sure it's still on.


Thanks for subscribing to Florida Heritage Travel. We will see you next month with more updates and event information.