April 2014 News And Events
---
Florida Heritage Travel is the companion monthly e-zine of
FLORIDA BACKROADS TRAVEL.
MAYPORT, FLORIDA: OLD FISHING VILLAGE NEXT TO MODERN NAVAL BASE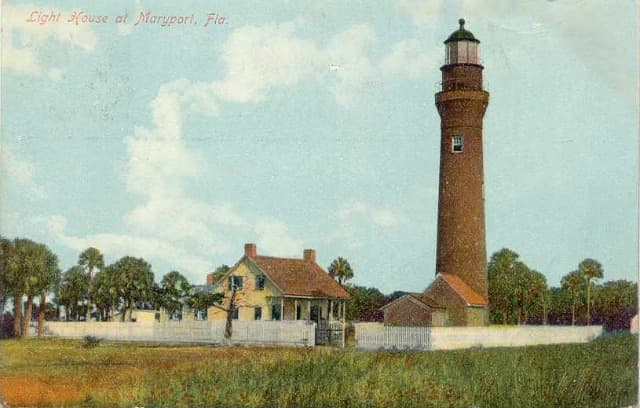 Mayport is located at the mouth of the St. Johns River about 25 miles east of Jacksonville, Florida. It is a small working fishing village in the shadow of Naval Station Mayport, one of the largest naval ports on the Atlantic coast.


The easiest way to get to Mayport is to take State Road A1A north from Atlantic Boulevard in Jacksonville Beach until it dead ends at the river. You will be in Mayport, and can take the car ferry across the St Johns River to a continuation of A1A that will take you up to Amelia Island and Fernandina Beach. The historic lighthouse in Mayport was built in 1858, and there are several other historic buildings remaining in town.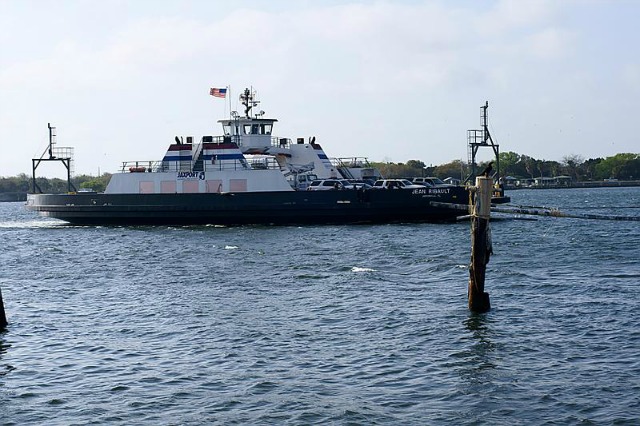 Nobody knows for sure when Mayport was first settled. Guesses range from 1562 when the French first settled in the area to 1828 when the area started to grow. The original settlers were fishermen. Mayport developed a tourist industry in the late 1800s and sported several hotels and taverns. The railroads used to go through Mayport, but they were abandoned in 1919. There wasn't much going on in Mayport until World War Two.


The sleepy village of Mayport was awakened in 1942 when the government dredged a harbor, built a runway and created Naval Station Mayport. When I was in the Navy years ago, I was stationed at NS Mayport aboard the destroyer U.S.S. Myles C. Fox (DDR-829). Many other ships were in the harbor at the same time including the aircraft carrier Franklin D. Roosevelt. Main road traffic to and from the village of Mayport does not go through the Naval base; base traffic largely heads south to the Jacksonville Beach area on a separate road.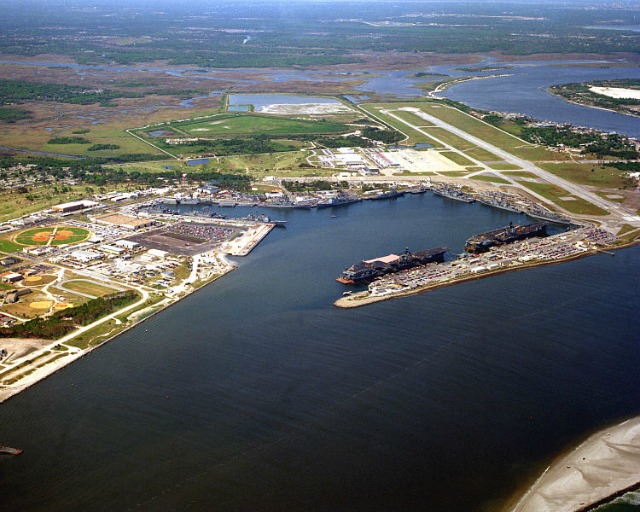 The view above is of Naval Station Mayport looking west up the St Johns River. You can see the village of Mayport along the river on the right hand side of the photo. The village is clustered along the single airstrip that serves the base.
---
RESTAURANT OF THE MONTH




Singleton's Seafood Shack

4728 Ocean St, Atlantic Beach, FL 32233

Atlantic Beach, FL 32233

Tel: 904-246-4442


Seafood restaurants have been part of the Mayport tradition since the very early days. You can be assured that the seafood you are being served is fresh, right from the boat. Singleton's Seafood Shack continues the tradition and has been doing so since 1969. This is Old Florida dining, not fancy, lots of fried stuff, and styrofoam serving plates and bowls and plastic knives and forks and spoons. All of this in a rundown looking building on the bank of the St Johns River. It is called a shack for a reason, so don't be turned down by the ramshackle appearance. The restaurant was featured not long ago on the Food Network's Guy Fieri show - Diners, Drive-Ins and Dives.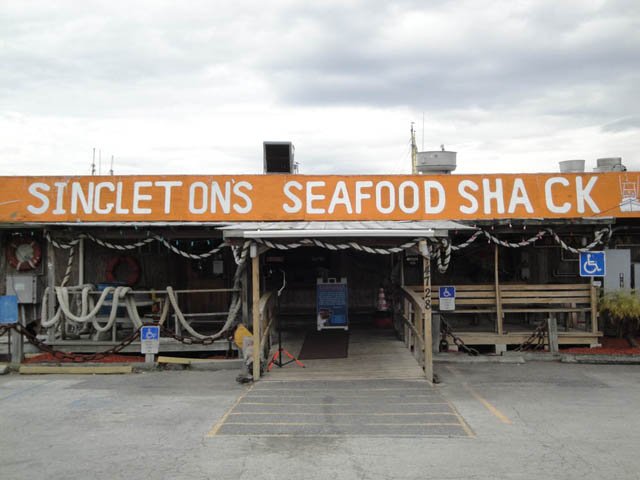 Singleton's is a mish-mash of unpainted lumber and plywood that defines its shacky appearance. It has a big dining room, outside dining deck and a museum annex that features more than 100 ship models made by the original owner. The waitresses have been around for awhile and all know my name: hon, sweetheart, darlin....how did they know? Their greetings underscore the southern nature of the food and service. All meals are served with great hushpuppies, and the vegetable of the day is quite often collard greens. Clams and clam chowder are always on the menu, and one of their specialties is Minorcan Clam Chowder. Minorcans were among the earliest settlers of St. Augustine and Mayport.
When you visit, don't forget to try their blackened gator tail appetizer. It's definitely the best way to prepare and cook this reptile. Other fresh offerings include shrimp, crawfish, crablegs, scallops, oysters, crab legs and clam strips. You get to see all of the fresh fish in a display counter, and you know that most of them came in from the fishing boats tied off behind the restaurant. You can watch the cooks prepare your food right behind the fresh fish counter.

The restaurant has a full bar, so you can enjoy your favorite adult beverage while you gorge on fresh seafood.

FLORIDA BACKROADS TRAVEL UPDATES

Thanks for continuing to subscribe to Florida Heritage monthly e-zine. Florida Backroads Travel continues to grow, and we hope you enjoy these updates.

I continue to automate Florida Backroads Travel so that any updates I make are posted automatically to my Mike Miller Facebook page and Facebook Florida Backroads Travel page, and are also tweeted on my Twitter page. You can also subscribe to our Florida Blog by going to our home page and selecting an RSS feed. This way you will have daily updates.

April is my favorite month in Florida. It is mostly balmy down here in spring, and we sleep with the windows open. Most of the Yankee snowbirds go home sometime in April, and the lines are shorter at restaurants and traffic congestion is reasonable once again.
HERE ARE SOME INTERESTING FLORIDA EVENTS FOR APRIL:
ALL REGIONS

FLORIDA WINERIES. Check the Florida winery nearest you. Many of them have wonderful weekend events that include music and wine tastings. Our site has information on 18 wineries scattered across the state. We plan to add even more when we have time to visit them.

FLORIDA TOURIST ATTRACTIONS. We have an extensive list of Florida Tourist Attractions. Some of them are well known; other are a wonderful step back into Old Florida.

FLORIDA FESTIVALS. There are several outside events this time of year. Among these are outdoor art festivals and folk and bluegrass music festivals.

FLORIDA BEACHES. Almost anything you decide to do in Florida can be enhanced by spending some quality time at a great beach, and best beaches in Florida will guide you in the right direction.

FLORIDA MUSEUMS. Many Florida art and historical museums have scheduled events. Click on the links to find out what is going on.

FLORIDA THEATER. This is an active time for plays and musical events in our many Florida theaters.. Check the links to find out what might be interesting to you.

FLORIDA AUTHORS. Any time is a good time to read a book by a Florida author. Our most visited author page is now that of Randy Wayne White, the creator of adventurous marine biologist Doc Ford, followed closely by Tim Dorsey and his lovable hero, serial killer Serge Storms.

Here is a useful link that will tell you what is going on this month virtually everywhere in Florida.
FLORIDA FESTIVALS AND OTHER EVENTS FOR APRIL 2014

Information on the towns and places hosting these events, or near them, including lodging, can be found at Florida Towns. We have also added a new page to the website called "Florida End of Road Towns" to help you plan a trip to those kinky places you always find at the end of the highway.

A few events are cancelled on very short notice. I do my best to ensure that our information is correct and current, but I recommend you call before leaving for the event to make sure it's still on.

Thanks for subscribing to Florida Heritage Travel. We will see you next month with more updates and event information.