May 2014 News And Events
---
Florida Heritage Travel is the companion monthly e-zine of
FLORIDA BACKROADS TRAVEL.
GREEN COVE SPRINGS, FLORIDA: FORMER HOME OF MOTHBALL FLEET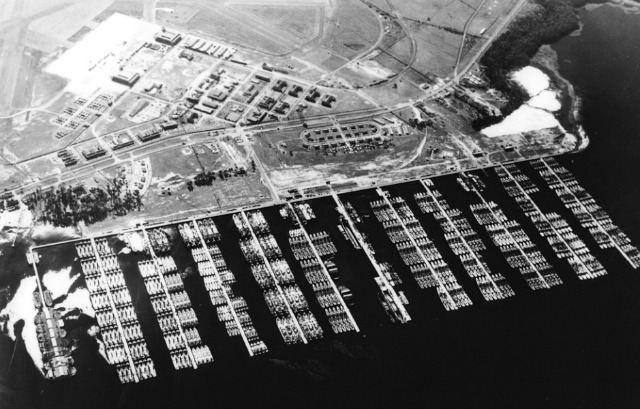 Green Cove Springs is a small town on the west bank of the St. Johns River about 28 miles south of Jacksonville. It's a nice little town of shaded streets and fine old homes in quiet neighborhoods on either side of busy U.S. 17, the main north-south highway through town. The quiet little place of about 7,000 people seems like an unlikely place to have located one of the U.S. Navy's largest mothball fleets at the end of World War Two. By 1947, about 600 destroyers, destroyer escorts and fleet auxiliaries were the most prominent sight in this riverfront town.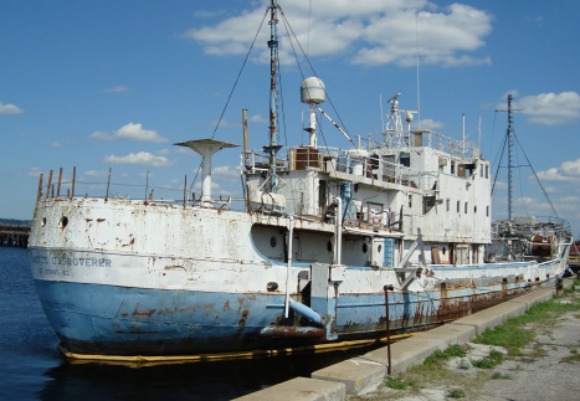 The Navy built huge concrete docks projecting out into the river to dock the ships. By 1962, the fleet was largely gone, parceled out to other U.S. Navy locations and foreign countries for their navies. The docks remain, but with only a few modern yachts in a small marina setting along with older ships waiting to be purchased or scrapped. Only a few oldtimers like me remember when the huge fleet dominated the town and was the first sight you saw when coming from the east on the Shands Bridge over the St. Johns River on State Road 16.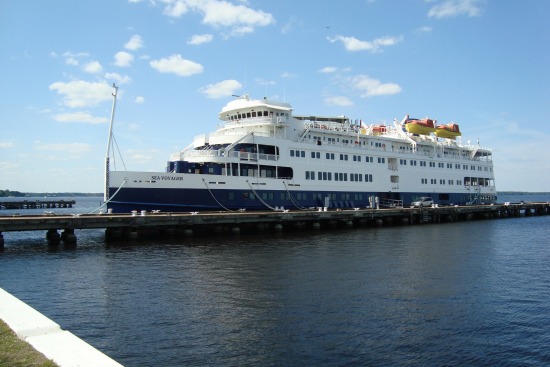 I like to ride my bike in Green Cove Springs. The neighborhoods between U.S. 17 and the river are very quiet and have plenty of sidewalks and safe streets for riding. I park my car downtown in a riverside park, take my bike off the rack and ride all over the place, including to the old Navy base for a look at what ships are currently there. There is a sidewalk along the busy highways that allows you to ride safely to the docking area on the river.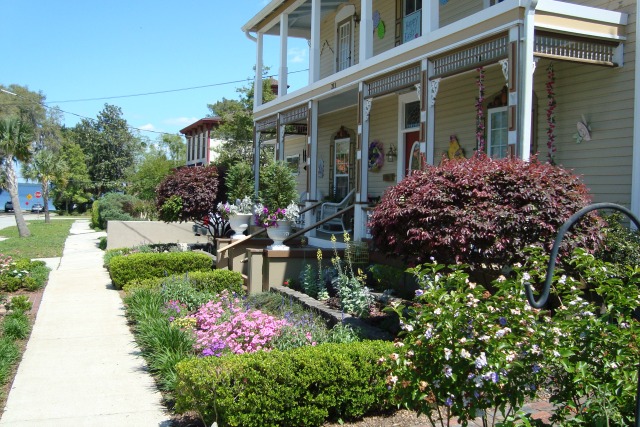 The view above is of one of the many beautiful well maintained homes in the neighborhood along the St. Johns River.
---
RESTAURANT OF THE MONTH
Sweet Sensations
25 North Orange Avenue (U.S. 17)
Green Cove Springs, FL 32043
Tel: 904-529-8554
---
FLORIDA BACKROADS TRAVEL UPDATES

Thanks for continuing to subscribe to Florida Heritage monthly e-zine. Florida Backroads Travel continues to grow, and we hope you enjoy these updates.

I continue to automate Florida Backroads Travel so that any updates I make are posted automatically to my Mike Miller Facebook page and Facebook Florida Backroads Travel page, and are also tweeted on my Twitter page. You can also subscribe to our Florida Blog by going to our home page and selecting an RSS feed. This way you will have daily updates.

May is the Florida month when we begin to get hints of summer. Most of the Yankee snowbirds have gone back north, so restaurants are not as crowded. We are beginning to use our air conditioners at home and in the car.
HERE ARE SOME INTERESTING FLORIDA EVENTS FOR MAY:
ALL REGIONS

FLORIDA WINERIES. Check the Florida winery nearest you. Many of them have wonderful weekend events that include music and wine tastings. Our site has information on 18 wineries scattered across the state. We plan to add even more when we have time to visit them.

FLORIDA TOURIST ATTRACTIONS. We have an extensive list of Florida Tourist Attractions. Some of them are well known; other are a wonderful step back into Old Florida.

FLORIDA FESTIVALS. There are several outside events this time of year. Among these are outdoor art festivals and folk and bluegrass music festivals.


FLORIDA BEACHES. Almost anything you decide to do in Florida can be enhanced by spending some quality time at a great beach, and best beaches in Florida will guide you in the right direction.

FLORIDA MUSEUMS. Many Florida art and historical museums have scheduled events. Click on the links to find out what is going on.

FLORIDA THEATER. This is an active time for plays and musical events in our many Florida theaters.. Check the links to find out what might be interesting to you.

FLORIDA AUTHORS. Any time is a good time to read a book by a Florida author. Our most visited author page is now that of Randy Wayne White, the creator of adventurous marine biologist Doc Ford, followed closely by Tim Dorsey and his lovable hero, serial killer Serge Storms.

Here is a useful link that will tell you what is going on this month virtually everywhere in Florida.
FLORIDA FESTIVALS AND OTHER EVENTS FOR MAY 2014

Information on the towns and places hosting these events, or near them, including lodging, can be found at Florida Towns. We have also added a new page to the website called "Florida End of Road Towns" to help you plan a trip to those kinky places you always find at the end of the highway.

A few events are cancelled on very short notice. I do my best to ensure that our information is correct and current, but I recommend you call before leaving for the event to make sure it's still on.

Thanks for subscribing to Florida Heritage Travel. We will see you next month with more updates and event information.