June 2014 News And Events
---
Florida Heritage Travel is the companion monthly e-zine of
FLORIDA BACKROADS TRAVEL.
MARCO ISLAND, FLORIDA: RESORTS AND RESIDENCES FROM THE MANGROVES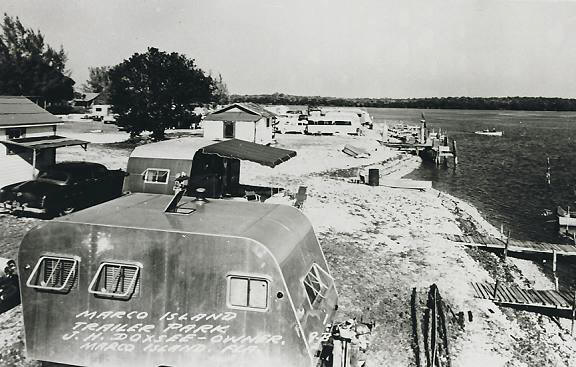 Marco Island is the largest and northernmost of Florida's 10,000 islands. It is about 28 miles south of Naples. For many years it was inhabited by the fierce Calusa Indians. The first white settlers were W. T. Collier, his wife and their 9 children. They came to the island in 1870. In 1896, W. T. Collier's son, Captain Bill Collier, opened a 20 room hotel which still stands today, the Olde Marco Inn. This is not the same Collier family as the one that developed Everglades City and much of southwest Florida. That was Barron G. Collier.


Marco's early history was very quiet, but from 1908 to 1947 the Doxsee Clam Company was the biggest industry on the island. The company harvested, steamed and canned clams from the waters around Marco Island until the clam beds were exhausted. The trailer park shown in the picture above was owned by the Doxsee family. After the clam cannery closed, Barron Collier bought most of the island from the other Collier family. There was almost no development on Marco Island. This changed in 1964 when the Deltona Corporation, headed by the Mackle Brothers, began to develop the entire island as a beachfront resort and canal laced residential community.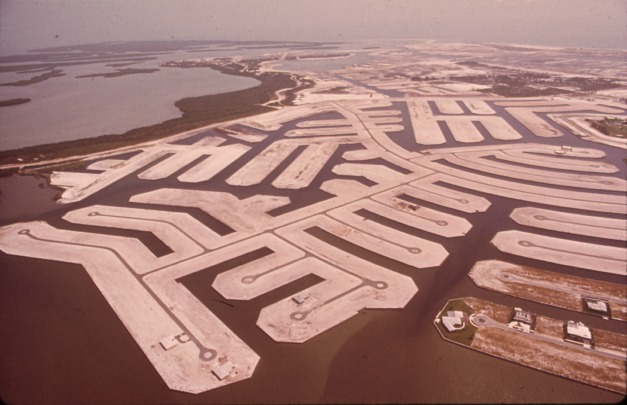 The mangroves were removed from much of the island, and canals were dredged and the material used to create lots. It was a very successful project, in spite of some major permitting problems, and waterfront lots and homes were sold to eager buyers all over the world on the installment basis. The 50 room Marco Island Hotel was one of the nicest in southwest Florida when it was built in 1965 at the same time the Marco Island community was officially opened.




Marco Island is now a modern place with some of the nicest condos and hotels in the state. From a quiet fishing village of 550 people in 1960, it has grown to a major town with a population of 16,000.



---
RESTAURANT OF THE MONTH
Snook Inn
1215 Bald Eagle Drive
Marco Island, Florida 34145
Tel: 239-394-3313
---
FLORIDA BACKROADS TRAVEL UPDATES

Thanks for continuing to subscribe to Florida Heritage monthly e-zine. Florida Backroads Travel continues to grow, and we hope you enjoy these updates.

I continue to automate Florida Backroads Travel so that any updates I make are posted automatically to my Mike Miller Facebook page and Facebook Florida Backroads Travel page, and are also tweeted on my Twitter page. You can also subscribe to our Florida Blog by going to our home page and selecting an RSS feed. This way you will have daily updates.

June is when it starts to get hot and humid in Florida. Hardly any Yankee snowbirds are down here at this time of year, so restaurants are not as crowded. Air conditioners at home, office, restaurants and cars are cranking away all the time.
HERE ARE SOME INTERESTING FLORIDA EVENTS FOR JUNE:
ALL REGIONS

FLORIDA WINERIES. Check the Florida winery nearest you. Many of them have wonderful weekend events that include music and wine tastings. Our site has information on 18 wineries scattered across the state. We plan to add even more when we have time to visit them.

FLORIDA TOURIST ATTRACTIONS. We have an extensive list of Florida Tourist Attractions. Some of them are well known; other are a wonderful step back into Old Florida.

FLORIDA FESTIVALS. There are several outside events this time of year. Among these are outdoor art festivals and folk and bluegrass music festivals.

FLORIDA BEACHES. Almost anything you decide to do in Florida can be enhanced by spending some quality time at a great beach, and best beaches in Florida will guide you in the right direction.

FLORIDA MUSEUMS. Many Florida art and historical museums have scheduled events. Click on the links to find out what is going on.

FLORIDA THEATER. This is an active time for plays and musical events in our many Florida theaters.. Check the links to find out what might be interesting to you.

FLORIDA AUTHORS. Any time is a good time to read a book by a Florida author. Our most visited author page is now that of Randy Wayne White, the creator of adventurous marine biologist Doc Ford, followed closely by Tim Dorsey and his lovable hero, serial killer Serge Storms.

Here is a useful link that will tell you what is going on this month virtually everywhere in Florida.
FLORIDA FESTIVALS AND OTHER EVENTS FOR JUNE 2014

Information on the towns and places hosting these events, or near them, including lodging, can be found at Florida Towns. We have also added a new page to the website called "Florida End of Road Towns" to help you plan a trip to those kinky places you always find at the end of the highway.

A few events are cancelled on very short notice. I do my best to ensure that our information is correct and current, but I recommend you call before leaving for the event to make sure it's still on.

Thanks for subscribing to Florida Heritage Travel. We will see you next month with more updates and event information.