September 2014 News And Events
---
Florida Heritage Travel is the companion monthly e-zine of
FLORIDA BACKROADS TRAVEL.
PLANT CITY, FLORIDA: AMERICA'S WINTER STRAWBERRY CAPITAL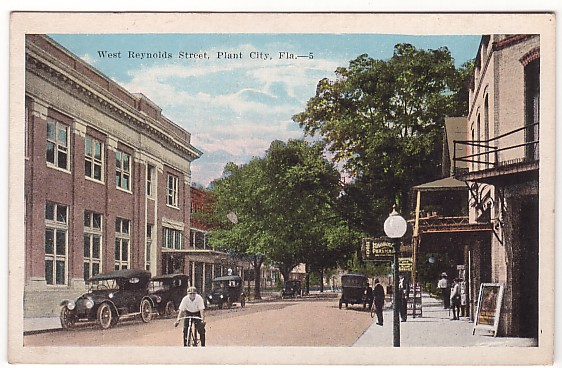 More than 75 percent of the winter strawberries in the United States come from Plant City, Florida. The town is grateful for its strawberry bounty, and celebrates every spring with the Florida Strawberry Festival. This festival is very popular and ranks in the Top 40 of all fairs in North America. The next scheduled festival is February 26 - March 8, 2015. It's a great opportunity to visit Plant City and see what one small town has done to preserve and celebrate its history.




Many people assume that Plant City got its name from its agricultural activities. Actually, the town is named for Henry Plant, a railroad pioneer who did for central and west Florida what Henry Flager did for Florida's east coast. In the 1880s, Plant bought railroads and extended them into then undeveloped Florida, opening up the area to agriculture including not just strawberries, but blueberries, citrus and whatever the Florida soil could produce. Plant's railroads made it possible for Florida farmers to ship their products directly and cheaply to northern markets. Plant's railroad came to Plant City in 1884, and the community was immediately named for him.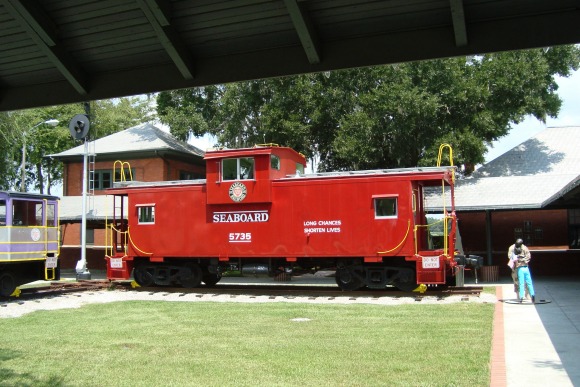 The railroad's contribution to the community is celebrated in a lovely new museum in downtown Plant City. Another amazing feature of the downtown area is the statuary. For example, the soldier and the woman greeting him at the station are realistic statues. Statues of people in various poses are scattered throughout downtown, and give you the feeling that you are not alone. Even if there are few real people on the streets, you will still feel like you are one person of many. When I first saw the statue of the man sleeping, I thought he was real. After I took the photo I got closer to him and realized he was a statue.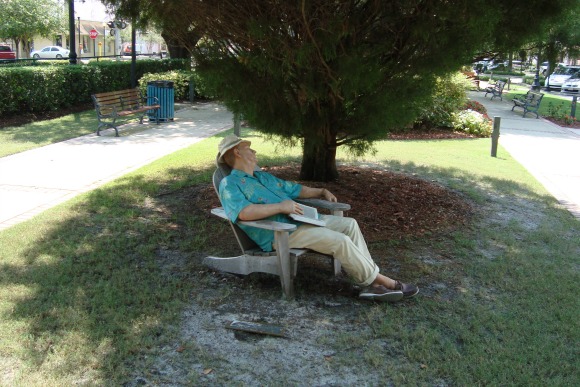 Plant City's downtown area is a great place to visit. There are many gift shops and antique stores and quite a few good restaurants. It's easy to spend an entire day just browsing the numerous shops.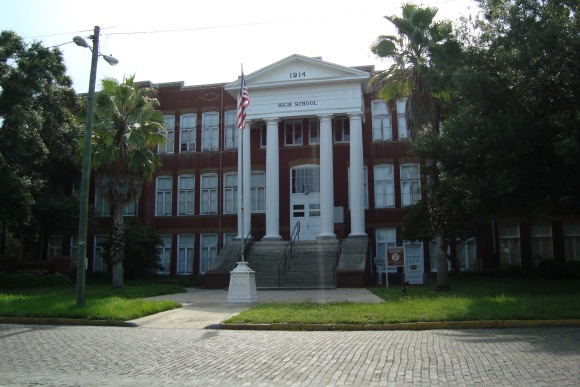 The community has done a wonderful job sprucing up and restoring old buildings that are being put to good use today. Even the old Plant City High School, built in 1914, is still standing and is in pretty good condition.
---
RESTAURANT OF THE MONTH
Krazy Kup
101 E J Arden Mays Blvd
Plant City, Florida 33563
Tel: 813-752-1220
---
FLORIDA BACKROADS TRAVEL UPDATES

Thanks for continuing to subscribe to Florida Heritage monthly e-zine. Florida Backroads Travel continues to grow, and we hope you enjoy these updates.

I continue to automate Florida Backroads Travel so that any updates I make are posted automatically to my Mike Miller Facebook page and Facebook Florida Backroads Travel page, and are also tweeted on my Twitter page. You can also subscribe to our Florida Blog by going to our home page and selecting an RSS feed. This way you will have daily updates.

September is still hot and humid in Florida, but not quite as miserable as August. Most of the snowbirds are still up north, so restaurants are still not too crowded. Air conditioners at home, office, restaurants and cars are cranking away all the time.
HERE ARE SOME INTERESTING FLORIDA EVENTS FOR SEPTEMBER:
ALL REGIONS

FLORIDA WINERIES. Check the Florida winery nearest you. Many of them have wonderful weekend events that include music and wine tastings. Our site has information on 18 wineries scattered across the state. We plan to add even more when we have time to visit them.

FLORIDA TOURIST ATTRACTIONS. We have an extensive list of Florida Tourist Attractions. Some of them are well known; other are a wonderful step back into Old Florida.

FLORIDA FESTIVALS. There are several outside events this time of year. Among these are outdoor art festivals and folk and bluegrass music festivals.

FLORIDA BEACHES. Almost anything you decide to do in Florida can be enhanced by spending some quality time at a great beach, and best beaches in Florida will guide you in the right direction.

FLORIDA MUSEUMS. Many Florida art and historical museums have scheduled events. Click on the links to find out what is going on.

FLORIDA THEATER. This is an active time for plays and musical events in our many Florida theaters.. Check the links to find out what might be interesting to you.

FLORIDA AUTHORS. Any time is a good time to read a book by a Florida author. Our most visited author page is now that of Randy Wayne White, the creator of adventurous marine biologist Doc Ford, followed closely by Tim Dorsey and his lovable hero, serial killer Serge Storms.

Here is a useful link that will tell you what is going on this month virtually everywhere in Florida.
FLORIDA FESTIVALS AND OTHER EVENTS FOR SEPTEMBER 2014

Information on the towns and places hosting these events, or near them, including lodging, can be found at Florida Towns. you always find at the end of the highway.

A few events are cancelled on very short notice. I do my best to ensure that our information is correct and current, but I recommend you call before leaving for the event to make sure it's still on.

Thanks for subscribing to Florida Heritage Travel. We will see you next month with more updates and event information.