October 2014 News And Events
---
Florida Heritage Travel is the companion monthly e-zine of
FLORIDA BACKROADS TRAVEL.
ORMOND BEACH, FLORIDA: THE BIRTHPLACE OF RACING ON THE BEACH

Ormond Beach is the first town north of Daytona Beach on Florida's east coast. Part of the town is on the mainland and the rest is across the Halifax River on the Atlantic Ocean barrier island. Ormond has grown to almost 40,000 people and was once known as "The Birthplace of Speed" because of the first auto races that were held on the hard packed beach in 1902. Early racers included Henry Ford and Ransom Olds. These beaches also made Ormond popular with rich Yankees during the surge in Florida tourism after the Civil War.


John Anderson and James Downing Price built the beautiful Ormond Hotel, shown above in the postcard. Henry Flagler bought it in 1890 and expanded it to serve the passengers on his railroad. The hotel was listed on the National Register of Historic Places in 1980, but couldn't survive the wrecker's ball and was torn down in 1992. Anderson is still honored with his name on the long tree canopied drive that runs from the hotel site north along the Halifax River for many miles.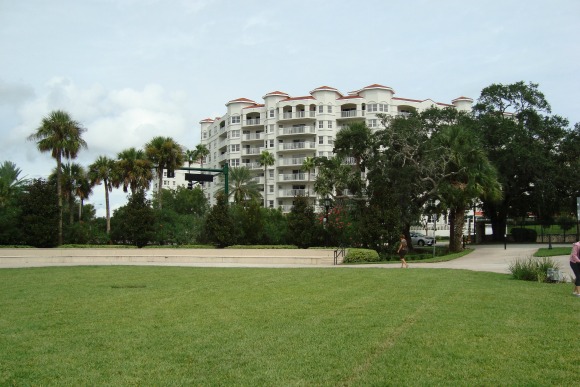 Although it's sad that the grand old hotel was torn down, at least it has been replaced by a modern condominium that tried to preserve some of the architectural ambiance of the original. The community and its developers have been consistent in trying to preserve some of the historic beauty of old Ormond Beach.


For example, the heart of old downtown Ormond is West Granada Boulevard. This is the eastern end of State Road 40 that leads from shoreside Ormond across the Grenada Bridge to beachside Ormond. Many of the old buildings along this stretch have been renovated.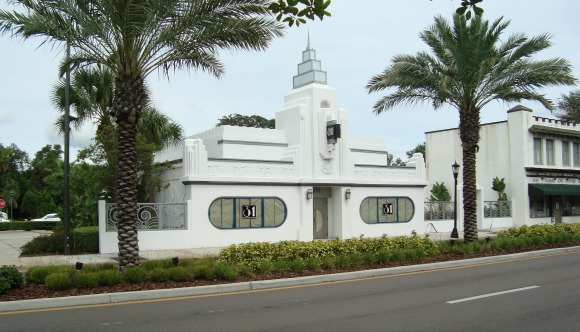 An example is a vintage art deco building at 31 West Granada being currently remodeled into a Roaring Twenties type of bistro, upscale restaurant and nightclub. Other buildings along this street have also been renovated and put to good use as shops and restaurants. City Hall is also in this neighborhood. Although it is a beautiful modern complex it fits in well with its historic surroundings.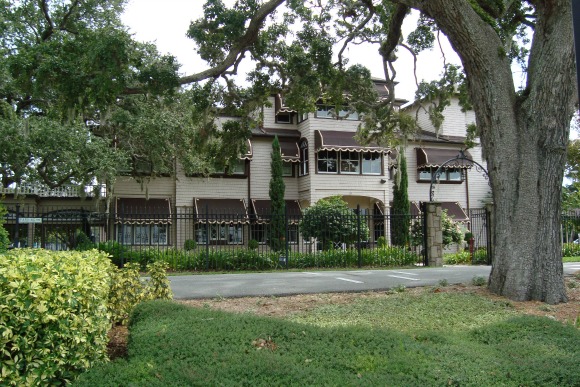 One of the early guests at the Ormond Hotel was John D. Rockefeller. Henry Flagler had been his original partner in Standard Oil Company. After wintering in Ormond for 4 seasons, Rockefeller bought an estate named The Casements across the street from the hotel. He stayed here every winter for the rest of his life. His heirs sold the estate in 1939, but the City ended up buying it in 1973. It now serves as a community and cultural center. It is located on the east side of the Halifax River. It is open to the public for tours and other events.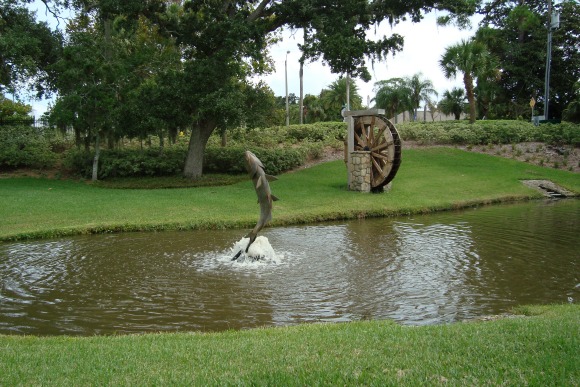 Ormond Beach has a lot of the oceanfront advantages of neighboring Daytona Beach. It has managed, however, to keep it more quiet and peaceful. A good place to meditate is the garden in front of The Casements along the Halifax River.
---
RESTAURANT OF THE MONTH
Alfie's Restaurant and Lounge
1666 Oceanshore Boulevard
Ormond Beach, Florida 32176
Tel: 386-441-7024
www.alfiesrestaurant.com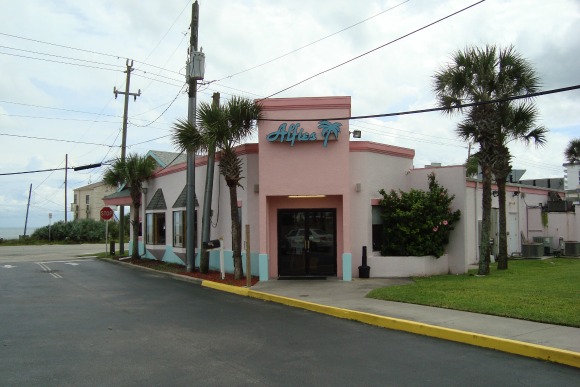 Alfie's has been around for more than 25 years and is located in a part of beachside Ormond known as Ormond-By-The-Sea. This name fits Alfie's, as it is on A1A and you have a partial view of the Atlantic Ocean through the windows. When you enter Alfie's you are greeted by a nifty alligator statue and sign that tells to you seat yourself. On busier days, a hostess will do the seating.


The menu is what you'd expect from a beachy place; lots of fried seafood offerings. Their most popular dish is Icelandic haddock, batter fried or butter broiled. It comes as a fish and chips offering with great french fries. That's what I had for lunch one day in late September. My gracious server was Leeann. She was prompt, courteous and friendly.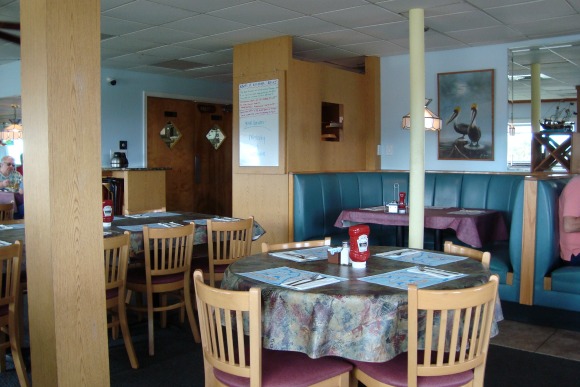 The menu is extensive and includes Italian items, salads, sandwiches, prime rib, steaks, chops and beef and reef selections. In addition to the soup of the day, they always have French Onion Soup and New England Clam Chowder ready to serve. Appetizers include Calamari, Firecracker Shrimp, cheese logs, breaded mushrooms and onion rings. You will not go hungry.


It is also a local gathering spot for breakfast, and has an extensive breakfast menu including omelettes, pancakes, French toast and their famous 2-2-2-2 combos. The combo includes 2 eggs, 2 sausages, 2 bacon strips and either 2 pancakes or 2 French Toasts.


Alfie's also has a full service lounge, separate from the dining area. They are admired locally for their Ultimate Bloody Mary: made with their own mix, it comes with a lot of veggies and a shrimp cocktail.


FLORIDA BACKROADS TRAVEL UPDATES


Thanks for continuing to subscribe to Florida Heritage monthly e-zine. Florida Backroads Travel continues to grow, and we hope you enjoy these updates.


I continue to automate Florida Backroads Travel so that any updates I make are posted automatically to my Mike Miller Facebook page and Facebook Florida Backroads Travel page, and are also tweeted on my Twitter page. You can also subscribe to our Florida Blog by going to our home page and selecting an RSS feed. This way you will have daily updates.


October gives us an occasional cool day that reminds us of why we live in Florida. About half of the snowbirds are still up north, so restaurants are not too crowded. Air conditioners at home, office, restaurants and cars are turned off now and then and windows open to the breezes.




HERE ARE SOME INTERESTING FLORIDA EVENTS FOR OCTOBER:




ALL REGIONS


FLORIDA WINERIES. Check the Florida winery nearest you. Many of them have wonderful weekend events that include music and wine tastings. Our site has information on 18 wineries scattered across the state. We plan to add even more when we have time to visit them.


FLORIDA TOURIST ATTRACTIONS. We have an extensive list of Florida Tourist Attractions. Some of them are well known; other are a wonderful step back into Old Florida.


FLORIDA FESTIVALS. There are several outside events this time of year. Among these are outdoor art festivals and folk and bluegrass music festivals.


FLORIDA ZOOS. Florida has many zoos, and Florida zoos offer an interesting and inexpensive way to spend a day or more.


FLORIDA BEACHES. Almost anything you decide to do in Florida can be enhanced by spending some quality time at a great beach, and best beaches in Florida will guide you in the right direction.


FLORIDA MUSEUMS. Many Florida art and historical museums have scheduled events. Click on the links to find out what is going on.


FLORIDA THEATER. This is an active time for plays and musical events in our many Florida theaters.. Check the links to find out what might be interesting to you.


FLORIDA AUTHORS. Any time is a good time to read a book by a Florida author. Our most visited author page is now that of Randy Wayne White, the creator of adventurous marine biologist Doc Ford, followed closely by Tim Dorsey and his lovable hero, serial killer Serge Storms.


Here is a useful link that will tell you what is going on this month virtually everywhere in Florida.




FLORIDA FESTIVALS AND OTHER EVENTS FOR OCTOBER 2014


Information on the towns and places hosting these events, or near them, including lodging, can be found at Florida Towns. you always find at the end of the highway.


A few events are cancelled on very short notice. I do my best to ensure that our information is correct and current, but I recommend you call before leaving for the event to make sure it's still on.


Thanks for subscribing to Florida Heritage Travel. We will see you next month with more updates and event information.