December 2014 News And Events
---
Florida Heritage Travel is the companion monthly e-zine of
FLORIDA BACKROADS TRAVEL.
MELBOURNE BEACH, FLORIDA: GATEWAY TO BEACH AND FISHING PARADISE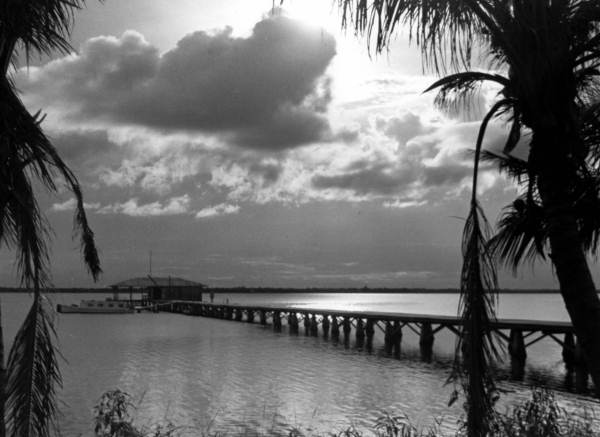 Melbourne Beach Pier, 1938. State Archives of Florida.

Melbourne Beach is a quiet bedroom community of about 3,000 people on the barrier island across the Indian River Lagoon from the larger city of Melbourne. It is Brevard County's oldest beach community. Most histories place the founding of the village as 1883 when a Civil War Union veteran, Major Cyrus E. Graves, began buying land for $1.25 per acre and started raising pineapples.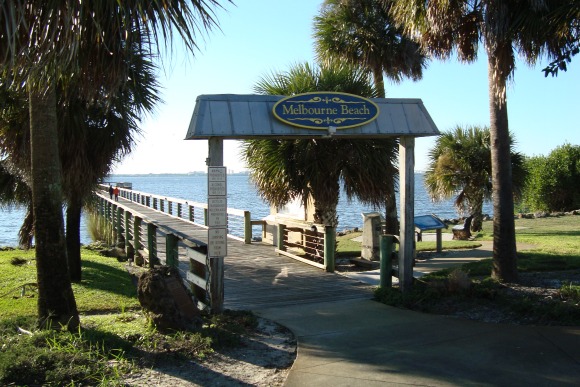 Melbourne Beach Pier in 2014

In the early days, Melbourne Beach was the only access to the Atlantic Ocean beach for many miles north and south. The barrier island was virtually a jungle back then. A ferry brought passengers over from Melbourne where they landed at the Melbourne Beach Pier. A narrow gauge railroad with a push car took passengers from the pier down Ocean Avenue to the ocean. There was a bathhouse near where the current day Sands Restaurant stands.

A causeway was built across the Indian River Lagoon in 1921. It connected Melbourne Beach to Melbourne by way of the town of Indialantic. Ferry traffic began to decline, but the town began to grow slowly as a result of the better connection to the mainland. One of the first buildings erected in the town was the Community Chapel. Built in 1892, it still stands and conducts church services, weddings and other events. Another original old building the Villa Marine, still stands at the corner of Ocean Avenue and Riverside Drive. It was built in 1912 as a hotel and is used today as a dentist's office.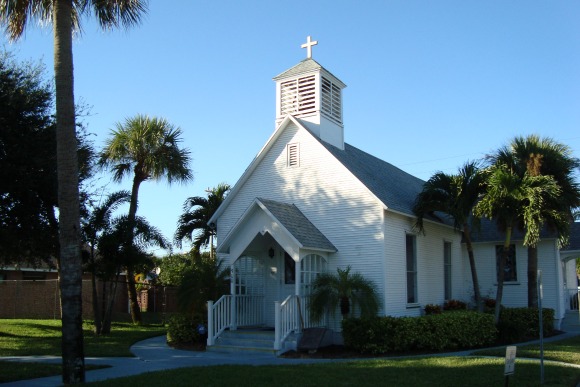 Melbourne Beach Community Chapel

The space program at Cape Canaveral and Banana River Naval Air Station (now Patrick Air Force Base) to the north contributed to the the residential development in Melbourne Beach. Today the village is largely residential with a few businesses along Ocean Avenue and State Road A1A. It is truly a walkable little town that takes great pride in its history. The Melbourne Beach Pier was placed on the National Register of Historic Places in 1984. The town has also preserved many of its original old houses and buildings.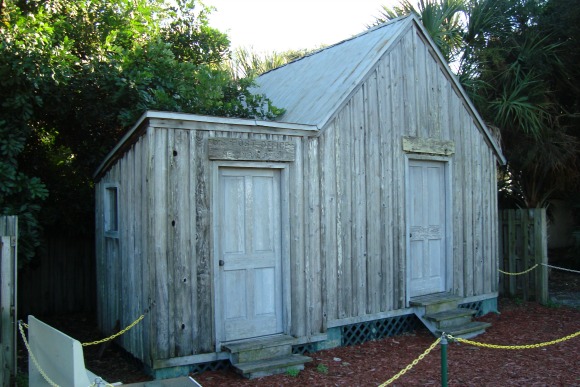 Replica of Old Post Office Built By High School Students

The village has numerous access points to the beautiful sand beaches. Melbourne Beach is also the main access point for the long stretch of beach along State Road A1A all the way down to Sebastian Inlet. The barrier island has many parks and beach access points between Melbourne Beach and the inlet.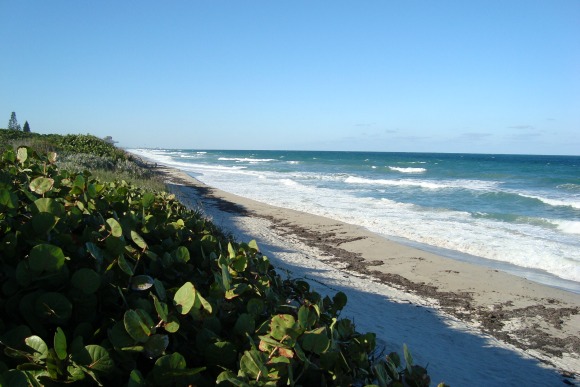 The Atlantic Ocean at Melbourne Beach


Use the Google Map below to plan your route to Melbourne Beach. Bring your beach clothes and a semi-dressy outfit to enjoy the restaurant we will tell you about.
---
RESTAURANT OF THE MONTH
Djon's Steak and Lobster House
522 Ocean Avenue
Melbourne Beach, Florida 32951
Tel: 321-722-2737
djons.com

Djon's is a fine dining establishment named after its owner, Djon Papej. It is not your typical beach establishment; you will be okay wearing slacks or shorts and a polo shirt, but leave your flip-flops and tee shirt at home. This place warrants your dressing up a bit; you won't be disappointed. I lived for many years near this restaurant. In the old days it was known as Poor Richard's. The newer Djon's has kept up the quaint ambience and improved everything from top to bottom.


Locals and tourists enjoy the daily happy hour from 5pm to 7pm with $5 cocktails and $6 martinis. The happy hour menu is good enough that you can dine on the offerings from this event alone. Filet tips, sesame tuna, garlic shrimp, calamari and many other tantalizing treats.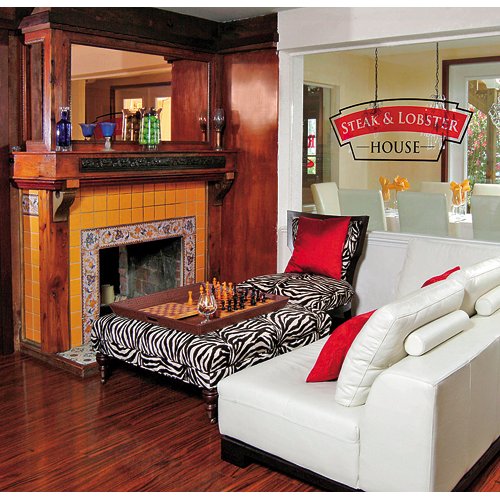 The restaurant is in a historic early building, with both inside and outside dining. The upper dining deck has a great view of the Indian River Lagoon. Your dining experience will begin with any of a large variety of appetizers. Calamari, crab and lobster cake, escargot, baked brie, King Crab spring rolls, Oysters Rockefeller and many other treats. The salads are great. Choose from asparagus salad, the house salad, Caesar, wedge or roasted beet salad.


Entrees include either a 6 ounce or 8 ounce filet mignon (my favorite), Prime Angus New York Strip, a 22 ounce Delmonico, veal, lamb, burgers, crusted chicken and roasted duck. The seafood menu offers live Maine lobster, sea bass, yellow fin ahi tuna, scallops, cedar planked salmon, crab crusted grouper, roasted lobster tail and several other lobster dishes.


Djon's has a full service bar and a large selection of beer and wine. It is a perfect place to cap off a day of fun in the sun and surf of Melbourne Beach.


FLORIDA BACKROADS TRAVEL UPDATES


Thanks for continuing to subscribe to Florida Heritage monthly e-zine. Florida Backroads Travel continues to grow, and we hope you enjoy these updates.


I continue to automate Florida Backroads Travel so that any updates I make are posted automatically to my Mike Miller Facebook page and Facebook Florida Backroads Travel page, and are also tweeted on my Twitter page. You can also subscribe to our Florida Blog by going to our home page and selecting an RSS feed. This way you will have daily updates.


December actually gets cold from time to time in most of Florida. The snowbirds have escaped their miserable northern weather and restaurants are crowded again. But who can blame them?




HERE ARE SOME INTERESTING FLORIDA EVENTS FOR DECEMBER:




ALL REGIONS


FLORIDA WINERIES. Check the Florida winery nearest you. Many of them have wonderful weekend events that include music and wine tastings. Our site has information on 18 wineries scattered across the state. We plan to add even more when we have time to visit them.


FLORIDA TOURIST ATTRACTIONS. We have an extensive list of Florida Tourist Attractions. Some of them are well known; other are a wonderful step back into Old Florida.


FLORIDA FESTIVALS. There are several outside events this time of year. Among these are outdoor art festivals and folk and bluegrass music festivals.


FLORIDA BEACHES. Almost anything you decide to do in Florida can be enhanced by spending some quality time at a great beach, and best beaches in Florida will guide you in the right direction.


FLORIDA MUSEUMS. Many Florida art and historical museums have scheduled events. Click on the links to find out what is going on.


FLORIDA THEATER. This is an active time for plays and musical events in our many Florida theaters.. Check the links to find out what might be interesting to you.


FLORIDA AUTHORS. Any time is a good time to read a book by a Florida author. Our most visited author page is now that of Randy Wayne White, the creator of adventurous marine biologist Doc Ford, followed closely by Tim Dorsey and his lovable hero, serial killer Serge Storms.


Here is a useful link that will tell you what is going on this month virtually everywhere in Florida.




FLORIDA FESTIVALS AND OTHER EVENTS FOR DECEMBER 2014


Information on the towns and places hosting these events, or near them, including lodging, can be found at Florida Towns.


A few events are cancelled on very short notice. I do my best to ensure that our information is correct and current, but I recommend you call before leaving for the event to make sure it's still on.


Thanks for subscribing to Florida Heritage Travel. We will see you next month with more updates and event information.