January 2015 News And Events
---
Florida Heritage Travel is the companion monthly e-zine of
FLORIDA BACKROADS TRAVEL.
CARRABELLE, FLORIDA: TRAINING GROUND FOR D-DAY IN WORLD WAR TWO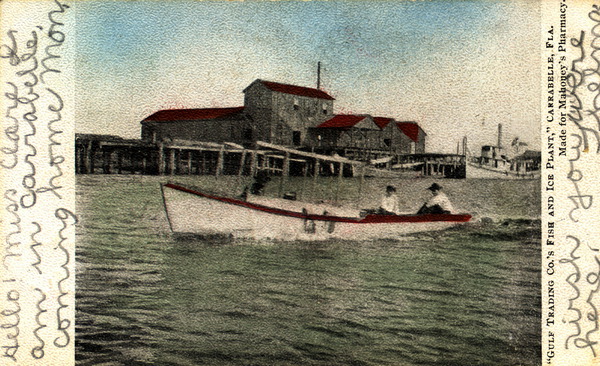 Carrabelle is a working fishing village and laid back Old Florida tourist attraction. It is located just west of Florida's "Big Bend" on the Gulf Coast about 53 miles southwest of Tallahassee. It has a population of about 1,300. Isolated Dog Island is about 3 miles offshore of Carrabelle and can be reached only by plane or boat. Dog Island has a few scattered homes, one small 8 room inn and miles of beautiful beaches.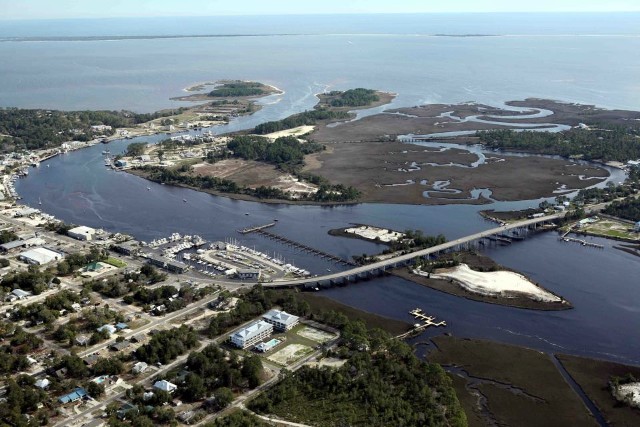 Carrabelle and Dog Island were sleepy little places until right after the U.S. Civil War. The vast forests surrounding the area made lumber and naval stores the lifeblood of the economy. The first lumber mill was built in 1875. Pine and cypress cut from the lands upstream surrounding the Carrabelle River were floated down to the mill for cutting into lumber. The lumber was then shipped from Carrabelle to northern markets.


By 1893 Carrabelle had become a boom town in the lumber industry. The docks along the river were stacked high with lumber and turpentine ready for shipping. The railroad had also come to town and the products of the local fishermen, especially mullet, were shipped by rail to markets in the north and south. At the turn of the twentieth century, a major hurricane almost destroyed Carrabelle. The downtown was moved closer to its present location and many new buildings were built. Many of those vintage buildings still remain standing today.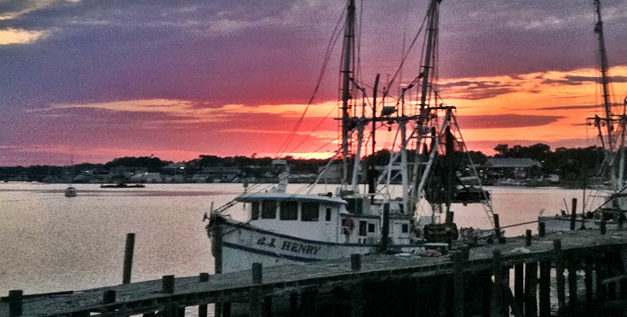 The years between World War I and World War II were very hard for Carrabelle. The lumber and naval stores industries disappeared and fishing became the main occupation of most area residents. The depression had Carrabelle in its grip. There was a period of time during the Prohibition era when quite a few locals made their living smuggling in liquor from the Caribbean.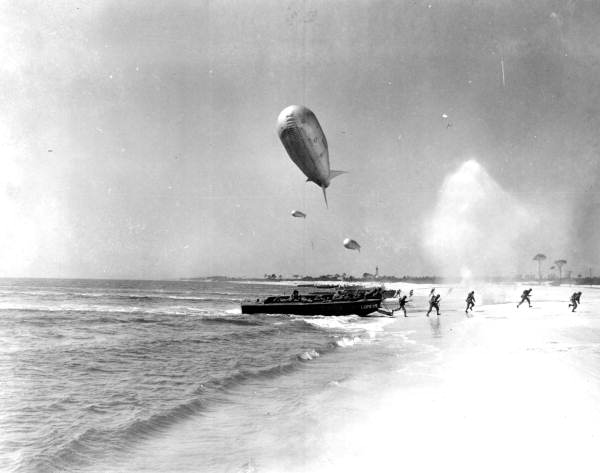 In the very early years of World War Two, the U.S. government bought 165,000 acres of forest and beach land surrounding Carrabelle. By 1942 they had constructed Camp Gordon Johnston. Thousands of men were trained in amphibious warfare at this base; the nearyby beaches were practice grounds for later wartime landings in Italy and Normandy. The land was sold off after the war, and Carrabelle again retreated into it's quiet prewar existence. Not much remains of Camp Gordon Johnston except for a few buildings north of Carrabelle in Lanark.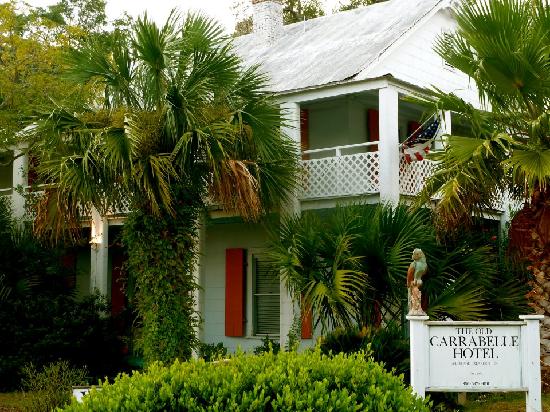 Today's Carrabelle is still quiet and the economy is centered around the waterfront. There are no chain hotels or motels in town, just three little local places that cater to visitors that like peace and quiet.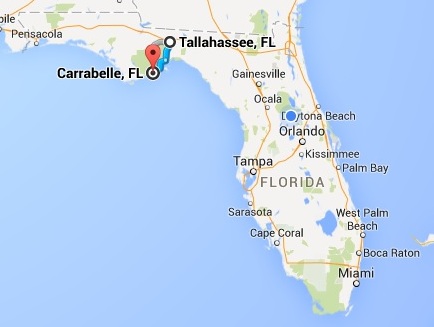 ---
RESTAURANT OF THE MONTH
Carrabelle Junction
88 County Highway 67
Carrabelle, Florida 32322
Tel: 850-697-9550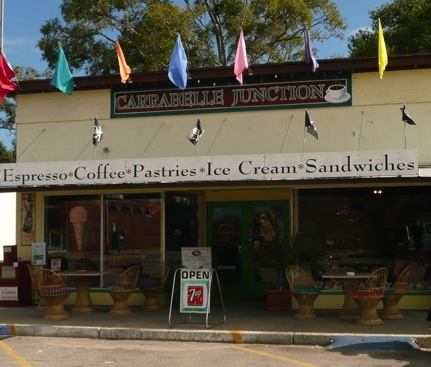 Carrabelle Junction is a retro looking Old Florida coffee house and sandwich shop that features a great breakfast and sandwiches. It is the place to go for breakfast and lunch when you are in town. It's just a short walk to the waterfront and the scenery that makes Carrabelle unique. This place is unique too, and if you hark back to the good old 1950s like I do, you'll feel right at home. The walls are loaded with antique signs and other memorabilia from that decade when life was simpler and less hectic.




You can get great shakes and malts here in addition to the great coffee and espresso. They also have a wide selection of sandwiches. One of their special features is the "Ultimate Bagel" loaded with cream cheese, sprouts, avocado and bacon. They also have excellent ice cream


FLORIDA BACKROADS TRAVEL UPDATES


Thanks for continuing to subscribe to Florida Heritage monthly e-zine. Florida Backroads Travel continues to grow, and we hope you enjoy these updates.


I continue to automate Florida Backroads Travel so that any updates I make are posted automatically to my Mike Miller Facebook page and Facebook Florida Backroads Travel page, and are also tweeted on my Twitter page. You can also subscribe to our Florida Blog by going to our home page and selecting an RSS feed. This way you will have daily updates.


January is still cold from time to time in most of Florida. The snowbirds have escaped their miserable northern weather and restaurants are crowded again. But who can blame them?




HERE ARE SOME INTERESTING FLORIDA EVENTS FOR JANUARY:




ALL REGIONS


FLORIDA WINERIES. Check the Florida winery nearest you. Many of them have wonderful weekend events that include music and wine tastings. Our site has information on 18 wineries scattered across the state. We plan to add even more when we have time to visit them.


FLORIDA TOURIST ATTRACTIONS. We have an extensive list of Florida Tourist Attractions. Some of them are well known; other are a wonderful step back into Old Florida.


FLORIDA FESTIVALS. There are several outside events this time of year. Among these are outdoor art festivals and folk and bluegrass music festivals.


FLORIDA BEACHES. Almost anything you decide to do in Florida can be enhanced by spending some quality time at a great beach, and best beaches in Florida will guide you in the right direction.


FLORIDA MUSEUMS. Many Florida art and historical museums have scheduled events. Click on the links to find out what is going on.


FLORIDA THEATER. This is an active time for plays and musical events in our many Florida theaters.. Check the links to find out what might be interesting to you.


FLORIDA AUTHORS. Any time is a good time to read a book by a Florida author. Our most visited author page is now that of Randy Wayne White, the creator of adventurous marine biologist Doc Ford, followed closely by Tim Dorsey and his lovable hero, serial killer Serge Storms.


Here is a useful link that will tell you what is going on this month virtually everywhere in Florida.




FLORIDA FESTIVALS AND OTHER EVENTS FOR JANUARY 2015


Information on the towns and places hosting these events, or near them, including lodging, can be found at Florida Towns.


A few events are cancelled on very short notice. I do my best to ensure that our information is correct and current, but I recommend you call before leaving for the event to make sure it's still on.


Thanks for subscribing to Florida Heritage Travel. We will see you next month with more updates and event information.