February 2015 News And Events
---
Florida Heritage Travel is the companion monthly e-zine of
FLORIDA BACKROADS TRAVEL.
JOHN'S PASS VILLAGE: A MODERN OLD FLORIDA FISHING VILLAGE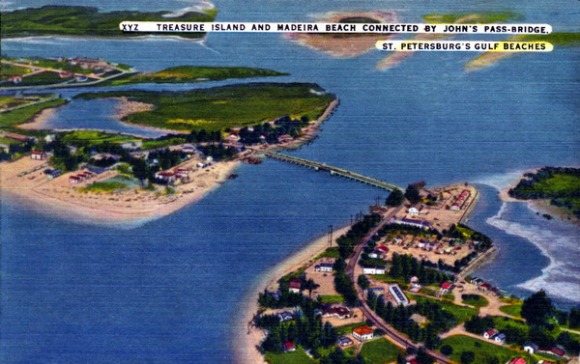 On Florida's west coast, inlets to the Gulf of Mexico are called passes. John's Pass separates Treasure Island on the south from Madeira Beach on the north. The pass was created by the Great Hurricane of 1848 that separated the barrier island at that point. The pass was first bridged in 1927. That bridge was replaced in 1971 and that one was replaced in 2013. John's Pass Village is a shopping venue centered along a boardwalk on John's Pass. It is an easy walk from the Village to the sandy Gulf beach just to the west. It is a nautically themed place with hundreds of restaurants, shops and curious small tourist attractions.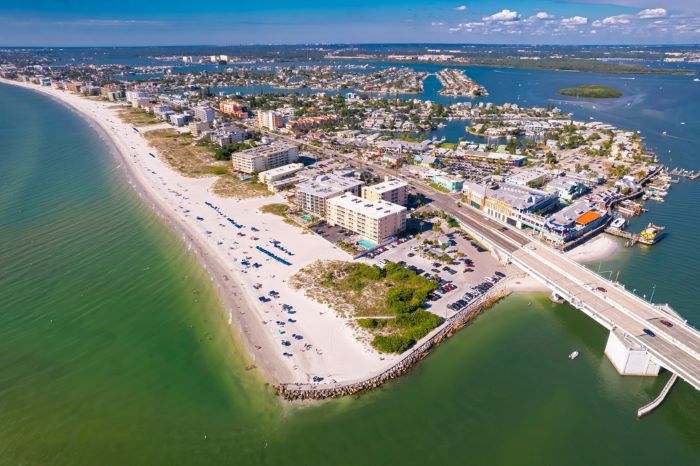 An early settler of this area was John Levique. He was a fisherman and subsistence farmer, but fate assured him a place in the history of Madeira Beach and Treasure Ialand. John and a partner had sailed to New Orleans to sell a boat load of green turtles. On the return trip they had to wait out a big hurricane. When the storm subsided, they began to look for a familiar pass into Boca Ciega Bay. They were probably looking for Blind Pass, but the landscape had changed so much they were disoriented. They finally found the new pass that had been blown out by the hurricane. On September 27, 1848, they sailed through the pass into Boca Ciega Bay. Since that time, the inlet has been known as John's Pass. There have been rumors over the years that John Levique was a pirate, so there is now a pirate ship cruise you can enjoy.


In those early days, not many people lived on the barrier islands that now bear the familiar names of Pass A Grille, Treasure Island, Madeira Beach, St. Petersburg Beach and others. The islands were used for fishing and hunting expeditions with rich northerners and local guides. There were tremendous numbers of deer, gopher tortoise, sea turtle, alligator, seabirds and shore birds. Over the years the numbers of plume hunters and white settlers increased to the point that most barrier island wildlife disappeared. Today, however, pelicans have made a big comeback and are all over the place looking for a handout.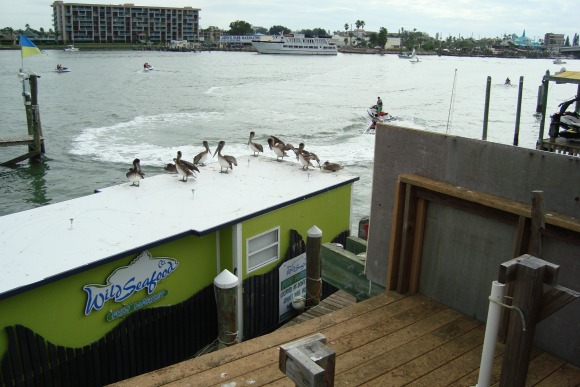 As the population increased, so did the tourism industry. The beautiful white sand beaches remained and still remain. Sport fishing also became a popular pasttime. A local charter captain, Wilson Hubbard, convinced the leaders of Madeira Beach to let him build a boardwalk along the public waterfront along John's Pass adjacent to his marina. He built the boardwalk in 1980 and led the development of the community of John's Pass Village. He added interesting boardwalk shops over his marina in 1982 and 1983, and the area has continued to develop with the fishing village theme over the years.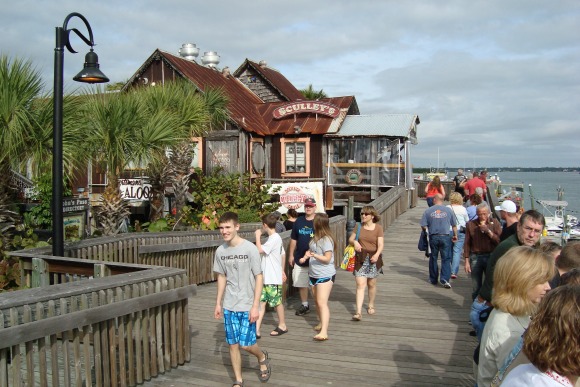 The village has an authentic riverfront Old Florida village feel. You can still get a reasonably priced room for a night or a week. You can enjoy shopping, beach combing, people watching, dolphin watching and any number of dining experiences. A big parking garage was added to the village in 2007 and it's easy to find a parking spot.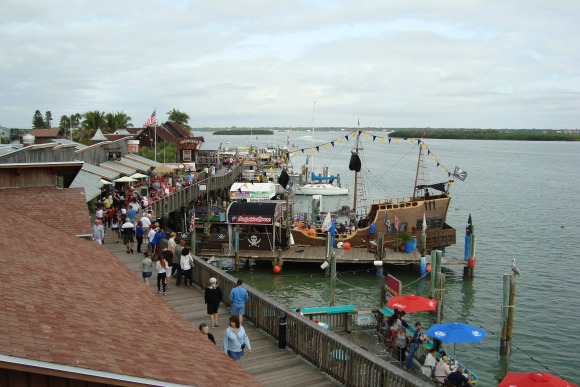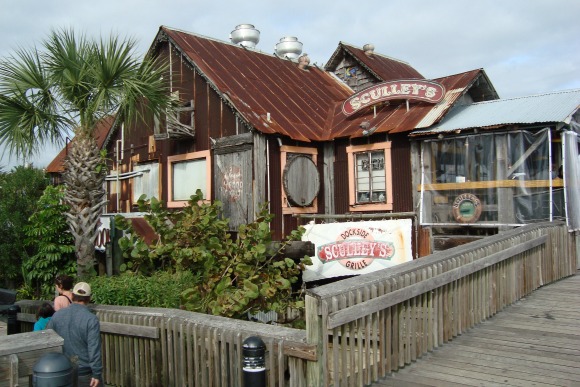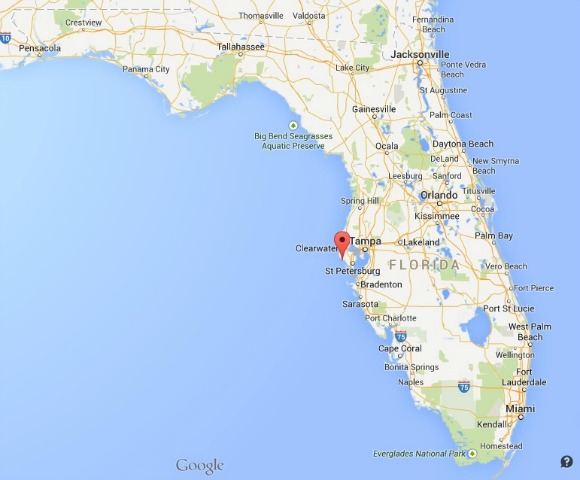 ---
RESTAURANT OF THE MONTH
Bubba Gump Shrimp Company
185 Boardwalk Place West
Madeira Beach, Florida 33708
Tel: 727-397-4867
www.bubbagump.com/locations.asp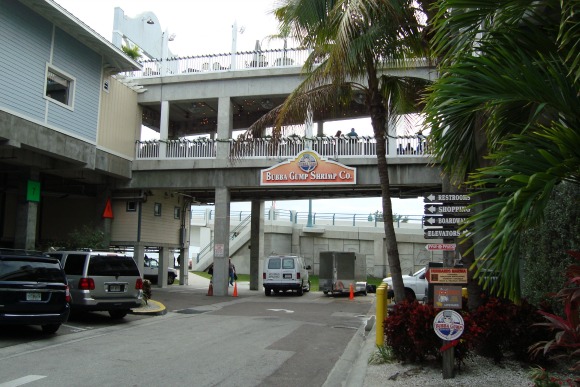 Bubba Gump Shrimp Company is a chain restaurant, but it happens to be the first place I tried in John's Pass Village and I enjoyed it. It's next to the parking garage and I was hungry. It's the first restaurant I could see and I made a beeline for it. I'm glad I did.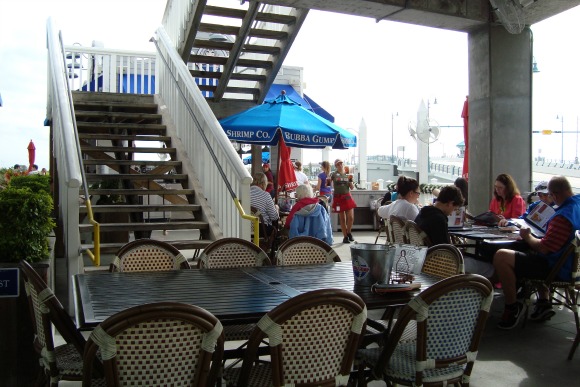 The restaurant has both indoor and outdoor dining; I opted for the outdoors since it was a sunny 70 degrees and I found a table with a nice view of the John's Pass Bridge and the other customers and outside bar. Like most outdoor dining venues in Florida - especially on the waterfront - pesky birds can be a problem. They go for the easiest food they can find and that's quite often on the dining room floors of restaurants. Bubba's has done a good job of discouraging these feathered pests with the strategic placement of fishing line at various locations. The birds can see the lines, you don't notice them, and the birds stay away. It's almost like an invisible fence.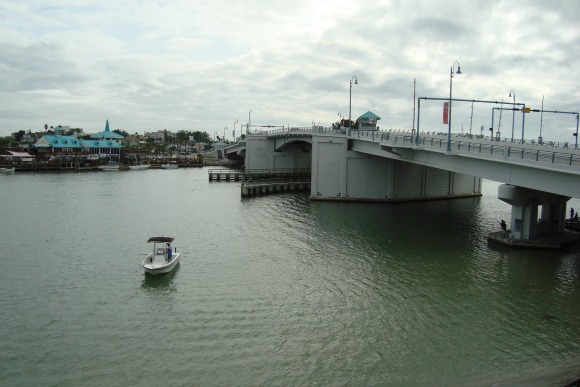 Bubba's has a nice variety of seafood offerings and a full service bar. I started my lunch with a nice Margarita in a shaker. The drink cost $8, but I was able to get 4 drinks out of the shaker. What a bargain. The menu includes - no suprise - lots of shrimp dishes. You can get crabs, calamari, hush puppies, sandwiches, soups and salads for appetizers. Entrees include fried shrimp, stuffed shrimp, drunken shrimp and other shrimp dishes prepared just about anyway you can imagine.


Non-shrimp entrees include Southern Fried Chicken, fish and chips, pork chops, baby back ribs, sirloin steaks, and a surf and turf special. Lobster is also available, along with salmon, mahi mahi and tilapia prepared any way you want. I had something that was great and I will try it again. I must warn you that it is a huge meal. It's called the "Net Catch Entree" and is a big metal pail with beer steamed peel and eat shrimp (I guess maybe two dozen of them), along with carrots, celery, corn on the cob, potatoes and Andouille Sausauge all steamed together and tossed with either garlic sauce or a secret Cajun spice recipe. I went with the Cajun spice and it was delicious and extremely filling.


FLORIDA BACKROADS TRAVEL UPDATES


Thanks for continuing to subscribe to Florida Heritage monthly e-zine. Florida Backroads Travel continues to grow, and we hope you enjoy these updates.


I continue to automate Florida Backroads Travel so that any updates I make are posted automatically to my Mike Miller Facebook page and Facebook Florida Backroads Travel page, and are also tweeted on my Twitter page. You can also subscribe to our Florida Blog by going to our home page and selecting an RSS feed. This way you will have daily updates.


February is still cold from time to time in most of Florida, but with plenty of warm days too. The snowbirds are still here and restaurants are crowded again (especially for early bird specials). Not such bad lines for breakfast, lunch or normal dinner hours.




HERE ARE SOME INTERESTING FLORIDA EVENTS FOR FEBRUARY:




ALL REGIONS


FLORIDA WINERIES. Check the Florida winery nearest you. Many of them have wonderful weekend events that include music and wine tastings. Our site has information on 18 wineries scattered across the state. We plan to add even more when we have time to visit them.


FLORIDA TOURIST ATTRACTIONS. We have an extensive list of Florida Tourist Attractions. Some of them are well known; other are a wonderful step back into Old Florida.


FLORIDA FESTIVALS. There are several outside events this time of year. Among these are outdoor art festivals and folk and bluegrass music festivals.


FLORIDA BEACHES. Almost anything you decide to do in Florida can be enhanced by spending some quality time at a great beach, and best beaches in Florida will guide you in the right direction.


FLORIDA MUSEUMS. Many Florida art and historical museums have scheduled events. Click on the links to find out what is going on.


FLORIDA THEATER. This is an active time for plays and musical events in our many Florida theaters.. Check the links to find out what might be interesting to you.


FLORIDA AUTHORS. Any time is a good time to read a book by a Florida author. Our most visited author page is now that of Randy Wayne White, the creator of adventurous marine biologist Doc Ford, followed closely by Tim Dorsey and his lovable hero, serial killer Serge Storms.


Here is a useful link that will tell you what is going on this month virtually everywhere in Florida.




FLORIDA FESTIVALS AND OTHER EVENTS FOR FEBRUARY 2015


Information on the towns and places hosting these events, or near them, including lodging, can be found at Florida Towns.


A few events are cancelled on very short notice. I do my best to ensure that our information is correct and current, but I recommend you call before leaving for the event to make sure it's still on.


Thanks for subscribing to Florida Heritage Travel. We will see you next month with more updates and event information.