March 2015 News And Events
---
Florida Heritage Travel is the companion monthly e-zine of
FLORIDA BACKROADS TRAVEL.
ST. LEO, FLORIDA: A QUIET UNIVERSITY TOWN

The area of St. Leo was settled in 1881 by Judge Edmund Dunne. The Judge wanted to establish a Catholic colony. When he saw the rolling land on the south shore of Lake Jovita, he settled down on the land that is now St. Leo Abbey. The Town of St. Leo was founded ten years later and is the oldest incorporated municipality in Pasco County. It is located along SR 52 between San Antonio and Dade City about 35 miles north of Tampa. St. Leo's western limit is the eastern limit of San Antonio, and the two little towns enjoy being side by side in the Florida sun.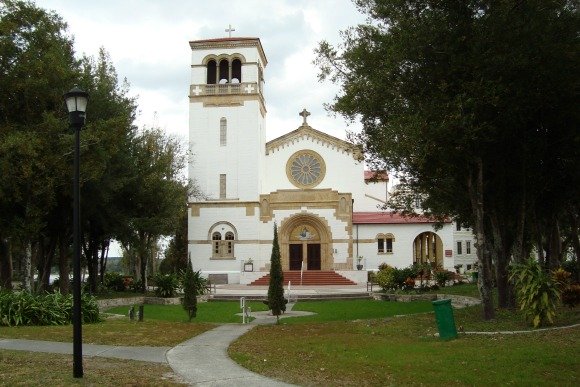 The Town is approximately 816 acres in size, much of which is Lake Jovita. The population in the 2010 census was 1,340. The main place to visit in St. Leo is St. Leo University and St. Leo Abbey. The Holy Name Monastery is also in St. Leo and is home to 16 Benedictine sisters. There is also an upscale golf course development on Lake Jovita just east of the university campus called Lake Jovita Golf and Country Club. It has an area of more than 1,000 acres but is not within the Town. There is another golf course across the highway on land that is owned by the University.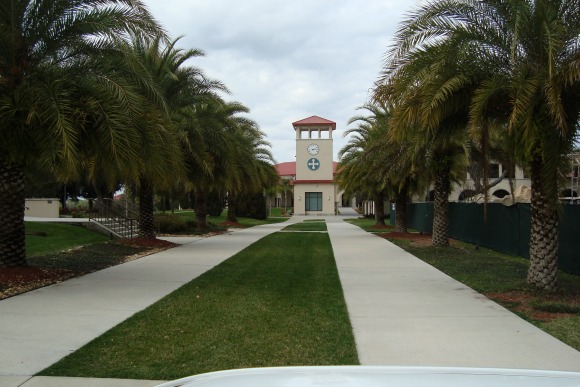 St. Leo University is a private Roman Catholic liberal arts university. It was founded in 1889. The university and town are named after Pope Leo The Great. It is the oldest Catholic college in Florida and the sixth largest in the United States. It has a total enrollment of almost 16,000 students. Most of them are military personnel who take advantage of St. Leo's pioneering distance learning programs. The actual count of students on the campus in St. Leo is a bit more than 2,100. When I visit the campus, I feel like going back to college. It is quiet, traditional and beautiful. A great place to spend a peaceful day.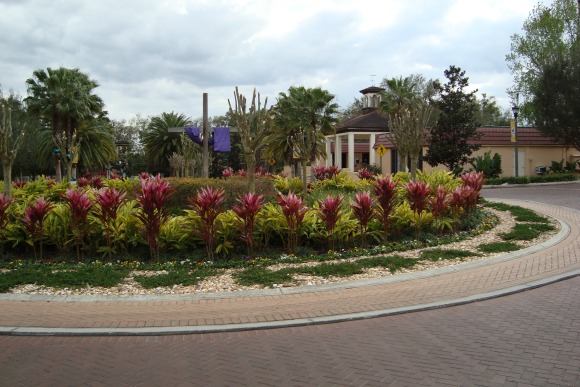 St. Leo University banned racial segregation in 1889 before it was even legal to do it in Florida. They totally integrated their school and campus. In 1920, the College was temporarily converted into an English style prep school. One of the students at the prep school in the years before World War Two was actor Lee Marvin. Although Lee didn't graduate, he was quite an athlete and starred in several sports. In 1959, St. Leo shut down the prep school and became a college again. The aerial photo below shows what it looked like in 1959. The rest is history, with St. Leo being upgraded in 1999 from college to university status.




The Town of San Antonio is St. Leo's next door neighbor and it's a laid back place where you will enjoy looking at old homes and eating at one of several restaurants in town. It is called San Ann by locals, many of whom work at St. Leo University. We will be adding a page on San Antonio to our website, Florida Backroads Travel in the near future.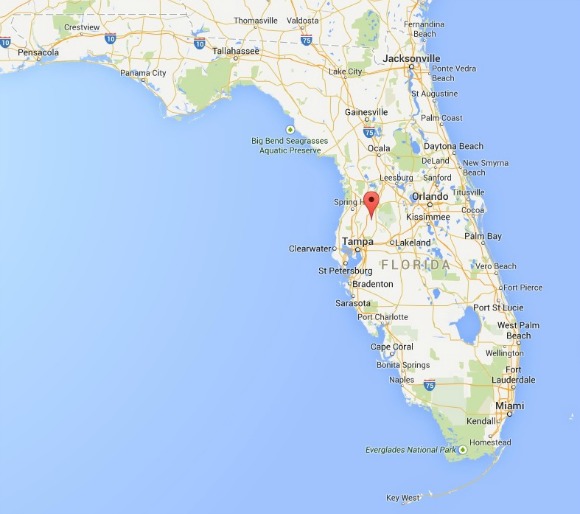 ---
RESTAURANT OF THE MONTH
St. Leo Abbey Tavern
33640 State Road 52
St. Leo, Florida 33574
Tel: 352-588-9844
The Abbey Tavern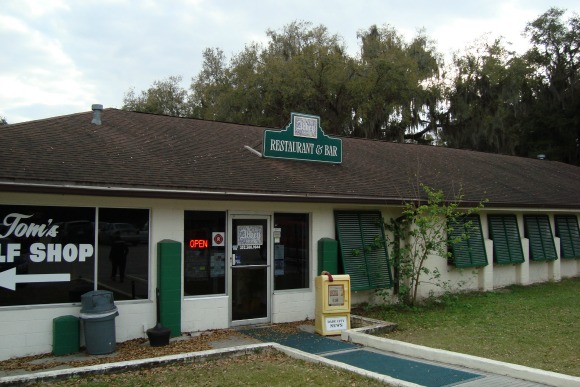 The Abbey Tavern is one of only two restaurants in St. Leo unless you count the cafeteria at St. Leo University. This establishment is in an unpretentious building at the Abbey golf course across the highway from the university. The golf course pro shop is in one end of the building. The golf course itself is beautiful, with lots of rolling hills and ancient trees. Don't let the restaurant's plain Jane exterior fool you. Go on in and enjoy yourself.


I visited a bit early for dinner on a Saturday - not quite 5 o'clock - and was greeted by a friendly young server named Alexis. She is a freshman at the university, working her way through college and shooting for a degree in biology. I enjoyed a glass of the house Chardonnay while looking through the menu. The wine was great. It was even better when I noticed it was only $3 a glass. Because of the early hour I decided to eat light. I ordered a large house salad and a bowl of chicken soup. Both were fresh and delicious.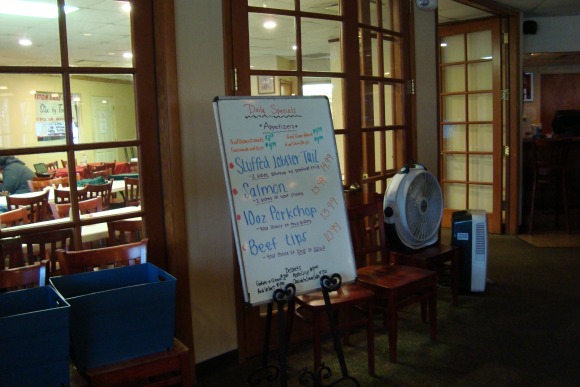 In addition to studying the menu, I read the sign board near the front door that featured the specials of the day. They sounded great: stuffed lobster tail, salmon, 10 ounce pork chop and beef tips. The entrees and the appetizers are very reasonably priced. No way you will break the bank in this cozy little place. The appetizers on the daily special board included fried chicken gizzards, guacamole and chips, fried green beans and fried clam strips.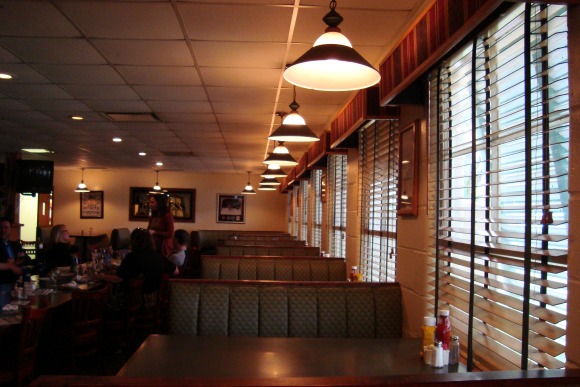 The Abbey Tavern has a full service bar separated from the dining room by a waist high wall. The bar has a good selection of beer, wine and liquor. The prices are not only reasonable but downright cheap. You can enjoy $2.50 well drinks, $3.00 glasses of wine and discounted pitchers of draft beer. I imagine it does a good lunch business with menu items that include half pound hamburgers, sandwiches, foot long hot dogs, grilled cheese sandwiches, chicken fingers and haddock. There was a nice mix of customers in the dining room when I was there. Some college students, a family with kids, some retirees and a golfer or two. Wednesday is Ladies Night from 8pm until closing. Beer and well drinks are $1 on that magic evening. Alexis mentioned that they get a great crowd on Wednesday nights.


I like the Abbey Tavern and plan to go again for dinner in the near future. I've heard that people drive for hours just to enjoy The Tavern's seafood chowder (offered on weekends). I want to try it; it's supposed to be the best in Florida.

FLORIDA BACKROADS TRAVEL UPDATES


Thanks for continuing to subscribe to Florida Heritage monthly e-zine. Florida Backroads Travel continues to grow, and we hope you enjoy these updates.


I continue to automate Florida Backroads Travel so that any updates I make are posted automatically to my Mike Miller Facebook page and Facebook Florida Backroads Travel page, and are also tweeted on my Twitter page. You can also subscribe to our Florida Blog by going to our home page and selecting an RSS feed. This way you will have daily updates.


March is still cold now and then in most of Florida, but there are many warm days too and spring is in the air. The snowbirds are still here and many restaurants are crowded (especially for early bird specials). Not such bad lines for breakfast, lunch or normal dinner hours.




HERE ARE SOME INTERESTING FLORIDA EVENTS FOR MARCH:




ALL REGIONS


FLORIDA WINERIES. Check the Florida winery nearest you. Many of them have wonderful weekend events that include music and wine tastings. Our site has information on 18 wineries scattered across the state. We plan to add even more when we have time to visit them.


FLORIDA TOURIST ATTRACTIONS. We have an extensive list of Florida Tourist Attractions. Some of them are well known; other are a wonderful step back into Old Florida.


FLORIDA FESTIVALS. There are several outside events this time of year. Among these are outdoor art festivals and folk and bluegrass music festivals.


FLORIDA BEACHES. Almost anything you decide to do in Florida can be enhanced by spending some quality time at a great beach, and best beaches in Florida will guide you in the right direction.


FLORIDA MUSEUMS. Many Florida art and historical museums have scheduled events. Click on the links to find out what is going on.


FLORIDA THEATER. This is an active time for plays and musical events in our many Florida theaters.. Check the links to find out what might be interesting to you.


FLORIDA AUTHORS. Any time is a good time to read a book by a Florida author. Our most visited author page is now that of Randy Wayne White, the creator of adventurous marine biologist Doc Ford, followed closely by Tim Dorsey and his lovable hero, serial killer Serge Storms.


Here is a useful link that will tell you what is going on this month virtually everywhere in Florida.




FLORIDA FESTIVALS AND OTHER EVENTS FOR MARCH 2015


Information on the towns and places hosting these events, or near them, including lodging, can be found at Florida Towns.


A few events are cancelled on very short notice. I do my best to ensure that our information is correct and current, but I recommend you call before leaving for the event to make sure it's still on.


Thanks for subscribing to Florida Heritage Travel. We will see you next month with more updates and event information.