July 2015 News And Events
---
Florida Heritage Travel is the companion monthly e-zine of
FLORIDA BACKROADS TRAVEL.
OCKLAWAHA, FLORIDA: MA BARKER AND HER KILLER BROOD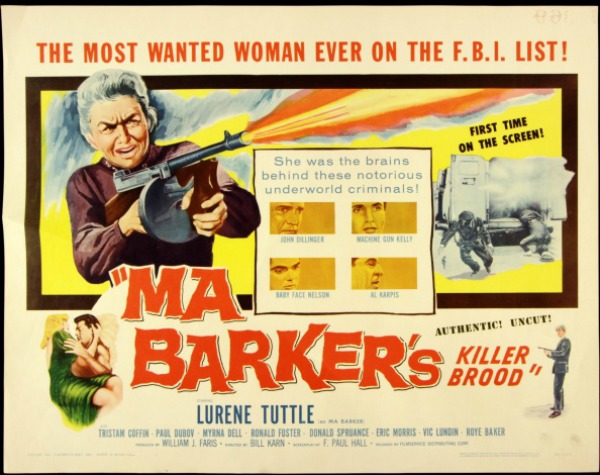 Ocklawaha is a small town on the north shore of Lake Weir about 10 miles northeast of The Villages, advertised as Florida's friendliest home town. This little Old Florida village doesn't have the golf courses or modern shoppiing centers like its friendly neighbor, but it does have a lot of fishing, swimming and boating opportunities because of the clean clear waters of the spring fed lake. There are several neat little fish camp type of hotels scattered along the northern shore and one or two nice places to eat. One little bar is named Ma Barker's Hideaway.




The town is near the southern entrance to the Ocala National Forest. The main intersection in town is State Road 25 and County Road 464C. The county road leads north to a crossing of the Ocklawaha River near Moss Bluff and on into the forest. Downtown Ocklawaha is not gentrified like so many other Florida towns.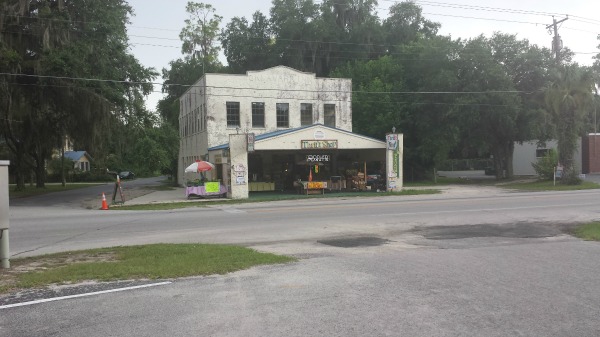 It looks like hard times and has ever since I first passed through more than 50 years ago. It was once a thriving citrus packing and shipping center but bad freezes brought that industry to an end. Only the old Ocklawaha Inn - now a gift shop and produce market - is a reminder of the propsperous past along with an empty old schoolhouse and an abandoned fruit shipping plant.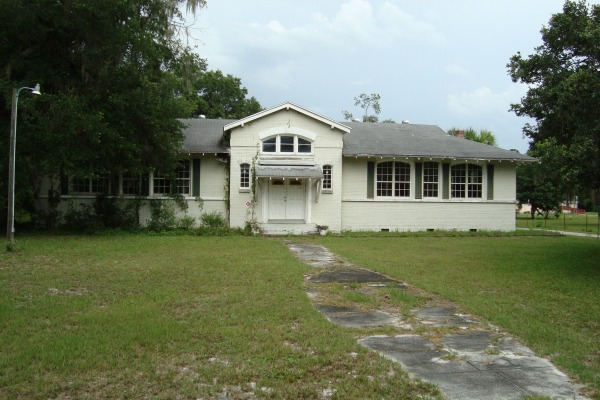 The little town made national headlines back in January 1935 when it was the scene of a shootout between the FBI and the notorious Barker gang. Arizona Baker, known as Ma, had several sons who ran a criminal gang in the midwest. Ma traveled around with her sons as they robbed banks and kidnapped and murdered people. J. Edgar Hoover and the FBI had the gang on the public enemies list and were eager to capture them.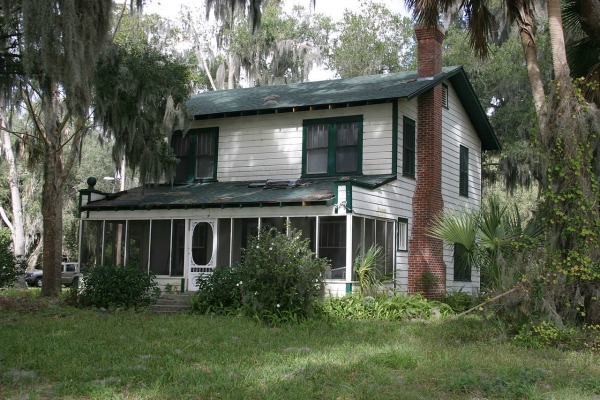 "Barker Cottage on Lake Weir in Florida" by TheGoodspeeds - Own work.
Ma Barker and her son Fred were hiding out in Ocklawaha under assumed names. They rented a cottage and were known locally as an old mother and her son getting some relaxation. One of the Barker brothers got arrested in Chicago and police found some notes referencing a big alligator named "Gator Joe". They were able to put two and two together and figured out Ma and the other gang members were hiding out in Ocklawaha, home of Gator Joe.

The FBI surrounded the rented cottage and a fierce gun battle broke out. Ma and her son Fred were killed. The whole incident got good publicity for the FBI and immortal notoriety to the Barker gang. A movie was made in 1960 titled "Ma Barker's Killer Brood". The film may have made Ma out to be quite a bit worse than she actually was, but Hollywood has never been known to stick to the facts when telling a good story.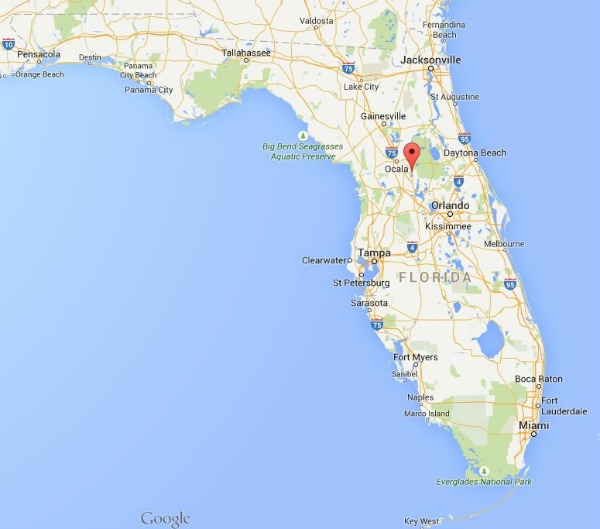 ---
RESTAURANT OF THE MONTH
Gator Joe's Beach Bar and Grill
12431 SE 135 Ave
Ocklawaha, Florida 32179
Tel: 352-288-6461
Gator Joe's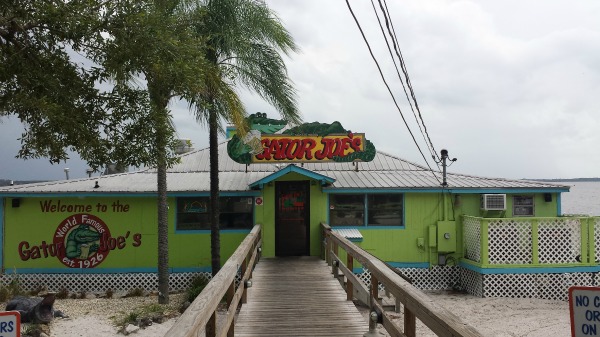 Gator Joe's sits right on the white sand beach on the north shore of Lake Weir. It is a comfortable place with inside and outside dining and an Old Florida feel to it. It's unusual in inland Florida to find a place like this on a white sand beach. Most Florida lakes have marshy shores and their beach alone makes this bar and grill a popular destination for both locals and tourists.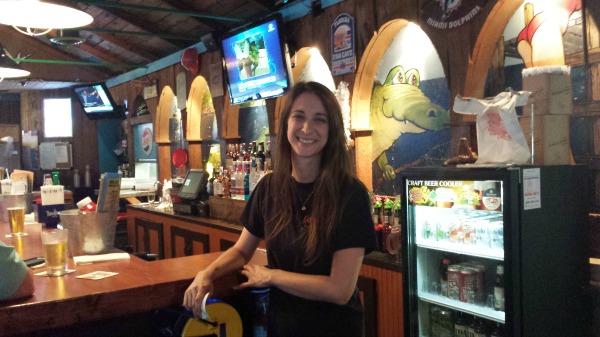 My server at the bar was Brittany. She is typical of the staff here: friendly and helpful. Gator Joe's specializes in a wide variety of seafood prepared in a multitude of ways, many of them Southern and Caribbean. Their appetizer menu includes fried green tomatoes, fried okra, fried pickles and a host of other things such as jambalaya, shrimp and wings. It's very easy to get a full balanced meal just from sitting at the bar and eating appetizers.


Entrees include both baskets and full dinners. Dinner examples are mahi mahi, pork chops, shrimp scampi and mussels linguine. Some dinners come with jerk seasoning and others are prepared Mediterranean style. Baskets include a gator tail offering, shrimp, chicken and clam strips. Everything is good. There is also a large selection of salad choices along with hamburgers and other sandwiches and wraps. They have good fish tacos too.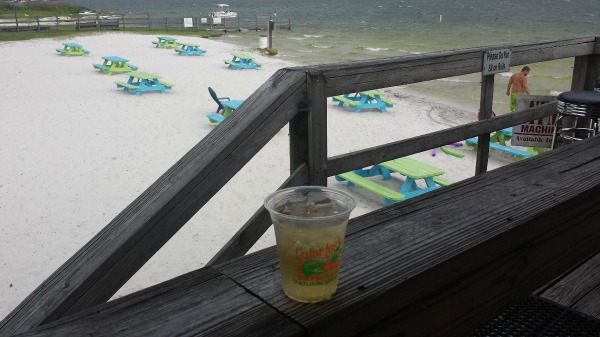 The outside dining decks are spacious and comfortable and provide the best view of the lake and the beach activities. It's a pleasant place to sit and have a drink and enjoy the atmosphere.


Gator Joe's has a full service bar with a large selection of beer, wine and liquor.


FLORIDA BACKROADS TRAVEL UPDATES


Thanks for continuing to subscribe to Florida Heritage monthly e-zine. Florida Backroads Travel continues to grow, and we hope you enjoy these updates.


I continue to automate Florida Backroads Travel so that any updates I make are posted automatically to my Mike Miller Facebook page and Facebook Florida Backroads Travel page, and are also tweeted on my Twitter page. You can also subscribe to our Florida Blog by going to our home page and selecting an RSS feed. This way you will have daily updates.


July is full summertime in Florida and for some reason this June was hotter than usual with many days seeing temperatures in the mid-nineties. July might be worse than usual. Windows are kept closed and airconditioners are straining to keep up with the heat and humidity. The snowbirds are back up north so at least the crowds for breakfast, lunch and dinner are more reasonable at our local restaurants.




HERE ARE SOME INTERESTING FLORIDA EVENTS FOR JULY:




ALL REGIONS


FLORIDA WINERIES. Check the Florida winery nearest you. Many of them have wonderful weekend events that include music and wine tastings. Our site has information on 18 wineries scattered across the state. We plan to add even more when we have time to visit them.


FLORIDA TOURIST ATTRACTIONS. We have an extensive list of Florida Tourist Attractions. Some of them are well known; other are a wonderful step back into Old Florida.


FLORIDA FESTIVALS. There are several outside events this time of year. Among these are outdoor art festivals and folk and bluegrass music festivals.


FLORIDA BEACHES. Almost anything you decide to do in Florida can be enhanced by spending some quality time at a great beach, and best beaches in Florida will guide you in the right direction.


FLORIDA MUSEUMS. Many Florida art and historical museums have scheduled events. Click on the links to find out what is going on.


FLORIDA THEATER. This is an active time for plays and musical events in our many Florida theaters.. Check the links to find out what might be interesting to you.


FLORIDA AUTHORS. Any time is a good time to read a book by a Florida author. Our most visited author page is now that of Randy Wayne White, the creator of adventurous marine biologist Doc Ford, followed closely by Tim Dorsey and his lovable hero, serial killer Serge Storms.


Here is a useful link that will tell you what is going on this month virtually everywhere in Florida.




FLORIDA FESTIVALS AND OTHER EVENTS FOR JULY 2015


Information on the towns and places hosting these events, or near them, including lodging, can be found at Florida Towns.


A few events are cancelled on very short notice. I do my best to ensure that our information is correct and current, but I recommend you call before leaving for the event to make sure it's still on.


Thanks for subscribing to Florida Heritage Travel. We will see you next month with more updates and event information.