October 2015 News And Events
---
FLORIDA HERITAGE TRAVEL
is the companion monthly e-zine of
FLORIDA-BACKROADS-TRAVEL.COM
FLORIDA-BACKROADS-TRAVEL.COM
is available as eight regional travel guides
or one volume that covers the entire state
at FLORIDA BACKROADS TRAVEL AMAZON
---
INVERNESS, FLORIDA: HOME OF THE GREAT AMERICAN COOTER FESTIVAL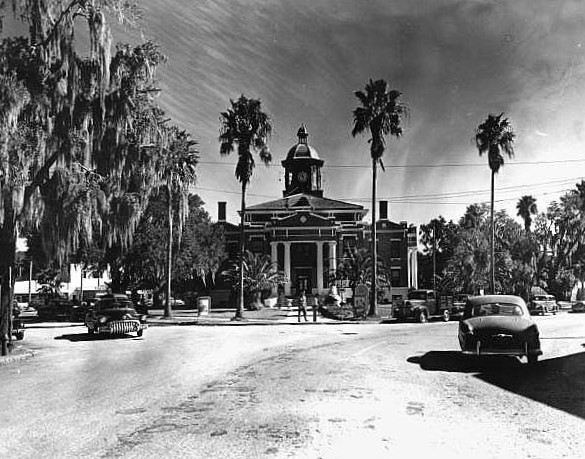 Inverness is a small town about 75 miles north of Tampa. It is nestled against the western shore of Lake Tsala Apopka, perhaps the most unique lake in Florida. The lake is really a chain of lakes in a bend of the Withlacoochee River. The lake is composed of dozens of smaller lakes and marshes dotted with islands that make it a paradise for fishermen, boaters and day trippers. The lake itself has a total surface area of about 19,000 acres spread across an area of about 63,000 acres located between State Road 200 to the north, State Road 48 to the south and U.S. 41 to the west. State Road 44 crosses the center of the area on its way across the state through Inverness from Crystal River to New Smyrna Beach. The location of Inverness is a natural when you take a look at the map and realize the geography of the area.


Native Americans were the first settlers in this area because of the abundance of food provided by the river, lakes and swamps. The State of Florida has identified at least 30 archaeological sites in the Tsala Apopka area. Hernando de Soto and his boys tramped through the area on one of their expeditions in 1539 as they were heading north to what is now Ocala. In later years, a lot of Seminoles lived in the area up until the Second Seminole War. Major battles of that war took place in this region in 1835 and 1836.




The lake is an abundant source of bass and catfish and it pains me that the two most famous restaurants in the area do not serve fresh catfish. Anybody can thaw out frozen catfish and fry them up; I think they are missing a golden opportunity. Those famous restaurants do, however, serve another famous food of the region: Florida cooter. The cooter is a freshwater turtle that provided many a meal to the early Native American and Cracker settlers. It is still served at many restaurants in the smaller towns in the central and northern regions of Florida. Inverness celebrates this shelled creature in its "Great American Cooter Festival" held each year during the last full week of October. See www.cooterfestival.com for more details. The cooter critter is further memorialized in one of the local Inverness parks.




Like most small Florida towns, the best parts of Inverness are off the beaten path. You need to get a block or two away from the major highways and poke around. The Citrus County Courthouse is a beautiful old structure that dominates the vibrant little downtown area. Just look for it and drive toward it. You can't go wrong. The city still has many fine old homes, some in great shape, others needing a loving hand to fix them up. The streets are quiet and tree canopied. The Withlacoochee Trail goes through town on its 46 mile path through several counties along an old railroad route. It is a mult-use rail trail for hikers and cyclists with no motorized vehicles allowed.




The neighborhood around the Citrus County courthouse is known as Courthouse Square and features many nice restaurants and shops. It is a small business district but is very popular with locals and tourists alike. One of the famous restaurants that advertises catfish is in the Square. It's a fun place to visit and the food is okay unless you like fresh catfish. There is a sports bar, sandwich shop, wine shop and a lot of other neat places in this Square.




The old Orange Hotel was a popular vacation spot in Inverness back in the day. In more recent years it became the Crown Hotel, and now it has been reborn as Crown Court. It is an assisted living facility and still looks great after more than 100 years of serving people in its different forms. It's wonderful that the current owners spent the time and money to renovate and preserve this treasure.



---
RESTAURANT OF THE MONTH
McLeod House Bistro
207 North Apopka Avenue
Inverness, Florida 34450
Tel: 352-726-7700
McLeod House Bistro

McLeod House is a block and a half north of Courthouse Square and is a pleasant contrast to the typical fare you might find in Inverness or any other small Florida town. The restaurant is in a century old home set well back from the street among ancient oak trees. It's a great place to relax with a glass of Sangria or wine and soak up the atomosphere either inside or out on their porch. The restaurant opened in 2010 and is already a dining legend and tradition in Inverness.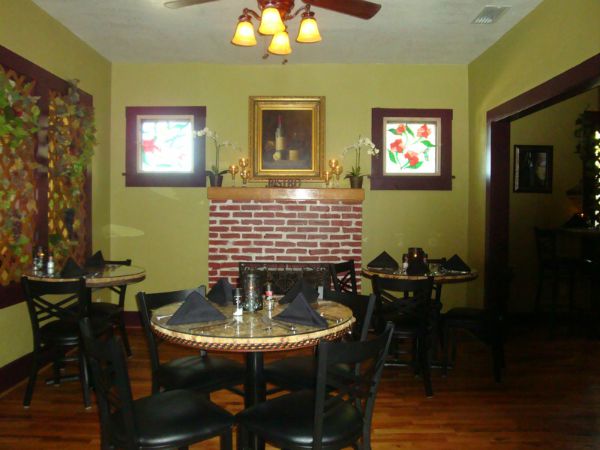 Chef Kulow prides himself on using all fresh ingredients. He is an award winning classically European trained chef. He shops daily at local produce markets and picks fresh herbs daily from the gardens around the Bistro. The menu is imaginative and tasty, from the appetizers to the desserts. Some of the appetizers include crab cake, baked feta, eggplant and mushroom flat bread, baked stuffed artichoke hearts, escargot, stuffed clams, bruschetta, hummus and shrimp cocktail. My companion always likes soup, and the Bistro always has an interesting soup of the day served with a crostini or artisan bread.

They have great salad selections, too, and my favorite is the Bistro Chef Salad with baked ham, roasted turkey, egg, cucumber, tomato, Swiss cheese, Cheddar cheese all on a bed of mixed greens. The main dinner courses include pork chops, filet mignon, duck breast, stuffed chicken, a Key West catch, wild berry salmon and several more entrees, all creatively prepared and presented. They also have a nice wine selection and their Sangria is great.

The menu includes many sandwich and panini selections also, including the Bistro Club prepared with roasted turkey, honey ham, bacon, Swiss cheese, lettuce and tomato with pesto mayonnaise on toasted sourdough bread. They have several delicious desserts but my favorite is Key Lime Pie, a Florida classic that the Bistro does extremely well.

You have your choice of dining inside in several gracious dining rooms or outside on the porch. October is a great month for dining out on the porch.


FLORIDA BACKROADS TRAVEL UPDATES


Thanks for continuing to subscribe to Florida Heritage monthly e-zine. Florida Backroads Travel continues to grow, and we hope you enjoy these updates.


I continue to automate Florida Backroads Travel so that any updates I make are posted automatically to my Mike Miller Facebook page and Facebook Florida Backroads Travel page, and are also tweeted on my Twitter page. You can also subscribe to our Florida Blog by going to our home page and selecting an RSS feed. This way you will have daily updates.


October is a favorite month for Floridians. Sometimes it's cool and breezy. Windows in cars and homes open most of the time and airconditioners are silenced. The snowbirds are back in Florida, so the lines are longer now at our local restaurants.




HERE ARE SOME INTERESTING FLORIDA EVENTS FOR OCTOBER:




ALL REGIONS


FLORIDA WINERIES. Check the Florida winery nearest you. Many of them have wonderful weekend events that include music and wine tastings. Our site has information on 27 wineries scattered across the state. We plan to add even more when we have time to visit them.


FLORIDA TOURIST ATTRACTIONS. We have an extensive list of Florida Tourist Attractions. Some of them are well known; other are a wonderful step back into Old Florida.


FLORIDA FESTIVALS. There are several outside events this time of year. Among these are outdoor art festivals and folk and bluegrass music festivals.


FLORIDA BEACHES. Almost anything you decide to do in Florida can be enhanced by spending some quality time at a great beach, and best beaches in Florida will guide you in the right direction.


FLORIDA MUSEUMS. Many Florida art and historical museums have scheduled events. Click on the links to find out what is going on.


FLORIDA THEATER. This is an active time for plays and musical events in our many Florida theaters.. Check the links to find out what might be interesting to you.


FLORIDA AUTHORS. Any time is a good time to read a book by a Florida author. Our most visited author page is now that of Randy Wayne White, the creator of adventurous marine biologist Doc Ford, followed closely by Tim Dorsey and his lovable hero, serial killer Serge Storms. We just added a page about Robert N. Macomber, an author who specializes in historical novels featuring the U.S. Navy.


Your Florida Heritage Travel Ezine editor has published a new Amazon Kindle book that incorporates much of the content of his website, Florida-Backroads-Travel.com. The book is available for review and purchase at Florida Backroads Travel Amazon Page


Here is a useful link that will tell you what is going on this month virtually everywhere in Florida.




FLORIDA FESTIVALS AND OTHER EVENTS FOR OCTOBER 2015


Information on the towns and places hosting these events, or near them, including lodging, can be found at Florida Towns.


A few events are cancelled on very short notice. I do my best to ensure that our information is correct and current, but I recommend you call before leaving for the event to make sure it's still on.


Thanks for subscribing to Florida Heritage Travel. We will see you next month with more updates and event information.