November 2015 News And Events
---
FLORIDA HERITAGE TRAVEL
is the companion monthly e-zine of
FLORIDA-BACKROADS-TRAVEL.COM
FLORIDA-BACKROADS-TRAVEL.COM
is available as eight regional travel guides
or one volume that covers the entire state
at FLORIDA BACKROADS TRAVEL AMAZON
---
PALATKA, FLORIDA: HOME OF THE FLORIDA AZALEA FESTIVAL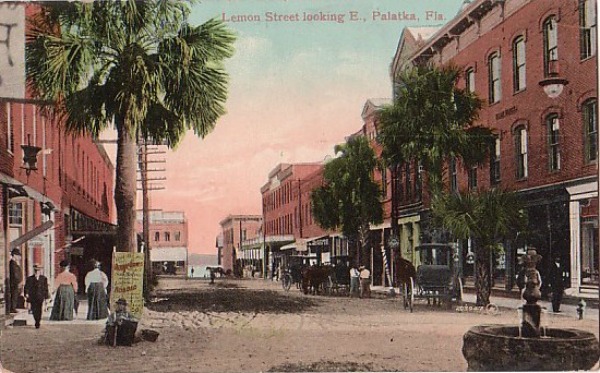 Palatka is a small city of 10,000 people on the St Johns River about 60 miles upriver (south) from Jacksonville. It is strategically located at a sharp bend on the river that is the unofficial boundary between "upriver" and "downriver" St. Johns. In the old days, the larger steamboats could load up in Jacksonville or northern seaports and easily navigate the deep waters of the St Johns River to Palatka. Further south - upriver - the waters became shallower and the route more meandering and the river was limited to smaller passenger and freight steamers.


The first residents in the area were the Timucuan, a Native American tribe that was erased from history during the Spanish occupation of Florida. In more recent times, the Seminole tribe lived in the area and named it Pilotaikita which in their language meant "crossing over" or "cows crossing", a reference to the narrowing of the river at this location. Over time the name was shortened to Pilatka.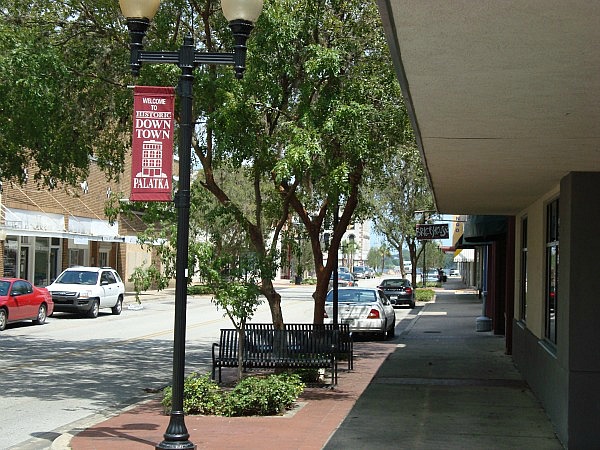 The first big-time activity after the Spanish left in 1763 was the establishment of Rollestown across the river from Palatka near present day San Mateo. Denys Rolle was a wealthy English philanthropist who developed a 78,000 acre plantation and recruited settlers from the streets of London, including paupers, pickpockets and prostitutes. Many came as indentured servants. Most of them ran away as soon as they could because they couldn't handle the hot, humid climate and harsh working conditions.


Rolle replaced the runaways with black slaves imported from West Africa. The plantation eventually failed and Rolle abandoned the operation and took his slaves to Great Exuma, Bahamas. The point of land in East Palatka where it all started is still known as Rollestown and there is a historical marker there that tells the story. Rolle is still one of the most common surnames in the Bahamas. When slavery was abolished in the Bahamas, Denys Rolle gave all of his land to his newly freed slaves.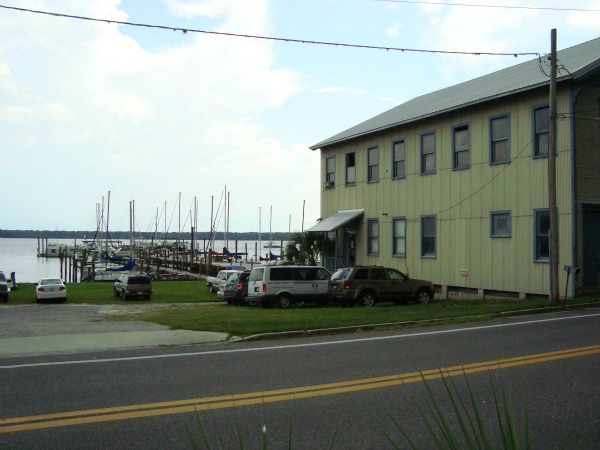 Palatka's riverfront location was recognized long ago by the military as an important point for controlling the St Johns River. Forts were built in the area during the Seminole Wars from 1817 to 1858. The town was incorporated in 1853 and began to develop until the Union Army occupied and controlled the town during the U.S. Civil War. Things began to boom again after the war and several hotels were built to accommodate northern tourists who came for the temperate climate in the winters and the good fishing, hunting and boating. Steamboats ran from Palatka up the Ocklawaha River to Silver Springs, Eustis and Leesburg, and also went up the St Johns River to Sanford and Enterprise. In 1875, the U.S. Post Office changed the town name to Palatka because people were confusing Pilatka with Picolata across the river.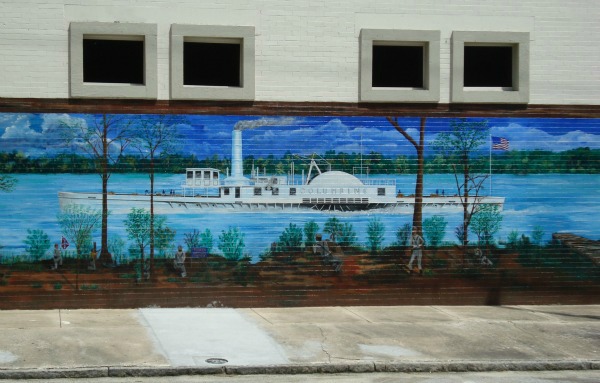 The town prospered with industries including logging, ranching and citrus production. The railroads came to the area in the 1880s and Palatka's location on the river made it a natural crossroads for train transportation also. The town was nearly destroyed by fire in 1884 and was rebuilt almost entirely with brick structures. Many of these still stand today in the nicely restored downtown area. Many of the old buildings are decorated with colorful murals celebrating milestones in the city's history. Palatka is part of the Florida Main Street Program that has helped restore the downtown areas of many Florida towns.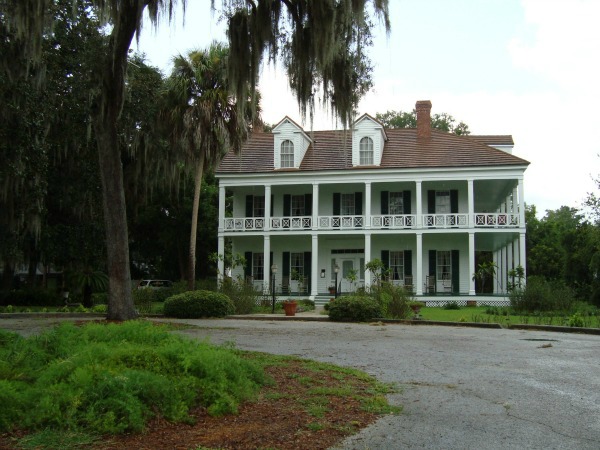 Judge Isaac H. Bronson was a prominent local figure, and his house - known in the old days as Sunny Point - is a historic site now known as the Bronson-Mulholland House at 100 Madison Street in Palatka. It is on the U.S. National Register of Historic Places and is open to the public for visits and is also used as a museum and is also available for special events.


One of Florida's prettiest state parks is in Palatka. Ravine Garden State Park is a 59 acre park that was built by the Works Progress Administration during the depression with cypress buildings, rock gardens and fieldstone terraces. The park entrance is called the Court of States and boasts a 64 foot high monument dedicated to President Franklin D. Roosevelt.


The park is part of Palatka's annual Florida Azalea Festival held on the first weekend of March every year since 1938. The festival celebrates the seasonal arrival of the azalea blossom to Northeast Florida. In addition to park activities, many of the festival events take place downtown along the riverfront.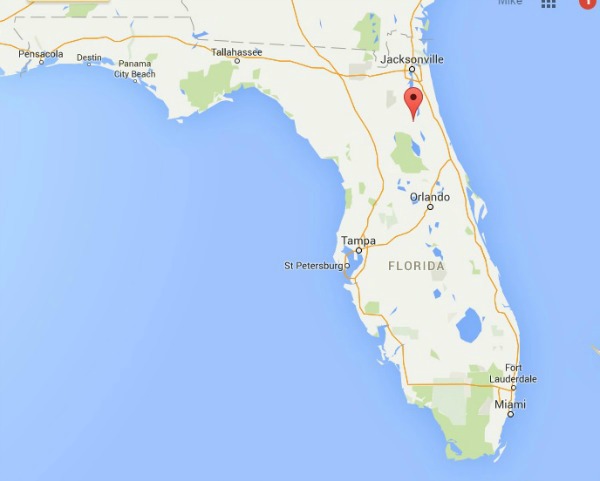 ---
RESTAURANT OF THE MONTH
The Magnolia Cafe
705 St Johns Avenue
Palatka, Florida 32177
Tel: 386-530-2740
The Magnolia Cafe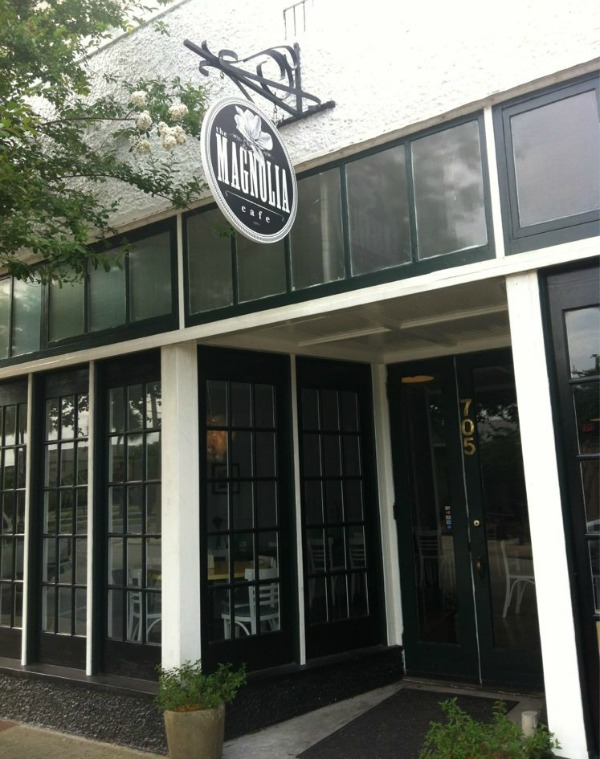 The Magnolia Cafe is in a storefront in downtown Palatka a few blocks from the river. It is a charming little place open every day from 700 am to 200 pm. It is also open on Sunday but doesn't open the doors until 800 am. Sunday brunch is a favorite for locals and features many delightful specials. Recently they offered crab cakes egg benedict. The restaurant has a sizable catering clientele and this helps them come up with some creative meals as their daily specials.


The restaurant is open only for breakfast and lunch. The breakfast menu includes a lot of southern favorites like biscuits and gravy, grilled ham and eggs and something named the St Johns Skillet that has sauteed onions, peppers and ham served over home fries and topped off with cheese and two eggs with your choice of toast or biscuits. They also have pancakes, waffles and a variety of omelets. In case you're a McDonald's fan, they even have some familiar looking breakfast sandwiches made with meat, cheese and egg.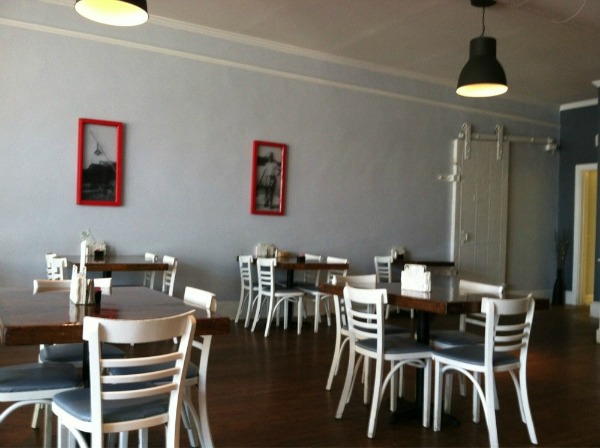 The lunch menu offers a variety of creative appetizers, salads, hot and cold sandwiches. The hot sandwiches include their grass-fed beef burgers with imaginative names such as Blue Moon Burger (with Bleu Cheese of course), Magnolia Burger (with Pepperjack Cheese) and even a vegetarian black bean burger. Their salad selection includes classics like the Cobb and Caesar and one named My Big Fat Greek Salad. Old sandwich standards are available with a special twist including Cubans, Datil Chicken, BBQ, Reuben, Tuna Melt and Tomato Mozzarella Panini. The cold sandwiches include curry chicken salad, club, egg salad, BLT and turkey wrap.


The service is friendly and prompt. We were there on a workday and there was quite a crowd. The restaurant staff handled things perfectly without a hitch. We had Harvest Salad with fruit, cranberries, cabbage, pecans, bleu cheese and mixed greens. We also had a Classic Grass-Fed Beef Burger with mixed greens, tomato, red onion, pickle and mustard. Both meals were excellent.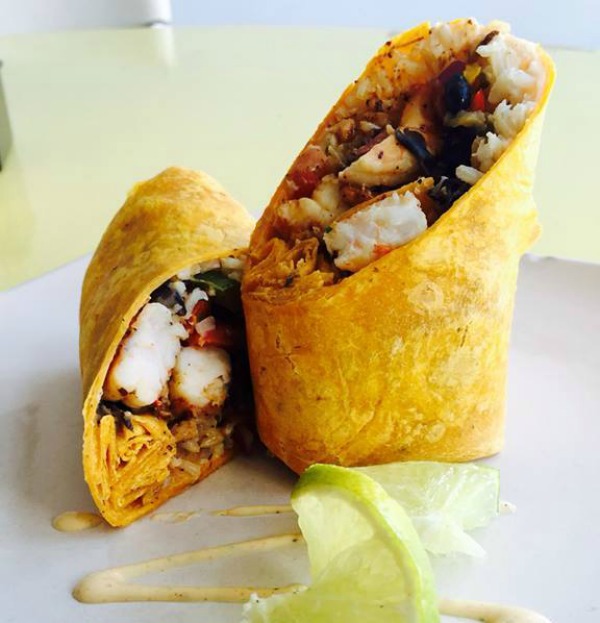 They have different specials every day, many of which are not on the menu. Tuesday is Taco Tuesday and other days you will be surprised with something creative they've created. For example, check out the Santa Fe chicken burrito in the photo above. This is a place you will enjoy while shopping and sight seeing in downtown Palatka.


FLORIDA BACKROADS TRAVEL UPDATES


Thanks for continuing to subscribe to Florida Heritage monthly e-zine. Florida Backroads Travel continues to grow, and we hope you enjoy these updates.


I continue to automate Florida Backroads Travel so that any updates I make are posted automatically to my Mike Miller Facebook page and Facebook Florida Backroads Travel page, and are also tweeted on my Twitter page. You can also subscribe to our Florida Blog by going to our home page and selecting an RSS feed. This way you will have daily updates. I also added two new pages to our day trip section: Florida Road Trips on the East-West Highways and Florida Road Trips on the North-South highways. These pages help you plan trips on the major highways that existed in the years before the interstates.


November is a favorite month for Floridians. Sometimes it's cool and breezy. Windows in cars and homes are open most of the time and air conditioners are silenced. The snowbirds are back in Florida, so the lines are longer now at our local restaurants.




HERE ARE SOME INTERESTING FLORIDA EVENTS FOR NOVEMBER:




ALL REGIONS


FLORIDA WINERIES. Check the Florida winery nearest you. Many of them have wonderful weekend events that include music and wine tastings. Our site has information on 27 wineries scattered across the state. We plan to add even more when we have time to visit them.


FLORIDA TOURIST ATTRACTIONS. We have an extensive list of Florida Tourist Attractions. Some of them are well known; other are a wonderful step back into Old Florida.


FLORIDA FESTIVALS. There are several outside events this time of year. Among these are outdoor art festivals and folk and bluegrass music festivals.


FLORIDA BEACHES. Almost anything you decide to do in Florida can be enhanced by spending some quality time at a great beach, and best beaches in Florida will guide you in the right direction.


FLORIDA MUSEUMS. Many Florida art and historical museums have scheduled events. Click on the links to find out what is going on.


FLORIDA THEATER. This is an active time for plays and musical events in our many Florida theaters.. Check the links to find out what might be interesting to you.


FLORIDA AUTHORS. Any time is a good time to read a book by a Florida author. Our most visited author page is now that of Randy Wayne White, the creator of adventurous marine biologist Doc Ford, followed closely by Tim Dorsey and his lovable hero, serial killer Serge Storms. We recently added a page about Robert N. Macomber, an award winning author who specializes in historical novels featuring the U.S. Navy.

Here is a useful link that will tell you what is going on this month virtually everywhere in Florida.




FLORIDA FESTIVALS AND OTHER EVENTS FOR NOVEMBER 2015


Information on the towns and places hosting these events, or near them, including lodging, can be found at Florida Towns.


A few events are cancelled on very short notice. I do my best to ensure that our information is correct and current, but I recommend you call before leaving for the event to make sure it's still on.


Thanks for subscribing to Florida Heritage Travel. We will see you next month with more updates and event information.