December 2015 News And Events
---
FLORIDA HERITAGE TRAVEL
is the companion monthly e-zine of
FLORIDA-BACKROADS-TRAVEL.COM
FLORIDA-BACKROADS-TRAVEL.COM
is available as eight regional travel guides
or one volume that covers the entire state at
FLORIDA BACKROADS TRAVEL AMAZON
---
AUBURNDALE, FLORIDA: OLD FLORIDA CITRUS AND TRANSPORTATION HUB

Auburndale is a city of 14,000 people between Lakeland and Haines City on a major east-west federal highway, US-92. It is less than 50 miles southwest of Orlando.


Like most small Florida cities, you have to get off the main highway and find the heart of the original town that was there in the old days and still exists. If you are traveling on I-4 from Tampa or Orlando, the most scenic way to come into town is on Country Road 559. Auburndale is only about 4 miles south of the Interstate, and you will travel through some rolling grove and lake country that gives you a taste of how things used to be back in the day when citrus was king.


If you come into town on US-92, the main scenery includes warehouses, old citrus packing plants, more warehouses and the big box stores and fast food places typical of most of Florida. It may be a quiet little town once you get off the main road, but it is also a thriving economic center. An example of one business that defines the town is Comcar Industries, formerly known as Commercial Carrier Corporation. The giant trucking firm was founded in 1953 by Guy Bostick. He built the firm with the help of his children into a giant company that now has 3,000 trucks and a host of other operations.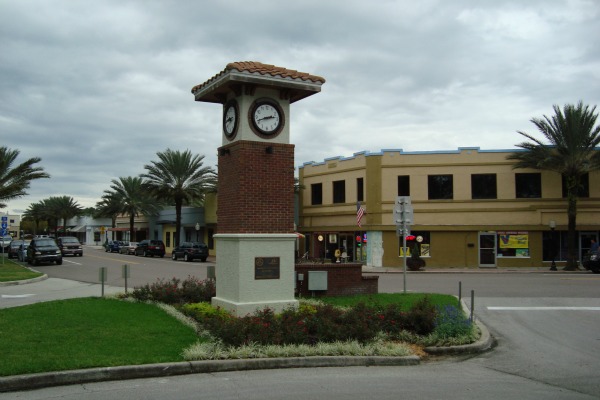 The town was founded in 1880 by Frank Fuller and originally named Sanatoria for a hotel located here. When the railroad came to town, the town renamed itself Auburndale after a town of the same name in Massachusetts. Thousands of acres of citrus were planted and the area began to boom.


While the city was still young, the Big Freezes destroyed the citrus industry. The first freeze was on December 27, 1894. The second one was on February 7, 1895 and saw temperatures drop into the low twenties for three straight nights.




Citrus made a comeback in the twentieth century that lasted until the 1970s and the entire area in all directions around Auburndale was covered with groves. Freezes in 1981 and 1983 did a lot of damage, however, and much of the citrus industry has now moved south toward Frostproof.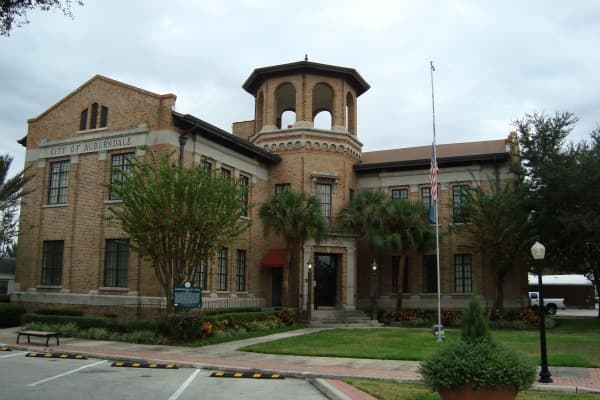 Auburndale has done a good job restoring its historic downtown area and has preserved many nice old buildings. The centerpiece of downtown is the City Park, a wide grassy lawn with picnic shelters and playground equipment that gets a lot of use, especially on weekends. There are several restaurants and shops around the park neighborhood that make for some good dining and shopping.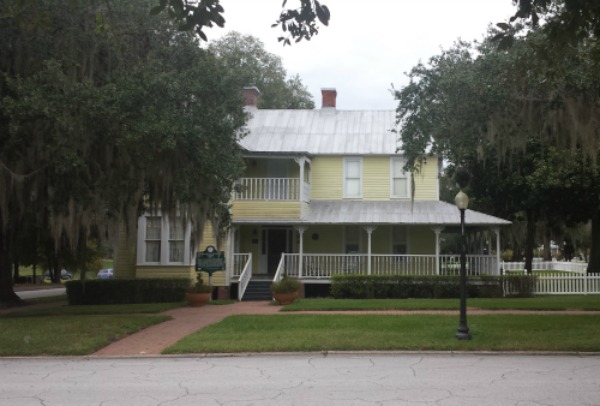 An example of the city's preservation effort is the Ephraim M Baynard House located just north of the downtown city park. The house was built in 1894 and is on the National Register of Historic Places. City Hall is also on the National Register and is on the western edge of the downtown park. St. Alban's Episcopal Church was built in 1896 and is a couple of blocks south of the city park.



---
RESTAURANT OF THE MONTH
Chamba's Hometown Cafe
117 East Lake Avenue
Auburndale, Florida 33823
Tel: 863-875-5517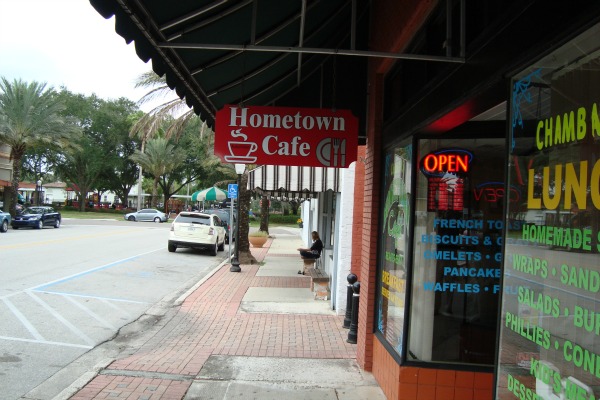 This small place is just a half block south of the downtown park and is a combination Old Florida home cooking restaurant and Cuban cafe. Breakfast is served anytime they are open, and they also have a nice selection of sandwiches - including Cubans - and salads. The interior is clean and inviting and the prices are reasonable.


Chamba's features daily specials that quite often include Cuban specialties. An example is their picadillo, a popular Cuban entree made with ground beef, garlic, onions, green pepper, olives, raisins, capers, tomato sauce and seasoning. The restaurant also has a nice selection of bean soups and a tasty chili.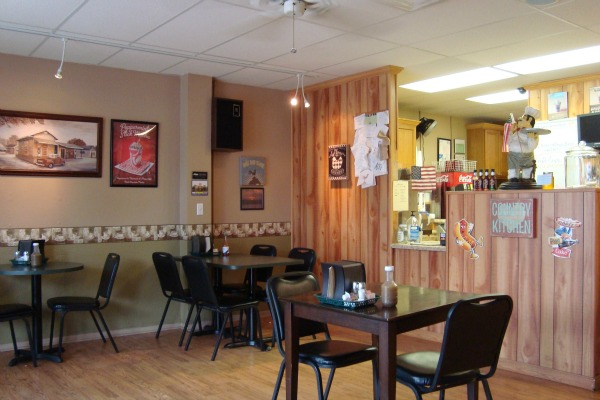 I had a good brunch of scrambled eggs, bacon, toast and grits. I couldn't resist trying a cup of their Spanish bean soup. The soup had at least three kinds of beans in it and also some chorizo sausage. The food was great and so was the service.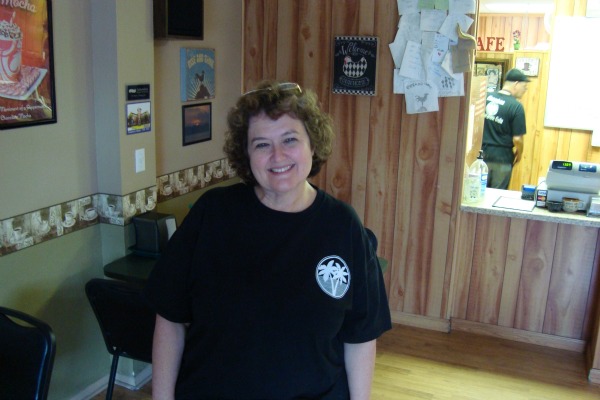 The owner of the restaurant, Jessica Brower, is a fifth generation Floridian who seems to know everybody who comes into her restaurant. She and the staff make you feel very welcome. Chamba's Home Town Cafe is open Monday-Friday from 700 am to 300 pm, and on Saturday from 700 am to 230 pm. They are closed on Sunday.


FLORIDA BACKROADS TRAVEL UPDATES


Thanks for continuing to subscribe to Florida Heritage monthly e-zine. Florida Backroads Travel continues to grow, and we hope you enjoy these updates.


You can also subscribe to our Florida Blog by going to our home page and selecting an RSS feed. This way you will have daily updates. This month I added a new page to the website: Mom and Pop Lodging. Now you will know which ones are good to stay at.


December is a favorite month for Floridians. Sometimes it's cool and breezy. Windows in cars and homes are open most of the time and air conditioners are silenced. The snowbirds are back in Florida, so the lines are longer now at our local restaurants.




HERE ARE SOME INTERESTING FLORIDA EVENTS FOR DECEMBER:




ALL REGIONS


FLORIDA WINERIES. Check the Florida winery nearest you. Many of them have wonderful weekend events that include music and wine tastings. Our site has information on 27 wineries scattered across the state. We plan to add even more when we have time to visit them.


FLORIDA TOURIST ATTRACTIONS. We have an extensive list of Florida Tourist Attractions. Some of them are well known; other are a wonderful step back into Old Florida.


FLORIDA FESTIVALS. There are several outside events this time of year. Among these are outdoor art festivals and folk and bluegrass music festivals.


FLORIDA BEACHES. Almost anything you decide to do in Florida can be enhanced by spending some quality time at a great beach, and best beaches in Florida will guide you in the right direction.


FLORIDA MUSEUMS. Many Florida art and historical museums have scheduled events. Click on the links to find out what is going on.


FLORIDA THEATER. This is an active time for plays and musical events in our many Florida theaters.. Check the links to find out what might be interesting to you.


FLORIDA AUTHORS. Any time is a good time to read a book by a Florida author. Our most visited author page is now that of Randy Wayne White, the creator of adventurous marine biologist Doc Ford, followed closely by Tim Dorsey and his lovable hero, serial killer Serge Storms. We recently added a page about Robert N. Macomber, an award winning author who specializes in historical novels featuring the U.S. Navy.


IMAGE OF FLORIDA BACKROADS TRAVEL COVER
Your Florida Heritage Travel Ezine editor has published a new Amazon Kindle book that incorporates much of the content of his website, Florida-Backroads-Travel.com. The book is available for review and purchase at Florida Backroads Travel Amazon Page


Here is a useful link that will tell you what is going on this month virtually everywhere in Florida.




FLORIDA FESTIVALS AND OTHER EVENTS FOR DECEMBER 2015


Information on the towns and places hosting these events, or near them, including lodging, can be found at Florida Towns.


A few events are cancelled on very short notice. I do my best to ensure that our information is correct and current, but I recommend you call before leaving for the event to make sure it's still on.


Thanks for subscribing to Florida Heritage Travel. We will see you next month with more updates and event information.