NORTH CENTRAL FLORIDA TRAVEL GUIDE
North Central Florida Travel Guide is your free mentor to North Central Florida.  Travel in this region will take you from Monticello near the Georgia border, to Tallahassee, Gainesville and Cedar Key. This is a rural region with small towns.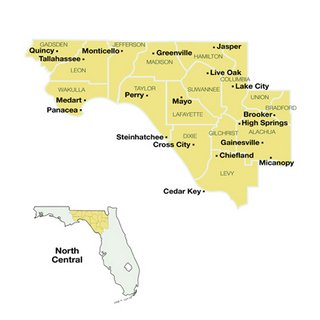 North Central Florida
North Central Florida hugs the Georgia border like a baby hangs onto its mother.
This region has super college football with the Florida Gators, Florida State Seminoles and Florida A&M Rattlers.
The counties in North Central Florida are: Gadsden, Leon, Wakulla, Jefferson, Taylor, Madison, Hamilton, Columbia, Suwannee, Lafayette, Dixie, Levy, Gilchrist, Union, Bradford and Alachua.
In his book "Becalmed In The Mullet Latitudes", Al Burt named this part of the state Florgia. The name still fits after all of these years - half Florida, half Georgia.
Here is a Florida Road Map and a Florida County Map for your enjoyment.
These maps will be useful to you as part of your free North Central Florida travel guide.
Most of the Florida natives in these counties are descended from early settlers who came down from Georgia and South Carolina after the Civil War. They were confederate veterans and sympathizers.  You will see many statues and memorials to southern war heroes in the town squares.
Things To Do In North Central Florida
The following North Central Florida travel guide links will tell you all about the many things to do in North Central Florida.
NORTH CENTRAL FLORIDA TOWNS
This free Florida travel guide lists places to stay and eat on the individual town pages.
The individual town pages include a brief history of the town along with my recommended motels, hotels and restaurants.
Each town page also includes a description of at least one bed and breakfast or historic hotel.
Some towns and places in North Central Florida currently on our free Florida travel guide website are:
North Central Florida travel can be complicated on weekends if either or both of the Florida State University Seminoles or the University of Florida Gators are playing at home.
Florida travel numbers pick up all over the state due to the large numbers of people traveling to Tallahassee and Gainesville.
These game weekends often cause a room shortage on Friday nights and sometimes on Saturday nights as well.
I recommend you check our free Florida travel guide for the Gator Football Schedule and the Seminole Football Schedule when you are planning your trip.
NORTH CENTRAL FLORIDA WINERIES
There are two North Central Florida wineries:
Monticello Vineyards and Winery, Monticello
More information is available on this free Florida travel guide at Florida Wineries. 

NORTH CENTRAL FLORIDA BEACHES
North Central Florida beaches are not generally of the white sand swimming kind seen in Chamber of Commerce brochures.  Florida travel brochures seldom feature these beaches.  Most of these beaches are marshy and muddy and not the best place for swimming or walking.
These beaches are worth visiting, however. They are part of a unique coastal marsh ecosystem with lots of tidal creeks. The beaches here are quiet and close to nature.
Many North Central Florida lakes have designated swimming beaches. It is important to swim in designated areas rather than taking your chances with alligators and water mocassins.
Some of the safest places to swim are listed in Best Beaches In Florida. 

NORTH CENTRAL FLORIDA ATTRACTIONS
Ginnie Springs Outdoors, High Springs
Mill Creek Farm Retirement Home For Horses, Alachua
More information on these and other attractions can be found at Florida Tourist Attractions. 

NORTH CENTRAL FLORIDA HERITAGE SITES
North Central Florida heritage begins with the early native Americans who dwelled in the area 12,000 years ago.
Many of the early pioneer settlers came to this region of Florida after the Civil War. Many were Confederate veterans and their families.  This heritage is shared by all 15 counties in North Central Florida. Each county has its fair share of sites that are an important part of Florida history.
A list of these heritage sites is at North Central Florida Heritage Sites.
NORTH CENTRAL FLORIDA STATE PARKS
There are many Florida State Parks in this region with nature attractions and campgrounds. Any Florida travel experience will be enhanced by a trip to a state park.
Any North Central travel experience will be enhanced by visiting one of these parks.
More information is available at North Central Florida State Parks 
NORTH CENTRAL FLORIDA GETAWAYS
Our getaways are inns that capture the authentic Florida feeling and have been stayed at by Florida Backroads Travel staff or inspected and rated by established associations.
NORTH CENTRAL FLORIDA TRAVEL GUIDE DAY TRIPS 
There is a demand throughout the country for information on day trips and one tank trips. People like the idea of leaving their home, seeing a lot in a day or two, and not breaking the family budget.
Virtually every state, including Florida, has websites and books that focus on the concept of being able to travel from your home and see a lot of interesting places and things.
Florida-Backroads-Travel.com is a Florida travel website that will give you some great ideas for local day trips and one tank trips.
North Central Florida has plenty of safe and scenic, lightly traveled backroads that will take you through interesting Florida towns and attractions.
Here are some North Central Florida day trips and one tank trips.
---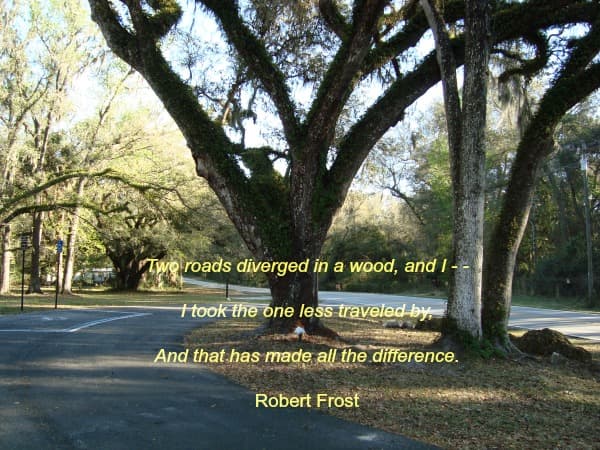 Over 55,000 fans can't be wrong. Learn about off the beaten path Old Florida and historic towns.
Like Us On Facebook
Return From North Central Florida Travel Guide To Florida Travel Guide 

Return To Florida Backroads Travel Home