January 2016 News And Events
---
FLORIDA HERITAGE TRAVEL
is the companion monthly e-zine of
FLORIDA-BACKROADS-TRAVEL.COM
FLORIDA-BACKROADS-TRAVEL.COM
is available as eight regional travel guides
or one volume that covers the entire state at
FLORIDA BACKROADS TRAVEL AMAZON
---
TEMPLE TERRACE, FLORIDA: GOD, GOLF AND BILLY GRAHAM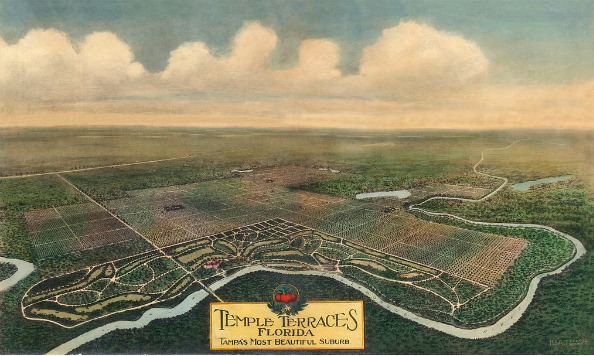 Temple Terrace is a city of 25,000 people snugged up to the northeast corner of Tampa. It was once a distinct and separate little village that has been engulfed over the years by Tampa and the development surrounding the University of South Florida to its immediate west. Like many Florida places, however, when you get off the main roads you will find it is still one of the most charming towns in Florida. The town was incorporated in 1925 and still has some of the greatest live oak trees of any place in the state.


The city was planned and developed in the 1920s as a Mediterranean Revival golf course community and many of the original homes and buildings from that era are still prominent in the scenery as you drive around town. The city gets its name from the Temple Orange, named after William Chase Temple, who at one time owned the Pittsburgh Pirates and was the first president of the Florida Citrus Exchange. The terrace part of the name comes from the way the land along the Hillsborough River was prepared for the original citrus plantings. The largest orange grove in the world, 5,000 acres, surrounded the original development.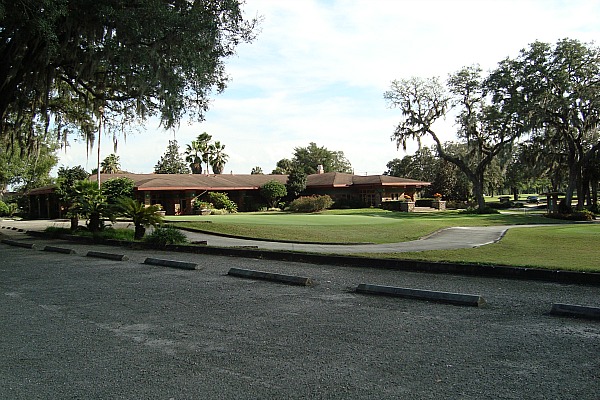 The town was developed around the Temple Terrace Golf and Country Club. The layout of the golf course has changed very little since it was first built in the mid 1920s. It is a 6,414 yard par 72 course and the town is laid out so many of the homes have golf course views.


The design is different than most modern golf course communities in that the front of the houses face the golf course fairways and greens because of the boulevard layout of the streets. Modern developments usually have the rear of the house facing the golf course because you can get more lots that way.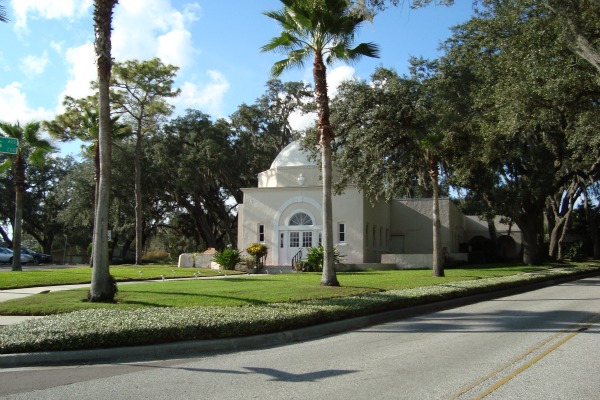 The Temple Terrace Community Church is the oldest church in the city; it was founded as the Sunday Church School back in 1941 and originally met in the old domed structure that was once the Temple Terrace Estates administration building. The old building at the corner of Inverness Avenue and Belle Terre Avenue was in bad condition and sat empty and boarded up througout the Great Depression. The City finally offered it to the church who fixed it up and began using it as their place of worship.


Many of the homes in Temple Terrace were designed by architects who were famous back in the 1920s, including New York City's Dwight James Baum who had designed John Ringling's mansion - Ca' d' Zan - in Sarasota along with several notable New York buildings. The plan originally was that wealthy northerners would have their winter homes in Temple Terrace and the rest of the year the place would be occupied by caretakers.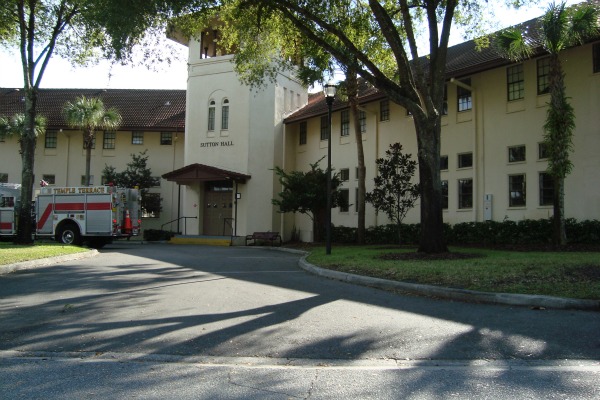 During the Great Depression, Florida Bible Institute bought the old original Temple Terrace Country Club clubhouse for back taxes. Over the years the institute evolved into Florida College, an private liberal arts college. The college has some of the city's oldest buildings, including the old clubhouse that is now known as Sutton Hall.


Billy Graham attended Florida Bible Institute. In his autobiography he says that he received his calling from God on the 18th green of the Temple Terrace Golf and Country Club. Today there is a Billy Graham Memorial Park on the east side of the 18th green along the Hillsborough River.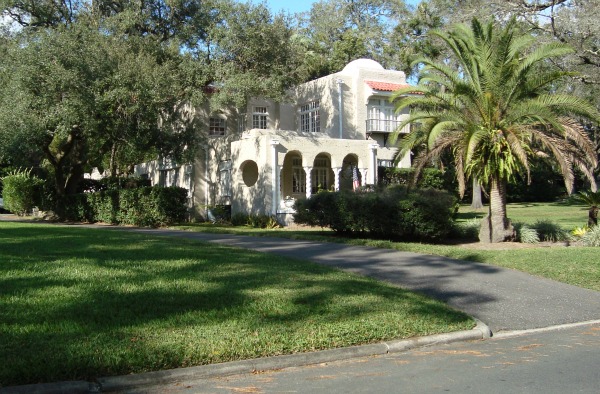 Many of today's Temple Terrace residents are teachers and other staff members at the nearby University of South Florida.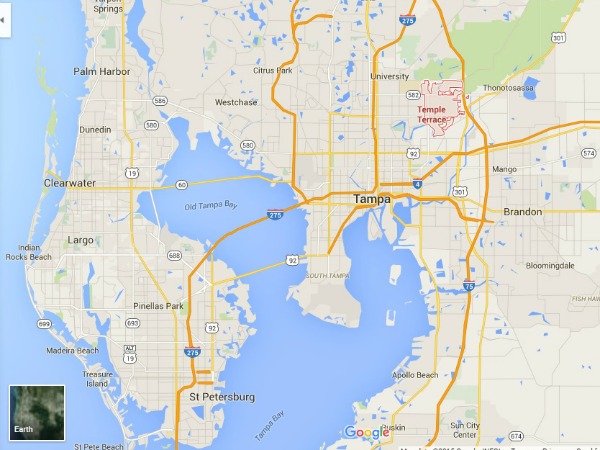 ---
RESTAURANT OF THE MONTH
Cazador Grill
10918 N. 56th Street
Temple Terrace, Florida 33617
Tel: 813-898-8878
Cazador Grill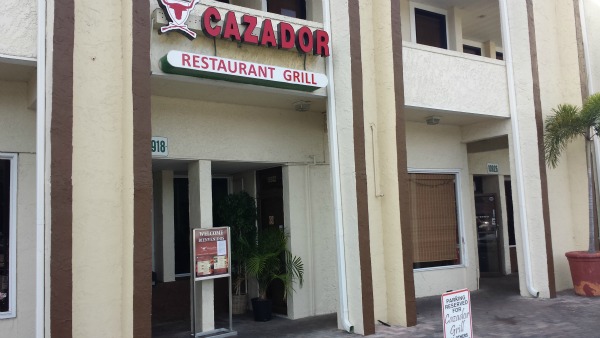 This small restaurant is on 56th Street, the busy corridor that forms the western boundary of Temple Terrace. It is in a busy little strip shopping center on the west side of the street. The entrance is not fancy, but neither is the great little restaurant inside. It is clean and friendly and the home of some great Peruvian food. It has only been in business since 2014 but has already developed a large base of fans who love to eat here.


Cazador is a "Parrilla Peruana", or Peruvian Grill or Peruvian Steakhouse. A parilla is a grill used for cooking asado (barbecue) typical of South America. The menu here features a lot of grilled meats, including skirt steak, short ribs, chicken breast, pork tenderloin, chorizo, barbecue ribs and Italian sausage. Peruvian food features a lot of meat, but they also love their seafood dishes. Here you will find ceviche, sauteed fish, deep fried seafood including shrimp, octopus, fish and calamari.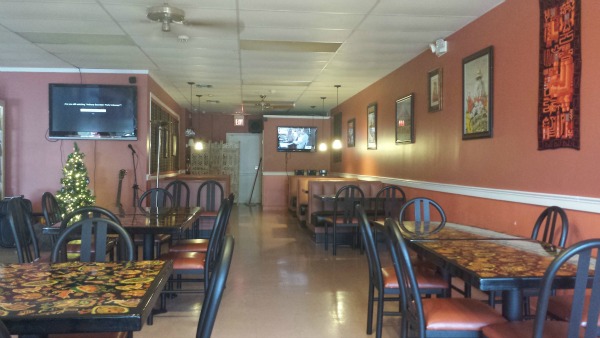 I had lunch recently at Cazador and enjoyed a rice based entree called Arroz con Mariscos. It was delicious and included shrimp, mussels, calamari, scallops, green beans, peas, carrots, red peppers. All of this was served with delicious rice and mildly spiced. I am a big eater and this was a big meal. Many of you will be taking some leftovers home with you.


Service was great. My server was Juan Underbakke, a poet born in Peru but raised in Norway and Iowa by adoptive parents. He gave me a copy of one of his books, "Ghost Dancing by Streetlight". Some of my professional poet friends tell me Juan has great potential as a poet. He was only helping out the Peruvian family who owns the restaurant, so you may not see him but if you're lucky you'll have a fine server like Juan.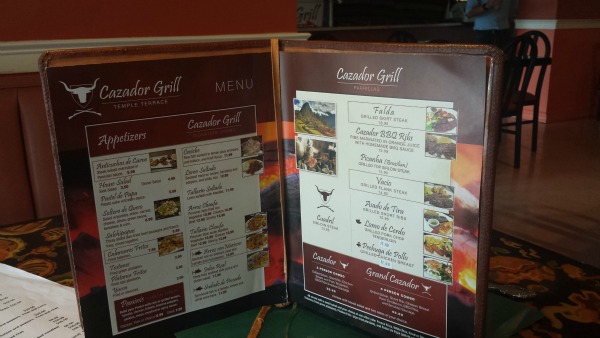 Cazador has wine and beer, and a tasty dessert menu including flan. It is a family owned and operated business


FLORIDA BACKROADS TRAVEL UPDATES


Thanks for continuing to subscribe to Florida Heritage monthly e-zine. Florida Backroads Travel continues to grow, and we hope you enjoy these updates.


You can also subscribe to our Florida Blog by going to our home page and selecting an RSS feed. This way you will have daily updates. This month I added a new page to the website: Mom and Pop Lodging. Now you will know which ones are good to stay at.


January is a favorite month for Floridians. Sometimes it's cold and windy. Windows in cars and homes are closed most of the time and heaters are even turned on now and then. The snowbirds are back in Florida, so the lines are longer now at our local restaurants.




HERE ARE SOME INTERESTING FLORIDA EVENTS FOR JANUARY:




ALL REGIONS


FLORIDA WINERIES. Check the Florida winery nearest you. Many of them have wonderful weekend events that include music and wine tastings. Our site has information on 27 wineries scattered across the state. We plan to add even more when we have time to visit them.


FLORIDA TOURIST ATTRACTIONS. We have an extensive list of Florida Tourist Attractions. Some of them are well known; other are a wonderful step back into Old Florida.


FLORIDA FESTIVALS. There are several outside events this time of year. Among these are outdoor art festivals and folk and bluegrass music festivals.


FLORIDA BEACHES. Almost anything you decide to do in Florida can be enhanced by spending some quality time at a great beach, and best beaches in Florida will guide you in the right direction.


FLORIDA MUSEUMS. Many Florida art and historical museums have scheduled events. Click on the links to find out what is going on.


FLORIDA THEATER. This is an active time for plays and musical events in our many Florida theaters.. Check the links to find out what might be interesting to you.


FLORIDA AUTHORS. Any time is a good time to read a book by a Florida author. Our most visited author page is now that of Randy Wayne White, the creator of adventurous marine biologist Doc Ford, followed closely by Tim Dorsey and his psychotic protagonist, serial killer Serge Storms. We recently added a page about Robert N. Macomber, an award winning author who specializes in historical novels featuring the U.S. Navy.


IMAGE OF FLORIDA BACKROADS TRAVEL COVER
Your Florida Heritage Travel Ezine editor has published a new Amazon Kindle book that incorporates much of the content of his website, Florida-Backroads-Travel.com. The book is available for review and purchase at Florida Backroads Travel Amazon Page


Here is a useful link that will tell you what is going on this month virtually everywhere in Florida.




FLORIDA FESTIVALS AND OTHER EVENTS FOR JANUARY 2016


Information on the towns and places hosting these events, or near them, including lodging, can be found at Florida Towns.


A few events are cancelled on very short notice. I do my best to ensure that our information is correct and current, but I recommend you call before leaving for the event to make sure it's still on.


Thanks for subscribing to Florida Heritage Travel. We will see you next month with more updates and event information.