February 2016 News And Events
---
FLORIDA HERITAGE TRAVEL
is the companion monthly e-zine of
FLORIDA-BACKROADS-TRAVEL.COM
FLORIDA-BACKROADS-TRAVEL.COM
is available as eight regional travel guides
or one volume that covers the entire state at
FLORIDA BACKROADS TRAVEL AMAZON
---
PORT ORANGE, FLORIDA: A HOME FOR FREED SLAVES AFTER THE CIVIL WAR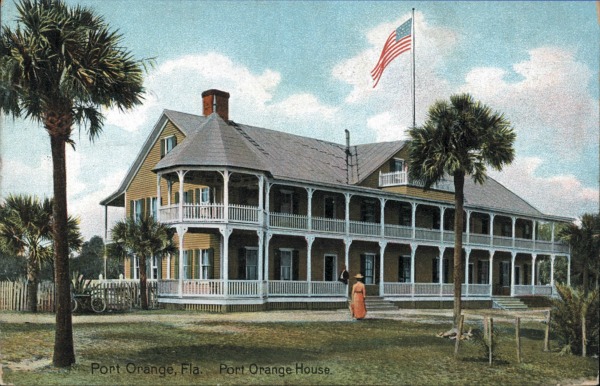 Port Orange is a sprawling modern city of 57,000 just south of Daytona Beach. Business and tourism promoters have named this part of Florida the "Fun Coast" and the "Sun Coast". Those names haven't caught on as far as I know, and most people just refer to it as the Daytona Beach area. It is officially part of the Deltona-Daytona Beach-Ormond Beach Metropolitan Statistical area. As in most parts of coastal Florida, the old Port Orange is found off the main highways of US-1 and I-95. Poke around on the streets and back roads and you will find an interesting and historic community.


The early Native American Timicuan people were displaced by European settlers when Dr. Andrew Turnbull established his nearby New Smyrna Colony in 1768. The New Smyrna operation didn't pan out, but several sugar plantations were established in the years that followed. An ancient reminder of these days is the Dunlawton Sugar Mill. The Dunlawton Sugar Plantation was established in 1804 by Peter Dean on a 995 acre land grant from the Spanish king. It was destroyed in 1836 during the Second Seminole War along with the other plantations in the Port Orange area.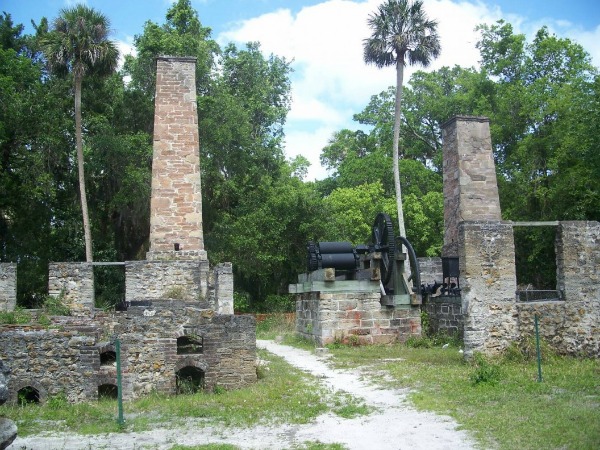 You can visit the ruins of the Dunlawton Sugar Mill at 950 Old Sugar Mill Road. Admission is free, and the ruins and adjacent botanical gardens are open every day from 800am to 500pm except Christmas and New Years Day.


After the Civil War - about thirty years after the Seminoles destroyed the plantations - a former U.S. Army surgeon and abolitionist, Dr. John Hawks, came down to Florida with some other former soldiers and brought 500 freed black slaves with them. Their mission was to help the newly freed slaves form a self sufficient community. They formed the Florida Land and Lumber company and settled in the area, naming it Orange Port. The post office objected to the name because somebody else was already using it, so it was renamed Port Orange. Poor soil conditions and the harsh semi-tropical climate contributed to things not working out. The settlement almost went under in 1869. Only nine families remained and most of the freed slaves left the area.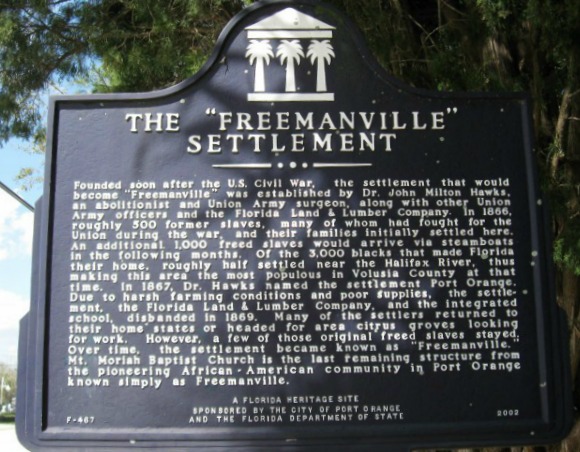 The freed slaves who did stay in the area gave Port Orange a distinctly African-American heritage in those post Civil War days. The area of the old settlement is known today as Freemanville and it's the small neighborhood around the intersection of Orange Avenue and Charles Street. This is a few blocks west of US-1 and a few blocks north of Dunlawton Avenue. Not much remains of the original settlement. Mount Moriah Baptist Church, built in 1911, still serves the community as an active place of worship.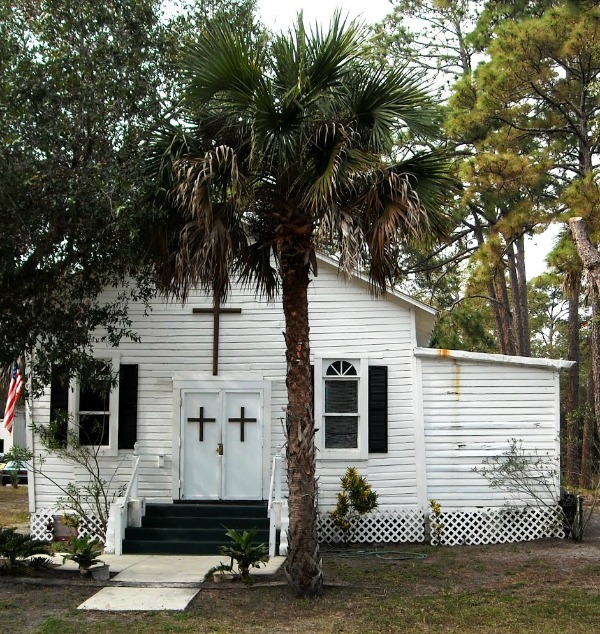 Like so many other places in Florida, rich Yankees came along and saved the day. When you think of the Proctor & Gamble Company, think of Port Orange. James N. Gamble came down from Cincinnati, Ohio, one winter and fell in love with the Port Orange area. In 1907 he built a Florida cracker style cottage in the country west of town along with a luxurious estate on the Halifax River. Mr. Gamble was the son of the founder of Proctor & Gamble and was credited with developing the formula for the famous Ivory Soap.


The Gamble cottage is a classic example of southern country architecture and uses many details typical of Florida cracker houses. Mr. Gamble died in 1932, and Gamble Place passed on through the family and eventually became open to the public. The 175 acre property includes the cottage and a citrus packing house. Mr. Gamble named his cottage retreat "Egwanulti" which is reportedly a Native American word meaning "by the water". The property is also home to a lot of wildlife, azalea flowers and huge ancient cypress trees.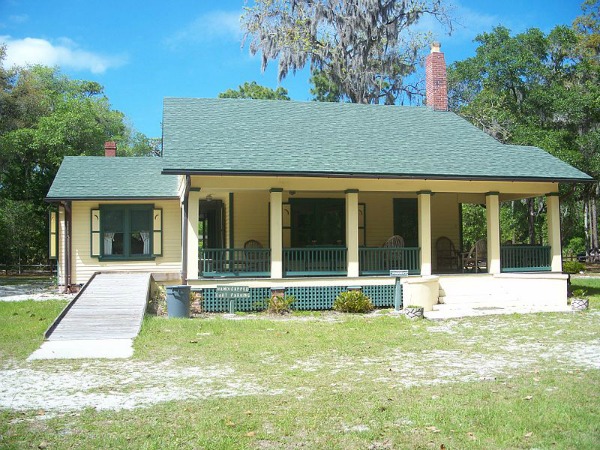 Gamble Place is now a historic district listed on the National Register of Historic Places. It is located in western Port Orange at 1819 Taylor Road. This is about 1.5 miles west of I-95, Exit 256.

This historic place is just north of the modern Spruce Creek Fly-In and Golf community where many residents have their own airplanes and can land on the community's private air strip. John Travolta was once a Spuce Creek resident along with his planes before he moved west to the Ocala region.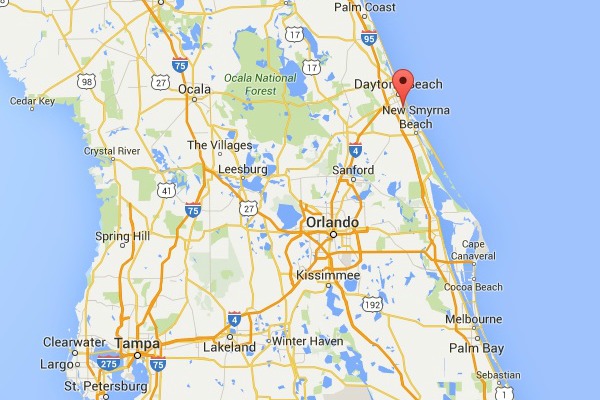 ---
RESTAURANT OF THE MONTH
Aunt Catfish's On The River
4009 Halifax Drive
Port Orange, Florida 32127
Tel: 386-767-4768
Aunt Catfish's On The River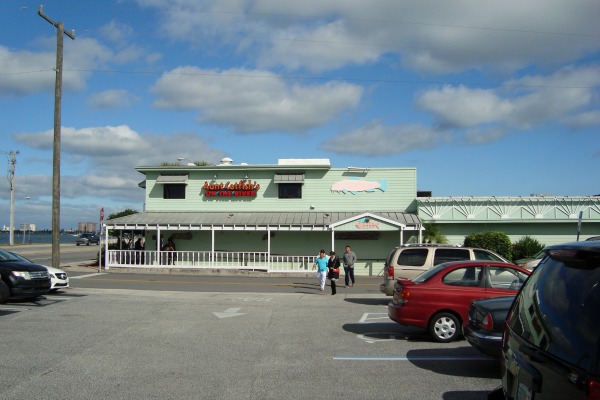 This charming southern style restaurant is at the mainland foot of the bridge that crosses the Halifax River to the South Daytona Beach area. It has wonderful river views from both inside and outside seating areas. I have only eaten there during their famous Sunday buffets, and have never been disappointed in anything I've eaten at Aunt Catfish's.


The Sunday buffet is very popular and there is usually a wait of a few minutes before you will be seated. It's a big place, however, and I've never had to wait very long. The waiting area has a bar in case you want to sip a brew or cocktail while waiting for your table. When the weather permits, I like to sit outside. In the colder winter months the outside seating is warmed up by overhead infrared heat lamps and is very comfortable.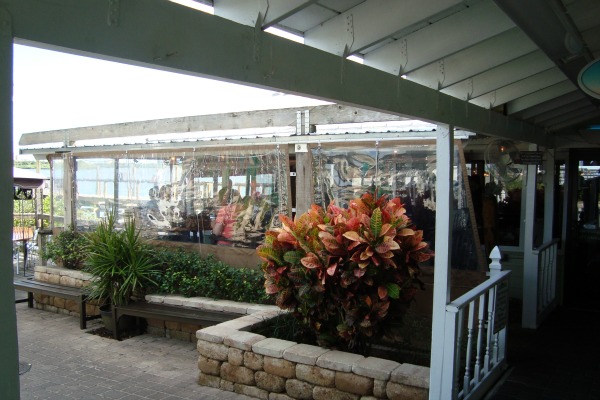 Aunt Catfish's has a full liquor bar, and I enjoy their Bloody Mary as a buffet appetizer. It is served in a Mason jar and is just the right amount of spicy. The buffet is a self serve operation located inside the main dining room. You can go through the buffet line as often as you like, and in my case I like to go through it a lot. An exception to the self serve rule is a carver at the end of the line who will slice you a nice piece of ham, roast beef or juicy white turkey, and another fellow who will make you an omelette to order.


Some of the items I recall from memory (I'm getting hungry) are scrambled eggs, bacon, biscuits, complete tossed salad makings, catfish fingers and catfish fillets, corned beef hash, hush puppies, pastries, fruit including melon and strawberries and a dozen other things I can't remember.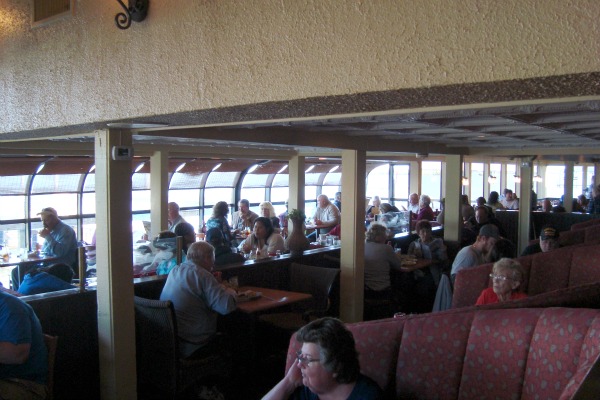 There is also a dessert bar with pies and cakes and other sundries. For the truly decadent there is one of those chocolate fountains where you can dip your fruit or marshmellows and leave the place with a truly guilty conscience.


Their menu for the rest of the week is extensive and has many more items than the Sunday brunch buffet. They even have lighter menus for the lunch crowd. Aunt Catfish's is open seven days a week for lunch through dinner. The Sunday buffet runs from 900am to 200pm and then the menu converts back to their standard fare.


FLORIDA BACKROADS TRAVEL UPDATES


Thanks for continuing to subscribe to Florida Heritage monthly e-zine. Florida Backroads Travel continues to grow, and we hope you enjoy these updates.


You can also subscribe to our Florida Blog by going to our home page and selecting an RSS feed. This way you will have daily updates. This month I added a new page to the website: Mom and Pop Lodging. Now you will know which ones are good to stay at.


February is a favorite month for Floridians. Sometimes it's cold and windy. Windows in cars and homes are closed most of the time and heaters are even turned on now and then. The snowbirds are back in Florida, so the lines are longer now at our local restaurants.




HERE ARE SOME INTERESTING FLORIDA EVENTS FOR FEBRUARY:




ALL REGIONS


FLORIDA WINERIES. Check the Florida winery nearest you. Many of them have wonderful weekend events that include music and wine tastings. Our site has information on 27 wineries scattered across the state. We plan to add even more when we have time to visit them.


FLORIDA TOURIST ATTRACTIONS. We have an extensive list of Florida Tourist Attractions. Some of them are well known; other are a wonderful step back into Old Florida.


FLORIDA FESTIVALS. There are several outside events this time of year. Among these are outdoor art festivals and folk and bluegrass music festivals.


FLORIDA BEACHES. Almost anything you decide to do in Florida can be enhanced by spending some quality time at a great beach, and best beaches in Florida will guide you in the right direction.


FLORIDA MUSEUMS. Many Florida art and historical museums have scheduled events. Click on the links to find out what is going on.


FLORIDA THEATER. This is an active time for plays and musical events in our many Florida theaters.. Check the links to find out what might be interesting to you.


FLORIDA AUTHORS. Any time is a good time to read a book by a Florida author. Our most visited author page is now that of Randy Wayne White, the creator of adventurous marine biologist Doc Ford, followed closely by Tim Dorsey and his unlikely hero, serial killer Serge Storms. We recently added a page about Robert N. Macomber, an award winning author who specializes in historical novels featuring the U.S. Navy and his hero, Captain Peter Wake.


IMAGE OF FLORIDA BACKROADS TRAVEL COVER
Your Florida Heritage Travel Ezine editor has published a new Amazon Kindle book that incorporates much of the content of his website, Florida-Backroads-Travel.com. The book is available for review and purchase at Florida Backroads Travel Amazon Page


Here is a useful link that will tell you what is going on this month virtually everywhere in Florida.




FLORIDA FESTIVALS AND OTHER EVENTS FOR FEBRUARY 2016


Information on the towns and places hosting these events, or near them, including lodging, can be found at Florida Towns.


A few events are cancelled on very short notice. I do my best to ensure that our information is correct and current, but I recommend you call before leaving for the event to make sure it's still on.


Thanks for subscribing to Florida Heritage Travel. We will see you next month with more updates and event information.