March 2016 News And Events
---
FLORIDA HERITAGE TRAVEL
is the companion monthly e-zine of
FLORIDA-BACKROADS-TRAVEL.COM
FLORIDA-BACKROADS-TRAVEL.COM
is available as eight regional travel guides
or one volume that covers the entire state at
FLORIDA BACKROADS TRAVEL AMAZON
---
FLORAL CITY, FLORIDA: BICYCLES AND FERRIS GROVES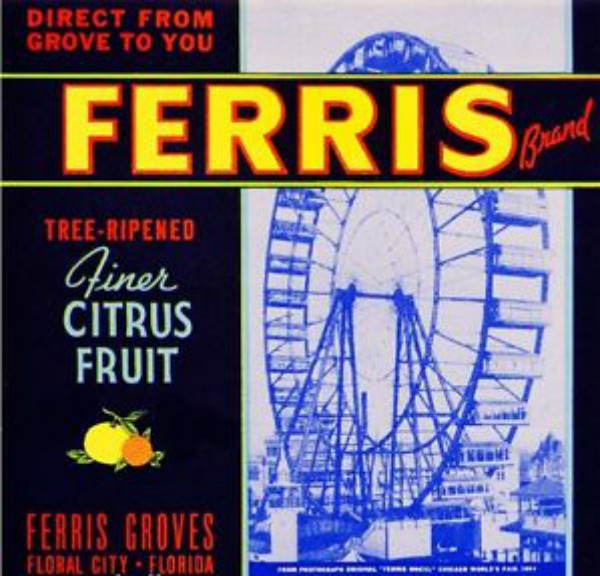 Floral City, about 70 miles north of Tampa, has been the home of Ferris Groves since 1931. L. G. "Doc" Ferris started out as a boom time land developer in the 1920s but like almost everybody else in Florida back then, he went bust after the major hurricanes came followed by the Great Depression.


He owned a lot of land in Floral City, including Duval Island on Lake Tsala Apopka, and instead of developing a golf course he planted citrus trees on the rich soil of the island. At the peak of his operation he had 350 acres planted with 31,000 trees. Almost everyone in Flora City worked for Doc Ferris.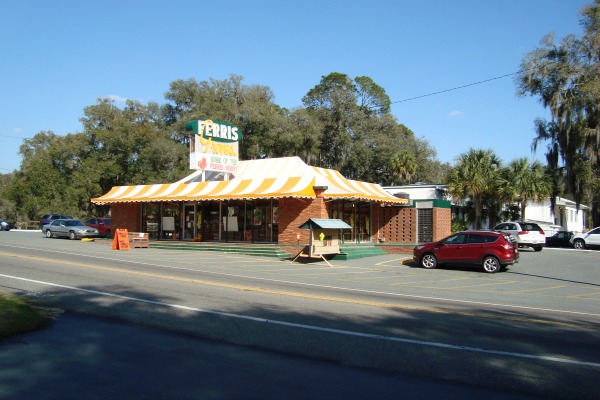 Doc was reportedly the grand nephew of George Washington Gale Ferris, Jr., the inventor of the Ferris Wheel. Ever the promoter, Doc added a picture of the Ferris Wheel on some of his early citrus box posters. He also built fruit stands along many major Florida highways and even had fruit stands in some of the tourist hotels in Miami Beach. Among those early stores was the current one on U.S.-41 in Floral City that still does a great business. I bought some great tangerines there recently.


Even though most of Central Florida's citrus industry was wiped out in the freezes of 1983 and 1985, the fertile hammock soil of Duval Island still produces Valencia oranges, Ruby Red Grapefruit and Fall Glow tangerines in its 24 acre grove. In recent years they have added strawberries and blueberries. Their delicious strawberry is named the Ferris Berry.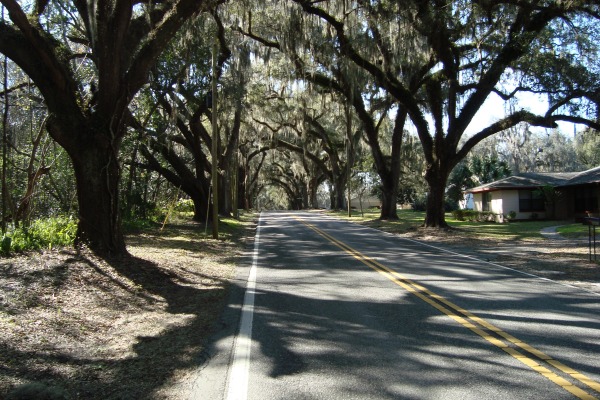 Fruit bearing trees are not the only hallmark of Floral City. This small community of about 5,000 people has done a good job in preserving the old oaks and native palms that give the town so much of its current day charm. It's a good place to park your car and just walk or ride your bicycle.


There is a pioneer museum downtown and a couple of neat art galleries and antique shops along with a produce stand. The neighborhoods surrounding downtown are a treasure trove of authentic old Florida houses and other buildings.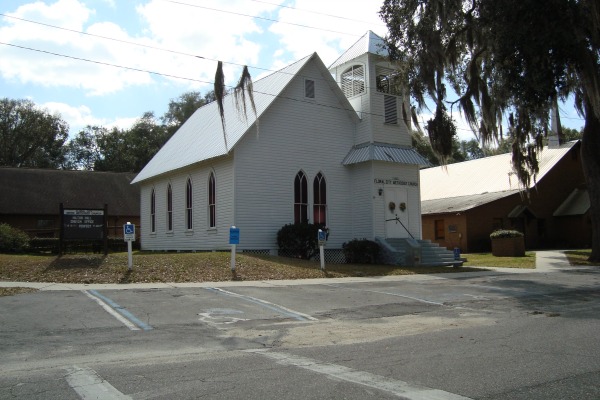 The Withlacoochee State Trail is a 46 mile long paved corridor that runs through Floral City. It's a "Rails To Trail" project that was formerly a historic train route that was sold to the state in 1989. Its northern end is in Dunnellon, and its southern terminus is the Trilby trailhead southeast of Brooksville.


It is for hikers and non-motorized vehicles only, and runs through small towns like Istachatta, Floral City and Inverness. Along the way it crosses several ranches, natural woodlands and wetlands and is close to Fort Cooper State Park and The Withlacoochee State Forest.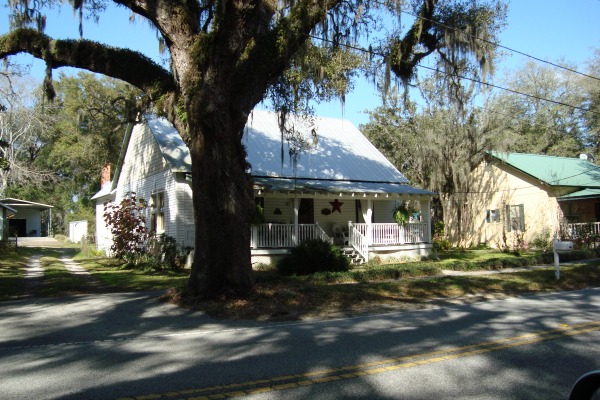 Floral City is set up to cater to hungry and thirsty cyclists with several restaurants and stores near the trail's crossing in downtown, and there is also a bike shop that provides not only bicycles but repairs and advice.


The community is built along the shorelines of Lake Tsala Apopka and Bradley Lake. There are many fish camps and authentic old Florida lodging places in the area along with some great fishing and canoeing. Some of the back country roads around these lakes and their many islands offer some of the best driving experiences in Florida.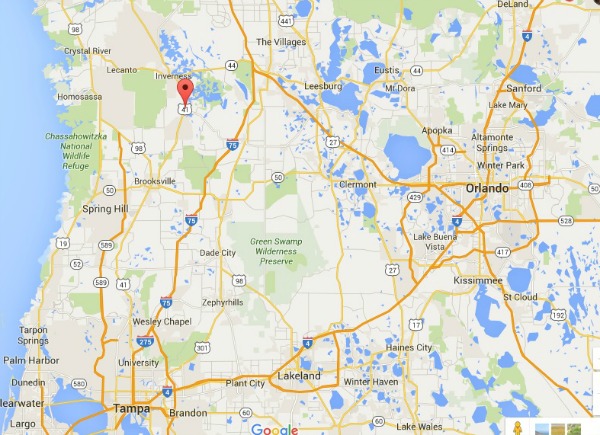 ---
RESTAURANT OF THE MONTH
Robin's Country Kitchen
6689 S. Florida Avenue
Floral City, Florida 34436
Tel: 352-341-2535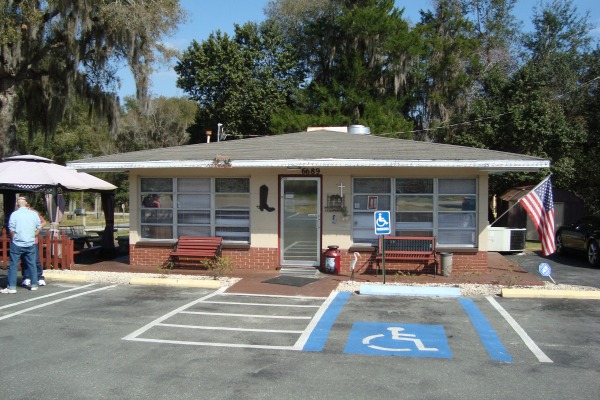 Robin's Country Kitchen is in a plain building on U.S.-41 on the north side of Floral City. The Withlacoochee Trail parallels the highway and the restaurant is tucked in between the highway and the trail, convenient for cyclists, hikers and motorists. There is plenty of parking for cars and motorcycles and the bicycles don't have a problem either.


Lunch on weekends can be busy because of the large number of people who use the trail. It was busy when I dropped in, with plenty of cars, motorcycles and bicycles adorning the parking lot. It was so crowded inside the restaurant and out on the patio that I was a little nervous about how long it would take to get my lunch.


I settled into the one remaining seat at the counter and soon realized I need not have worried. I drank my great cup of coffee and watched the owner and server handle everything extremely well. It was obvious they were shorthanded that day, but the kitchen staff cranked out the food in short order and the server got it to the customers at once.




The inside of Robin's is not fancy, but it is clean and comfortable. It was obvious that a lot of the customers were regulars and represented all ages and types. I had breakfast on my mind, but remember seeing various other items on the small menu and daily special board: chicken salad sandwich, hamburger, french fries, Italian sausage soup, house salad, bacon and cheese omelet, coleslaw, grilled ham and cheese, corn beef hash, grits and various desserts including coconut cream pie.

,
I had three eggs over easy, sausage patties, tater tots and silver dollar pancakes with plenty of butter and syrup, washed down with good coffee. It was delicious and reminded me of how much I like a heart healthy breakfast.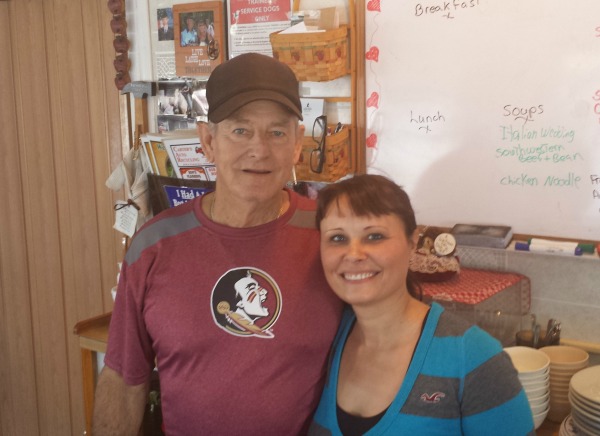 Robin's is owned by a Mom and Pop couple, Robin and Robert. Robin was out the day I came in and everything was handled by Robert and his very capable server, Stacy, shown in the photo above. They did a great job. Robin's is open 7 days a week from 6:30am to 2:00pm.


FLORIDA BACKROADS TRAVEL UPDATES


Thanks for continuing to subscribe to Florida Heritage monthly e-zine. Florida Backroads Travel continues to grow, and we hope you enjoy these updates.


You can also subscribe to our Florida Blog by going to our home page and selecting an RSS feed. This way you will have daily updates. This month I added a new page to the website: Mom and Pop Lodging. Now you will know which ones are good to stay at.


March is one of the best months in Florida. Sometimes it's cold and windy but in general, things are warming up. Windows in cars and homes are open some of the time and heaters don't have to be turned on too often. The snowbirds are still in Florida, so the lines are longer now at our local restaurants.




HERE ARE SOME INTERESTING FLORIDA EVENTS FOR MARCH:




ALL REGIONS


FLORIDA WINERIES. Check the Florida winery nearest you. Many of them have wonderful weekend events that include music and wine tastings. Our site has information on 27 wineries scattered across the state. We plan to add even more when we have time to visit them.


FLORIDA TOURIST ATTRACTIONS. We have an extensive list of Florida Tourist Attractions. Some of them are well known; other are a wonderful step back into Old Florida.


FLORIDA FESTIVALS. There are several outside events this time of year. Among these are outdoor art festivals and folk and bluegrass music festivals.


FLORIDA BEACHES. Almost anything you decide to do in Florida can be enhanced by spending some quality time at a great beach, and best beaches in Florida will guide you in the right direction.


FLORIDA MUSEUMS. Many Florida art and historical museums have scheduled events. Click on the links to find out what is going on.


FLORIDA THEATER. This is an active time for plays and musical events in our many Florida theaters.. Check the links to find out what might be interesting to you.


FLORIDA AUTHORS. Any time is a good time to read a book by a Florida author. Our most visited author page is now that of Randy Wayne White, the creator of adventurous marine biologist Doc Ford, followed closely by Tim Dorsey and his unlikely protagonist, serial killer Serge Storms. We recently added a page about Robert N. Macomber, an award winning author who specializes in historical novels featuring the U.S. Navy and Captain Peter Wake.


Here is a useful link that will tell you what is going on this month virtually everywhere in Florida.




FLORIDA FESTIVALS AND OTHER EVENTS FOR MARCH 2016


Information on the towns and places hosting these events, or near them, including lodging, can be found at Florida Towns.


A few events are cancelled on very short notice. I do my best to ensure that our information is correct and current, but I recommend you call before leaving for the event to make sure it's still on.


Thanks for subscribing to Florida Heritage Travel. We will see you next month with more updates and event information.

IF YOU ARE NOT A SUBSCRIBER TO FLORIDA HERITAGE TRAVELAND WOULD LIKE TO BECOME ONE, GO TO OUR HOME PAGE AND SUBSCRIBE!