July 2016 News And Events
---
FLORIDA HERITAGE TRAVEL
is the companion monthly e-zine of
FLORIDA-BACKROADS-TRAVEL.COM
---
PINE ISLAND: MATLACHA, PINELAND, BOKEELIA, AND ST JAMES CITY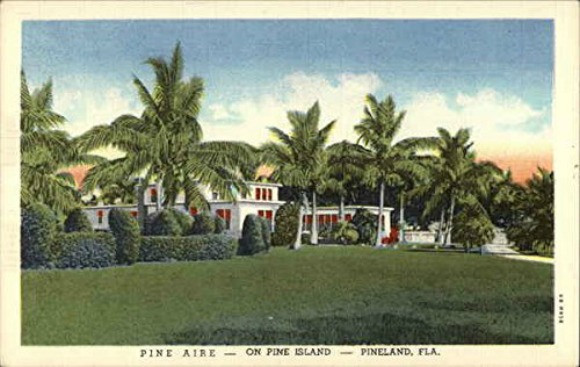 Pine Island is squeezed between Captiva and Sanibel Islands on the Florida Gulf Coast and the metropolitan areas of Cape Coral and Fort Myers on the mainland. It is a step back into a part of Old Florida that is rapidly disappearing. Pine Island Road is the only highway onto the island and it runs through the quaint little art and fishing village of Matlacha (pronounced Matt-La-Shay).


Matlacha is an eclectic assortment of artists galleries, gift shops, restaurants and boat docks built on one of a series of small islands that were dredged up years ago to construct the bridges and road from the mainland to Pine Island. These islands are in Matlacha Pass, the shallow body of water that separates Pine Island from the mainland.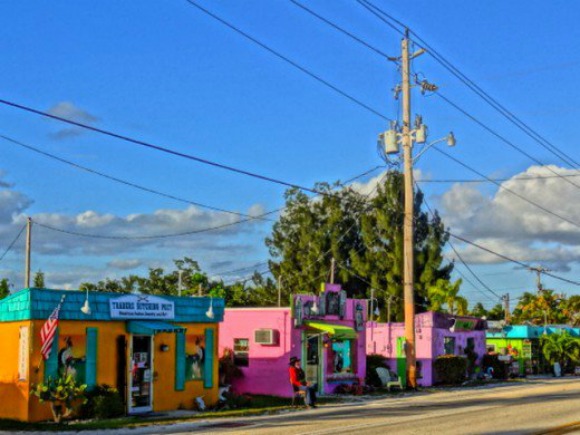 The narrow bridge and roadway across Matlacha Pass and through the village are both an aggravation and a salvation. The aggravation comes during tourist season when Pine Island Road can be backed up with traffic at times in Matlacha and for miles east and west. The salvation could be that there seems to be no easy or economical way to solve the traffic problem.


The road right of way through the historic district of Matlacha is only 66 feet wide. To widen the road would destroy the village. To build another bridge and highway would cost a fortune that nobody at present is willing to spend. The result could be a Pine Island that will remain less developed than the rest of Florida's Gulf Coast.


The quiet Old Florida ambiance of Pine Island has attracted at least 9,000 permanent residents. Among them are well known Florida authors Randy Wayne White and Robert N. Macomber.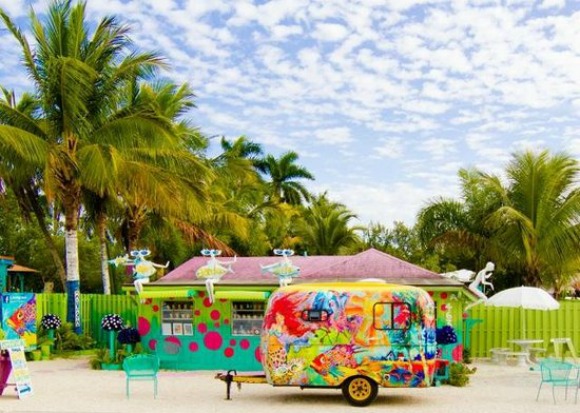 Pine Island Road continues west through Matlacha for a few miles to an intersection with Stringfellow Road known as Pine Island Center. Stringfellow is the main road forming a two lane north-south spine connecting the north and south ends of the island. Pine Island is still largely rural with large areas of farmland, pine forests and marshes. It is populated by residential settlements at Bokeelia and Pineland on the north and St. James City on the south. Your exploration of Pine Island begins at the Pine Island Center intersection. Take your pick, north or south, and head that way.


If you go north you will come to Pineland Road. Take it west through the quiet countryside to the little community of Pineland. You will know you are there when you see the old fashioned post office. One time when I visited there a peahen on the porch of the building walked over to greet me. Pineland Marina is on the water west of the post office and is a popular place to catch a boat out to Useppa Island or Cabbage Key. Tarpon Lodge and Restaurant is a popular destination and was built in 1926. Pineland is also home to the Randell Research Center dedicated to the archeology and history of Southwest Florida and contains a museum, a heritage trail and a huge shell mound site of more than 100 acres. The center is open to the public and is a great place to learn about the powerful Calusa, an early Native American tribe in this region.




North of Pineland on the northern tip of the island is the little village of Bokeelia with a magnificent view of Charlotte Harbor, Cayo Costa and Boca Grande. A few old buildings remain and a long fishing dock is an attraction that draws people from all over the area. Bokeelia is a collection of mobile homes, houses and small condos on the several canals that have been dredged into the island. It's good to have a boat in this part of Florida. Capt'n Con's Fish House is a popular restaurant with great views north to the harbor and the fishing dock. There are also several small inns and rental cottages in Bokeelia.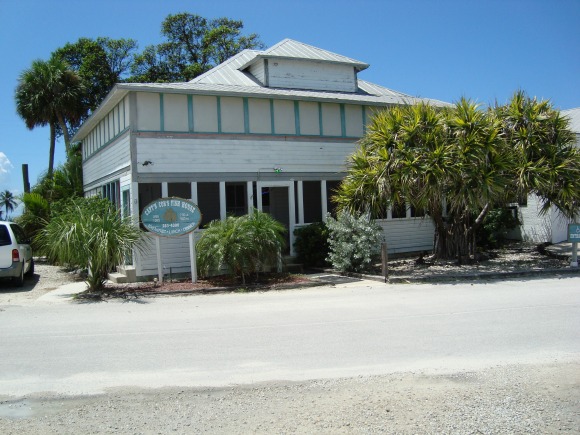 From Bokeelia you will head south on Stringellow Road until you get down to St. James City on the very south tip of Pine Island. It's about a 16 mile trip and you will see acres of farmland and forest along the way. The first structure of note you will see as you enter St. James City is the Ragged Ass Saloon on your right. St. James is a little busier and more active than Bokeelia. A sign in town says "We don't have a town drunk. We all take turns." It's a neat sign, but you will not feel threatened by the make believe outlaw image.


St. James City is a residential community with an interesting collection of waterfront mobile homes, Florida style houses on stilts, and an increasing number of McMansions that would look at home in any upscale Florida community.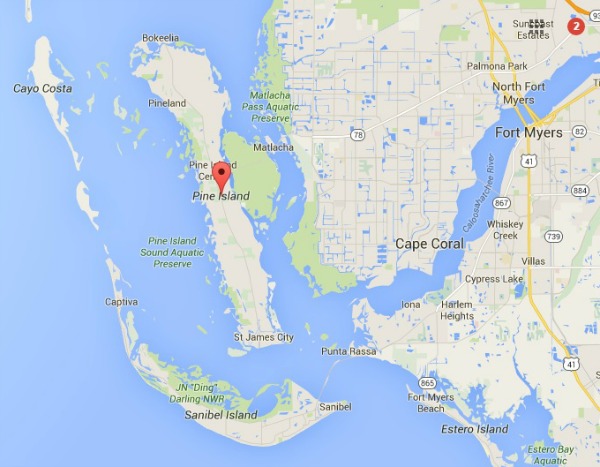 ---
RESTAURANT OF THE MONTH
Tarpon Lodge Restaurant
13771 Waterfront Drive
Pineland, Florida 33922
Tel: 239-283-3999
http://www.tarponlodge.com

Tarpon Lodge Restaurant and it's inn are in an historic 1926 building that captures the grandeur of the early days in Old Florida. The dining room is bright and cheery, and both inside and outside dining areas are available. It reminds me in a way of some of the nicer places I've been in the Family Islands of the Bahamas. The restaurant staff is friendly and know the menu very well. You can come to this restaurant either by car, your own boat or from you room at the adjacent lodge. If you come during a cold snap in the winter try to get a table near the fireplace.


There is something for everybody on the menu, seafood lovers and landlubbers alike. Appetizers are a great way to start, of course, and they have bruschetta, skewers of bronzed gulf shrimp, pork sliders, tenderloin tips, blackened fish bites, crab and corn chowder, and a wide soup selection. Their Pine Island Salad uses local organic greens and spring mix topped with hearts of palm, fresh cucumber, red onions, grape tomatoes, kalamata olives, and walnuts all served with a citrus vinaigrette dressing.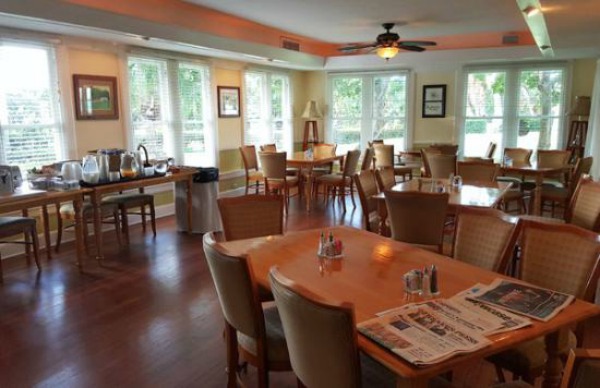 The entrees include chicken and crab sauteed with crabmeat and Monterey Jack cheese, slow roasted pork rib, filet mignon, Gulf shrimp scampi and the fresh catch of the day. The catch of the day is sometimes a delicious local fish known as tripletail. They also have scallops, lobster, and a high class macaroni and cheese dish that includes a medley of seafood such as shrimp, crab and fish topped with toasted bread crumbs and bacon crumbles.

The restaurant has a nice wine selection and a full bar. This is a moderately upscale restaurant. Although you don't have to wear a coat and tie or a tuxedo, it's best to dress a bit better than your normal wife beater tee shirt, ragged shorts and flip flops. The Tarpon Lodge Restaurant is open every day from 1130am to 9pm.


FLORIDA BACKROADS TRAVEL UPDATES


Thanks for continuing to subscribe to Florida Heritage monthly e-zine. Our website, FloridaBackroadsTravel.com continues to grow, and we hope you enjoy these updates.


You can also subscribe to our Florida Blog by going to our home page and selecting an RSS feed. This way you will have daily updates. I added a new page to the website: Florida Tales. This feature allows website visitors to share their favorite Florida stories with us. We also revised our Florida Getaways page to provide links to getaways in all 8 geographical regions of Florida.


July is one of the two or three months in Florida that people love who are fond of heat and humidity. Windows in cars and homes are usually shut tightly closed. Air conditioning runs all the time. The snowbirds are back north to escape our heat, so the lines are shorter now at our local restaurants.




HERE ARE SOME INTERESTING FLORIDA EVENTS FOR JULY:




ALL REGIONS


FLORIDA WINERIES. Check the Florida winery nearest you. Many of them have wonderful weekend events that include music and wine tastings. Our site has information on 27 wineries scattered across the state. We plan to add even more when we have time to visit them.


FLORIDA TOURIST ATTRACTIONS. We have an extensive list of Florida Tourist Attractions. Some of them are well known; other are a wonderful step back into Old Florida.


FLORIDA FESTIVALS. There are several outside events this time of year. Among these are outdoor art festivals and folk and bluegrass music festivals.


FLORIDA BEACHES. Almost anything you decide to do in Florida can be enhanced by spending some quality time at a great beach, and best beaches in Florida will guide you in the right direction.


FLORIDA MUSEUMS. Many Florida art and historical museums have scheduled events. Click on the links to find out what is going on.


FLORIDA THEATER. This is an active time for plays and musical events in our many Florida theaters.. Check the links to find out what might be interesting to you.


FLORIDA AUTHORS. Any time is a good time to read a book by a Florida author. Our most visited author page is now that of Randy Wayne White, the creator of adventurous marine biologist Doc Ford, followed closely by Tim Dorsey and his unlikely protagonist, serial killer Serge Storms. We recently added a page about Robert N. Macomber, an award winning author who specializes in historical novels featuring the U.S. Navy and Captain Peter Wake.


Here is a useful link that will tell you what is going on this month virtually everywhere in Florida.




FLORIDA FESTIVALS AND OTHER EVENTS FOR JULY 2016


Information on the towns and places hosting these events, or near them, including lodging, can be found at Florida Towns.


A few events are cancelled on very short notice. I do my best to ensure that our information is correct and current, but I recommend you call before leaving for the event to make sure it's still on.


Thanks for subscribing to Florida Heritage Travel. We will see you next month with more updates and event information.

IF YOU ARE NOT A SUBSCRIBER TO FLORIDA HERITAGE TRAVELAND WOULD LIKE TO BECOME ONE, GO TO OUR HOME PAGE AND SUBSCRIBE!