August 2016 News And Events
---
FLORIDA HERITAGE TRAVEL
is the companion monthly e-zine of
FLORIDA-BACKROADS-TRAVEL.COM
---
MOUNT DORA: SOMEPLACE SPECIAL AMONG THE FLORIDA HILLS AND LAKES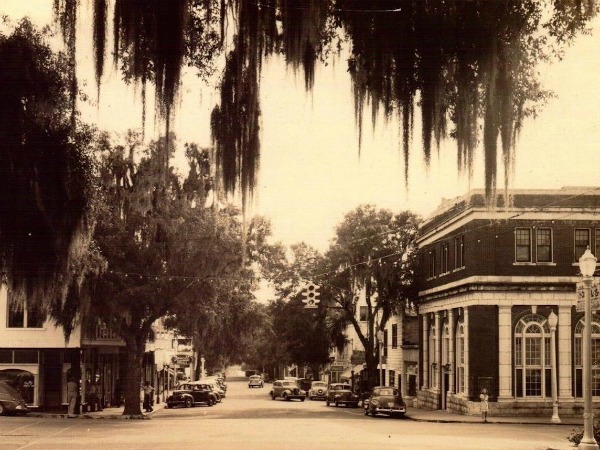 Mount Dora is a town of about 12,000 people located in the lake and hill country about 45 minutes northwest of downtown Orlando. The town is on the eastern shore of Lake Dora, one of the lakes in the Harris Chain. There is no actual "Mount" in the town, but it has more hills and oak canopied streets than almost any other place in Central Florida. Many visitors to Mount Dora say it reminds them of New England. Locals say New England reminds them of Mount Dora.


The downtown area has many quaint shops for gifts and antiques and the famous Renninger's antique center sprawls along US-441 on the east side of town. Through a fortunate set of circumstances, Mount Dora has not changed as much as most other towns in Florida. One of those circumstances resulted in US-441 being diverted around Mount Dora rather than through as was originally planned. That major federal highway was routed along the east and north side of town more than 50 years ago. This has allowed the town to preserve its identity over the years. The photo above was taken at 5th Avenue and Donnelly Street sometime around 1940; the photo below was taken July 24, 2016.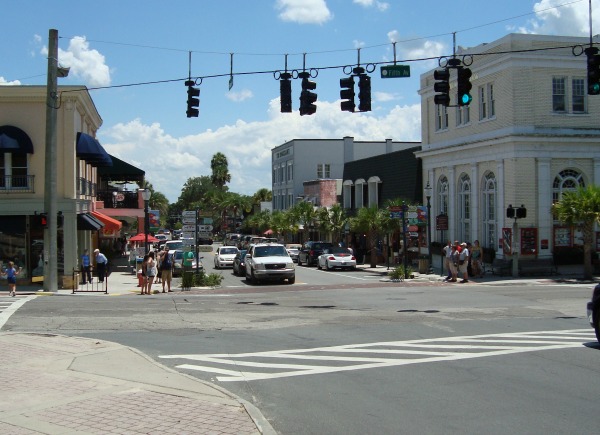 The modern history of the town goes back to 1874 when the first pioneer, David Simpson, settled in the area with his wife and children. The Alexander House, a two story hotel, opened its doors in 1883 and boasted 10 rooms. Not long after, the town received its permanent name, Mount Dora. It is said to have been named for Lake Dora, and the lake was named for Dora Drawdy, an early settler. The Alexander House was renamed at least twice and in 1903 it received its current name: the Lakeside Inn. This grand old hotel is still the centerpiece of the downtown area and is the oldest continously operated hotel in the State of Florda. It is listed on the National Register of Historic Places and has hosted some famous guests including Presidents Calvin Coolidge and Dwight D. Eisenhower.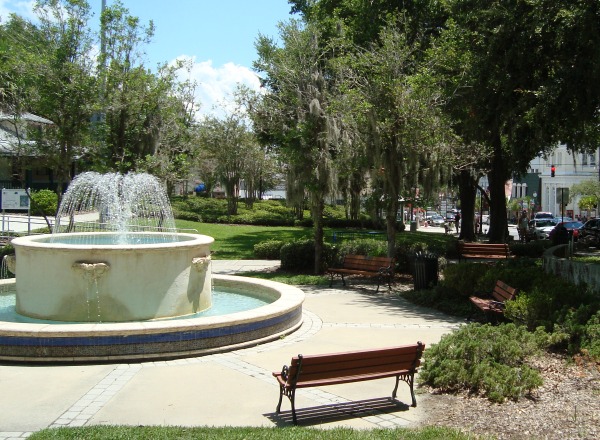 Another pioneer of the early days was John P. Donnelly. He was Mount Dora's first mayor and his Queen Anne style house was built in 1893 and is also listed on the National Register. It is located on Donnelly Street just across the street from Donnelly Park. The railroad came to town in 1887 and the area developed a significant citrus industry with packing houses and large groves. The old train station is still in daily use as the Chamber of Commerce headquarters.


One of Mount Dora's nicknames is the "Festival City" and for good reason. Art and craft shows, antique events, music festivals, a bicycle festival, a sailboat regatta, and special holiday events make for a very busy calendar. The town and its volunteers do an amazing job of handling the parking and traffc issues that help make these events take place as smoothly as a clock.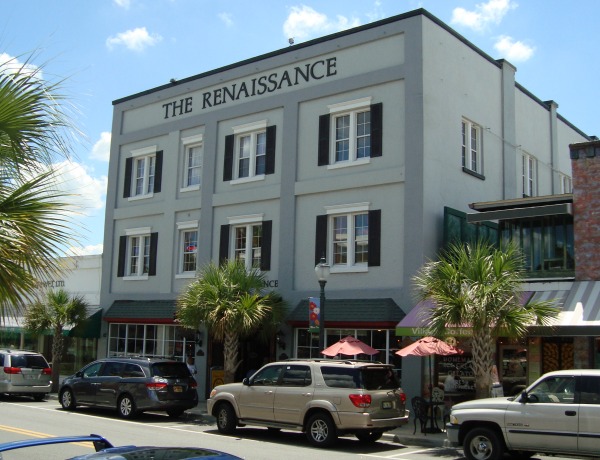 The main street in downtown Mount Dora is Donnelly Street. There are many restaurants in the downtown area and along the business perimeter highway. There are also dozens of inns, bed and breakfast establishments and rental cottages close to the downtown attractons. The residential streets surrounding the downtown area are beautifully canopied with ancient oak trees. The town does a good job of historic preservation and many houses have plaques identifying their historical status. The Chamber of Commerce has maps for self guided tours that allow you to walk by the historic homes and other buildings.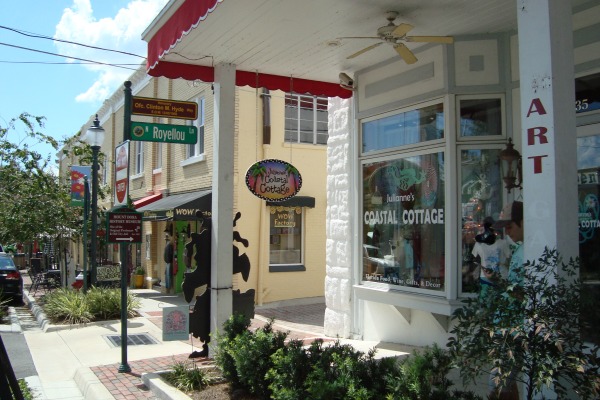 There are many gift shops and restaurants on Donnelly Street and the major east west streets - 3rd, 4th and 5th Avenues. Shopping is a major activity in Mount Dora and the shopkeepers all know each other and form a special community within a community. The Chamber of Commerce also has a map showing the location of all downtown businesses. One of my favorite shops is Julianne's Coastal Cottage. It specializes in gifts, linens, apparel, jewelry, quilts, bath and body items along with a host of other goodies almost all made in Florida.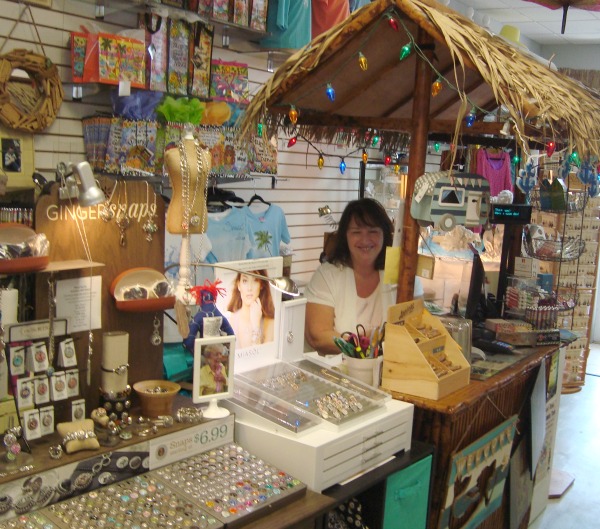 Julianne is usually on duty in her shop and welcomes everybody as if they are old friends. She usually has a wine slushie on hand for her customers to help them cool off on a hot day.


There is a lot to know about Mount Dora and most of it is at these links on Florida-Backroads-Travel.com:

OUR FAVORITE MOUNT DORA RESTAURANTS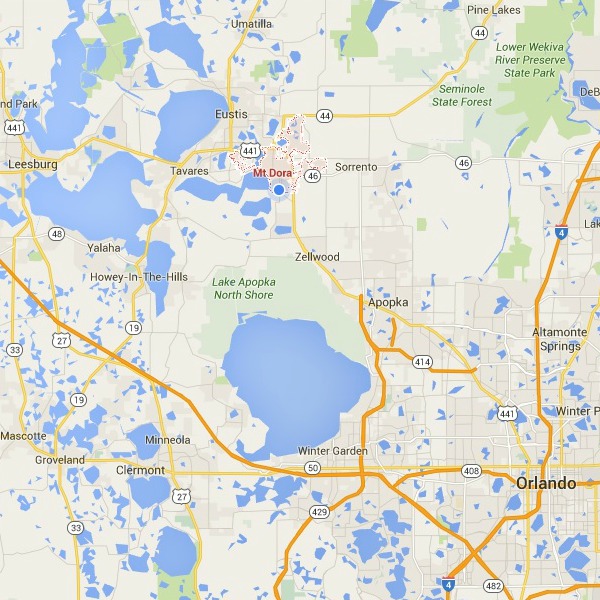 ---
RESTAURANT OF THE MONTH
Magical Meat Boutique
112 West 3rd Avenue
Mount Dora, Florida 32757
Tel: 352-729-6911
www.magicalmeatboutique.com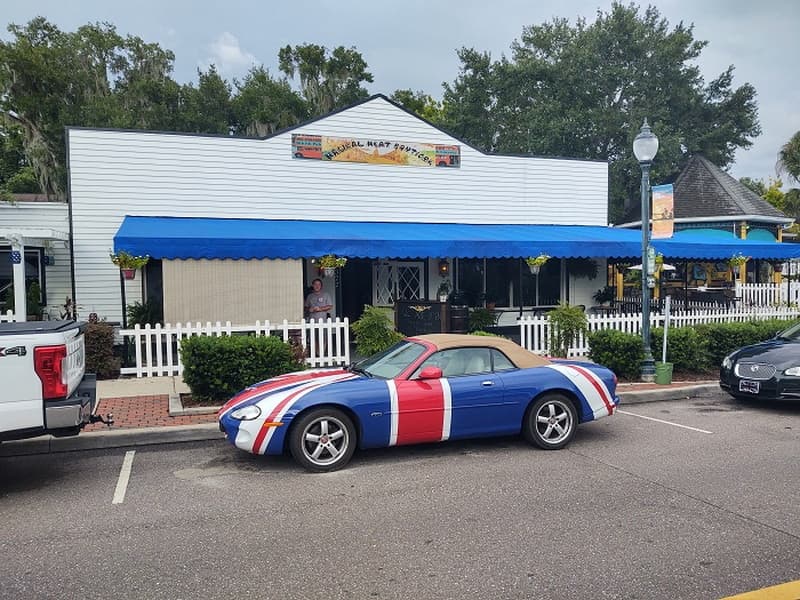 Magical Meat Boutique has a funny name but once you've finished snickering you will enjoy its British charm and eclectic menu. MMB, as locals call it, is a British Carvery that specializes in freshly carved beef, pork, turkey, and lamb. They also make British sausages on the premises every day. The name derives from the Magical Meat Boutique in Camden Town, London, that is part of owner Phil Barnard's family heritage, Barnard Butchers. The family business goes back to the 1500s, and the boutique in London opened in 1967 and closed in 2003 when Phil's dad retired. The gastro-pub serves breakfast, lunch and dinner 7 days a week. This neat little place is only a few hundred feet from the historic Lakeside Inn and is adjacent to the railroad tracks that still take visitors on daily jaunts to Tavares and points beyond.




The first thing you notice when you enter from the front door is a realistic wall mural of the "tube" or subway in Camden. It looks so realistic you feel like you could walk into it and take the subway. The other thing that immediately catches your eye is the bar with its dozens of beer taps. MMB carries almost all of the English, Irish and Scottish beers, lagers and ales. They even have mead and stout. All of their beer is served in Imperial glasses of 20 ounces unless you request something smaller. They also have domestic beer and wine and other beverages from countries not in the British Empire like Denmark and Germany. They also have cider.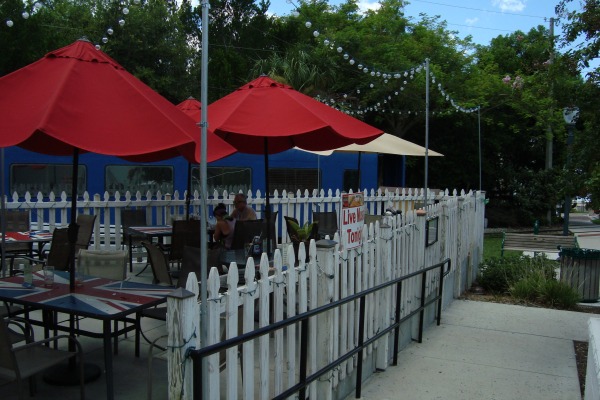 The entrees not surprisingly include many popular English standards. Breakfast is served all day and that's good because it's my favorite meal no matter the time. The Full Monty includes pork sausage, eggs, back bacon, black pudding, Heinz Beanz, grilled tomato, mushrroms, spuds, tatty scone and fried Yorkshire bread. There are many other breakast treats lke French toast, pancakes and pastry turnovers. You can dream up your own breakfast and they will make it.


Lunch and dinner treats include The Great British Burger, ribeye sandwich, English Fish n Chips, Ale Braised Lamb Shank, Bangers and Mash. Appetizers will get you started with Tandoori spiced chicken wings, sausage bites, chips, stuffed mushrooms and my personal favorite, Scotch Eggs. A Scotch egg is a hard boiled egg wrapped in sausage, covered with bread crumbs and deep fried.


They have several great salads including a roast duck and spring onion salad with Hoisin sauce and salad with British Stilton blue cheese, pears and candied walnuts. After all this great food they still offer several wonderful desserts including Spotted Dick and Custard. Spotted Dick is a pudding that Brits love that contains dried fruit.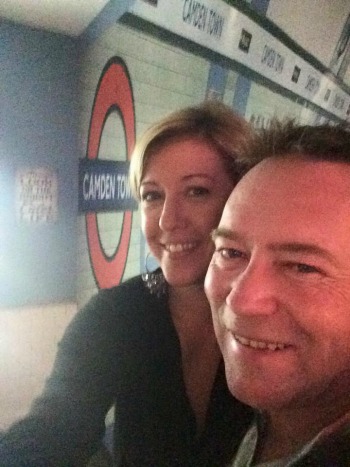 There is a large outside patio with umbrellas and live music. Many days and evenings feature music on the patio. Owners Phil Barnard and Kate Bellamy Barnard are almost always on the job here and will make you feel like a member of their family. Magical Meat Boutique is open Monday-Friday from 700 am to Midnight, and Saturday and Sunday from 800 am to Midnight.


FLORIDA BACKROADS TRAVEL UPDATES


Thanks for continuing to subscribe to Florida Heritage monthly e-zine. Our website, FloridaBackroadsTravel.com continues to grow, and we hope you enjoy these updates.


You can also subscribe to our Florida Blog by going to our home page and selecting an RSS feed. This way you will have daily updates. I added a new page to the website: Florida Tales. This feature allows website visitors to share their favorite Florida stories with us. We also revised our Florida Getaways page to provide links to getaways in all 8 geographical regions of Florida.


August is one of the two or three months in Florida that people love who are fond of heat and humidity. Windows in cars and homes are usually shut tightly closed. Air conditioning runs all the time. The snowbirds are back north to escape our heat, so the lines are shorter now at our local restaurants.




HERE ARE SOME INTERESTING FLORIDA EVENTS FOR AUGUST:




ALL REGIONS


FLORIDA WINERIES. Check the Florida winery nearest you. Many of them have wonderful weekend events that include music and wine tastings. Our site has information on 27 wineries scattered across the state. We plan to add even more when we have time to visit them.


FLORIDA TOURIST ATTRACTIONS. We have an extensive list of Florida Tourist Attractions. Some of them are well known; other are a wonderful step back into Old Florida.


FLORIDA FESTIVALS. There are several outside events this time of year. Among these are outdoor art festivals and folk and bluegrass music festivals.


FLORIDA BEACHES. Almost anything you decide to do in Florida can be enhanced by spending some quality time at a great beach, and best beaches in Florida will guide you in the right direction.


FLORIDA MUSEUMS. Many Florida art and historical museums have scheduled events. Click on the links to find out what is going on.


FLORIDA THEATER. This is an active time for plays and musical events in our many Florida theaters.. Check the links to find out what might be interesting to you.


FLORIDA AUTHORS. Any time is a good time to read a book by a Florida author. Our most visited author page is now that of Randy Wayne White, the creator of adventurous marine biologist Doc Ford, followed closely by Tim Dorsey and his unlikely protagonist, serial killer Serge Storms. We recently added a page about Robert N. Macomber, an award winning author who specializes in historical novels featuring the U.S. Navy and Captain Peter Wake.


Here is a useful link that will tell you what is going on this month virtually everywhere in Florida.




FLORIDA FESTIVALS AND OTHER EVENTS FOR AUGUST 2016


Information on the towns and places hosting these events, or near them, including lodging, can be found at Florida Towns.


A few events are cancelled on very short notice. I do my best to ensure that our information is correct and current, but I recommend you call before leaving for the event to make sure it's still on.


Thanks for subscribing to Florida Heritage Travel. We will see you next month with more updates and event information.

IF YOU ARE NOT A SUBSCRIBER TO FLORIDA HERITAGE TRAVELAND WOULD LIKE TO BECOME ONE, GO TO OUR HOME PAGE AND SUBSCRIBE!