September 2016 News And Events
---
FLORIDA HERITAGE TRAVEL
is the companion monthly e-zine of
FLORIDA-BACKROADS-TRAVEL.COM
---
HOMOSASSA, FLORIDA: OLD FISHING VILLAGE ENJOYS ITS RIVER HERITAGE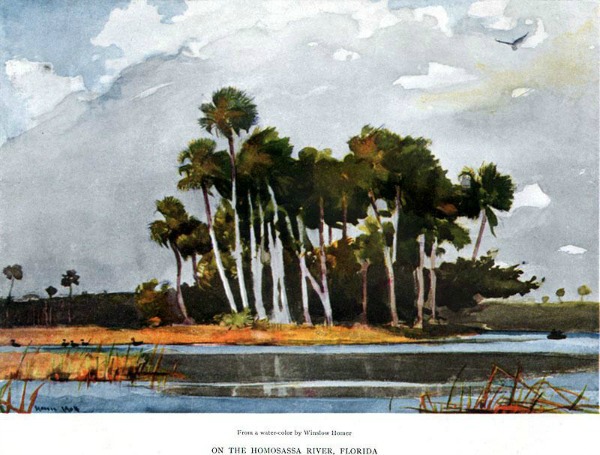 Winslow Homer was a famous American painter who spent a month in Homosassa back in 1904. During this Florida visit he produced 11 paintings, including the one above. There are still sections along the Homosassa River that haven't changed since Homer's day. This old Florida village of about 2,500 souls rests among the swampy bayous near the mouth of the Homosassa River on the Gulf of Mexico about 75 miles north of Tampa.


The headwater of the river is Homosassa Springs, one of Florida's First Magnitude springs located just west of US-19. The definition of First Magnitude means that the spring discharges at least 100 cubic feet of water per second, or about 64.6 million gallons per day. All of this fresh water at an average temperature of about 72 degrees is a magnet for manatees. The "sea cow" can't survive in water below about 60 degrees, and are smart enough to seek out the relatively warmer waters of the Homosassa River and other Florida spring fed streams. They concentrate in the winter months, but manatees can be seen year round in this area. A favorite place to see them is the Ellie Schiller Homosassa Springs Wildlife State Park. The visitor center is on US-19 and it's where you can learn all about manatees and take a river tour on a pontoon boat.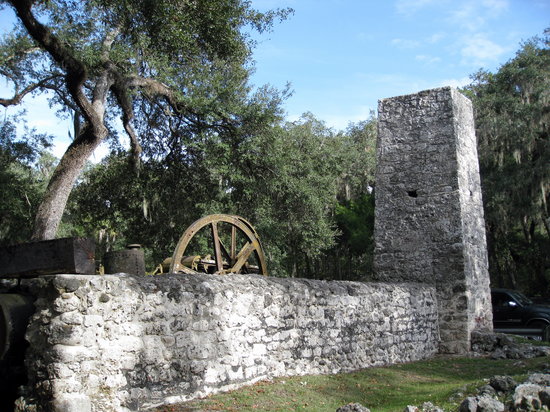 The area along US-19 is known as Homosassa Springs and pretty much looks like any other stretch of Florida highway with strip shopping centers and your typical fast food joints. To get to the place where things are the way it used to be you need to drive to "Old Homosassa", about three west of US-19 on West Yulee Drive through some pristine woods. You will drive past the Yulee Sugar Mill Ruins Historic State Park and will want to take a look and what remains of a 5,100 acre sugar plantaton owned by David Levy Yulee, who became a U.S. Senator after Florida achieved statehood in 1845. Yulee was a Confederate Senator during the Civil War and his plantation supplied a lot of sugar to the Confederate Army.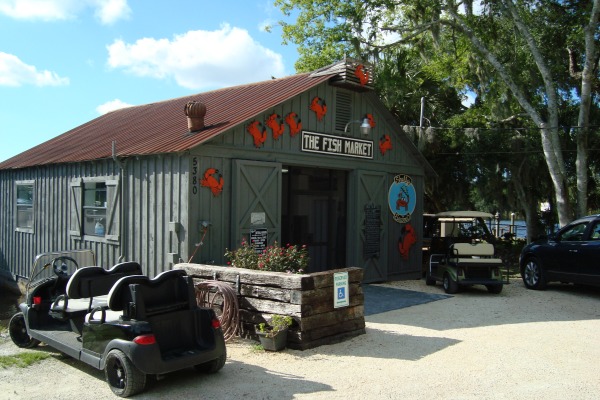 Old Homosassa grew up along the south bank of the Homosassa River and in its early days relied on Yulee's plantation, lumber, citrus and commercial fishing. After the sugar mill closed and the cedar forests had been lumbered out, fishing became the most important industry. Commerical fishing is still important but has suffered from decreasing catches, net bans and various environmental regulatons. It has been overtaken in modern times by recreational sport fishing. More tourists and state residents than ever enjoy the waters of the river and Gulf of Mexico and many businesses have grown up to serve their interests. Some local restaurants will even prepare and cook your own fish that you catch in the river or Gulf.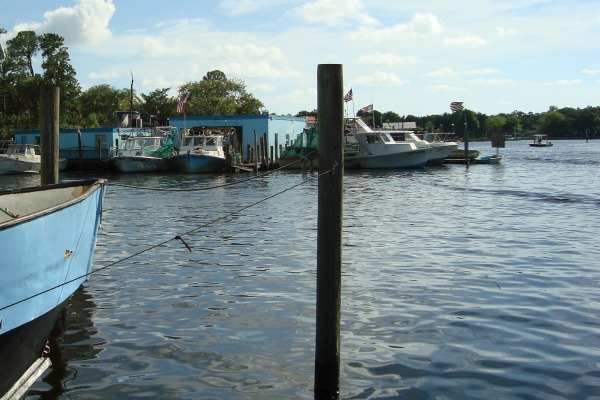 Seafood is a staple in this town and several waterfront restaurants in the area cater to the visitor. Weekends are especially busy in Old Homosassa. The town is crowded during scalloping season in July, August and September. Thousands of hungry visitors come to town to catch the little critters using snorkel gear and buckets. The streets and vacant lots in Old Homosassa are jammed with pickup trucks, SUVs and boat trailers during the season. Parking is hard to find, especially on summer weekends.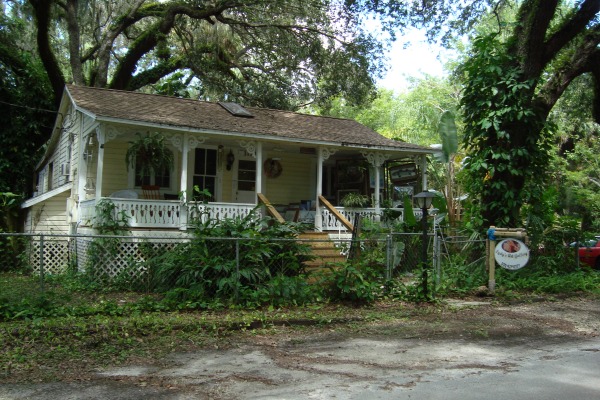 Like many old Florida towns, especially those at the end of the road, the laid back ambiance attracts the artistic soul and the relaxed good old boys who don't care much for golf or country club life and would rather go fishing. The average age of full time residents is 54, quite a bit older than the average in the State.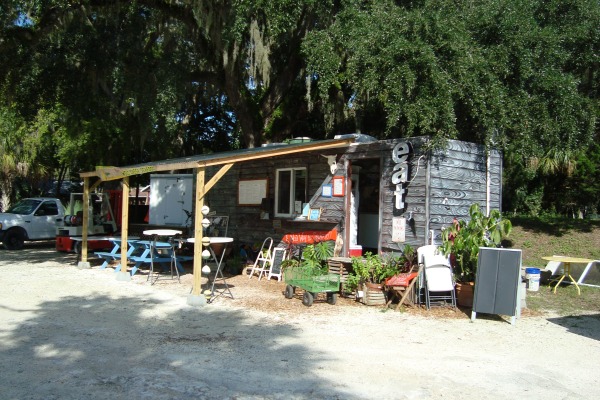 Lots of retired folks make do on very little here in Homosassa, and the variety of houses show it. You will see house trailers elevated on stilts or concrete blocks, weathered old houses that have been here for a hundred years, and newer modern houses on the various bayous, creeks, and canals on both sides of the river.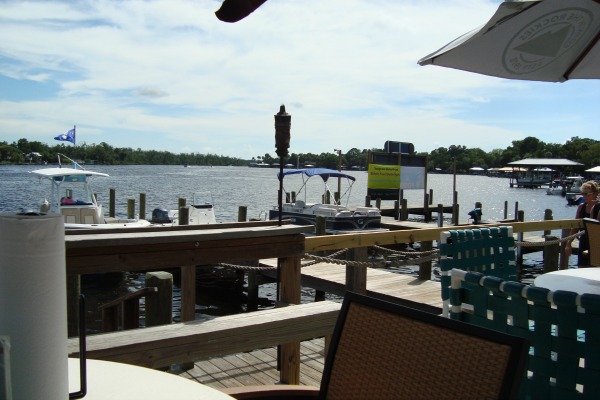 Many Homosassa neighborhoods experience street flooding during the rainy season, and if a hurricane is headed into the area the town usually falls into the mandatory evacuation category. It would be dangerous to wait too long to escape a storm so it's wise to keep an eye on the weather report and leave when you are told to.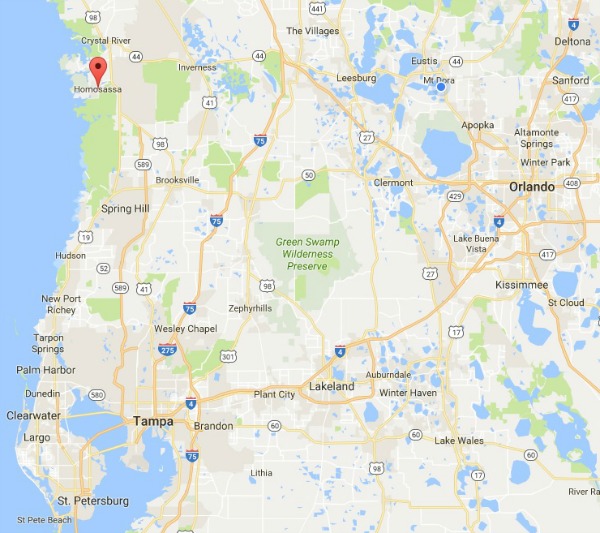 ---
RESTAURANT OF THE MONTH
Museum Cafe
10466 W Yulee Drive
Homosassa, Florida 34448
Tel: 352-628-1081
www.facebook.com/MuseumCafe/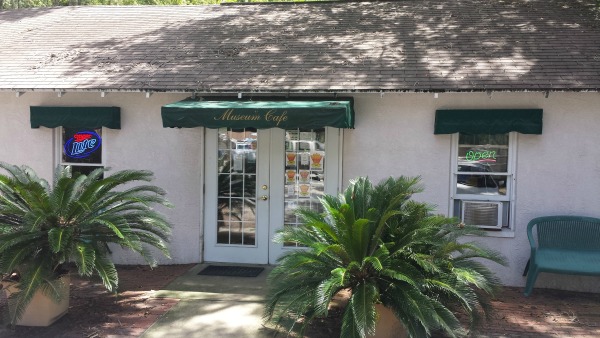 The Museum Cafe is located on the way into Old Homosassa near the entrance to the Yulee Sugar Mill Ruins Historic State Park. You will see the sign identifying a one story structure on the left side of the road as the Old Mill House Gallery and Printing Museum. This building in the quiet part of town houses not only the gallery and museum, but a great little restaurant too. When you enter the cafe, it doesn't look at all like a museum. The museum and galleries are in separate rooms off to the left of the dining area. The restaurant section of the building is bright and cheerful with lots of windows and specializes in lunch items.


The restaurant and museum owner is Jim "Boe" Anderson and the restaurant manager is Carmen. The menu has a Spanish/Cuban theme with black beans and yellow rice, Spanish bean soup, deviled crab, guava pastries, cafe con leche and various wines and beers. Their most popular item is the Cuban Sandwich. They also have salads and one of the most popular is Boe's Bean Salad. That's a garden salad topped with black and garbanzo beans and rice. They also have collard greens on the menu along with Caldo Gallego, a Spanish white bean soup that originated in Galicia.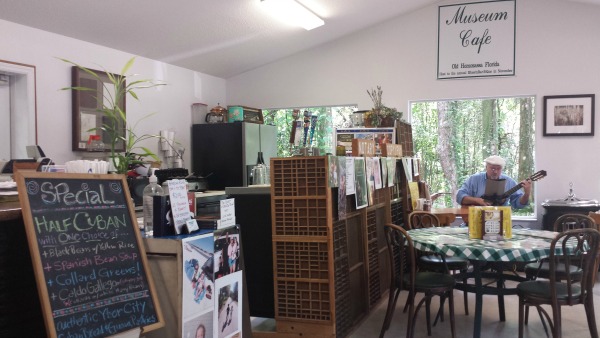 My lunch was great. I had the special: a small Cuban sandwich with a bowl of Spanish Bean Soup. As an extra, I had a stuffed potato. The potato is hollowed out, filled with ground pork and then deep fried. It was delicious. I followed up with a cup of coffee. Service was prompt and courteous and the background guitar music was just the perfect volume and tempo to make the lunch relaxing.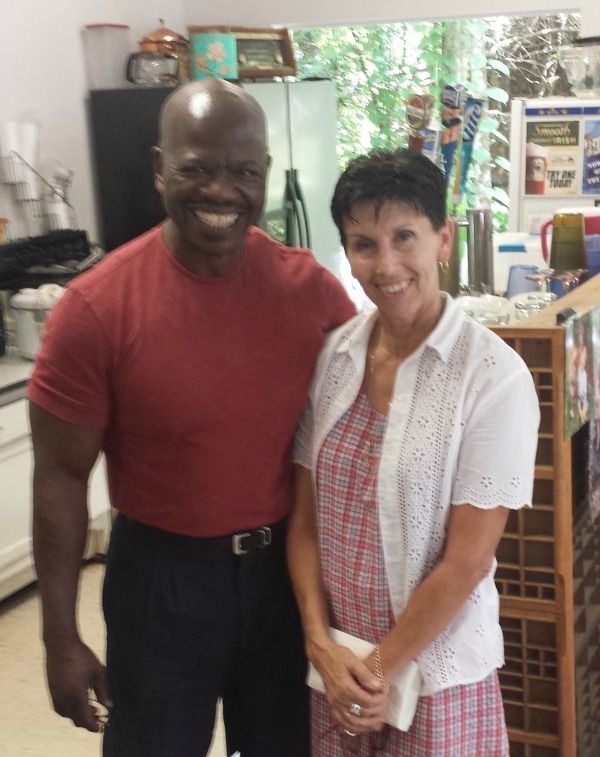 James "Boe" Anderson is a fourth generation Floridian who is a man for all seasons. He started a career in the printing business in 1971 and when digital technology began taking over the printing trade, he decided to preserve the history of the letterpress trade by starting a museum. This restaurant is in a separate part of the building now known as the Olde Mill House Gallery and Printing Museum. Jim also is active in the local art scene and established the Homosassa Frame and Art Gallery in the building.


Jim showed me around the museum. It was an interesting tour with a lot of informative artificats. Jim teaches students from graphic design schools in the musueum and conducts various workshops on art techniques. He is also a musician who plays with the band Cool Corporate Cats. Among his music fans and friends he is known as "BoeCat", and has released 3 albums. He encourages and mentors other musicians and founded the Nature Coast Friends of Blues. The cafe is host to several music series. The day I had lunch the entertainer was classical guitarist P.D. Smith from Williston. Pete Smith is well known in Florida music circles and is a guitar instructor who also has a masters degree in music and a doctor's degree in humanities. He has recorded several albums and written books on jazz and blues.


Museum Cafe is open Monday through Saturday from 1000 am to 300 pm.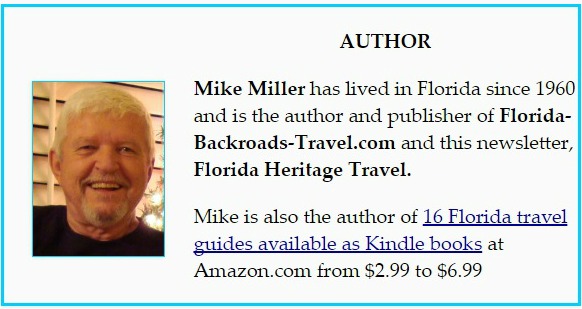 FLORIDA BACKROADS TRAVEL UPDATES

Thanks for continuing to subscribe to Florida Heritage monthly e-zine. Our website, FloridaBackroadsTravel.com continues to grow, and we hope you enjoy these updates.

You can also subscribe to our Florida Blog by going to our home page and selecting an RSS feed. This way you will have daily updates. I recently added a new page to the website: Florida Tales. This feature allows website visitors to share their favorite Florida stories with us. We also revised our Florida Getaways page to provide links to getaways in all 8 geographical regions of Florida.

September is still hot in Florida with occasional blessed periods of balminess that signal fall is almost here. We still run our air conditioning most of the time. The snowbirds are still up north so the lines are shorter at our local restaurants.
HERE ARE SOME INTERESTING FLORIDA EVENTS FOR SEPTEMBER:
ALL REGIONS

FLORIDA WINERIES. Check the Florida winery nearest you. Many of them have wonderful weekend events that include music and wine tastings. Our site has information on 27 wineries scattered across the state. We plan to add even more when we have time to visit them.

FLORIDA TOURIST ATTRACTIONS. We have an extensive list of Florida Tourist Attractions. Some of them are well known; other are a wonderful step back into Old Florida.

FLORIDA FESTIVALS. There are several outside events this time of year. Among these are outdoor art festivals and folk and bluegrass music festivals.

FLORIDA BEACHES. Almost anything you decide to do in Florida can be enhanced by spending some quality time at a great beach, and best beaches in Florida will guide you in the right direction.

FLORIDA MUSEUMS. Many Florida art and historical museums have scheduled events. Click on the links to find out what is going on.

FLORIDA THEATER. This is an active time for plays and musical events in our many Florida theaters.. Check the links to find out what might be interesting to you.

FLORIDA AUTHORS. Any time is a good time to read a book by a Florida author. Our most visited author page is now that of Randy Wayne White, the creator of adventurous marine biologist Doc Ford, followed closely by Tim Dorsey and his unlikely protagonist, serial killer Serge Storms. We recently added a page about Robert N. Macomber, an award winning author who specializes in historical novels featuring the U.S. Navy and Captain Peter Wake.

Here is a useful link that will tell you what is going on this month virtually everywhere in Florida.
FLORIDA FESTIVALS AND OTHER EVENTS FOR SEPTEMBER 2016

Information on the towns and places hosting these events, or near them, including lodging, can be found at Florida Towns.

A few events are cancelled on very short notice. I do my best to ensure that our information is correct and current, but I recommend you call before leaving for the event to make sure it's still on.

Thanks for subscribing to Florida Heritage Travel. We will see you next month with more updates and event information.
IF YOU ARE NOT A SUBSCRIBER TO FLORIDA HERITAGE TRAVELAND WOULD LIKE TO BECOME ONE, GO TO OUR HOME PAGE AND SUBSCRIBE!