October 2016 News And Events
---
FLORIDA HERITAGE TRAVEL
is the companion monthly e-zine of
FLORIDA-BACKROADS-TRAVEL.COM
---
MELROSE, FLORIDA: VILLAGE WITH 72 HISTORIC BUILDINGS


Melrose, Florida is a quiet little Victorian village about halfway between Gainesville and Jacksonville at the intersection of State Roads 26 and 21.


State Road 26 is a historic road. It was the first federal highway built in Florida and it was completed while Florida was still a territory in 1824. It was known then as Bellamy Road and connected St. Augustine to Pensacola.


When I was a student at the University of Florida, some of the staff and faculty lived in Melrose and made the drive each work day. They valued the laid back quiet ambiance of the place. That hasn't changed in the many years since I graduated.






The town takes its name from Melrose Abbey in Scotland. The town originally existed to serve the booming citrus industry that was becoming quickly dominant in this region of north Florida.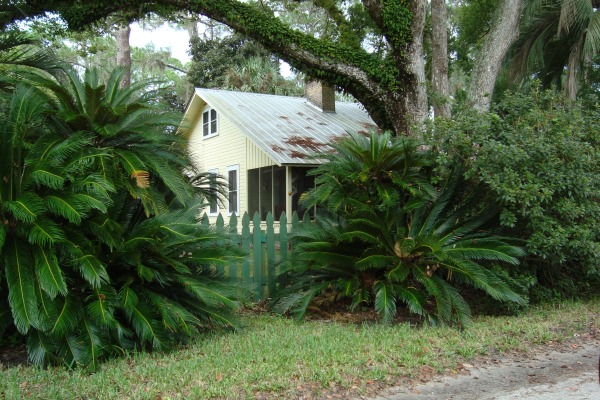 Melrose is at the southern end of Lake Santa Fe, and a canal was dug from the lake to Lake Alto and then to Waldo, the nearest point on the railroad at the time. From Waldo, citrus from Melrose and the surrounding region made it's way to northern markets on the railroad.




The giant freezes of 1894 and 1895 wiped out the citrus industry. Local groves were destroyed, and most of the citrus growers relocated further south in Florida. Melrose has survived in the years that followed as a quiet unincorporated residential community of about 3500 people.




Many artists and writers are attracted to the town because of its quiet beauty. The rustic streets, many of them unpaved, are canopied by ancient oaks draped with Spanish moss. It is a quiet inviting atmosphere.




One of my favorite writers, the late Al Burt, retired here many years ago. He wrote such Florida classics as "Becalmed In The Mullet Latitudes", "Al Burt's Florida" and "The Tropic of Cracker".

The famous rock and roll pioneer Bo Diddley lived for many years on a farm near Hawthorne, south of Melrose. The musical legend is buried in Bronson, Florida, and has a major downtown square in Gainesville named after him.

There are 72 structures listed in the Melrose Historic District. The District is on the National Register of Historic Places.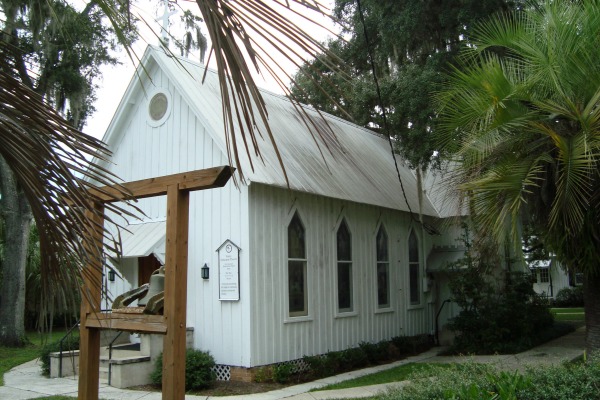 Among the structures is Trinity Episcopal Church, an example of Carpenter Gothic architecture. The church is at 204 State Road 26. Trinity was completed in 1886, and built completely using local materials.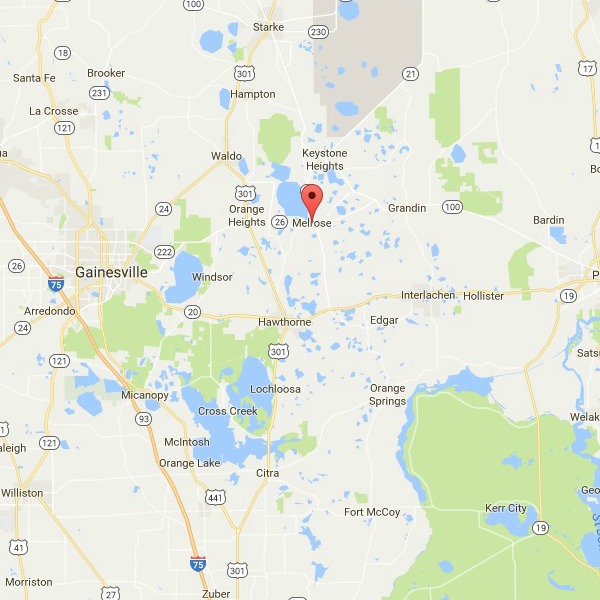 ---
RESTAURANT OF THE MONTH
Blue Water Bay
319 State Road 26
Melrose, Florida 32666
Tel: 352-475-1928
thebluewaterbay.com/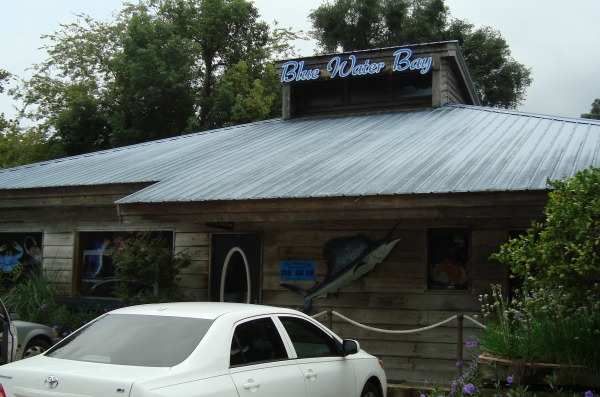 Blue Water Bay is not only popular with local residents, visitors come from miles around to enjoy the atmosphere and great food. I visited recently and was impressed with the extensive menu, full service bar, and friendly efficient staff. The ambiance of the place is Old Florida with a lot of original paintings on the walls, some of the by local artists and for sale at reasonable prices.


Lunch is served from 1100 am to 300 pm and features numerous choices of appetizers, soup, sandwiches, entrees, pasta dishes, wraps, and Cajun specialities. This is a long way from Louisiana Cajun country, but their spicy choices are great.


I chose Seafood Gumbo from the Cajun menu featuring Cajun Crawfish Etouffe, Veggie Gumbo, Grilled Chicken Gumbo and Cuban Mojo Pork. My meal was excellent, and I led it off with a giant Bloody Mary from the bar. My only regret was that I was too full to enjoy a second meal.


My server was a bright young efficient lady named Cheyenne.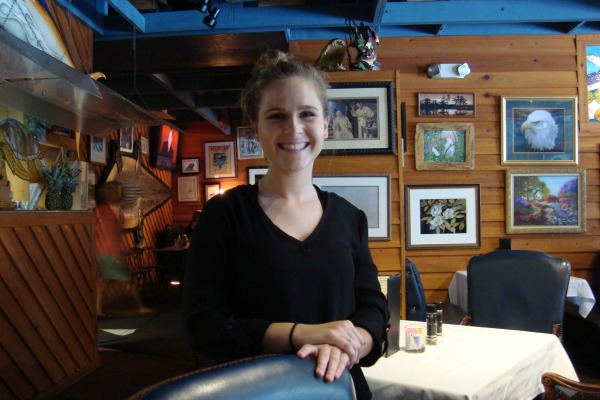 The dinner menu is a larger version of the lunch menu, and you can also order from it at lunch is you choose to. The appetizer list is extensive, including Smoked Duck Quesadilla, Fried Cajun Marinated Turkey Breast, oysters, gator tail, escargot, jumbo crawfish, ahi tuna and on and on.

Bluewater Bay is noted for its seafood and the entree menu includes fried shrimp, Alaskan snow crab legs, fresh Florida Fighting Gator Tail, oysters, and fresh seafood and herb pasta, and the fresh catch of the day. Landlubbers are not forgotten, either, with an 8 ounce Ribeye Steak and Herb Marinated Grilled Chicken Breast. Desserts featured include sour orange pie, key lime pie, carrot cake and a host of other goodies.

A popular feature at this restaurant is the Gourmet Buffet on Friday and Saturday nights. It's so popular that reservations are advised. The Sunday Brunch is also very popular and served every Sunday from 1000 am to 300 pm. This brunch features Quiches and Salads, Crepes, Benedicts, and fanatastic A La Carte and House Specialties.
The full service bar has everything you could want, and the restaurant also has an extensive wine list. Blue Water Bay is open 7 days a week.

FLORIDA BACKROADS TRAVEL UPDATES

Thanks for continuing to subscribe to Florida Heritage monthly e-zine. Our website, FloridaBackroadsTravel.com continues to grow, and we hope you enjoy these updates.

You can also subscribe to our Florida Blog by going to our home page and selecting an RSS feed. This way you will have daily updates. I recently added a new page to the website: Florida Tales. This feature allows website visitors to share their favorite Florida stories with us. We also revised our Florida Getaways page to provide links to getaways in all 8 geographical regions of Florida.

October is beginning to feel like fall. Our air conditioners are turned off most of the time. Many of the snowbirds are still up north so the lines are shorter at our local restaurants.
HERE ARE SOME INTERESTING FLORIDA EVENTS FOR OCTOBER:
ALL REGIONS

FLORIDA WINERIES. Check the Florida winery nearest you. Many of them have wonderful weekend events that include music and wine tastings. Our site has information on 27 wineries scattered across the state. We plan to add even more when we have time to visit them.

FLORIDA TOURIST ATTRACTIONS. We have an extensive list of Florida Tourist Attractions. Some of them are well known; other are a wonderful step back into Old Florida.

FLORIDA FESTIVALS. There are several outside events this time of year. Among these are outdoor art festivals and folk and bluegrass music festivals.

FLORIDA BEACHES. Almost anything you decide to do in Florida can be enhanced by spending some quality time at a great beach, and best beaches in Florida will guide you in the right direction.

FLORIDA MUSEUMS. Many Florida art and historical museums have scheduled events. Click on the links to find out what is going on.

FLORIDA THEATER. This is an active time for plays and musical events in our many Florida theaters.. Check the links to find out what might be interesting to you.

FLORIDA AUTHORS. Any time is a good time to read a book by a Florida author. Our most visited author page is now that of Randy Wayne White, the creator of adventurous marine biologist Doc Ford, followed closely by Tim Dorsey and his unlikely protagonist, serial killer Serge Storms. We recently added a page about Robert N. Macomber, an award winning author who specializes in historical novels featuring the U.S. Navy and Captain Peter Wake.

Here is a useful link that will tell you what is going on this month virtually everywhere in Florida.
FLORIDA FESTIVALS AND OTHER EVENTS FOR OCTOBER 2016

Information on the towns and places hosting these events, or near them, including lodging, can be found at Florida Towns.

A few events are cancelled on very short notice. I do my best to ensure that our information is correct and current, but I recommend you call before leaving for the event to make sure it's still on.

Thanks for subscribing to Florida Heritage Travel. We will see you next month with more updates and event information.
IF YOU ARE NOT A SUBSCRIBER TO FLORIDA HERITAGE TRAVELAND WOULD LIKE TO BECOME ONE, GO TO OUR HOME PAGE AND SUBSCRIBE!